Do you know according to Statista, only 32% of the mobile users returned to an application 11 times and more? 
This means that 68% of the app users do not use an app frequently. 
For designers, it becomes important to understand what makes a good app. 
Being a leading app design agency, and app design company, our designers keep sharing the best practices that you can use to design user-friendly applications.  Read this blog and find out which is a good app design practice, which things you must keep in mind while planning the design of app content and what mistakes to avoid in apps design.
What if your app has great functionality but the users are unable to exploit the navigation options?  What if the user interface of your home screen is so boring or complicated that the users are not able to navigate to reach their required features?
To be honest, your users will uninstall your app without giving a second thought.  This is the last thing you want.  You won't be able to regain a lost customer.  Negative user attention is worse than no attention at all.  To avoid all this, you need to make sure you leave no stone unturned to provide your users with great user experience.
Want to Make an App With the Best Design?
Want to get a free consultation from an app design expert?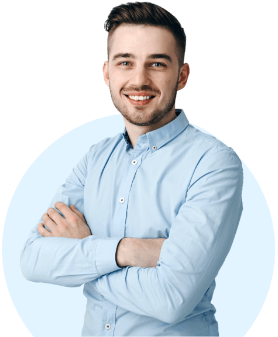 One thing is clear, app design is as useful as functionality, in fact, functionality relies a great deal on the design.  Good app design could greatly affect user retention is a positive way.  The good design eliminates confusion and helps the user use the app exploring its full potential.
Theory and practice are very different, especially when it comes to designing. Whatever you learn by reading, in theory, can not always be applied in practice.  There is no ideal process for integrating a flawless mobile UX or creating amazing user experiences.  What you need is a detailed tactical overview of the UX design process.
In simple words, you need to hire designers who understand the mobile app design like their mother tongue.  Why? Well, the app user retention rate in 2019 was 32% while it was 38% in 2018.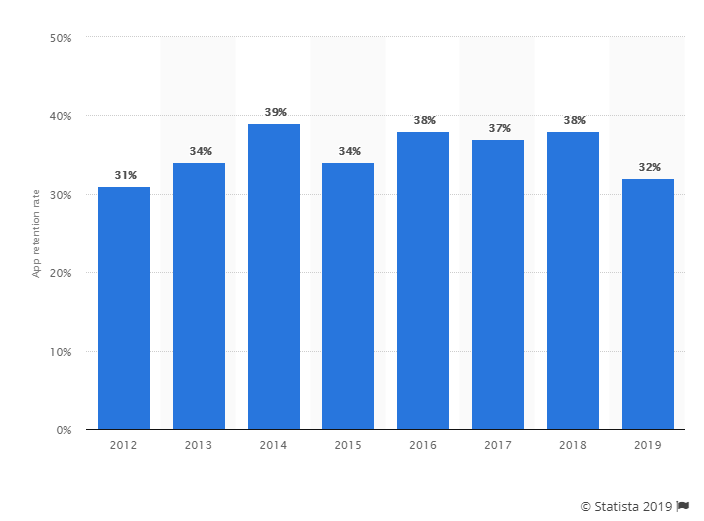 If you want to fall into the better percentage bracket, it is time you follow something which is a good app design practice.  Let's check out how.
Which is a Good App Design Practice?
Here are some of the best practices that you need to follow while designing for apps
Perusing Other's Work

Greatest works are often inspired.  However, perusal and plagiarism are extremely different. An artist consumes another artist's work to understand what they lack and can learn from them.  Examining or perusing other people's work will give you insight into their work and perspective about yours.

You should not just skim through, but scan and learn.  You might have heard about Dribbble and Pinterest. They are very vast resources for learning how other app designers go about their design patterns, UI elements, content design, user needs, push notifications, state transitions, etc.

Source: Cuberto on Dribble

In fact, you may download and play with a lot of apps that belong to a similar category and have high ratings.  This will boost your learning curve to understand users' needs.  You will understand what works well for user experience and what doesn't.

Just take notes or screenshots of the UI/UX mechanisms that draw your attention.  You may add your own flair and creativity into them and recreate them for your project.  Of course, do not copy anything but there is nothing wrong with getting inspiration for creating your own components.

Sketch on Paper

By all means, go old school.

You might be great at designing logos on a computer screen using adobe or any other tools.  Yet, using a pen and paper can not and will not go wrong here.

To count the pros, drawing on a sheet of paper is easier and takes lesser time than Xcode.  Also, if you need to handle only the designing part of a logo, wireframe, layout, or prototype, this will give you more artistic freedom.

Read

Reading and designing do not sound like they go together but they do.  That too, very well. Reading books on basic designing will give you perspective.  Reading or doing a lot of online courses is sometimes not the first option as you may get overwhelmed with information.

You can start with reading Human Interface Guidelines, which has great advice on UI and UI controls, especially for iOS apps.

It took Apple years of user research to develop a great set of rules in the HIG.  It won't be out of line to say that you can not go wrong if your UI follows the HIG.  You may have to add your creative elements to make it more beautiful.

Be Consistent

You need to be consistent even if you have to strive for it.

Consistency is one of the most fundamental principles of design, which applies to mobile UI design.  In fact, according to most successful designers, inconsistency connotes a lack of vision.

It is absolutely essential to maintain consistency throughout an app.  This helps in eliminating any confusion for the users.  But, what do we mean by uniformity in terms of mobile app design? We mean that while creating prompts, you could use identical terminology and designs.  Let's dig a little deeper.

To maintain visual consistency, keep the buttons, typefaces, and labels similar across the app
To maintain operational consistency, interactive elements must function uniformly across the app
To maintain external consistency, the design should be similar throughout multiple products like websites, web app, or mobile apps.

Want to Hire App Designers?

Looking to hire app designers for your project? Contact us today

Easy Reversal of Actions

Suppose when a user is filling out user profile information, they make a mistake.  The reversibility of a single or multiple data entry actions must be simple in such cases.  If they make a mistake in the email address section, they do not need to fill out the entire form again.

This helps definitely relieves anxiety as the user knows that errors can be easily undone.  Further, it thus encourages the exploration of unfamiliar options.

Make Onboarding Easy

You never get a second chance to make a first impression. – Will Rogers

Onboarding is the first screen that the users face when using a mobile application.  If the onboarding process is long, confusing, or boring, users get disinterested and will not re-try if anything goes wrong.

Long Onboarding Process

Pros
Cons

Users will get to know about all the features
Users will get to exploit all the functionality without confusion

Users will get disinterested
Users will skip the tutorial without understanding the features

Short Onboarding Process

Pros
Cons

Users will easily scan the process
Users won't skip the tutorial and learn the main features

Users might miss some important features
Users will be confused while encountering unexplained features

It is a bit difficult to strike a perfect balance between a good first impression and a proper onboarding experience.  Onboarding and feature explaining tutorials are often too long and are often skipped.  Further, if people do not understand the onboarding and features of the app, they will get confused and uninstall the app.

Source: Timotius Muliawan

So, you need to create an app design that is immediately intuitive and also introduces users to the most exciting features quickly.

Keep User's Perspective Mind

You are good with technology.  You are the one who has designed an app. It is obviously easy for you to use and understand the features.  This is not the case for your regular app users.  You need to develop an app with the user's perspective.

If you're designing an app for Android, there is a certain way that the Android users are accustomed to using their mobile apps.  The same goes for iPhone and iPad users as well.

Source: Google Design

You must carry out the proper beta testing process to learn how others perceive an app from the beginning.

Creating Emphasis

All the elements on the screen are not equally important.  To emphasize the most important element on the screen, it should be the most prominent one.  It should have the most visual weight.  You may add more weight to an element with font weight, size, and color.

Suppose, you are designing a social media app.  If a user looks for user profile information or an email address then it should be easily visible on the user profile information menu on the mobile device screen.

Readability

If your users are unable to read what is written on the screen, what is is the point of it at all?  If your text is illegible and unreadable, no user will be able to use the app.  This is why you must focus on readability which is a good app design practice.

A good approach is to ensure all text has a readable font that suits the app design, as well as the size, is appropriate.  Font size smaller than 12 points is difficult to read while too big a front size will ruin the visual aesthetic of the app.  Further, you should go for good options for font types like Helvetica, Open Sans, Roboto, San Francisco, and Montserrat.  At last, choose an appropriate contrast that makes your font easily readable.

Clear Images

There are a few things that you need to keep in mind about images.  The aspect ratio, size, image resolution, image architecture are the main ones.

The aspect ratio should be in accordance with the screen size of mobile devices, design elements, animation effects, etc.  The size of the image should be small so that the app content can load even when the speed of the internet connection is slow.  The resolution must be clear so that the image doesn't look blurred or distorted.

We developed and designed a unique AI-based Photo Translator app that allows users to translate text, text from any images, and translate them into any language.  As the app needs to click and store a lot of images we made sure the images have high resolution to be able to get translated yet small in size to keep the functionality unhindered.

Optimize User Flow

Optimizing the user flow is not only a good app design practice but it is, in fact, one of the best practices that you must follow while designing app content.

To give an example of how you can optimize the user flow, suppose you are developing an eCommerce app.  The last step for the users is to make payment.  If they have to perform a lot of actions on the same screen, they will get disinterested.  However, if you break down the action into a few steps, the users will easily perform them.

Source: Murat Mutlu

For instance, the first screen shows cart details, delivery charges, discounts, and total amount.  The second screen will show the user profile information and email address.  The third screen will show credit card or debit card details.

Make Navigation Easy

Does your app have very cool features and compelling app content?  It won't matter if users can't find it.

Here's how you can make the navigation easy.

Keep the navigation simple and clear.  Don't hide menu bars or search bars.  They should be clearly visible for users to find.
Keep the navigation patterns consistent.  Take into account that iOS users are used to Tab bar while Android users to Navigation drawer.  If the majority of users are familiar with something there is no need to design a complicated solution if a simple one already works fine.
Indicate or communicate the users about their current location on every screen.  They should never get confused about their whereabouts in the app content.

You can get inspired by our developed alcohol delivery app- Lacy.

Source: Lacy, Google Play Store

Thumb Zone Designing

This one is really interesting and important.  Designing according to thumb zones doesn't mean making targets big enough.  It actually means to design considering the way we hold our devices.

You will better understand thumb zones from the image below.

Source: Smashing Magazine

A thumb doesn't sweep on the entire mobile screen effortlessly.  In fact, only a third of the screen is effortless territory.  Rest, the users have to stretch a little or too much or change the grip to click on anything.  This is why you must design the mobile UX in such a way that most of the important clickable elements are well within the reach.

Make Your App Fast and Responsive

The loading time for both screens is the same.  However, the first screen gives the illusion of being faster and more responsive.  This is done by using skeleton screens instead of a loading symbol.  A skeleton screen is an empty loading screen that fills up as the content is loaded.  It shows how the content is building instead of a boring loading symbol.

The images you use must be small in size so that they do not take up too much space.  It will be better to reuse as many resources as you can so the code is not too heavy.

Reduce Cognitive Load

This means you need to reduce the stress on the human brain.  The human brain has a limited cognitive power that it spends on processing day to day things.  If you give too much information at once, it will get confused.

The best way to do this is by decluttering.  Allow your UI to breathe, don't jam-pack everything in one screen.  If you're underutilizing the screen, consider putting everything in the middle, so the user's eye doesn't travel too far.  Utilize vertical space, and give space between UI elements.

Notifications

Do you plan to send one notification in a week or 5 notifications in a day?  Think before you make a decision.  You can not send so few notifications that they forget about your app and yet you cannot send too many lest your audience will get annoyed.

In fact, according to Appiterate Survey, 71% of people uninstall an app because they find the notifications too annoying.  Yes, users can mute the notifications but most users do not think twice because you have already made them impatient.

You need to maintain balance between the frequency and type of notifications sent. To accomplish this, when determining the appropriate mix of push notifications and in-app notifications, you should consider the target audience and the ideal user journey. Error messages, feature updates, new schemes are important.  New blog, small UI updates are not so necessary to be notified.

Personalization

If you really want to connect with your users, you need to give them personalized content.  Give them what they really like or what they are looking for.

Talking about banking apps, if the customer has searched for new account information or loan interest rates, you may show them new schemes about opening accounts or taking loans.  You can apply this to ant type of app that you're designing.

Want to Make a Successful App?

Want to make a successful app? Let our experience app designers guide you through the process.

Let's check out some frequently asked questions that our designers usually get asked by our clients.
Frequently Asked Questions
What's the difference between UX and UI design?
The difference lies in their full forms- UX stands for user experience and is all about the overall feel that the user experiences while using the app or desktop site.  UI stands for user interface and has to do with the product's look and function.

How do I find an app designer?
If you just need an app designer, you can look for designers on freelance sites.  However, if you want someone to carry out the entire developing, designing, and deployment of the app, you must hire a mobile app development company with vast experience.
Where do you go for UX design inspiration?
There are various places that you can go to online to find great design inspirations. Here are a few:
Dribble
Pinterest
Niice
Panda
UX movement
UI movement
What tools do UI Designers use?
Here are some essential tools For UI designers:
Adobe XD
InVision
Zeplin
Flinto
Balsamiq
Sketch
Figma
Let's Create Stunning App Design Together
We hope that the best practices that we've mentioned will help you steer in the right direction.  Of course, these are just some tips from countless ways to improve mobile UX.  You must give them your taste by adding your own ideas for the best results. The designers must have a vision of what the app wants to achieve, and strike a balance between functionality and creativity.
New trends come and go so we use user feedback and improve the user experience by analyzing their needs.  We have developed and designed various aesthetic apps like Glovo– an on-demand delivery app with the highest downloads in Spain, and Nuzhah– an app to book chalets by taking a 3D VR tour of the property.
If you have any doubts about the app design or development process, feel free to ask us.  We are one of the best app development companies with experience in developing and designing over 4400+ mobile and web apps.  Just fill out the contact us form and we will reach out to you to solve all your queries.