Certifications & Recognition
During our mobile app development journey, we have received these certificates and recognition.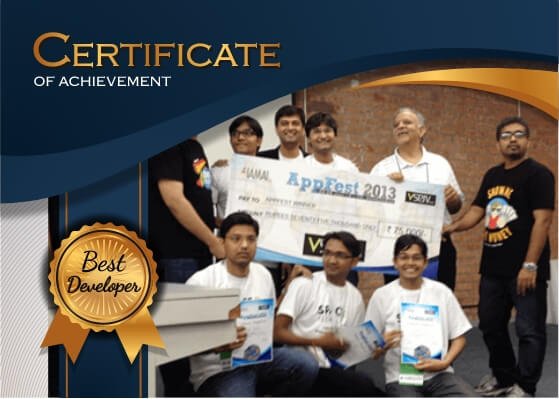 98% Job Success on Upwork
Space-O is a top-rated partner for web and mobile app development services on Upwork. With a remarkable track record of 98% job success and a history of completing 1000+ projects, we consistently deliver high-quality solutions that exceed client expectations. Our commitment to delivering high-quality solutions has earned us the trust of our clients, making us the go-to experts for all your web and mobile app development needs.

Inc42 Lists Space-O Amongst The Best Startup Hubs
This article talks about some of the amazing startups from Gujarat, accelerators, incubators, people, and organizations that are boosting the startup ecosystem in the state & Space-O was among the startup boosters.

Space-O Technologies, Recognized By Insights Success Magazine
The July, 2015 issue of Insightssuccess brought a pleasant list of 20 companies that provide brilliant mobile app solution; and one of the 20 companies was Space-O Technologies.

Winner of 8th GESIA Annual Awards 2015
Awarded for the "Best Mobile App Development Company in Gujarat"

ISO 9001:2008 Certified
Space-O has been accredited with ISO 9001:2008 quality management certification for delivering top-notch and efficient Mobile and Cloud Software Development, Consulting and IT Services.
ISO 9001:2008 being a quality standard certification requires to build the trust and ensures a genuine business deal and in this world of cutthroat competition, getting best solution at reasonable price could be difficult. Space-O is privileged to have gained certification in a very short span of its business. With this certification Space-O commits to serve enhanced quality services to our clients still further.

ISO 27001:2013 Certified
Space-O Technologies within four years of operation has mainly centered on high availability and high security operating systems which preserve the opportunity to be certified with ISO 27001:2013 on Information Security Management System for delivering mobile and Cloud Software Development, Application Development, Maintenance, Consulting and IT Services.
Information is a valuable asset that can make or break your business. keeping this in mind, Space-O has managed to operate with confidence. On Information security management that gives freedom to grow, innovate and broaden customer-base in the knowledge that all your confidential information will remain the same way.
These certifications confirms the moral commitment to our customers to offer quality, safe and reliable services and products in order to give them the confidence they need.

GESIA's Membership
Space-O Technologies Proudly announce GESIA's Membership – the member of "Gujarat Electronics and Software Industries Association".
We feel proud to have successfully delivered effective software development solutions using latest technologies and effective management systems. We mainly focus on building and maintaining web & mobile applications using the latest techniques and proven methodologies. We feel proud to be part of the notable association, as it enhances the branding, credibility and reliability of the future prospects of Space-O Technologies.

App Fest 2013 Winner
IAMAI has organized that event during 26-28 July, 2013. Amongst the 50 teams and 250 Mobile App Developers who were participating from all over India including Coimbatore, Chennai, Surat and Rajkot in App Fest 2013.Like many emerging and established software organizations, Space-O has also participated in the event. From Space-O, The 20 people team was made of Graphic Designers, Android Developers, iPhone Developers, Administrators and CXOs.
Space-O Team, who proudly calls themselves as Space-O Ninja have won the AppFest 2013 Hackathon held at IIM, Ahmedabad during 26-28 July, 2013 that's why they are the best mobile app development team in Ahmedabad or probably in India.