The success of a mobile application is only measured when you know the right set of KPIs. So once you start to calculate the app engagement ratio, you might encounter the following challenges:
Not able to retain customers who are uninstalling your app
The user lifetime value is significantly less, so you aren't able to generate revenue
Customers are installing the app but not making a purchase
Whatever the challenge you might be facing, you need app engagement strategies for the success of an app.
With the experience of developing more than 4400 apps and being a top mobile app development service provider in the USA and Canada, we have curated this guide exclusively for you.
After reading this guide you will have complete knowledge of
Strategies to execute for increasing app engagement
KPIs to measure for increasing app engagement
Real-time example of the companies using app engagement strategies
Let's get started.
What is App Engagement?
In simple words, app engagement is defined as the level of user interaction with an app.
According to Statista, the total user app spend on Google Play and App Store will be around $233 billion by 2026. So, focusing on increasing app engagement will not only bring loyal customers on board but will also help you to make profits for your business.
So if you fail to meet the customer expectations and engage them with your app, you will witness a lot of churning or high uninstall rates. Therefore, you must follow the best app engagement strategies.
Now that you know user engagement with an app, check how following the best strategies will help you increase app engagement.
Want to Create an App with High Engagement Rate?
Let's talk. We know what it takes to make a super engaging application from scratch.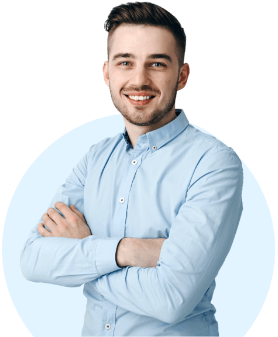 Follow These 15 Strategies to Increase App Engagement
For every startup, it is essential that they constantly endeavor to increase app engagement. As engagement comes with many benefits for the business, you should also consider the following strategies for improving app engagement.
Invest in Marketing Your App

Marketing helps in building a brand for your app. Constantly making your customers aware of the existence of your app will build trust in them. People will attract and want to be loyal users of your mobile app. In short, investing in marketing the app will help with user acquisition for your app as well as increase user engagement.

Simplify the Signup Process

No one likes to spend a lot of time on the signup process. Therefore, you need to ensure that it is easy to sign up for the app with minimal registration steps. You can also consider options like signup with social media platforms, emails, and phone numbers.

Such as Instagram, which also allows you to sign up through your Facebook ID and password. This makes it easy for you to sign up for Instagram within seconds.

Personalize the User Onboarding Process

The first impression is everything and when you have a long-term vision for the customers, then personalize the welcome page for your app users. You can smoothen the onboarding mobile app development process by simplifying the app interface, giving options to select their choice of interests, and incentivizing users.

By showing that the registered users are important to you, you increase high chances of engaging more customers for a long-term relationship.

Pro Tip:

When describing your company, don't try to look like Microsoft or Apple. Don't try to use us everywhere. Tell about the real people behind your app and share your story with your users.

Send New Users a Welcome Email, New Feature, or Product Update

With personalization, you must also welcome your newly joined users through communication channels like app push notifications and welcome emails. And if your customers have been using the app for a long time, then give them updates about the new feature and product on a timely basis.

Sending quality in-app notifications can potentially boost in-app conversion rates for sales, lifetime value, engagement, and revenue.

Ensure Your App Demands Only Necessary Required App Permissions

Too many app permissions will make users skeptical about using your app. As everyone is concerned about their privacy, you need to ensure that you are only asking for the necessary permissions, which would really help you offer your customers a personalized experience.

For example, WhatsApp asks for permissions, like camera, contacts, and location, which are really necessary for WhatsApp users to share.

Use Interactive Walkthrough Guides and Options to Skip Tutorials

Some users are already aware of the app navigation, and they might not need interactive walkthrough guides. However, it is also possible that some users want to know how your app actually functions. Considering both situations, implement the feature of interactive walkthrough guides as well as options to skip these tutorials to simplify the onboarding process.

Pro Tip:

Listen to the problems of your users and respond to them. If their problem makes sense, use your app to solve them. Build the app for your uses and not for you. Let people help you. It will build another level of engagement.

Implement an In-app Resource Center with Guides, FAQs, or How To's

Not just walkthrough guides, sometimes implementing in-app guides and FAQs really help customers to get quick answers to their questions. You might have seen eCommerce apps like Amazon and Flipkart using such options to help customers get answers efficiently.

Increase Feature Discovery With In-app Messages Like Tooltips

Using in-app messages will inform users at the time of interaction with a graphical user interface element.The main aim behind using this marketing strategy will provide the users with additional information about a page element or the mobile app features.

Efficient User Segmentation

Users segmentation is a marketing strategy to divide a group of users based on their shared characteristics. This helps you to target your users separately for your in-app marketing campaigns. In short, efficient user segmentation increases your chances of increasing app engagement and being more profitable in the long run.

Pro Tip:

Display fresh and curated content. Ask the most brain-picking question to your users. Try to ask at the beginning what are the user's interests so that you display only what is the most relevant to the user. This will build a trust loop between the app and users.

Include a Social Sharing or Community Element

It is always essential that you integrate social media platforms with your app. Social sharing is the best marketing strategy to make other people also aware of your products and services.

You must have seen some apps like YouTube and Instagram, where you can share videos with your friends using other social media platforms, such as WhatsApp and Skype.

Run Contests/Promotions Among Users

This is also another great marketing strategy that you can use to keep engaging customers with your app. Running contests and offering discounts help retain customers and make them use your app regularly.

For example, Google Pay keeps on organizing contests to engage customers and make them use the app every day to pay friends or nearby shop vendors and play interesting games.

Promote Use Referrals & Incentivize Users

Giving referrals and incentivizing loyal users is the best way to lure more customers into using your app. With this strategy, your loyal customers get referral bonuses, and you get new users onboard.

Robinhood is one of those investing apps that helps you get free stock of up to $200 every time your friend creates a Robinhood account from your promotional link.

Must Know:

Your users invest their time into your app. So keep updating your app by time-to-time. Your app should be an investment and not a regret.

Test Multiple In-app Messaging (Push Notification) Engagement Tactics

The best way to keep engaging users with your app is to send push notifications. This marketing strategy is used by many popular applications, such as Tinder, Amazon, Uber, and Spotify.

However, you need to ensure that the notification you send to your customers is relevant to them and convince them to take action or make a purchase on your app.

Use In-app Gamification Strategies

Gamification enhances the user experience and makes users more likely to engage with your app. Therefore, nowadays, many startups have started to offer gamification platforms.

You can also shape your own gamified app experience without having much coding experience. In fact, Duolingo is one of those apps that also use a gamification strategy to make the learning experience fun for app users.

Collect and Act on Feedback to Improve Your App

Know your customers, find what challenges they are facing, and then act accordingly. You can enhance the current app features or streamline the UX/UI of the application.

Whatever actions you take, it is important that they are relevant and help to enhance the performance of your app. Therefore, check all the feedback that you are receiving and take action accordingly.

Pro Tip:

Must run A/B tests for your marketing activities. Whenever you update your app, always test every change such as emojis, personal offers, rich notifications, and in-app events for a specific user.
With increasing app engagement, you must also know how to measure app engagement. Then only you will get to see whether you are making the right efforts or not. And if not, then you can make the right strategies to enhance user engagement.
10 KPIs to Measure App Engagement Rate
Measuring the engagement ratio will give you the right direction in implementing the strategies. Check these app engagement KPIs to set goals, devise a strategy to reach your goals, and evaluate the performance.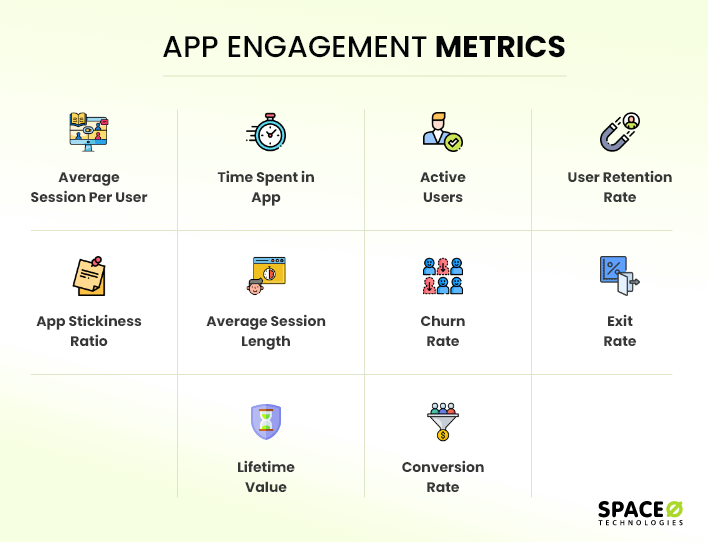 Average Session Per User

It is one of the essential mobile app engagement metrics that measures the average session per user. This means the amount of time a user spends on your app in a single session. Here is the simple formula to use for the session length.

Average Session Per User = Timestamp when the user closes the app – Timestamp user joins or starts the app

Time Spent in App

With this metric, you know the time frame in which a user uses your application. This will help you see whether they are really engaging with your app or not and for how much time. Check the below formula to calculate the time spent in an app.

Time spent in the App = Amount of time spent in your app / Number of users who logged sessions in a given time period

Active Users

Daily Active Users (DAU): The number of people using your app on a daily basis.

Total DAU = [Unique new users] + [unique returning users]

Weekly Active Users (WAU): The number of people using your app on a specific week.

Monthly Active Users (MAU): The number of people using your app on a monthly basis.

The number of users that engage with your app should increase every month. If the numbers are falling, you need to take action by implementing the marketing strategy.

User Retention Rate

Retention is the reverse of the churn rate, where people return to your app over a period of time. Finding the metrics for retention rate proves that your app provides real value to the users. Find the formula for user retention rate.

User Retention Rate = (Number of users at the end of a time period — Number of users acquired during this period) / Number of users at the start of the time period X 100

Moreover, cohort analysis also helps you find how many people have downloaded the app around the same time compared to other clustered users.

Retention Rate for Cohort = Users retained at the end of the time period / Installation at the start of the time period

App Stickiness Ratio

The more you have app stickiness, the better you have chances to convert your leads into customers. With this, you can also avoid churn, and having more than 20% stickiness is considered good, and over 50% is world-class. Find the below formula to calculate the app stickiness ratio.

App Stickiness Ratio = Daily Active Users (DAU) / Monthly Active Users (MAU) x 100

Average Session Length

It is calculated to find the average session per user at a specific time. This will help you know the usage of the application amongst users, and also it measures the popularity of your app. Use the following formula to calculate the average session length.

Average Session Length = Total duration of all sessions during a specified time frame / Total number of sessions during that same time frame

Churn Rate

It is the rate at which users uninstall your mobile application or downgrade their subscriptions. This could be bad for your business. Hence, you need to calculate the churn rate with the below formula.

Churn Rate = (Lost customers / Total customers at the start of the time period) x 100

Exit Rate

You might want to understand from which screen your users are exiting the app. This will give you an idea of your least converting screen so that you can fix it and increase the conversion rate. Below is the formula that you use to calculate the exit rate.

Exit Rate = Total number of visits to a screen / Total number of exits from that particular screen

Conversion Rate

The conversion rate helps you find the percentage of users who have subscribed to a premium version or plan of the app, purchased the app or made in-app purchases. Check the formula below to calculate the conversion rate.

Conversion Rate = Total conversions / The total number of visitors

Lifetime Value

User Lifetime Value (LTV) helps you measure the value of a user over a period of time. With LTV, you can reevaluate your acquisition strategy and estimate the cost of marketing based on the app's profitability. Check the formula to calculate LTV.

Lifetime Value = The average revenue per user (ARPU) / Your churn rate
If you want to know which apps use app engagement strategies, check the next section. We have discussed some of the popular apps to discuss how they use marketing strategies to engage and retain customers.
3 Examples of Popular Apps Using App Engagement Strategies
Nowadays, various apps use marketing strategies to engage users within their apps. So, let's check how some of the giants and popular apps use best practices to increase the way users interact with their apps.
Nike

Nike launched Nike Run Club in 2010, especially for sports enthusiasts. Later, Nike came up with a unique marketing strategy to engage more customers with the app. It offers a personalized experience to every runner so that they get motivated to run better and focus on their running goals.

Now, it gamifies the user experience so that more people use Nike Run Club for their running goals without keeping any second app option in mind. The app comes with features like challenges to push you to complete your milestones, reward systems, and leaderboards to keep you motivated to always be on the top. This helps not only in engagement and user retention but also in increasing business profits.

Tinder

Tinder has swept off all its competitors to be at the top of the dating industry. The only reason is that it offers unique features that enhance user engagement and take the whole dating experience to the next level by combining the best app features, user experience, and gamification.

Special features of Tinder, like swiping gestures, match suggestions based on customer preferences, super likes, and messages before a match, make Tinder the first priority for people to find nearby dates. This simple idea has made Tinder 100 times easier to find and build relationships and increase user engagement.

Spotify

The Spotify app has launched the campaign "Only You," exclusively for the users to leverage personalized playlists. In short, this marketing strategy helps users to build their own playlists based on their moods and preferences.

It is a global campaign designed to enhance app engagement and drive more people to have the best listening experience of music, podcasts, and stories. In fact, Spotify also allows creating friends to create a single playlist based on their music choices and retain customers. If you are looking to create Spotify like music app, you must consider this app engagement strategy.
Want to Build an Application With a Unique Marketing Strategy?
Let's talk. Space-O is a leading mobile app development company, having experience in developing more than 4400 mobile applications, such as Glovo, One8, and H2GO.
Want to learn more about mobile app engagement? Check the next section, where we have discussed some of the essential questions that you need to know.
Frequently Asked Questions About Mobile App Engagement
What is a formula to calculate the engagement rate for an app?
Here is the formula that you can use to calculate the engagement rate.
Engagement Rate = Engaged Users / Total Active Users X 100%
Engaged Users: The number of unique app users who engage with in-app ads.
What is app re-engagement?
App re-engagement is a marketing strategy aiming to bring back your potential leads or encourage inactive users to resume activity within the app. This is done to increase profits. A study by Harvard Business School has found that a 5% increase in app retention will help you increase profits from 25% – 75%.
Here are other benefits of re-engagement that you should know:
Low cost of user acquisition
Personalized actions for an increasingly higher conversion rate
Increase the customer lifetime value
Why do you need a predefined app engagement strategy?
Having a predefined strategy for maintaining a healthy app engagement really helps you in various ways. When you focus on increasing user engagement, you boost:
Customer Retention
User Lifetime Value
Monthly Recurring Revenue
And all these factors contribute to enhancing the success of your app. Hence, it is essential that you have a predefined app engagement strategy.
Implement a Marketing Strategy to Increase App Engagement
Through this blog, you get to know the best app engagement strategies and how you can measure app engagement. In fact, we have also shared some of the app examples currently using engagement strategies to retain and engage customers. This will also motivate you to implement a unique strategy for your app.
In case you are facing challenges in defining a strategy for your app, contact the technical team of Space-O Technologies. We will discuss your requirements and help you validate your app idea and strategies for user engagement.