Popular Food Delivery Apps
Disclaimer: The mentioned apps are just for reference for our readers. Being a white label food delivery app development company, we create a restaurant app for Android and iOS from scratch.
Top App Development Company,
Accredited By
Build an On-demand Food Ordering & Delivery App like Zomato
With the sudden surge in demand of on-demand food delivery apps, food delivery companies, startups, restaurant owners, and entrepreneurs are leveraging the benefit of developing their own Postmates and Grubhub clone app.
Want to create your own on-demand food delivery app using a mobile application development agency? We have helped various food businesses, startups, cafes, and restaurant chains to double their business revenue through food ordering and delivery apps like Postmates & DoorDash. From designing to deploying your app to the App Stores, our mobile experts will take care of your requirements no matter what type of restaurant mobile app you want for your restaurant business.
Clients Love Space-O Technologies
They built an intuitive restaurant app with online ordering and real-time meal status. Space-O's user-friendly app has become a core part of our brand's mobile strategy. Their expertise integrating complex POS systems made our app a hit with customers.
Ben Coble
CMO, Restaurant Chain
View all Testimonials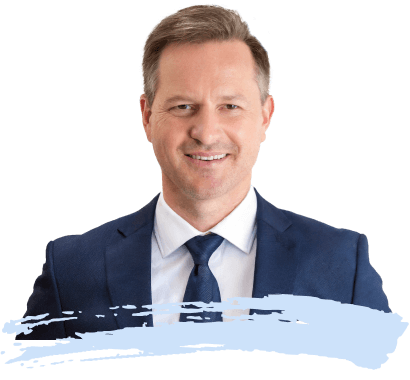 Core Features of Restaurant Mobile App Like Zomato
We analyzed some of the most popular food ordering and delivery apps like Seamless, Grubhub, Postmates, Uber Eats, and came up with a complete list of must-have features that a current food ordering and delivery platform should have for customers, drivers, and restaurant owners. Let's check out those latest features.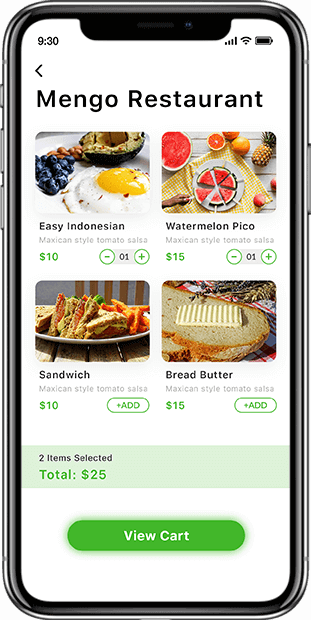 Search
Allow your app users to search different restaurants, cafes, pubs, and bars by location and cuisines. Using the search feature, your users can explore different restaurants, dishes, and favorite cuisines.
Order
With an easy-to-order feature, users can place an order of selected dishes and food with just a few simple taps on the screen. They just need to add their preferred dish and proceed to check-out.
Real-time Tracking of Driver
With real-time tracking feature, it becomes easy for your users to track delivery drivers and know their real-time location information. Users can check how much time a driver will take to reach.
Payment Gateway Integration
Integrate your app like Grubhub and Uber Eats with Payment Gateway like Braintree or Stripe and allow users to pay by credit/debit card. Make sure that you provide your users with multiple payment options.
Ratings & Reviews
Allow users to give ratings and share reviews for the restaurant, food, and delivery driver's service. Ratings and reviews play an important role in improving overall service.
Real-time Availability
Allow your app users to get information on the real-time availability of the tables in different restaurants and make the bookings with just a few simple clicks.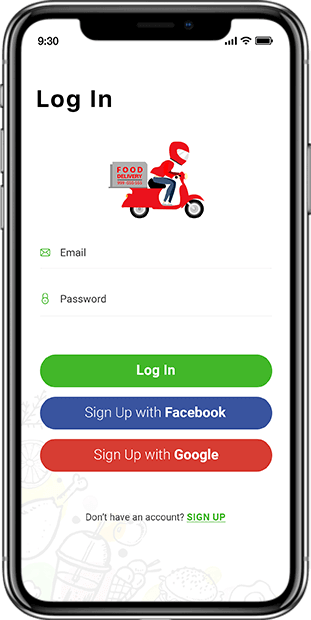 Registration & Login
Drivers can register and login in the application through social media networks like Gmail, Facebook, and Google+. By entering simple details, drivers can register and login in the app.
User Profile
Delivery drivers can maintain complete profile information, including name, email address, contact number, photo and other important information. Drivers can keep their profile updated.
Update & Alert for New Order
Drivers will get push notification for the new order that is assigned. Even when the app is closed, drivers will get a sound notification for the order assigned.
Manage Multiple Food Deliveries
Drivers can also manage multiple food delivers at a single time and respond to all the requests that are nearby to other delivery locations.
Map to View Delivery Route
Integrate Google Map or Waze and allow drivers to choose the shortest and fastest routes to reach the location. With on-time delivery, you can delight your customers.
Route Optimization
With the best route optimization, drivers get help in delivering the food in minimum driving time by finding the most efficient route for the destination.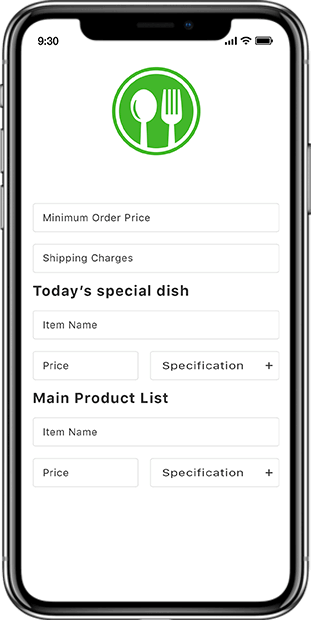 Profile Creation
Allow restaurant owners to register and create profile following a few simple steps. To create a profile, owners can include information like restaurant address, complete menu with price, delivery, and contact details.
Order Management
Allow owners to manage all the orders at one place, including ongoing, dispatched, pickups and scheduled ones. With just single touch on the screen, owners can get a complete view of the orders.
Menu Management
Restaurant owners can manage a complete menu of the restaurant by adding and updating the list, prices, items, today's special dish, and minimum order amount.
Manage Promos & Deals
Restaurant businesses can create and add new discount deals and offers, rewarding their customers to get benefits on ordering food.
Real-time Tracking of Driver
Restaurant owners can track the delivery driver with his real-time location. Owners can also check the total delivery time and route that driver preferred to deliver the food.
Push Notifications
Alert or notification will notify restaurant owners about the new order, status of received or shipped orders, payment received online, and other important updates about the delivery driver and customers.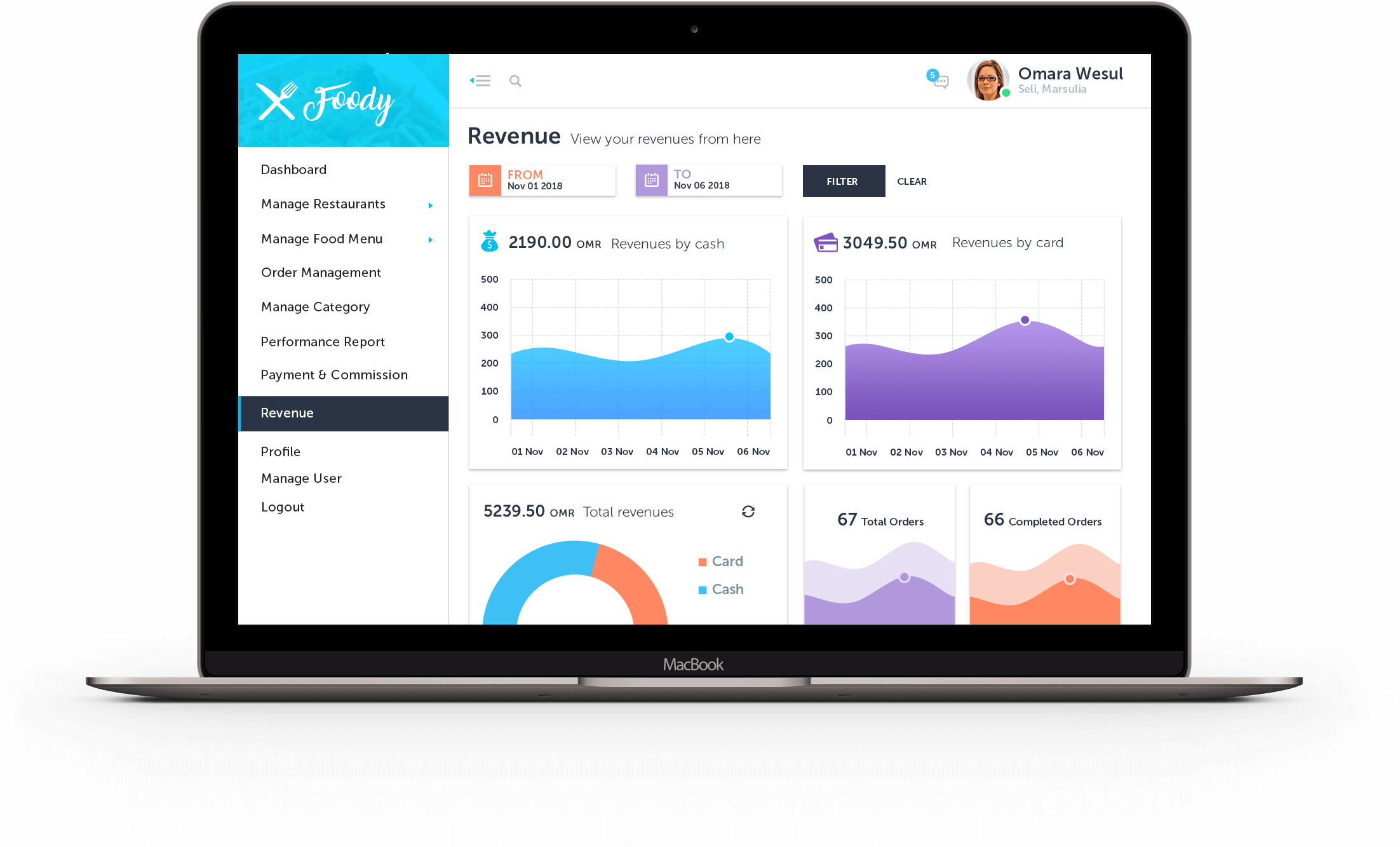 Managing Restaurants
Being an admin, you can manage all the restaurants by adding, updating, and removing any restaurant or café from the list. Check any restaurant's active status on the app.
Category Management
Manage categories of all the restaurants based on the cuisine type, pricing details, delivery options, and offers to optimize business. At one single platform, you can manage a number of restaurants with types.
Performance Monitoring
Monitor all the drivers, deliveries, ratings & reviews of drivers, cancelled orders, and other important data related to driver's performance.
Analyzing & Reporting
Using analysis and report feature, you can get real-time insights of reports and other accounting information that help you to identify the growth and opportunities to expand reach.
Real-time Updates & Alerts
Get real-time updates and notifications about the drivers and restaurant owners when they update their profile, restaurant information, and made changes in the availability.
Payment & Commission Management
Allow owners to set payment and commission rate and manage it directly from the panel with every single partner and make payments.
Want to know online food delivery app development cost?
Get in touch with our experts now and get a free quote.
Restaurant & Food Delivery Apps Developed by Us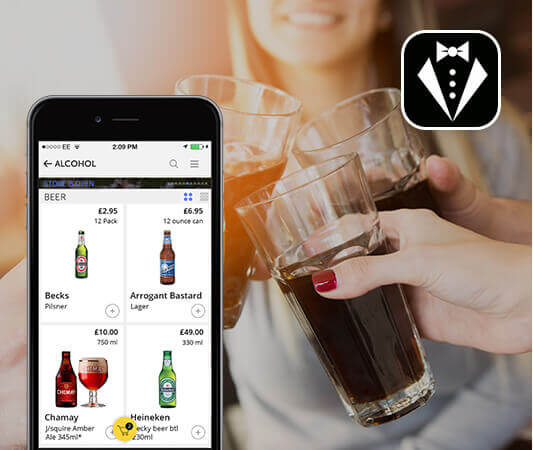 Covered by The Huffington Post and TechCrunch, Bevy is an on-demand alcohol delivery app, allowing users to order alcohol, beverages, snacks, and other premium alcohol products from 5pm to 5am across London, UK.
This alcohol delivery solution delivers any alcohol, beverages, and snacks in just 30 to 45 minutes to the users' doorstep. Here are some of the top features of Bevy app:
Order in just seconds: Users can order any alcohol, beverage, snack item or drink within just a few seconds.
Real-time GPS Tracking: Users can track their Bevy Butler right to their doorstep.
Payment Gateway Integration: The app comes with safe and secure in-app payment option, allowing users to pay securely.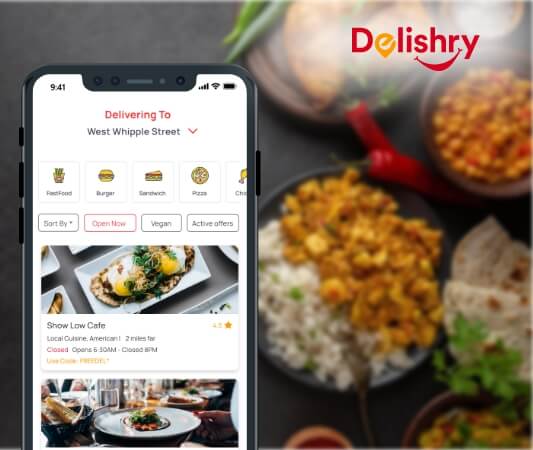 Based in USA, the Delishry app is an online food delivery app solution. This food delivery app offers real-time delivery options and live tracking, similar to Uber Eats and GrubHub, to help you manage your restaurant business effectively. The aim of this food delivery solution is to decrease the overall operational cost of a business and increase revenue by developing a fully functional food delivery app.
This food delivery app solution seamlessly runs on Android and iOS platforms. Here are some of the highlighting features of Delishry.
Real-time Chat – Reach out to restaurant owners using a real-time chat feature
Search and Filter Options – Filter your favorite restaurants in a matter of minutes
Smart Menu Planning – Attract and engage customers by uploading your own cuisine, dishes, and attractive menu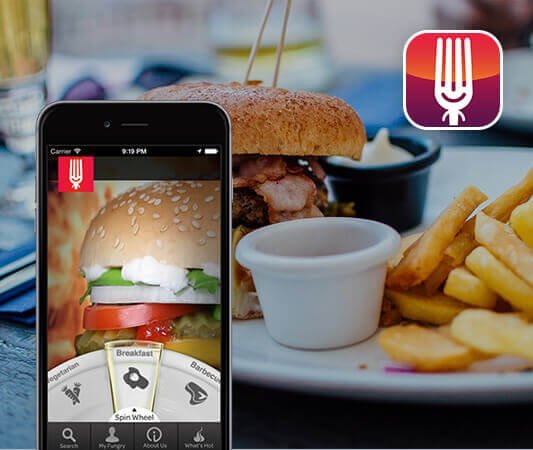 Fungry
Developed by our mobile app experts, Fungry is the Austin-based on-demand food delivery app that puts complete Austin food at user's fingertips. The app allows users to search for the food by price, type and nearby location.
Moreover, Fungry enables users to place their order quickly, allowing them to get exactly what they want and when they want it. The app brings the different flavors of Austin food to your screen. Some of the top features of Fungry app:
Search: Allows users to search nearby Austin restaurants and food items by its name.
Order: After searching, users can place the order of their desired food item and proceed to checkout.
Maps to Check Nearby Cafes and Restaurants: Users can check nearby restaurants and cafes on the maps.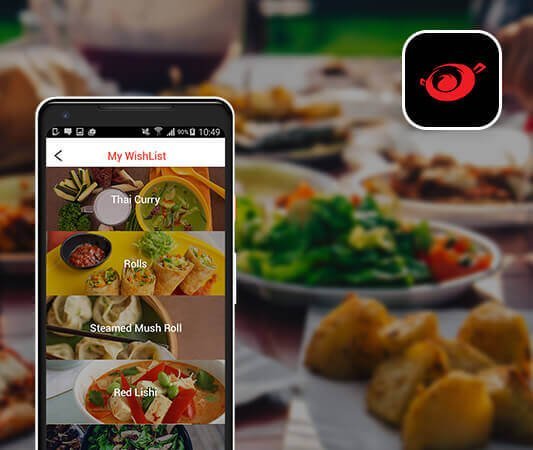 Wok On Fire
Work On Fire is the restaurant food ordering and delivery app that has made ordering a lot simpler. Developed by our experienced mobile app developers, this restaurant mobile app allows users to choose from a number of dishes and get it delivered to their doorstep.
Moreover, the app allows users to mark their favorite items by clicking on the heart icon so that they don't have to search it every time. Wok On Fire comes with a range of features, including:
Search Bar: The search bar menu allows users to search different dishes and food items using name.
Favorites: Users can mark any item or dish as favorites to ease the order in near future.
Notifications: Users get updates and notifications about offers and discount deals in the festive seasons.
Liked What You See? We'd would love to develop it for you!
Appreciation from Clients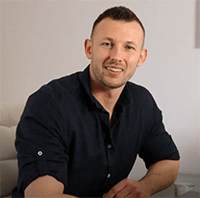 Steve
USA
I would like to thank the entire Space-O team for helping us with our photo editing app. We have been working with other developing teams before, and we were able to find Space-O. And all the other developers failed to deliver all great working apps for us. Space-O helped to design the app in a very user-friendly way. They helped us to navigate solutions for the app. And overall went above and beyond with our request.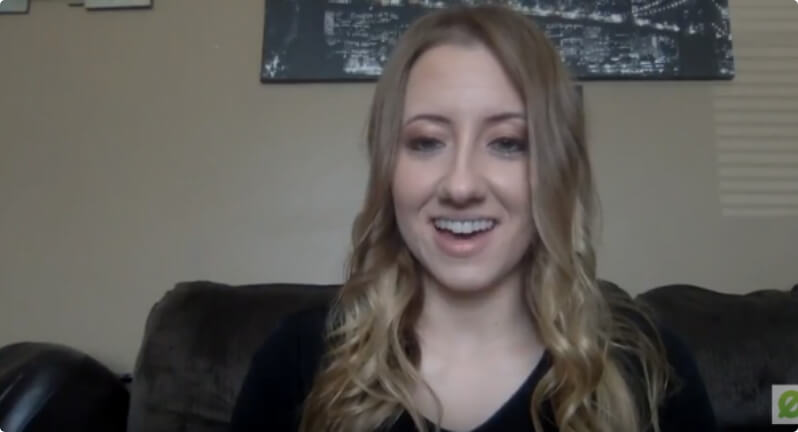 Olivia Grande
USA
This was the first app I've ever developed and they been extremely helpful every step of the way, answering questions, writing recommendations, and tips. If you're looking for a high-quality app, definitely go with Space-O technologies.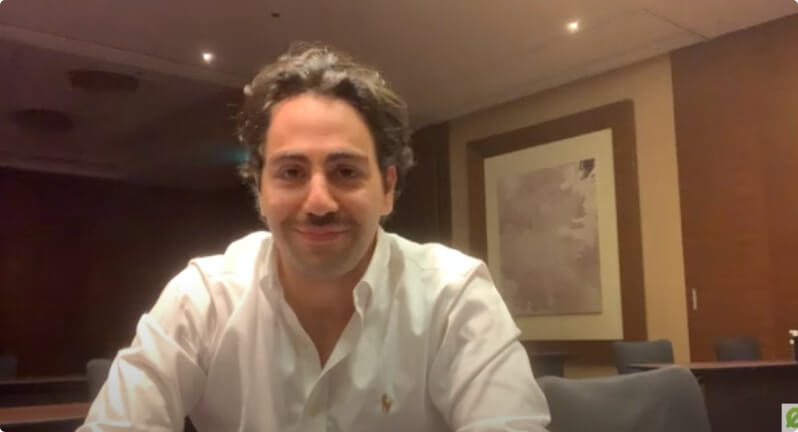 Kaveh
UK
When we started 2 years ago, the main struggle was to find the right developing team, because the problem was we were all quite demanding in terms of quality. And, this showed that we were able to develop some successful apps. But, this would not have been possible without Space-O.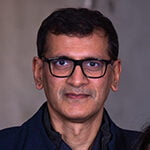 Aamir Jaffar
Kingdom of Saudi Arabia
I hired them for a BA assignment for a project. They did a fantastic job. Quite professional and also good at making the customer understand non technical aspects. Put their mind to think like the customer. A guy named Jaimin was assigned as the work lead and really appreciate his knowledge, understanding customer perspective on the assignment and come up with very valid suggestions. Recommended for mobile app development.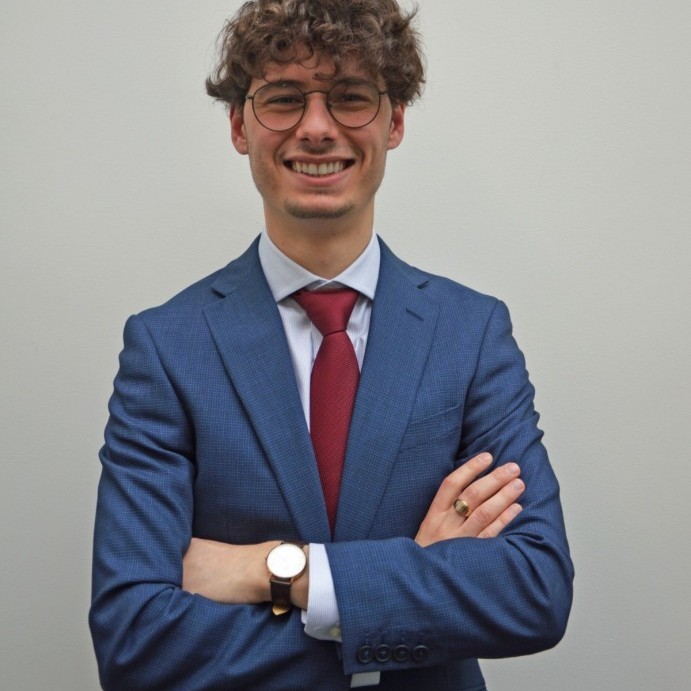 Riccardo Petrachi
United Kingdom
We searched online for app developers that had an extensive experience in mobile app development as well as a strong presence in the market. We chose Space-O specifically because of the up-close experience we had with another app they had developed and we wanted to achieve the same high level of standards, quality, and satisfaction. We were looking for brilliant experts and we found them.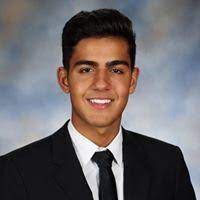 Ashton Asherian
USA
Space-O Technologies showed genuine interest in the project. The efficient team delivered quality results at a cost-effective price. We wanted to develop a minimum viable product that would be ready for scalability. It was a great experience working with them. We are so happy that we had the chance to meet Space-O. We love their work. Their project management and structure were amazing. The team loved what they were doing. There was passion behind every single piece of work.

Tom Asare
Ghana
The app was successfully launched and fulfilled original expectations. The Space-O Technologies team was communicative and effective in completing the project. The app is available in the Google Play store, and we're thrilled with the final product. They were a highly efficient team to work with. They were strong communicators—whenever I had an issue they were available. Additionally, they were timely in getting deliverables to us.

Nick Power
Australia
Eugene, Vlad, Jigar and their respective teams have been fantastic on all the various apps they have worked on and developed for us over the past 18 months. They are always proactive, responsive to questions and consistently provide top quality development and design work. The use of Skype, email and their own project management tool also makes it easy to keep track on how a project is progressing. I would highly recommend Space-O Technologies for any iOS development or design.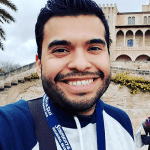 Mark
USA
I can't say enough about how great of a partner Space-O has been to work with over the past year. They were always pushing the project forward and ensuring quality checks at every turn, even pieces of my app that I should have caught before sending to development. Will definitely be referring any clients of mine to Space-O and will have them first on my list of partners to work with.
Frequently Asked Questions
I want to keep my on-demand food delivery app idea confidential. Do you sign an NDA?
Yes, of course. We sign a nondisclosure agreement with all our clients to ensure that their unique idea for a mobile app remains safe and is not misused in any way. We take care of data security and privacy and you can rest assured of the fact that we will take every measure to keep your data confidential.
Why should I choose Space-O for my on-demand food delivery app development?
Being a white label food delivery app development company, we have developed more than 20 on-demand food ordering and delivering apps like Zomato, Grubhub, Deliveroo, Uber Eats, and Foodler. Our team of mobile app developers has expertise in developing a complete restaurant finder and food ordering app solution, including customer's, driver's and restaurant app and admin panel with required features and functionalities.
How long does it take for you to develop an app like Postmates or Uber Eats?
The approximate hours of developing a food delivery app like Postmates & Uber Eats are 800 to 900 hours, including backend development. However, these development hours are only for one platform like iOS, and these hours vary, depending upon the features and functionalities and iOS app development company that you hire.
I have my own chain of restaurants. Can you develop an on-demand delivery app for the same?
Yes, we can develop an on-demand delivery app for your business that is rich with features and other functionalities as per your requirements. The food delivery app for your restaurants will help you serve your customers better. We will also provide you with a web panel to manage the requests and check the status of all orders. You can also accept table reservations, accept orders directly, offer discounts and much more through the food ordering and delivering system.
What type of on-demand delivery apps have you developed before?
We have developed a variety of on-demand delivery apps that covered by many news websites like TechCrunch, BBC News, and The Huffington Post for different industries. Here are some of our recent works:
Glovo

– Having raised over $1.2 billion, Glovo is one of the top mobile apps that we have developed. Users can use this on-demand doorstep delivery app for groceries, pharmacy, wine, flowers and anything else.

Bevy

– With an estimated value of £30 Billion, Bevy is an on-demand alcohol and snacks delivery app through which users can get a guaranteed 30-minute delivery for their favourite drinks and snacks.

Dhaw

– This is an on-demand photographer app through which users can hire the best photographers near them.

Ninja delivery

– Users can send any kind of package to their desired destination using this on-demand package delivery app.
Do you have flexible hiring models? Can you tell me more about the same?
Yes, we have several types of hiring models. We have explained all of them here and you can choose anyone per your requirements.
Dedicated Team Model: You get an entire team of on-demand app developers, UX/UI designers, and QA. The team will work dedicatedly only on your project. The team will be managed by a project manager.
Fixed Price Model: We will give you a quotation for a fixed price after discussing the project requirements. You just need to pay that fixed amount and we will take care of everything else in your project.
Hourly Price Model: In this hiring model, you get to hire an on-demand developer of your choice based on project requirements. You will be paying us for the hours the developer will work on your project. You communicate with the developer himself, making it easier for you.
On-site Team Model: If you need, we would help set up a team that will work on your premises. This will make it easier for you to interact with them as and when you want.
How will I communicate with the developers? Will you keep me updated about the progress of my on-demand delivery app development?
We will assign one point of contact person whom you can reach out to whenever you have any questions or want to communicate anything to the developers. The same person will be in charge of keeping you updated about the progress throughout the development process.
Can you integrate payment methods in my restaurant food delivery app or do I have to accept cash from customers?
Yes, we can integrate a number of online payment gateways in your app. You will be able to accept payments via debit and credit cards, net banking, various e-wallets such as PayPal and Stripe, depending on your country. We can also add an option for Cash on delivery or pay on delivery so that your users will get several payment options when they are placing an order. We will be integrating only those payment gateways that you ask us to and won't add anything that you don't want in your on-demand delivery app.
Who owns the code/app of the on-demand delivery app that you will develop for me?
You will have the complete rights and ownership of the code and the on-demand food delivery app. We are only providing you with our app development services and will play no role in the ownership or claim our rights to your app.
Will you help me upload my on-demand food delivery app to App store and/or Play store?
Yes, uploading your mobile app to the App and/or Play store is a part of our development process. We will be submitting it for review and approval. Since we are experienced in developing and submitting apps to the stores, we will be able to upload it easily and you won't even have to bother about the same.
Do you provide any support post development of my food delivery app?
Yes, we provide free technical support for 3 months after the completion of your on-demand food delivery app development. This will ensure that we can help you solve any errors that enter in the app after launching it on the App or Play stores. We can also guide you with some of the basic functions in the admin panel if you have any confusion or doubt regarding the same.