Amazon Like eCommerce App Development Company
Looking for the best eCommerce app development company? Want to create an app like Amazon? We design and develop native eCommerce apps like Amazon for B2C and B2B businesses. Want to get your free quote?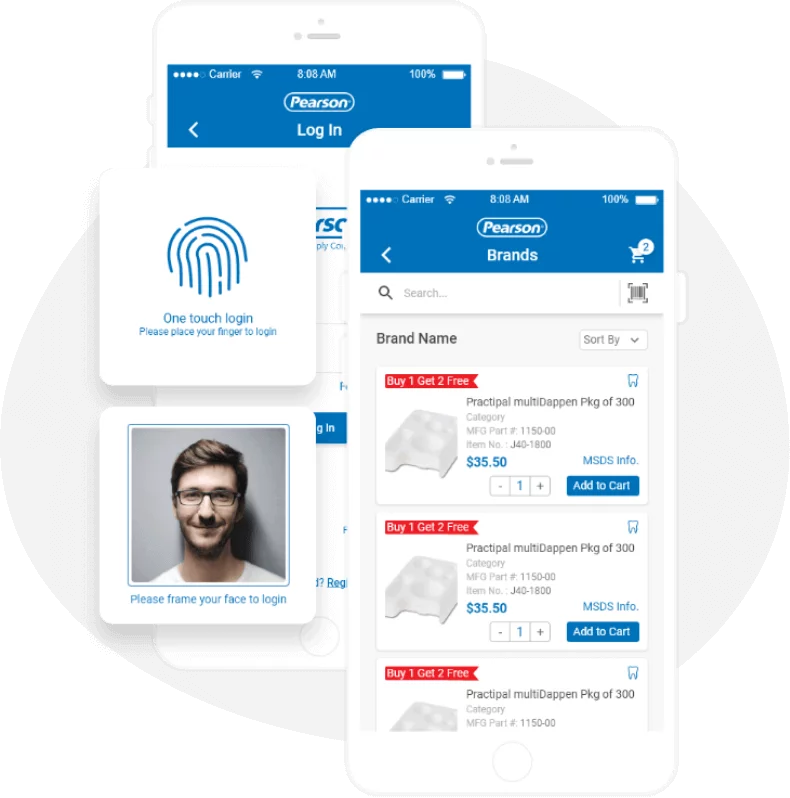 Top App Development Company,
Accredited By
Clients Love Space-O Technologies
Our e-commerce website was in good hands with Space-O Technologies. Their CRM system integration strengthened our customer relationships, leading to higher customer retention rates. Additionally, the AI-driven product recommendations enhanced the shopping experience.
Ben Stewart
CTO, Consumer Products Startup
View all Testimonials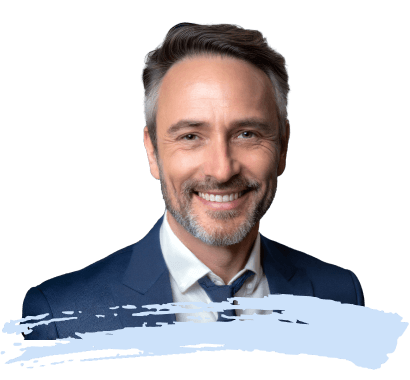 We Develop Shopping Apps for

Shopping Mall

The owner of any shopping mall, who wants to develop a complete eCommerce mobile app solution.

Electronic Products Supplier

The owner of multiple stores that sell electronic products like home appliances, mobiles, computers, laptops and other items.

Grocery Store

Develop your own shopping app for online grocery delivery marketplace to deliver a range of grocery items at customers' doorstep.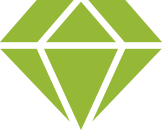 Jewellery Store

A jewellery businessman, who wants to sell a complete range of jewellery through mobile eCommerce app solution.

Furniture Supplier

Running a furniture store at multiple locations? Build your own eCommerce mobile app and manage all your stores with a single app.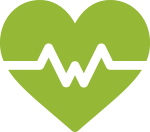 Healthcare Products Center

A businessman, who wants to manage multiple healthcare stores with a single mobile app solution.

Sports Equipment Supplier

A retailer of sports and gym equipments, who wants to sell its range of products online by city, state or country-wise.

Other than These

Share your eCommerce business problems with us, and we will figure out how eCommerce mobile app can resolve it.
Develop Custom eCommerce Mobile App
We, at Space-O Technologies, develop custom ecommerce solutions and eCommerce mobile apps like Amazon, Alibaba, and eBay. Our dedicated eCommerce app developers are capable of developing Amazon like apps that meet the instantaneous needs of your users. Using different strategies and following an agile ecommerce application development process, we develop a complete shopping app solution that helps you to retain your customers and build a positive brand awareness.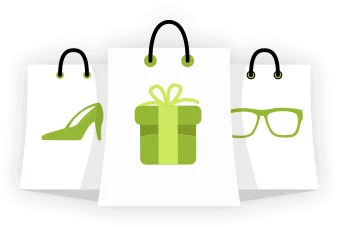 Different Features
of eCommerce Mobile Apps Developed by Us
We have developed over 20 eCommerce mobile applications for eCommerce enterprises, startups, and retailers. To be frank, we have expertise of building an eCommerce app solution with the following features.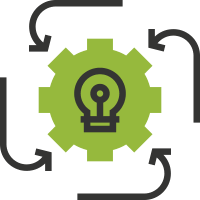 Easy Product Navigation
No matter how many products you are selling on your online store, product navigation feature makes it easy for your customers to navigate all those products and find one to purchase.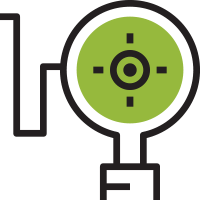 Real-time Order Tracking
Customers are able to track orders or products with real-time information.Even, your customers will get live updates about the order when ETA or status changes.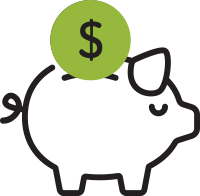 Payment Gateway Integration
Allow your customers to pay for shopping with just a few clicks. Customers have to link the credit/debit cards, bank account detail into the payment gateway, and it will allow them to make payment for the order.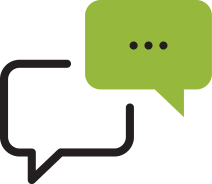 Live Chat Support
This feature allows customers to directly communicate with the support team to discuss any query or confusion related to the product, order or payment.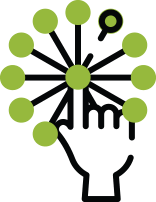 Augmented Reality (AR) View
Enable your customers to view products in the home before purchasing them through the AR view feature. Customers can visualize how any product will look on the particular spot of the home.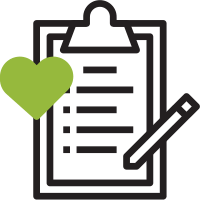 Wish-list
Allow your customers to create wish-list to add all those products that they wanted to purchase in the near future. Even enable them to add, remove and manage wish-list as per the convenience.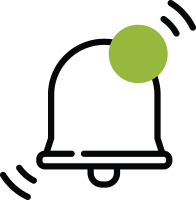 Push Notifications
Grab your customers' attention by notifying about the latest offers, discount deals, and new product range. Stay connected with them through reminders and notifications.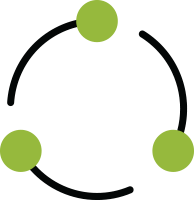 Social Media Integration
Customers directly share their favorite products, wish-list items, and ordered products with their friends and family members using social media platforms like WhatsApp, Facebook, Instagram, and more.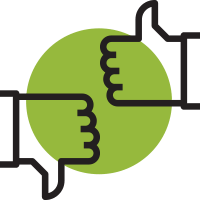 Rating & Reviews
Through rating and reviews, customers can share reviews and give feedback about the service and products. Know your customers' view and improve your services where required.
eCommerce Solutions Developed by Us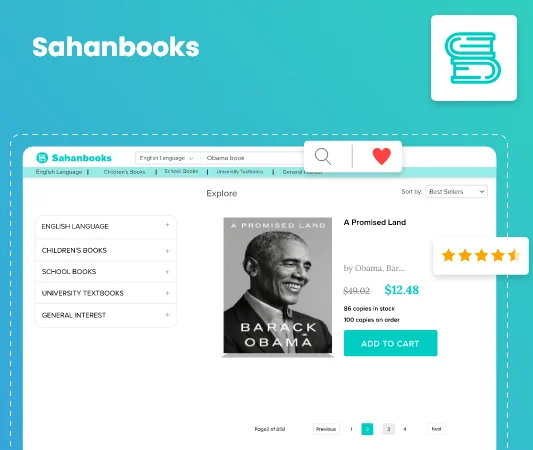 Sahanbooks
Sahanbooks is an eCommerce website, a kind of Amazon clone. This eCommerce website offers online book delivery and pick-up service to the residents of Hargeisa, Somaliland. It offers varieties of books from different genres, such as fiction, nonfiction, classics, and educational.
We have made it easy for you to search your favorite books by authors and book names, or ISBN – International Standard Book Number. Like Amazon, we have also integrated a filter option to make searching more convenient for you.
Online Book Delivery Service: Get a wide range of books from different categories using online delivery services or pick up services
Online Payment: Make online payments directly from their ZAAD accounts and order favorite books
Return Request: File a return request if received a damaged parcel or the wrong books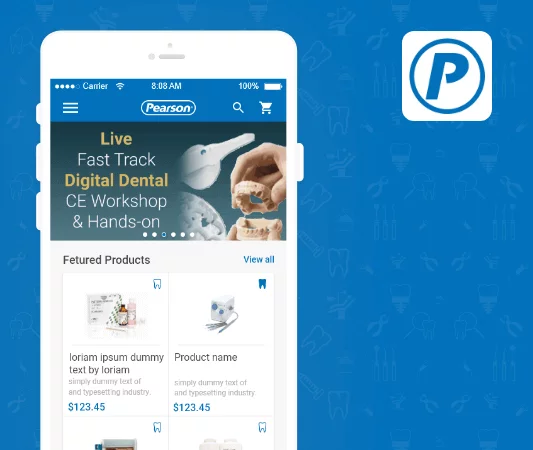 Pearson Dental Supply
Pearson Dental Supply is an eCommerce app for the customers of Pearson Dental Supplies Inc. The customers can buy any of the 1,30,000 products on the app.
The app is extremely easy to use and is like the app version of their website for buying any product. We stored the data in a centralized system. The customers can choose the same products and deals on the website as well as on the application. Here are some of the top features of the Pearson Dental Supply app:
Login Options: Customers can choose from 3 different ways to login viz. Email and password, TouchID, and FaceID login
LBarcode Reader: The customers can use their smartphone camera to scan a barcode and get information about the product
Quick Order: If a user buys a product frequently, he can quickly place an order by just entering product code and quantity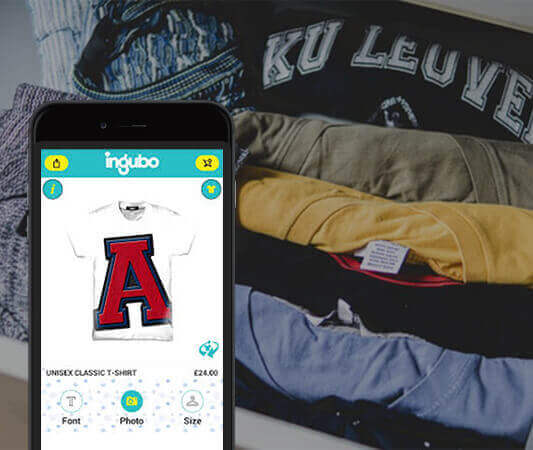 Ingubo App
Ingubo is an eCommerce mobile app that brings user's designs to life. It is a fast and convenient app that allows its users to set the trend by creating their own personalized garment.
Using this eCommerce app, users instantly turn the image of their choice into an individual piece of fashion. Users just have to choose the style of t-shirt, select the right size and upload one or multiple images or use the inbuilt gallery to develop their own design. Some of the top features of Ingubo application:
One Click to Add in Cart: Users of the app scroll different designs and purchase any t-shirt or vest of their choice. Moreover, users can access the cart easily and proceed to the checkout process.
Real-time tracking: Users can track their product with a real-time tracking feature.
Social Media Integration: Share your purchased t-shirts and vest with your friends directly from the app.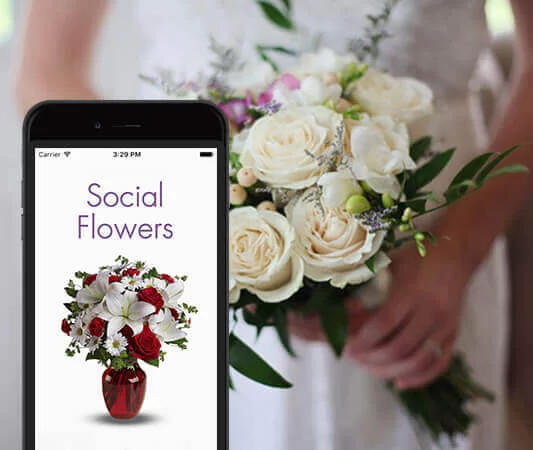 Social Flowers
Social Flowers is an eCommerce mobile app that allows users to send fresh and beautiful flowers to anyone with just an email address or a mobile phone number.
We have designed and developed this eCommerce flower application in a way that makes it easy for users to send flowers to their friends, relatives, dear ones and to anyone else. Users of the app just have to select and pay for the flowers with a few simple taps. Here are some of the top features of Social Flowers:
Multiple Payment Options: The app accepts both debit/credit cards and Apple Pay for payments.
Live Chat Support: Users can get in touch with the support team through live chat support.
Real-time Order Tracking: Users track the orders with real-time information through GPS. Even, check the previous orders along with complete information.
Want to Increase Revenue of your eCommerce Business?
Proven eCommerce App Development Process
01
Analysis of Requirements
Get to know you
Understanding your eCommerce business
Finding the best-fit technologies
02
eCommerce App Consultation
Identify your competitors
Establish goals & objectives
Get your feedback
03
Wireframing & Designing
Blueprint structure
Wireframing each screen
Designing your eCommerce app
04
eCommerce Development
Developing your eCommerce app
Layout main sections
Get your feedback
05
Perform Different Types of Testing
Functional to performance testing
100% bug-free
Get final approval from you
06
Deployment
Host your app on the cloud
Deploy on mobile app stores
App available for users
Technologies We Use

HTML

CSS

JavaScript

React Native

AngularJS
VueJS

PHP

Node.js

Python
Ruby on Rails

Java

MySQL

MongoDB

Oracle

PostgreSQL

Stripe

PayPal

Braintree

AWS

Microsoft Azure

Google Cloud Platform
How Much Does an
eCommerce App Like Amazon Cost?
To know the development cost of shopping app like Amazon, you can refer to this table that gives a complete idea on
eCommerce app cost.
Deliverables
Description
Estimated Man Hours
Development
Graphics Design
QC/Testing
Project Management
TOTAL
(I) iOS Application
1. Base Code & Architecture
32
4.8
4.8
3.2
44.8
 
2. Main Menu
12
1.8
1.8
1.2
16.8
 
3. Authentication
24
3.6
3.6
2.4
33.6
 
4. Home Screen
60
9
9
6
84
 
5. Search
 
5.1. Search Suggestions
24
3.6
3.6
2.4
33.6
 
5.2. Top Results
32
4.8
4.8
3.2
44.8
 
5.3. Search Results List
32
4.8
4.8
3.2
44.8
 
5.4. Search Results Filter
24
3.6
3.6
2.4
33.6
 
6. Voice Search
60
9
9
6
84
 
7. Barcode Scanner
60
9
9
6
84
 
8. Shop by Department
60
9
9
6
84
 
9. Today's Deals
24
3.6
3.6
2.4
33.6
 
10. Gift Cards
60
9
9
6
84
 
11. Recently Viewed
12
1.8
1.8
1.2
16.8
 
12. Recommendations
24
3.6
3.6
2.4
33.6
 
13. Wish List
24
3.6
3.6
2.4
33.6
 
14. Account Settings
140
21
21
14
196
 
15. Item Details
 
15.1. Main Screen
120
18
18
12
168
 
15.2. Make Order
120
18
18
12
168
 
15.3. Suggested Items
16
2.4
2.4
1.6
22.4
 
15.4. Customer Reviews
32
4.8
4.8
3.2
44.8
 
16. Shopping Cart
24
3.6
3.6
2.4
33.6
 
16. Change Country
12
1.8
1.8
1.2
16.8
 
17. Notifications
24
3.6
3.6
2.4
33.6
 
18. Customer Service
120
18
18
12
168
 
19. Graphics Design Integration
40
6
6
4
56
 
Subtotal:
1212
181.8
181.8
121.2
1696.8
(II) Android Application
 
 
 
 
 
2036.16
(III) Backend Web Services (API)
1. Base Code & Database
24
3.6
2.4
30
2. Backend Web Services (API):
2.1. Home
16
2.4
1.6
20
2.2. Departments
8
1.2
0.8
10
2.3. Products
24
3.6
2.4
30
2.4. Reviews
12
1.8
1.2
15
2.5. Product Questions
8
1.2
0.8
10
2.6. Search
12
1.8
1.2
15
2.7. Deals
8
1.2
0.8
10
2.8. Recommended
8
1.2
0.8
10
2.9. Wish Lists
8
1.2
0.8
10
2.10. Account
16
2.4
1.6
20
2.11. Cart
16
2.4
1.6
20
2.12. Payment System Integration
24
3.6
2.4
30
2.13. Push Notifications
16
2.4
1.6
20
 
Subtotal:
200
0
30
20
250
Why Choose Space-O Technologies?
98%
Success Score on Upwork
20+
eCommerce Apps Created
1000+
Jobs Completed on Upwork
50+
Full Stack App Developers
30M+
App Downloads
15+
eCommerce App Developers
1200+
Clients Worldwide
55+
Unique Feature Implemented
100+
Small and Large Innovation
Appreciation from Clients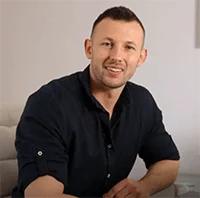 Steve
USA
I would like to thank the entire Space-O team for helping us with our photo editing app. We have been working with other developing teams before, and we were able to find Space-O. And all the other developers failed to deliver all great working apps for us. Space-O helped to design the app in a very user-friendly way. They helped us to navigate solutions for the app. And overall went above and beyond with our request.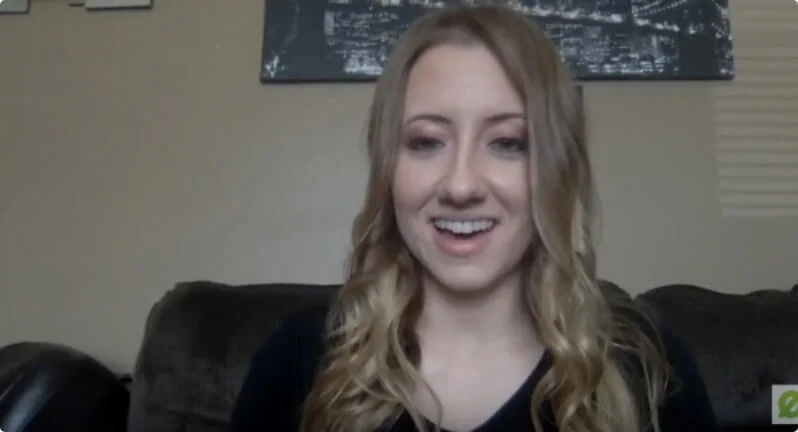 Olivia Grande
USA
This was the first app I've ever developed and they been extremely helpful every step of the way, answering questions, writing recommendations, and tips. If you're looking for a high-quality app, definitely go with Space-O technologies.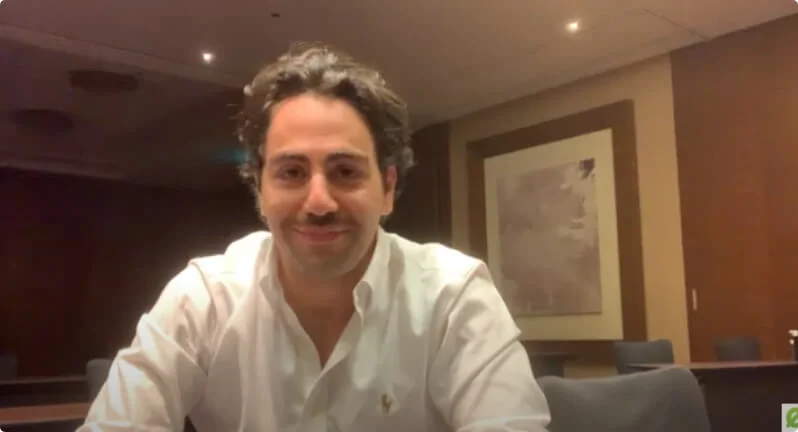 Kaveh
UK
When we started 2 years ago, the main struggle was to find the right developing team, because the problem was we were all quite demanding in terms of quality. And, this showed that we were able to develop some successful apps. But, this would not have been possible without Space-O.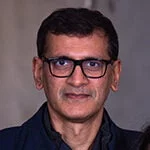 Aamir Jaffar
Kingdom of Saudi Arabia
I hired them for a BA assignment for a project. They did a fantastic job. Quite professional and also good at making the customer understand non technical aspects. Put their mind to think like the customer. A guy named Jaimin was assigned as the work lead and really appreciate his knowledge, understanding customer perspective on the assignment and come up with very valid suggestions. Recommended for mobile app development.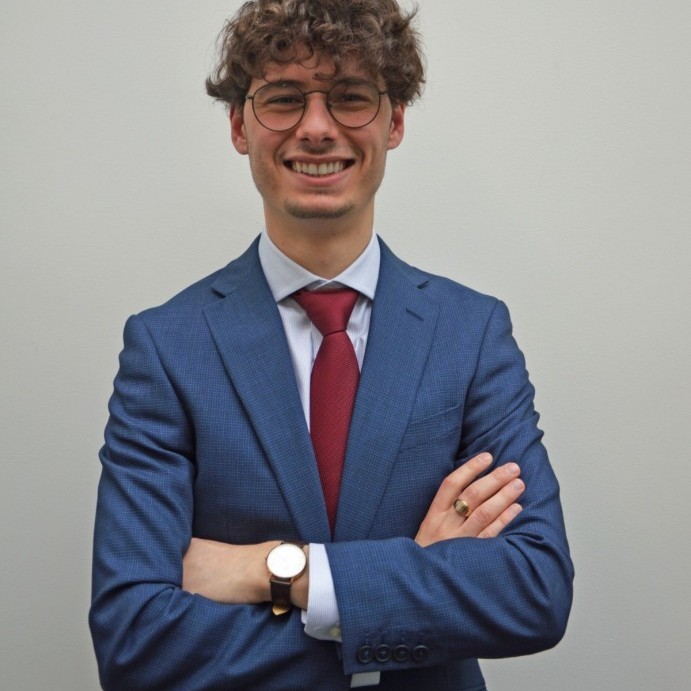 Riccardo Petrachi
United Kingdom
We searched online for app developers that had an extensive experience in mobile app development as well as a strong presence in the market. We chose Space-O specifically because of the up-close experience we had with another app they had developed and we wanted to achieve the same high level of standards, quality, and satisfaction. We were looking for brilliant experts and we found them.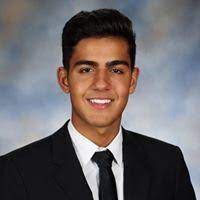 Ashton Asherian
USA
Space-O Technologies showed genuine interest in the project. The efficient team delivered quality results at a cost-effective price. We wanted to develop a minimum viable product that would be ready for scalability. It was a great experience working with them. We are so happy that we had the chance to meet Space-O. We love their work. Their project management and structure were amazing. The team loved what they were doing. There was passion behind every single piece of work.

Tom Asare
Ghana
The app was successfully launched and fulfilled original expectations. The Space-O Technologies team was communicative and effective in completing the project. The app is available in the Google Play store, and we're thrilled with the final product. They were a highly efficient team to work with. They were strong communicators—whenever I had an issue they were available. Additionally, they were timely in getting deliverables to us.

Nick Power
Australia
Eugene, Vlad, Jigar and their respective teams have been fantastic on all the various apps they have worked on and developed for us over the past 18 months. They are always proactive, responsive to questions and consistently provide top quality development and design work. The use of Skype, email and their own project management tool also makes it easy to keep track on how a project is progressing. I would highly recommend Space-O Technologies for any iOS development or design.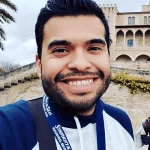 Mark
USA
I can't say enough about how great of a partner Space-O has been to work with over the past year. They were always pushing the project forward and ensuring quality checks at every turn, even pieces of my app that I should have caught before sending to development. Will definitely be referring any clients of mine to Space-O and will have them first on my list of partners to work with.
Frequently Asked Questions During Amazon-like App Development
Do you sign an NDA?
Yes, we sign a non-disclosure agreement with all our clients. This is done to protect the idea of your app and to assure you that we will handle your data with care.
Will there be an issue with copyrights if I make an app like Amazon?
Since we won't be using the same code, layout, logo or any other elements of Amazon's app, there won't be any issues regarding copyrights. Anybody can make an eCommerce store like Amazon when they want to, for their business.
Will you be developing my app from scratch or do you have an Amazon clone app?
No, we do not have any clone apps or source script for an app like Amazon. We will be developing your eCommerce app from scratch and will not reuse the code anywhere else or for any other client.
What type of hiring models do you offer?
We offer several types of hiring models. We will suggest a model that is best suited to your hiring needs.
Dedicated Team Model: In this mode, we provide an entire team of on-demand app developers, UX/UI designers, and QA. The team will work dedicatedly to your app like Amazon. The team will be managed by a project manager.
Fixed Price Model: We will give you a quotation for a fixed price after discussing the project requirements. You just need to pay that fixed amount and we will take care of the rest.
Hourly Price Model: In this hiring model, we provide you with the flexibility for hiring an on-demand developer of your choice based on project requirements. You will be paying us for the hours the developer will work on your app like Amazon. You can communicate with the developer himself.
On-site Team Model: If you need, we will help set up a team that will work on your premises. This will make it easier for you to interact with them as and when you want.
Will there be a limit on the number of products or categories I can upload in the app?
No, depending on your server and hosting, you can upload an unlimited number of products and create as many categories as you wish to.
Will the app be user-friendly?
Yes, we have the best UI/UX designers in our team and we will assign them on your project. The designers will ensure that the design of your app like Amazon is in sync with your brand identity while also being extremely user-friendly. The flow of navigation will be such that it helps you lead the users to the goals that you have set. Also, we can help you provide your users a personalized experience by integrating OpenAI based ecommerce advanced search in your application.
Which payment methods will you integrate into my eCommerce app?
We can integrate a number of payment methods with your eCommerce app. Options for credit and debit cards, net banking can be added using different payment gateways such as PayPal, Braintree or Stripe. We can also add the option for payment on delivery or eWallets which are local to your country.
Will you launch my Amazon like app?
Of course, it's a part of our Amazon like app development process. We will be launching your app to the app marketplaces after the development and testing stages are complete.
Who owns the code or app?
When we develop a shopping app like Amazon the copyrights of the code and your app will belong to you. We will take no part in it and won't claim our right to the same from you.
What kind of support will I get from you after development?
We provide technical support for 3 months after deployment of your app like Amazon. In this duration, we will be helping you with any doubts you may have about the admin dashboard. We will also solve any bugs or issues that may be in the app. Our app like Amazon experts will guide you for any further queries too.