If you are thinking about what makes a good app, you are on the right blog.
By the end of this post, you will know:
What makes a good app great? [3 key metrics]
Which are the key ingredients of a successful mobile application?
Let's get started.
There are over 8.9 million mobile apps on App Store across the globe. That's a staggering number. This means if you want to stand out from the crowd, your app must deliver a ravishing app design and UX. To help you build one of the most successful applications, we have prepared a list of the best app features that you can implement in use your app to make it stand out from the crowd. Let's start with the traits that make a mobile app successful.
Have an App Idea That Solves the Actual Problem?
Want to validate your app idea? Want to get free consultation from expert?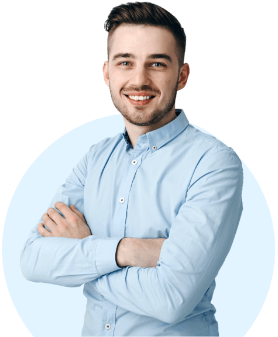 What Makes a Good App?
There are quite a few things that make an app better than the rest. Let's look at a few common metrics that can make your app idea successful.
Versatility

First things first, your app needs to be versatile. Meaning, it should be available for all the major operating systems (Windows, iOS, and Android). While most people use iOS and Android today, there are still a fraction of users solely relying on Windows for their operations. Thus, you must ensure your app is available for all the major platforms your audience may be using.

User Insights

One of the best ways to improve your app's UX is by understanding your users' behavior. You can track their actions to understand what's working and identify opportunities for improvement. Try A/B testing. Collect data. Glean insights from their behavior and refine your app accordingly. You can also use the data for creating targeted, data-driven marketing campaigns for your users.

Consistent Color Scheme

The colors you use on your app can significantly influence user behavior. There's no sure-shot formula for colors. It really depends on the type of your app and its features. If you're unsure, you may consider A/B testing different color schemes and use the one that works best for you.
Now that we know what it takes to create a great app let's understand key ingredients for a successful mobile app.
Key Ingredients for a Successful Mobile App
Creating a successful application from scratch takes a lot. But with the right ingredients by your side, creating an app that consistently delivers an engaging user experience will become effortless. Here are the best ways to identify a successful app idea.
It Solves a Problem for Masses

Every great product or service solves a problem for the masses. For example, the Uber app solves problem the of commuting from one place to another. Earlier, it was not easily possible to book a taxi using a smartphone and an application. With the inception of the Uber app, booking taxis become hassle-free, giving solutions to their pain points.

So, if you want your app to be successful, start thinking about what problem it will solve? Think about a challenge that the majority of your target audience is facing — and work your way backward.

It could be something as simple as learning a new language or understanding the basics of mathematics — your app ideas could be about anything your target audience finds challenging. The bigger your audience, the more are your chances of succeeding. Thus, it's recommended to work on a problem faced by the masses.

It's Simple Yet Elegant

Simplicity sits at the core of every successful app. Not only your interface have to be self-explanatory, but also the navigation should be seamless. No one likes to use things that make them feel stupid. Your app isn't an exception. According to a popular report by eMarketer, about 14 percent of smartphone users deleted an app because it was difficult to use.

Thus, if you're seeking to make your app successful, ensure it has an intuitive UI and seamless navigation. But how do you make your app's interface simple and useful? One of the most successful ways of enhancing your app's UI is by minimizing the number of times an end user taps to access their desired function. Apart from this, choosing the right colors – consistently and font style/size go a long way in making your app look simple yet elegant.

It's Fast & Stable

If your app takes an eternity to load resources in an era of instant gratification, it's certainly going to be uninstalled — sooner or later. With everything getting faster, your app shouldn't be left behind. Think about the best apps you interact with most – they are fast, stable, and snappy.

Stability and speed are the building blocks of any successful app. If you're seeking to amp up your app's speed, start with the content — focus on only what's important and keep the rest of the clutter for other pages. Additionally, you may consider resizing your images, optimizing the code, and using CDN for enhancing your app's performance.

It Delivers a Personalized UX

Thinking how to make an app successful? Start discovering ways you can personalize your app's user experience. We love things when they're tailored to our needs. Let's consider video streaming apps like Netflix and Amazon Prime. They always show recommendations based on our interests. No wonder why we end up binge-watching for hours — even when we know the household chores need our attention.

You can achieve personalization based on several factors. For instance, a user's location (in a weather app), their search queries, or purchase history (in a retail app), their interests (ex. a news app). Thus, while creating your app, think about ways you can personalize its user experience. It will not only help you maximize user interaction but also will make them return to your app over and over again.

It's Secure & Reliable

Security is certainly one of the most important aspects that determines an app's success over time. Because mobile apps store and interact with sensitive personal information, they need to be highly secure and reliable. A few of the most common security issues include unintended data leakage, improper session handling, and broken cryptography.

To avoid such security issues, you may consider hiring a reliable mobile app development agency which follows mobile app security best practices to test your app and eliminate any potential security threats beforehand. This way, you will save yourself from compromising your most confidential information.

It's Regularly Updated

We love new things. Be it an app or a mobile. It has been scientifically proved that we see new things as if it has the potential to reward us in some way. New things increase our levels of dopamine. And that's why consistently updating your app is a great idea to keep your users glued to it.

Updates don't have to be always about new features. You can redefine the user interface or fix technical glitches. Ideally, you must consider taking your user's feedback before updating your app. This way, you will make your app extremely addictive over time.

It's Designed for One Purpose

You rarely see an app that does ten different things. Great apps are built for doing one thing exceptionally well. Think about every successful app, you know. Be it an online cab booking app for taxi business or a dating app like Tinder. They all are known for a specific purpose.

While creating your app, start with your core focus. What do you want this app to do? Who will it serve? Is it developed to accept payments virtually through Stripe or to scan QR codes? Whatever your purpose may be, make sure you don't overshadow it with other additional features.

It Delivers Value

Every successful mobile app should create value for its user. After all, how will using your app make someone's life easier? Is it going to make their life more convenient, productive, or entertaining? No app can survive without adding value to its users.

Thus, it's important that you find ways to enhance your users' life through your app. If you have an app idea, conduct comprehensive research to understand how it can deliver value to the end-users. With sound research, you'll be able to validate your app idea well before actualizing it.

Above were a few ingredients that make an app successful. However, there are a lot of other factors contributing to an app's success. For instance, the mobile app features list, right mobile technology, and a solid marketing strategy play an important role in making your app stand out. Well, but how to make a successful app? What are the steps to follow? In the next section, you will learn step by step app development process and how to make a successful app.
How to Make An App
Creating an app is a systematic process. You simply cannot build a great app in an ad-hoc fashion. To help you get started, we've prepared a list of 9 steps to create a successful app. Here we go: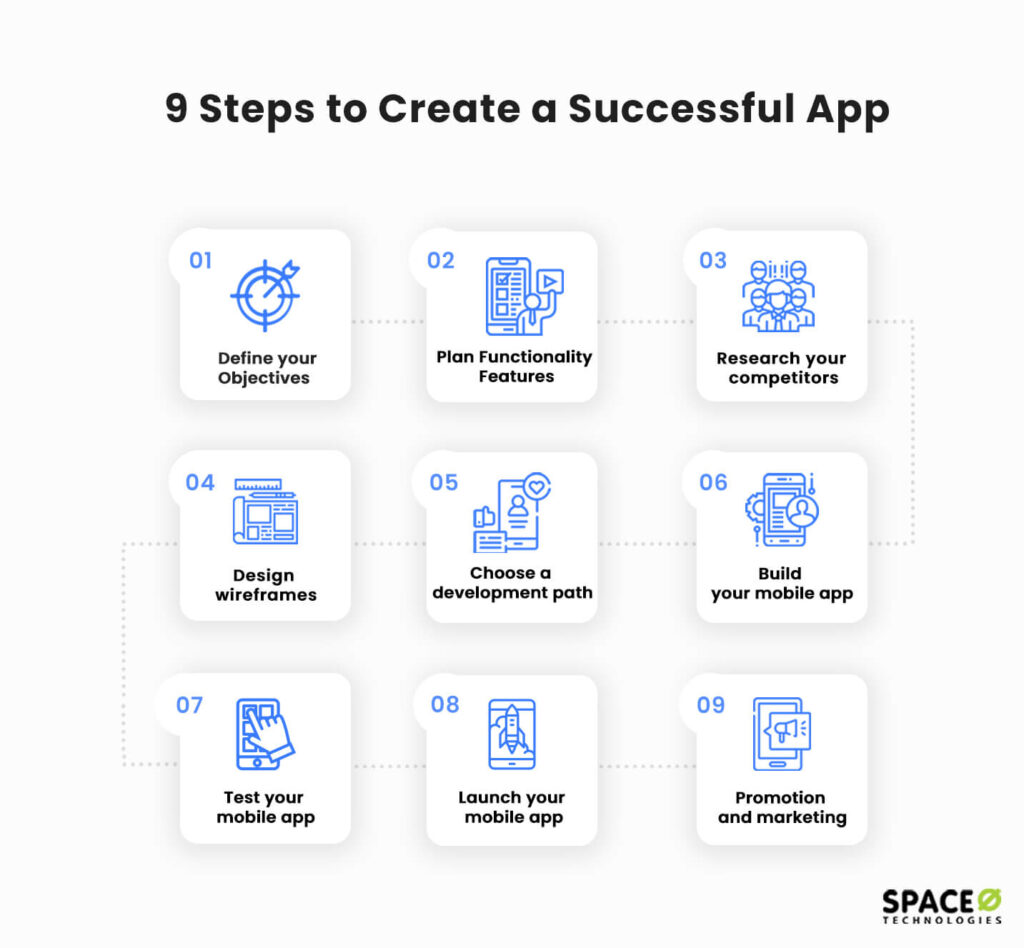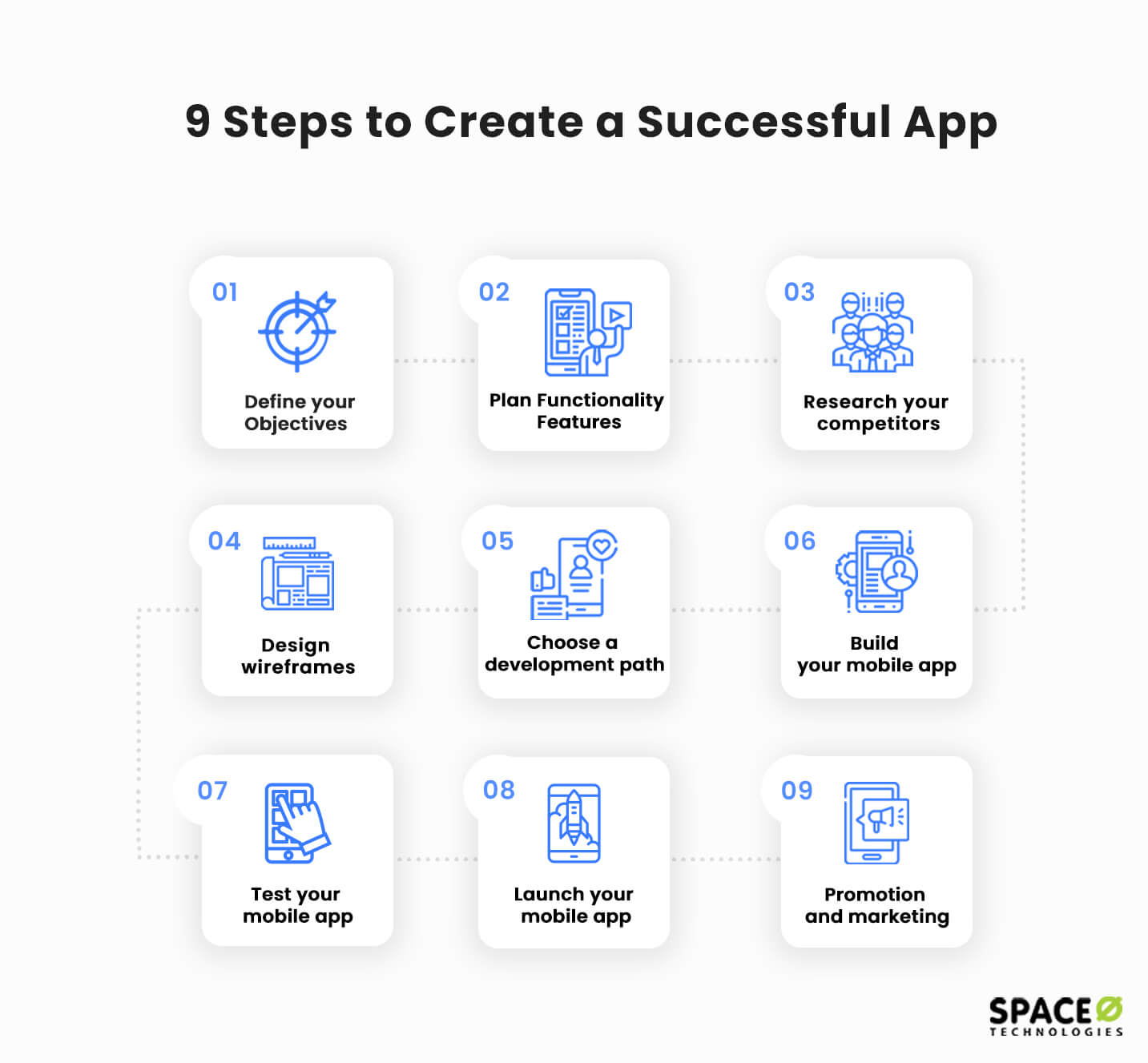 Step 1: Define Your Goals – What is it that you want the app to achieve? You should list down your top 3 goals before getting started. It will help you plan your app development more effectively.
Step 2: Plan Functionality & Features – Once you're clear about what you want your app to achieve, it's time to plan your app's features and functionalities. Make a list of the most important features your app must-have.
Step 3: Competitor Analysis – Before starting the development, it's important to understand your target market. Who are your competitors, how is their app, what features are they missing out on? This step will save you from several mistakes in the early stage.
Step 4: Designing Wireframes – Now that you're clear about your app idea, it'd be the perfect time to start building the app's wireframes.
Step 5: Choose a Development Path – Once you have the final wireframes by your side, it's time to decide which technology you'll be using for your app.
Step 6: Build Your Mobile App – It's action time. After deciding the development path, you're ready to start the actual work – coding.
Step 7: Test Your Mobile Application – Once your app is fully developed, testing it thoroughly is equally important. You don't want your end-users to experience bugs and laggy performance.
Step 8: Launch Your Mobile Application – After your mobile application passes the testing phase, it's ready to be launched and made publicly accessible. You may consider publishing it on platforms like Google Play Store.
Step 9: Promote Your Mobile Application – Marketing your app is as important as publishing it in the first place. You must continue putting in efforts to ensure your application reaches the right audience.
That's it with the mobile app process for developing applications. Your great idea is now an application that delivers consistent UX to its users.
Frequently Asked Questions
Which are the key features of successful mobile apps?
While it really depends on your requirements, a few of the essential mobile app features include:
GPS Location
Advanced Analytics
Real-time Tracking
Push Notifications
Feedback System for User Feedback
Customer Support
What are the most successful apps?
A few examples of the most successful apps include YouTube, Snapchat, Instagram, Angry birds, Candy crush, and Messenger.
What makes mobile apps useful for users?
For an app to be useful, it should be user-friendly, intuitive, and easy to navigate. Above all, it should solve a problem for its users. So, make sure you do one thing and do it well to make your app successful.
Turn Your App Idea into a Great App
Have an app idea? Want to turn it into a reality and make a great app?
Conclusion
Creating a successful mobile application isn't an easy job. However, with the right process and tactics, you can build the most interesting app your business will be known for. We hope this post served you like a recipe to cook a great mobile app.
If you're seeking to turn your idea into an amazing mobile application, let us help. Having done this for literally a decade, we, as a leading app development company, know what it takes to help you create an application that will please its every user. So far, we, along with our experienced app developers, have built over 4400+ mobile applications for companies of any size and every scale. Plus, we are easy to talk to and love seeing our clients thrive with our exceptional mobile apps. If you'd like to work with us, just shoot an email.