The world is inevitably changing at a rapid speed.
With users looking for speed, convenience, and simplicity, the on-demand mobile apps are on hype.
Also, with the Coronavirus pandemic outbreak, people now prefer getting most of the things delivered to their doorstep to stay at home as much as possible.
You will be surprised to know that the on-demand mobile apps and websites earned a sales revenue of $15 billion in 2013, which is predicted to reach $335 billion by 2025.
Looking at these statistics, if you are planning for on-demand app development in the USA, check out these 20 on-demand app ideas, which are very much in demand, and help you to uncover new business opportunities. Be the first one to be a leading name in the on-demand mobile app development category.
Overview of On-demand Service App
According to the report of Statista, the revenue growth of mobile apps has significantly increased. The mobile app revenue across different segments is expected to reach around 613 billion U.S dollars by the year 2025.
This clearly shows an opportunistic plunge for investors, startups, and entrepreneurs. Mobile apps not only boost your business economy but also generate goodwill for the same.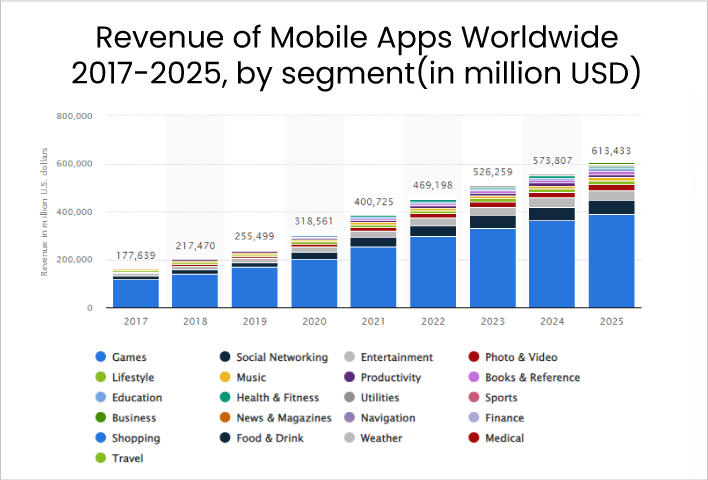 Source: Statista
The above statistics show the year and industry-wise mobile app revenue growth.
In the year 2017, the overall market growth was $177,639 million.
As of 2022, the on-demand market is expected to reach $469,198 million.
Even in 2025, this revenue is expected to grow to $613,433 million.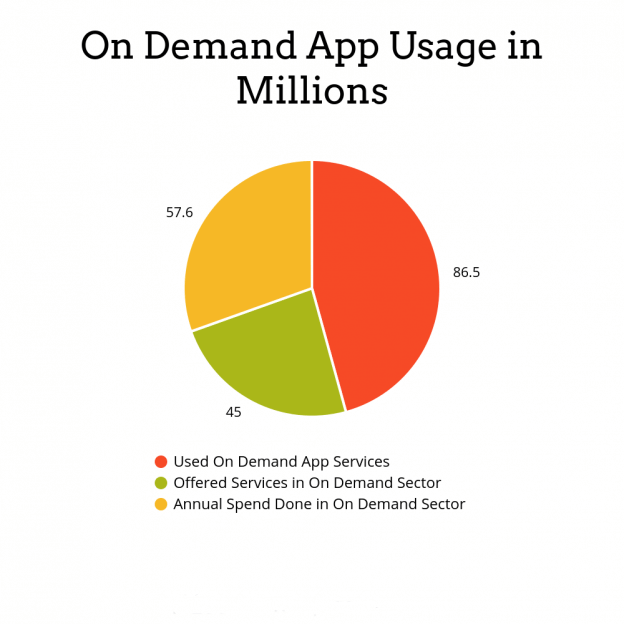 Now, after looking at these insane figures, you can definitely have your own on-demand mobile app to serve the mass. If you are still confused about on-demand app ideas, we have curated some specific on-demand niches, which your startup or entrepreneur can look forward to.
Want to Validate Your On-demand App Idea?
Connect with our on-demand professionals, who have built over 40 solutions, and let us help you develop yours.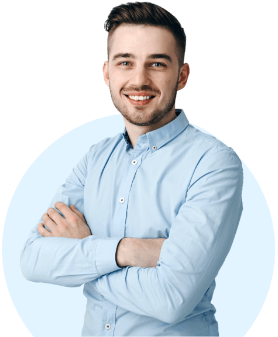 In this blog, you will learn 20 simple on-demand app ideas but we can help you learn how to discover more profitable app ideas.
For that, we have created a simple PDF guide with 3 steps to follow. You can download that free guide below.
Here is a List of 20 On-demand Mobile App Ideas
The following list describes the best on-demand startup ideas in detail to help you to start your on-demand business.
On-demand Uber-like Apps for Traveling

93 million people utilized the Uber app every month in the fourth quarter of 2020. The era of on-demand app development started with Uber and Airbnb. No one wants to be left behind in this fast opportunistic world, even for mere seconds. In a very short period, the transport and logistics industry got a new direction with the utmost success of the Uber app and Uber alternatives like Lyft and Careem. Being the best mobile app development company, we have built 40+ on demand solutions and Uber-like apps for our clients.

The transport industry is vast; you can plan for cargo logistics apps, taxi booking apps, bus booking apps, e-scooter apps, and also bicycles. People who often like to travel will rely on the best travel apps to transit from one place to another. It should be easily accessible and within their budget. Through on-demand apps like Uber, you can create your own targeted niche, with some engaging features, like live traffic checking, GPS navigator, no extra cost on the cancellation, and rescheduling rides.

On-demand Pharmacy Delivery Apps

The revenue in the online pharmacy is about to reach $31.64 billion in 2023 alone. Most of the revenue comes from China. With COVID-19, we are facing an enemy who is totally invisible to our eyes. The only way that we can beat it is by taking appropriate precautions such as using hand sanitizers and wearing masks. Also, many people don't feel like going outside these days, considering the situation of COVID.

This is the reason why pharmacy or prescription delivery apps are now much in demand.

Imagine that you have a headache. Would you like to go out to buy medicines or send your close ones to go out and get in touch with someone who is COVID-19 positive? In these times, prescription delivery startups can come forward.

Uber for medicine apps or prescription delivery apps let people buy the required medicines and drugs from a drugstore whenever they want. The trend is here to stay because people are now cautious about their health.

On-demand Fashion Apps

What will one do if he is stuck in the office and has so much work that he is not able to buy a present for his wife on her birthday? The answer is simple! Fashion apps are a one-stop destination for all last-minute orderings.

eCommerce app development can bring you a lot of exposure like Amazon. Fashion trends are never going to end. Apart from this, retail eCommerce revenues from garment and accessory sales in the United States reached $180.5 billion in 2021, up from 144.8 billion dollars in 2020.

The report from Statista shows that 42% of consumers love shopping online. This keeps the momentum going as people continue shopping online.

On-demand Health Apps

Mobile health market is about to reach $189 billion in the year 2025. The future is certainly positive for the on demand health apps market.

Even, day by day, people are getting more health-conscious. Because of their busy schedule, it is not possible for everyone to hit the gym or attend meditation classes. In this scenario, your app will be a handy exercise kit for them.

You can create an app for a doctor consultation, an informative app related to major diseases, health, and fitness regime apps, and meditation apps.

There is a lot more to discover and such an on-demand app idea can bring a lot of revenue and brand name for your successful business.

If you are planning to dive into the health app genre, grab your opportunity now and start searching for an experienced mobile app development company.

Even, we have built on-demand health apps such as Pearson and Conduet-Med for our clients.

On-demand Plumbing Apps

Gone are the days of paper invoices and calling the plumber a thousand times to repair a pipe or running tap. Try something out of the box with a plumbing app. Being new in the on-demand industry, you will have a higher chance to be successful.

You can create your on-demand plumbing app that calculates information about pipes and water flow or can review the different systems for more efficient and accurate results.

Finding a plumber was a hard task a long time ago, but now online mobile apps have made it easy for users to find them.

On-demand Mechanics Apps

The plumbing fixtures and fittings market has increased at a CAGR of 5.45% from $74.72 billion in 2015 to $102.07 billion in 2021. As it has continuously helped to bridge a gap between mechanics and car owners.

Bridge a gap between mechanic and car owner. Car repairing apps are lately very much in demand. People are traveling the globe with their transport modes. There are certain places where there is no garage or mechanics available, where your app is a savior for travelers.

Before considering any of the on-demand app ideas, make sure you are targeting the right niche, with some unique features that can lure your audience. In the case of a mechanic app, make your app available in such remote areas, and hire efficient mechanics who can actually be the core of your business.

On-demand Plant Delivery Apps

There is a lot of scientific evidence showing that houseplants can remove harmful toxins from the air and also reduce stress. In fact, a study by the University of Queensland found that offices with plants showed an increase in productivity by up to 15%.

However, finding the perfect plant for your house or office is a pain. Especially, if you're living in urban areas and don't know much about plants. This has made the demand for apps and websites selling plants soar high.

Ordering plants online is not just convenient but these apps and sites have more variety of plants available than regular stores. There is a lot of space in the market and if you know which features to include in an on-demand plant delivery app, you can compete with them.

On-demand Beauty Service Apps

If we go by the statistics, an average woman spends around $3756 annually on beauty services. This is inevitably a huge amount.

Now, if you already have a soaring beauty service business, then add an on demand beauty services app to gain unbeatable and huge profits. Even, if you are an entrepreneur, you will get a profitable business model.

Today, working women don't get much time to spend in salons. They require an efficient solution that can cater to the best beauty services. This is exactly what on-demand beauty service apps will do for them, including home comfort. With the right app development team, you will be able to build a powerful on demand beauty solution.

On-demand House Cleaning Apps

In the fast-paced world, often found that working professionals, single-parent households, elderly people, or the ones who can afford to have delegated the cleaning services to the professionals for saving their essential time.

No doubt, the trend of booking on-demand house cleaning services is growing. Moreover, due to the increase in professional work, the demand for house cleaning services will keep on growing in the years ahead.

On-demand Dog Walking Apps

According to the North American Pet Health Insurance Association (NAPHIA), gross written premiums for pet health insurance in the United States reached $2.6 billion in 2022, down 40 percent from $3.9 billion in 2021. This number will surely go up with time. Many of them cannot take care of their pets because of busy schedules, but pets being an integral part of the family need special care.

This has opened many opportunities for entrepreneurs who are ready to invest heavily in on-demand dog walking services. With the right strategies and planning, you can make the most of this and grow your business.

On demand Grocery App

Most of us relied on online grocery delivery apps during the pandemic. Due to the increasing demand, most of the time, damaged goods were delivered. Apart from this, there were inflexible and limited supermarket delivery slots which resulted in late delivery.

Since online supermarkets were unable to meet the demands of customers, businesses developed ultra-fast grocery delivery, business models. To guarantee speed and reliability, most on-demand grocery app businesses use data to spot buying patterns and improve efficiency.

For instance, Lacy is a liquor delivery app that allows ordering alcohol, wine, and beer from the listed shops.

One of our developed on-demand applications Glovo is helping millions of people by delivering groceries to pharmaceutical items in minutes. It has more than 50 million downloads and received a total funding amount of $1.2 billion from more than 32 investors. Let us help to launch your on-demand mobile app.

These were some of the best on-demand application ideas that can change the world. Let's discuss how much it costs to develop an on-demand service application for your business.

Want to Build On-demand Grocery App?

Our professional developers have built successful apps like Glovo and Jabrool which have helped our clients to scale their businesses.

On-demand Video Streaming App

According to Statista, the revenue of on-demand video streaming services has reached $111.10 billion in 2023. Video streaming apps came into notice when Netflix and Amazon Prime started ruling this industry with their apps. These two are the best video streaming on-demand apps examples and are able to transform the entire on-demand video industry.

No doubt, they have changed the way people used to watch movies and shows earlier. Now, you just need good internet connectivity and a subscription to watch your favorite shows.

However, it will not completely replace televisions but with time people also started gradually moving to prefer video streaming apps. Such types of apps have everything; flexibility, convenience, downloading and selecting favorites to add an enjoyable experience to audiences' lives.

After COVID-19 has happened, people do not prefer to watch movies outside because of the risk. Therefore, creating an on-demand video streaming app could be the best idea for your business.
Having expertise in developing photo and video apps, we have built two of the best apps for our clients. Read the complete details about the apps and their features below.

Dhaw – On Demand Photographer App

Dhaw is an on-demand photographer app that allows you to identify and hire the best photographers in your area.

By adding gorgeous animations and music to images and videos, SlideShow Maker allows users to turn them into fantastic movies.

On-demand E-learning App

Again because of COVID-19, students are locked inside the doors. Now the question arises, how will students continue to study?

Well creating apps like on-demand E-learning can help those students to continue their studies. Adapting digitalization to the education industry is one of the best opportunities at this point. Not only have E-learning apps transformed the way of delivering education but have also created a demand in the market. Even for Ed-tech companies, developing E-learning mobile apps for education is one of the best app ideas to make money.

If you have planned to create an E-learning app, then you can add advanced features like hiring tutors with their complete information, video calls, and uploading tutorial videos.

On-demand Flight Booking App

The travel industry is flourishing along with smartphone apps. App development has significantly improved the entire travel business.

Especially, in the flight booking business, where you can book a flight at your convenience and don't have to pay a commission to your travel agent.

If you develop a flight booking app with extra features like a reward system and weather forecast, your app will get a higher chance to get succeeding in this competitive market.

On-demand Ridesharing Apps

The aim of ridesharing services is to keep the drivers and customers closer using technological advances. To achieve that C2C (customer to customer) needs to be implemented. As of 2021, the global market size of ridesharing apps has reached $85.8 billion. Since travel has become extremely convenient, most people can not even think of functioning without a travel application. You can easily book a cab with the apps like LYFT, Uber, Via, and BlaBla Car in seconds and hit the road.

Now, you don't worry about standing in a queue to book a ticket, a ridesharing app is enough for you to travel a long distance.

Thinking from a business perspective, on-demand apps like bus booking apps, logistics apps, online taxi booking services, bicycle apps, and e-scooter are the potential start-up ideas you can implement.

Since, these applications allow you to connect with your client, offer long-distance transport service at sustainable rates. The experienced mobile app development company will provide the right guidance to build on demand ridesharing app.

On-demand Doctor Booking App

In the middle of the night, you fall sick and have an extreme headache. You are certainly not in the condition to drive or visit your nearby clinic for a checkup.

In such a situation, if you would have an on-demand doctor booking app on your phone, you can directly contact the doctors nearby your location through call, video, or voice call and explain your issues to them.

Additionally, the doctors will help you with the prescription to buy medication without visiting any place. You can directly connect with the doctor and if there is an emergency, you can also call them at your home.

On-demand Payment Wallet App

The cashless transaction has become the new normal. Applications like PayPal and CashApp have already set the industry standards by proving their worth.

It has been foreseen, that the usage of Google Pay and Apple Pay is about to double between 2020 and 2025.

You can also build a great on-demand payment wallet with safe services and unique features. Google Pay, which has become the synonym for daily online payment apps and other apps has allowed millions of people to pay just using their smartphones.

If you are thinking about building a payment wallet app or something similar to that, you should start acting on it now.

On-demand Car Wash App

Every car owner has to go through the pain to manage their car washing schedule. Undoubtedly, every week or two, your car needs a proper wash.

Now, being a car owner, either you need to wash your car at home or take it to the nearby car wash center.

It certainly takes a lot of time to wash your car by yourself or take an unscheduled visit to the car wash.

Hence, what if you can develop an on-demand car wash application that can help thousands of users to schedule their cash wash appointments from their smartphones themselves? You can provide updated services and features and your application will surely be a success.

On-demand Laundry Apps

The revenue of the entire laundry care segment amounts to a total of $104.00 billion in 2023. The on-demand laundry market is about to grow by 3.89% between 2023 and 2026.

Who thought that a simple laundry service could generate this huge revenue? One cannot simply ignore the contribution of laundry facilities and dry cleaning services.

On demand laundry service is becoming our need because no one wants to sit on a weekend to do this monotonous work when they can utilize their time on some important tasks. These simple ideas have influenced the invention of on-demand laundry apps.

Want to Know the Cost of On-demand App Development?

Talk to us. Let our professional consultant guide you and build on-demand solutions according to your requirements.

On-demand Insurance App

On-demand insurance apps reduce the paperwork and help enterprises completely eliminate the paperwork. Even though the majority of millennials are tech-savvy and the majority of them have signed up for insurance. Therefore, insurers needed to invest in the latest technologies and mobile apps to fulfill the user requirements.

That is the key reason companies like Lemonade, Insurify, and Root offer fast and convenient online digital insurance services.

Even, on-demand insurance permits you to activate and deactivate your insurance and remind you whenever your insurance is due. By offering these features, you can pay for your insurance in a timely manner without skipping a due date.

Customers who are exposed to risks that aren't covered by typical insurance plans, or who aren't exposed to these risks frequently, should consider on-demand insurance. There are two types of on-demand insurance apps.

Dedicated insurance mobile app
Aggregator insurance mobile app

On demand insurance apps such as Metromile provides insurance coverage for drivers with transparent pricing. On the other hand, the company Digital Risks allows covering against loss due to cyber liability, public liability, and employer's liability.
How Much Does it Cost to Build an On-demand Service App?
On-demand app development cost ranges between $10,000 to $2,00,000. The range of cost depends on the features you integrate, platforms you choose, the overall project timeline, and the developers you hire.
How Much Time Does It Take to Develop an On-demand Application?
On-demand app development takes around 150 to 200 hours to build a simple on-demand service app.
Here is a table that shows total time required for both Android and iOS platforms.
| On-demand App Feature | iOS Hours | Android Hours |
| --- | --- | --- |
| Booking Module | 32 | 32 |
| Scheduling a Delivery | 20 | 20 |
| Tracking the Delivery Status | 22 | 22 |
| In-app Payments | 22 | 22 |
| Shopping List | 14 | 14 |
| Real-time Calls and Messages | 32 | 32 |
| Geolocation Integration | 26 | 26 |
| Total | 168 | 168 |
Note: The above table contains the approx information, if you want to know the exact timeline of your project, please book a consultation with our team.
In the following section, you will get the answer to the most important questions about on-demand services. Have a look.
FAQ About Best On-demand App Ideas
How do you create an on-demand app?
To create an on-demand mobile app like on-demand food delivery apps or on-demand grocery apps, you need to follow these steps:
Step1: Perform mobile app research to understand the market situation, target audience needs, and your competitors.
Step2: Make an approximate budget and start looking for app developers.
Step3: Hire developers from a reputed on-demand app development company.
Step4: Discuss your project and start development.
Step5: Launch your app and advertise it.
What are the examples of the best on-demand service apps?
These are some of the best on-demand apps in their respective fields:
Uber: On-demand taxi app
Postmates: On-demand grocery delivery app
Drizly: On-demand alcohol delivery app
Soothe: On-demand massage therapy app
Rover: On-demand dog walking app
Zomato: On-demand food delivery app
How much time does it take to develop an on-demand service app?
Generally, it takes 150-200 hours to develop an on-demand service app. The time duration will depend on various factors, such as platforms, technologies, features, and design.
Ready to Choose the Successful On-demand App Idea?
The modern world is all about instant satisfaction. Do you need to reach somewhere instantly? Hail an Uber. On-demand apps are the gem of the mobile app development world.
To match the fast-paced world, app development will help you reach the masses, with adequate branding exposure for your business.
So, if you have any simple mobile app ideas in mind or new application ideas, you can cross-verify them with us. We will help you to hire developers for your startup and find great app ideas that haven't been made.
We are a leading iOS and Android app development company with a team of dedicated developers for hire, and we have already developed over 40 on-demand solutions.