If you are reading this blog, then you must want to know how you can hire developers for your startup.
However, when it comes to hiring developers for a startup, then you need to be more cautious because startups usually have a constrained budget. Therefore, there is no scope for wasting time or money on resources.
But it becomes more challenging when you realize that the global developer population is increasing heavily. According to Statista, it is reported that the population of developers is expected to reach 28.7 million people by 2024. With this, it is also reported that developers from different locations charge differently.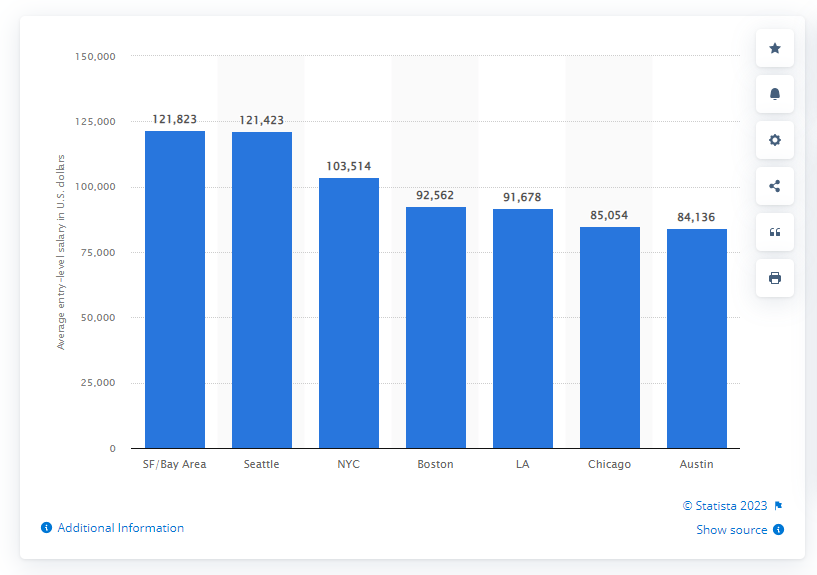 Source: Statista
Right hiring is what always defines the success of any startup. As a founder, you need to clearly understand the skills and experience required for your app development team in order to hire developers for startups.
Since, we are a leading app development company in the USA, we have experience in hiring more than 200 talented app developers for our team. Therefore, we know every ins and outs of the process for finding and hiring developers for your startup, including both in-house and remote options. By the end of this post, you will have a better understanding of how to build a strong development team for your startup.
6 Steps for Hiring Developers for a Startup
If you are a startup and looking to hire a developer, then you need to check this section. We have discussed the process step-by-step, so you hire the best mobile app developer.
Clarify the App Development Requirements

When defining the job requirements, consider the specific tasks and responsibilities of the role and how they align with the overall goals and objectives of the company. Think about the specific needs and demands of the role and how the new hire will fit in with the existing team and company culture.

Before hiring, discuss your app development needs with the developers. By clearly defining the job requirements, you can ensure that you attract the right candidates who have the necessary skills and experience to be successful in the position.

When defining the job requirements, consider the following:

Identify the specific tech stack that are necessary for the role, such as programming languages, databases, and frameworks.
Determine the level of experience required for the role, such as entry-level, mid-level, or senior-level.
Specify any educational qualifications that are required for the role, such as a degree in computer science or a specific certification.
Identify the soft skills, such as communication, teamwork, and problem-solving, that are necessary for the role.

Once you have identified the job requirements, it is important to communicate them clearly in the job listing so that potential candidates can assess whether they are a good fit for the role.

Create a Job Listing to Source the Candidate

Once you have defined the job requirements, you can create a job listing that will attract the right candidates. The job listing should be clear, concise, and compelling, highlighting the key responsibilities of the role, the qualifications and experience required, and the benefits of working for your startup.

When creating a job listing, consider the following:

Use a clear and attention-grabbing headline that summarizes the role and the company.
Provide a detailed description of the role, including the key responsibilities, qualifications, and experience required.
Use bullet points and clear language to make the job listing easy to read and understand.
Include information about the company, such as the company culture, values, and mission statement. This will help candidates to understand the company and to determine if it's a good fit for them.
Highlight the benefits of working for your startup, such as flexible hours, stock options, or opportunities for professional development.
Include a clear call to action, such as a link to apply for the role or an email address to contact.

Post your job listing in the right places where potential candidates are looking for job opportunities, including job boards, social media, professional networks, or industry-specific websites.

Start Screening Resumes

Once you have created the job listings, you will start getting resumes from the candidates as per the requirements you have mentioned. If you have a pool of candidates, screen resumes to identify the most qualified candidates.

When you screen resumes, consider the following:

Review the candidate's work experience to see if they have the relevant experience for the role. Look for specific skills or technologies that the candidate has experience working with, as well as any relevant job titles or responsibilities that they have held in the past.
Review the candidate's educational background and professional qualifications to see if they meet the requirements for the role.
Even if a candidate doesn't have direct experience in the field, they may still have transferable skills that would make them a good fit for the role. For example, a candidate with experience in a related field may still have the technical skills or problem-solving abilities that are necessary for the role.
Eliminate any candidates who do not meet the qualifications or experience requirements or who do not have the right skills for the role.

You can use resume screening developers to quickly identify the most qualified candidates by keywording to compare candidates against each other.

Once you have narrowed down the pool of candidates, you can then move on to the next step of the hiring process, such as conducting initial interviews.

Conduct the Initial Interview

After you've narrowed down the pool of candidates, conduct initial phone or video interviews. Know the candidate better and assess their communication skills, motivation, and fit for the role.

When conducting initial interviews, consider the following:

Prepare a list of questions that will help you to assess the candidate's qualifications, experience, and skills. These questions should be relevant to the role and should help you to determine whether the candidate is a good fit for the position.
Listen actively to the candidate's responses and ask follow-up questions to gain a deeper understanding of their qualifications and experience.
Pay attention to the candidate's communication skills, both verbal and non-verbal, to determine if they are able to express themselves clearly and effectively.
Look for signs of the candidate's motivation, such as their level of interest in the role and their reasons for wanting to work for your startup.

Not only a way to assess the candidate's qualifications but also tell about your start-up and the role to the candidate. Make a positive impression and communicate the company's mission, vision, and values, as well as the benefits of working for your startup.

Test Technical Skills

Depending on the position, take a technical test or ask them to complete a coding challenge to assess their technical abilities. Determine whether they have the right skills and experience to be successful in the role.

When testing technical skills, consider the following:

Create or select a test that is relevant to the role and assess the candidate's technical skills, like a coding challenge, a technical quiz, or a hands-on test.
Be specific when creating or selecting the test. The test should be tailored to the specific skills and technologies that are required for the role.
Set a time limit for the test to ensure that the candidate is able to complete it within a reasonable timeframe.
Evaluate the results of the test to determine if the candidate has the necessary technical skills for the role.
And check with the job requirements to see if the candidate is a good fit for the role.

Communicate the testing process clearly to the candidate, like the format of the test, the time limit, and how the results will be used in the hiring process. This will help the candidate to prepare and understand what to expect.

Make a Job Offer and Onboard the Candidate

After carefully evaluating the candidate's qualifications, skills, and fit for the role, you can make a job offer. Be sure to communicate the offer clearly, including details about salary, benefits, and start date. Once the candidate has accepted the job offer, create a comprehensive onboarding process and help them to learn about company culture and their new role.

Check the new hire to ensure they are comfortable and have the necessary resources to succeed in their role and to provide ongoing support and development opportunities as they grow and evolve in their role.
Want to Build a Custom App Solution?
Space-O is one of the leading app development companies in the USA, having experience building more than 4400 app solutions.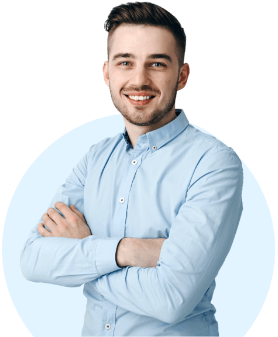 Next, we are going discuss some of the essential points that you need to consider before you go to hire any developers through portals or websites.
Things to Consider Before You Hire Talented Developers
Finding the right developer will be a daunting process. You will surely require strategies and tips so that you choose the best developer for your project. Hence, we have come up with several points that you need to consider before hiring a developer.
Technical Skills: Make sure the developer has the necessary technical skills for the job. Review their portfolio and previous work, and ask for references or testimonials from previous clients.
Communication Skills: A developer should be able to communicate well and understand your needs. They should be able to explain technical concepts in simple terms and be responsive to any questions or concerns you may have.
Availability: Consider the developer's availability and time zone. It's important to hire someone who can meet your deadlines and be available to communicate during your working hours.
Problem-solving Attitude: Developers should be able to think critically and solve problems independently. It's important to hire someone who can troubleshoot and come up with creative solutions.
Cultural Fit: Consider if the developer will be a good fit for your company's culture and work environment. A developer who is motivated and aligned with your company's values and goals will be more productive and engaged in their work.
Cost: Understand the hourly rate or project cost that the developer is charging and compare it with the industry standards. It's important to hire someone who fits your budget but doesn't compromise on quality.
Legal and Contract Issues: Understand the legal and non-disclosure agreements that need to be signed before hiring a developer. This includes the terms of payment, confidentiality agreements, and any other clauses that might be necessary.
Going forward, we will discuss some of the top websites and portals where you can find and hire mobile app developers. These websites are helpful as they showcase the experience of the developers along with their strengths and technical abilities.
Where to Look for App Developers?
In this section, we are going to discuss some of the top websites from where you can easily find developers for your project. For quick and easy scanning, we have shared a table that will help you know the pricing of developers along with the benefits. Have a look.
Logo
Website
Benefits
Price
Space-O Technologies

Pre-vetted developers
Flexible hiring model
On-demand developers
A decade of experience
Regular updates and meetings

$35/hr – $49/hr
Upwork

Hire talented app developers across the globe
Cost-effective solution
Backed by payment protection

$40/hr – $100/hr
Clutch

Check the reviews of the companies
Filter companies based on their location, pricing, services
Check prominent clients

$25/hr – $100/hr
GoodFirms

Find qualified app developers
Review the company anonymously
Decrease the screening process by choosing the right app builder

$25/hr – $300/hr
Fiverr

Top freelance marketplace
Find freshers to experienced developers
Compare developers based on their ratings and reviews

$50/hr – $75/hr
We are also going to discuss these platforms in detail, so you know how you can enhance your finding and hiring process.
Space-O Technologies

Space-O is a leading app development company in the USA, with more than 200 developers. It also provides startup consulting services and has experience in developing several top applications for startups worldwide, such as Glovo, which has received $1.2 billion in funding and has been the most downloaded on-demand delivery app in Spain, with 50 million downloads.

In fact, our developed apps have been recognized across the globe through Bloomberg, HuffPost, and Business Insider. This could have only been possible with the efforts all our developers have put in. Our developers are well-versed with the latest technologies and thoroughly understand client requirements.

Our app developers work dedicatedly on a project to ensure guaranteed quality work. Therefore, we offer a flexible hiring model so that you select the best developers according to your needs. After serving more than 1200 clients worldwide, we have gained recognition through companies like Upwork, Clutch, and GoodFirms.

Here is a testimonial from our client Riccardo Petrachi who approached us to build a mobile app because of our quality standards, experience, and expertise.

Upwork

Being a startup, if you are looking for experienced developers who can fit into your budget, then this is the right platform for you. On Upwork, you will find millions of freelance developers who work remotely. In fact, Upwork has been considered one of the biggest freelance portals for finding developers in the world.

Apart from developers, you will find various tech-based professionals and agencies. In short, Upwork makes it easy for the clients like you and the developers to meet on this platform. The best thing about Upwork is that you can filter profiles based on their skills, charges, performance, and completion scores.

So, once you define your parameters, the algorithm of Upwork will help you find the best developers for your project. Space-O is amongst the top leaders who have been awarded the Top Rated Plus Badge because of our consistent quality work and dedication to work on projects at reasonable costs.

Clutch

On Clutch, you will find not only developers but top app development agencies too. Clutch is a complete B2B directory you need to look for to find developers for your startup project. Here you will get to know about the reviews, ratings, company details, price range, size of the dedicated team, prominent clients, and many more things. This is to ensure that you hire the best developer.

Clutch has more than 7,000 companies registered with their profiles and offers. You can filter companies based on your requirements and hire developers. Moreover, we are also listed on Clutch as a top mobile app development company in India with 4.8 ratings out of 5.

GoodFirms

GoodFirms is a platform that helps businesses find and connect with app development companies and individual developers. Here, you can research and review developers and service providers based on reviews and ratings from past clients and shortlist them for your projects.

GoodFirms claims to have helped more than 160K clients find the right developers. Whether you want to hire a mobile app developer, app developer, or web developer for your startup, easily filter out your choices on GoodFirms. In fact, Space-O is also ranked as a "Top App Development Company" by GoodFirms.

Fiverr

Fiverr is an online marketplace that allows you to find a freelance developer for short-term or long-term projects at a reasonable rate. You get developers here on this platform from around the world.

If you are looking for a machine learning engineer, data scientist, mobile app developer, or AI developer, this is the right platform for you to find developers at an affordable rate. Chat with the developers in real-time and understand more about their work experience and technical abilities.

However, it is always better to know about the qualities that you want in a developer before you go on these websites or portals. Only then you will be able to make the right choice for your startup. So, let's discuss the qualities which you should consider in an ideal developer.
What are the Qualities to Look for in an App Developer?
Mentioned below are some of the qualities that you need to look for in a developer. These qualities in a developer will ensure that you are hiring the right developer for your project.
Strong Problem-solving Skills: The ability to analyze and solve complex problems is crucial for a app developer.
Strong Technical Skills: A good developer should have a solid understanding of the programming languages, frameworks, and tools they use.
Attention to Detail: App development requires a high level of attention to detail, as even small errors can cause major problems.
Good Communication Skills: Developers often work in teams, so the ability to communicate clearly with others is important.
Teamwork Skills: App development is a collaborative process, and a good developer should be able to work well with others.
Time-management Skills: Developers need to be able to manage their time effectively and meet deadlines.
Strong Learning Skills: A good developer should be able to learn new technologies and programming languages quickly.
Adaptability: A good developer should be able to work with different customers, different technologies, different teams, and different projects.
Passion: A good developer should be passionate about what they do, be excited about new challenges, and be willing to put in extra effort to make sure the project is done on time and well.
But there is always one question that troubles startup owners about whether they should hire in-house developers or remote developers. To clear up this confusion, we have come up with the next section. Here, we are going to discuss when it is the right choice to hire in-house developers or remote developers.
Hiring In-house Developers vs Hiring Remote Developers for Startup
This is the biggest confusion that every startup has, whether they should go ahead with hiring in-house developers or remote developers. First of all, you need to understand that both these options depend on the specific needs and goals of your startup.
Let's talk about some of the crucial factors which will help you make the best decision.
What is Your Budget?

Being a startup, if you have a tight budget, you should ideally not hire a full-time in-house developer, especially if you are in the USA, as the USA developers tend to charge high compared to other countries.

Additionally, suppose you don't have a budget to rent an office or buy equipment for the team. In that case, consider hiring a remote development team, which includes freelance developers or developers from an agency.

Otherwise, an in-house team is an excellent choice if you are ready to invest initially.

How Much Time Do You Need for a Project?

This is all about how much time you are ready to devote to your project. If it is a short-term project where you don't need to get much involved with the team in terms of managing or communicating with them, consider hiring a remote team.

Compared to the remote team, the in-house team will require regular communication and meetings. If your project is long-term and you need to guide the team often, then the in-house team is the right choice for you. However, you will also need to employ other staff, including a technical project manager, testers, UX/UI designers, and analysts.

What are Your Priorities?

You need to be clear with your priorities and find out what is important for you.

Hire an in-house team, if you

Need to have direct and constant communication with the team
Value having constant control and access to your team
Want developers to understand the culture of the company and its goals

Hire a remote app developer, if you

Value a shorter time-to-market instead of communication and access
Want to constrain budget and want to invest less in resources
Appreciate having access to a broader talent pool

Further, we have also shared a quick comparison between an in-house and remote team. Have a look.

| Parameter | In-house Team | Remote Team |
| --- | --- | --- |
| CTO Required | Yes | No |
| Cost | High | Medium |
| Flexibility in Hiring | Less | High |
| Management of Team | High | Less |
| Legal Complexity | High | Less |

Going forward, we have also explained the recruitment challenges faced by startup companies. We have focussed on providing solutions to each challenge in order to streamline your hiring process.
Recruitment Challenges for a Startup and Their Solutions
To be honest, any startup recruiter can come across various types of challenges that are not easy to resolve. Therefore, we have shared such common recruiting challenges along with their solutions. Take a look.
Limited Candidates With Relevant Skills

It might be possible that a developer doesn't have every skill set which is required for the project. In some situations, you might not be able to hire an experienced developer because of a constrained budget. With a limited pool of talents, it gets challenging to find a developer who matches exactly your requirements.

Solution: When it comes to hiring a perfect developer, it is not always an experienced developer. You can also choose a fresher who is well-versed with the technologies and tools and passionate about developing mobile apps. Ensure they have the right skills which you need for your project. If everything matches your checklist, go ahead and hire them within your budget.

Lack of Interpersonal Skills

Being a techie, a developer might not be confident about their interpersonal skills, which often results in communication gaps. However, this is not always true, but still, you cannot ignore this fact. While taking an interview, they might not be confident enough, but that doesn't mean they don't have skills.

Solution: Communication or soft skills are an essential part of the job when most developers are working remotely now. You cannot simply overlook this factor while hiring a developer. Therefore, look for a candidate who is average with technical skills but has good communication and analytical skills; at times, such a developer can be as valuable as a candidate with outstanding technical skills.

Requirements for More Salary

You need to understand that there is a standard salary for every skill and certain skills have higher demand. When demand is higher, the supply automatically gets lower, resulting in higher salaries and more challenges in hiring developers.

It is also important that you compensate the developer fairly. However, more money is not the right solution. And when you are a startup, paying high salaries is not often possible.

Solution: If not salary, you can always come up with benefits, additional time off, a flexible schedule, free subscriptions, and other perks. It will make the employee feel that you value their work and loyalty to the team. So, when you share all these benefits, a developer will be more tempted to work with you.

Not Enough Opportunities for Developers

To build a strong portfolio, developers often look for challenging roles and work environments where they can grow and experiment with their abilities. When they see the work is not challenging, it is hard to target talented developers who are passionate about their work.

Solution: To attract and retain talented developers, you need to create opportunities for learning and growth for your developers. However, make sure you have mentioned this in your job description. Remember that interviews work both ways; the developer will also want to work in a company that promotes learning and growth. So mention everything about your company's qualities and objectives for which they should join the startup.

Want to Hire a Dedicated App Developer?

Contact us with your requirements. We will help you select the best hiring model for your app project that fits your budget and timeline.

Want to know more about hiring developers for your startup and understand how you can conduct a technical round or how much it will cost you to hire the right developer? Go through the next FAQ section, where we have answered the top questions related to hiring developers.
Frequently Asked Questions About Hiring Programmers for Startup
How to conduct a technical interview for the developer?
One way to evaluate a developer's technical abilities is to conduct a technical round which includes a combination of coding exercises, problem-solving tasks, and questions about their experience and technical background. Additionally, you can also ask about their previous projects, the technical challenges they faced, and how they overcame them. You can understand more about their contribution to the project.
How much does it cost to hire a developer for the startup?
Hiring a developer can cost you between $35 – $150 per hour. The cost of hiring a developer for your startup will depend on the location, experience level, and the type of role you are hiring for. According to the U.S. Bureau of Labor Statistics, the median annual salary for app developers was USD 120,730 in 2021.
What are the benefits of hiring remote developers for a startup?
Hiring remote developers for a startup can have several benefits, including:
You get access to a wider pool of talented and best developers from around the world
Lower overhead costs because remote developers do not require office space, and as a result, startups can save money on rent, utilities, and other expenses
Increased flexibility as remote developers can work from anywhere
Remote developers achieve better work-life balance and gain increased employee satisfaction
Remote developers often charge less than local developers and can help startups save on expenses
Ready to Hire Developers for Your Startup?
Hiring developers for a startup is a crucial step in building a successful business. As a startup, you need to find the right talent to help you create a mobile app solution that will appeal to your target market. Through this blog, you get to know how you can reach a wider pool of talent and hire developers.
Get in touch with us if you are looking for talented and experienced mobile app developers. We have a team of more than 200 app developers who are well-versed with the latest technologies and tools. We provide a range of hiring models to ensure you select the best team that fits within your budget.