If you are searching for how to start a mobile laundry service, and how to create an on-demand laundry application like Cleanly or Rinse, you are on the right blog.
We found a report by Grand View Research, a company that provides accurate industry analysis and market, with interesting information. It states that the global dry-cleaning & laundry services market size was valued at USD 60.88 billion in 2019 and is projected to show annual growth of 3.4% from 2020 to 2027.
After realizing the potential of on-demand laundry services in his city and country, one of our clients from Saudi Arabia approached us with an idea.
An idea of on-demand laundry app development. The idea was to develop a laundry app called EasyClean that will bring laundry and dry cleaning services to the doorstep.
After successfully completing the online laundry service app project, we realized our development experience can help laundry service provider who is planning to get their business online and develop Android or iOS-based mobile applications to grow their laundry business.
From this blog, you will learn
Benefits of online laundry service
Which features to include?
4 Best on-demand laundry apps
On-demand laundry service business model
How much time does it take to develop a laundry app?
Online On-demand Laundry Service Market
COVID-19 has changed the way people do even the most basic activities including laundry. Why will anyone risk going out when the laundry services cater to them, right at their doorstep? Of course, with safety precautions. This is the reason why the online on-demand laundry and dry cleaning delivery service market has gained momentum.
Whether you are a laundry owner or an aggregator planning to develop an app, this is the best time to do so. This market is showing amazing potential for future growth.
Research and Markets reported that the global dry-cleaning and laundry services market is expected to show a growth rate of 10.9% reach a valuation to nearly $180 billion by 2022.
You can see the growth of the US online laundry service market in this graph by Grandview Research.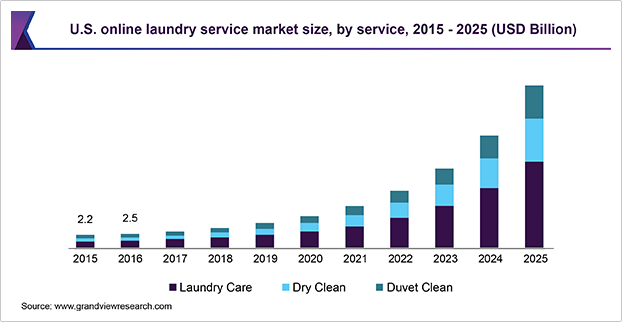 But, why has the demand surged so much in such a little time? We'll tell you about the benefits to answer this question.
What are the Benefits of Online Laundry Pick-up & Delivery App?
We think that some real-life examples will help you understand better. So, here are some of the benefits that our client received due to the online laundry business – EasyClean.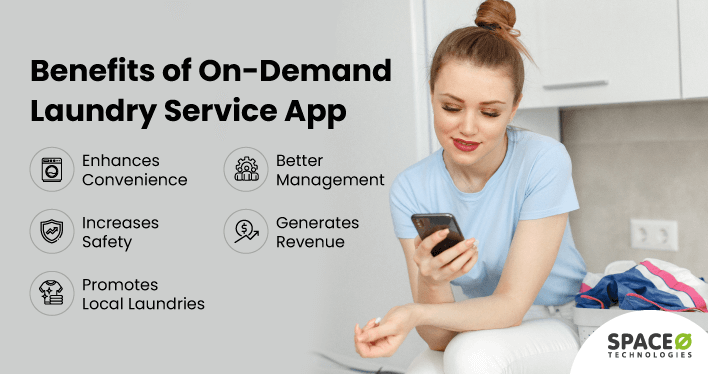 Enhances Convenience

The main purpose of developing any mobile laundry service app should be user-oriented. If the user finds the application favorable, the developers and owners automatically get the benefits. These days, both partners in a family are working. If there are kids in a family, the workload increases exponentially. This leaves no time to do a load of laundry.

An online laundry service can offer to pick up and deliver clothes along with washing them. EasyClean app provides a range of different services from detergent washing to dry clean and petrol wash. The customers also have the option to call delivery drivers to pick up and deliver clothes at their convenience.

Increases Safety 

With increased \awareness of social distancing, people try not to go out of the house too much. The main concern here is safety. EasyClean has helped the people in Saudi Arabia to get their clothes cleaned by dry cleaners without having to go to the laundry room.

You can do the same for your customers.

Promotes Local Laundries

There are a lot of different laundries in the area. If the business needs to stand out, they need to do something unique. The laundry owners can promote their business by paying to get featured on the app. We have made it possible on EasyClean.

Further, there is a review and rating feature that helps to showcase the quality of the owner's services. This way, the laundry owners can promote their business easily.

Better Management

If the laundry owners are still using traditional ways to manage their business operations, it is time to change. A laundry app like Cleanly and EasyClean helps in managing every order with precision. We integrated a feature to verify the clothes received in delivery by the driver. This feature helps to verify whether the garments are as described or not.

Further, My Earnings section helps to keep a track of all the earnings made by the delivery driver as well as the owner.

Generates Revenue

Whether you are a laundry owner or an aggregator that has gathered different laundry shops on the app, laundry apps can help generate revenue easily. Our client is an aggregator who developed EasyClean for multiple laundries in the area. This app made it possible for the laundries to get new customers and the client to earn a commission from the laundries.

Take a look at how online laundry services are superior to offline laundry services.
Online laundry services
Offline laundry services

Convenient for the customers
Safe in the times of COVID-19
Promotes business growth
Better management with reduced paperwork

Inconvenient for busy customers
Risk of getting infected
Business growth is slow
Mismanagement of orders
Want to Develop an On-demand Laundry App?
Looking to Develop an On-demand Laundry App? Get in touch with our experienced app developers for a free consultation.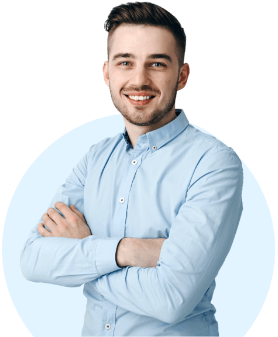 Now comes the second question, how to start a laundry pickup and delivery service business.
Here is your answer.
How to Make an On-demand Laundry Business App?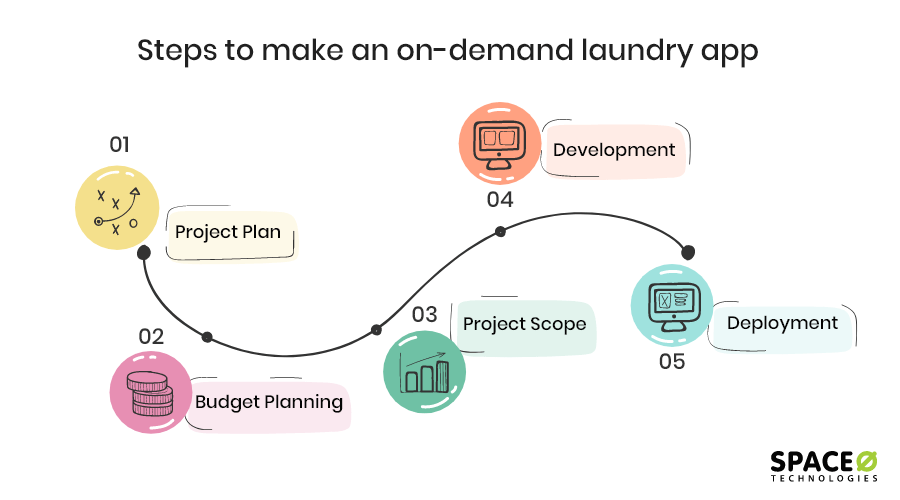 Project Plan

"Planning is bringing the future into the present so that you can do something about it now." -Alan Lakein

The first step for doing anything new is planning after you get the idea. Once you have thought of an idea, you need to work on the details. You need to answer some questions like:

What purpose does the app fulfill?
What type of features do you want in your app?
Who are your competitors and what can you do better than them?
What unique functionalities do you need in the app?

Budget Planning

Now that you have a better idea of your requirements, and how you want to build a laundry app, you can plan your budget. Your budget needs to be aligned with your requirements. If you need a simple app with only the necessary features, your budget will be less. If you need a unique app with advanced features, the budget will be more.

If you need to know how much budget you should allocate for your project, we can give you a free quote. Just contact us and tell us a bit about your project.

Project Scope

After deciding on your requirements and budget, the next step is to create a project scope. You need to plan how much budget and resources you will allocate for everything from app development to deployment. You need to hire one of the best mobile development companies that have experience in developing such apps so that you do not face any issues in the duration. Then, you can discuss all the formalities like signing an NDA for mobile app idea and Terms and Conditions.

Laundry Application Development

The laundry mobile app development company, like ours, then appoints experienced app developers and designers for your project. The app designers create design mock-ups and prototypes by following the best design practices and get them approved by you. Then the developers develop the app as per your requirements.

Our Quality Assurance team checks for any bugs in the app and gets them fixed. The end product developed by our team is 100% bug-free and runs smoothly on all platforms and devices.

Deployment

The last step in the process is to deploy the app on the platforms like Apple App Store and Google Play store. We will provide all the data and documentation of the app before deploying it. In fact, we take care of all the formalities required by the app marketplace if you need us to.

If you are confused about which features you need in an on-demand laundry service app, this next part will help you out.
Key Features of an App for Online Laundry Service
Before jumping to features of laundry service, you need to understand that there isn't just one app. There are different components of the entire online laundry app solution. Even if you are planning to build software or app for the laundry business there will be multiple components to develop like an admin panel, client panel, and laundry owner panel, depending upon the business requirements.
If you are an aggregator, your app for online laundry service will have 4 components: Customer/User App, Laundry Owner App, Driver App, Admin Panel. While, if you are a laundry owner, you might just need only 3 components by combining the laundry owner app features in the admin panel. It depends on your requirement.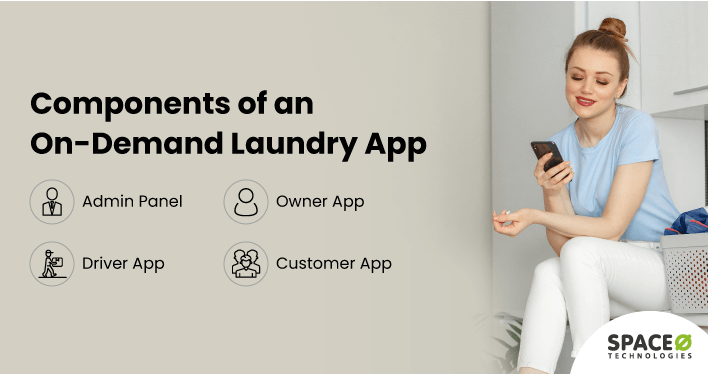 Before we begin, these are just the key features that you will need in your app. If you want to see the features in detail, you can check out our EasyClean App.
Technology Stack
| | |
| --- | --- |
| Platform | iOS and Android |
| Language | Swift and Kotlin |
| Backend | Laravel PHP |
| SMS Gateway | Twilio |
| New Order Updates | socket.io. |
Let's see laundry app features of all of three components one by one.
Customer App
Search

This allows the users to search for any laundry service or dry cleaners nearby. They just need to enter the name of the laundry and find out if the laundry is available or not. You can also integrate the voice search function if you need it.

Filters

The filters help the user to look for laundry that is suitable for their needs. In EasyClean, we have integrated filters like Distance From Me (3km to 8 km), Desired Services (Ironing, Dry Clean, Detergent Wash, Petrol Wash), and Average Rating (1-5), Delivery Service Type (Express or Standard Delivery).

Schedule Pick Up and Delivery

This feature lets the customer choose the time and address for pick up and delivery of their clothes. In EasyClean, we have integrated features such that the users can choose a self-pickup and/or delivery too.

Track Driver

This feature uses GPS technology and helps the users to track the driver who is coming to pick up or deliver the garments to the customer or the laundry shop.

Order History

This feature is for the customers to keep a track of each and every order that they make. They can see the charges, service type, number, and type of garments.
Delivery Driver App
My Orders

This screen shows all the active and incoming orders to the driver. The driver can choose to accept or reject any order based on his availability.

Track Route

After the driver receives an address to pick up or deliver the garments, he starts his trip. He can see the map view and track his route using this app.

Manage Earnings

This feature helps the driver to keep a record of all the money he has earned in the app itself.
Laundry Owner App
Laundry Details

The laundry owner needs to put his details into the app like the name of the laundry, working hours, address, type of services they offer, the rate for every service as per the garment, and so on.

Order Details

The laundry needs to have access to the order details that the customer has made. The details include everything from the type of clothes, to the number of clothes and billing addresses.

Track Drivers

The laundry owners also have the option to track the driver when he is on the way to pick up or deliver an order. This helps to know if the drivers reach the wrong destination.

Manage Earnings

Using this feature, the owners can keep a track of their earning within the app itself.
Admin Panel
Manage Orders

This feature lets the admin keep a record of all the orders that the customers make. He can assign these orders to another driver if one driver rejects them

Manage Drivers

The admin has access to all the information of the driver. The admin verifies the driver's details before accepting his profile request.

Manage Laundries

Same as drivers, the admin has access to the laundry's information. The admin can send any message to any of the laundries to convey something.

Manage Earnings

The admin can manage the earnings of the drivers and the laundries. He can take his commission and decide which driver and laundry get how much percentage of the total amount.
Now, let's see which are the top competitors that you need to learn from and even beat if you want to develop the best laundry app.
Best Laundry Apps in the Market
Name Of The App
Features
App Links
Cleanly

Pickup and Delivery
Real-time Order Tracking
Set Cleaning Preferences

Rinse

Door to Door Pickup Service
Personalized Preferences
In-app Payment

Flycleaners

Various Washing Types
Pickup and Delivery
Customize Order

Laundrapp

Pickup and Delivery
Real-time Order Tracking
Various Washing Types
How Much Does it Cost to Develop an Uber for Laundry App?
The average cost of developing on-demand laundry app is $15600. 
We use a simple formula to calculate the cost of developing an app:
Time Required to Develop an App X Developer's Hourly Charges = Total App Development Cost
How Much Time Does It Take to Develop an Uber for Laundry App?
Developing an on-demand laundry app requires around 4 months of time.
Yes, it took us 4 months to develop the entire EasyClean on-demand laundry app solution from scratch, starting from concept research, market analysis, designing, development, and testing to deployment.
Want to Develop an On-demand Laundry App?
Need to validate your app idea or consult with an expert? Get a free consultation now!
We will now see answers to some of the commonly asked questions.
Frequently Asked Questions
How do laundry apps work?
Laundry apps follow the following process:
Step 1. The customers register and log in.
Step 2. Then they choose the type of service and add details like material, type of garment, detergent preferences.
Step 3. Next, they schedule a pickup and drop-off of their order
Step 4. Choose a payment method and make the payment
Step 5. The driver receives the order and chooses to accept or reject the order
Step 6. He picks up the order and delivers to the laundry
Step 7. The laundry processes the order and notifies the customer as well the driver
Step 8. The driver picks up the processed order from the laundry and delivers to the customer
How do laundry apps make money?
In order to make money from a laundry app, you need to follow one of two business models:
On-site: Laundry app owner making money from the order after subtracting the driver's fee. In this model, you need to take care of the washing process also.
Marketplace (aggregation model): In this model, you need to manage orders but do not have to manage the washing process. You will earn by taking a commission from the laundry owners as payment for providing them to the customers.
Where can I find laundry app developers?
If you are looking for app developers, you must choose a company with experience in developing such apps. You can find developers on websites like Upwork, and Clutch. You can check out their badges, ratings, and reviews by previous clients to see if the company is reliable or not. You should also check out their portfolio to see their experience.
Start Your Own Mobile Laundry Business
We hope that this small guide helps you in making decisions about developing an app for an online laundry service. We understand starting a new business as an aggregator or changing your business operations using an can be a huge shift for you. You will have more queries regarding the same. Being an on-demand laundry app development company, we are more than happy to help you with your questions.
Hire a smartphone app development company with experience in developing an app for online laundry service like EasyClean. We have also developed other Android and iOS on-demand apps like Glovo– most downloaded on-demand grocery app in Spain, and Lacy– on-demand alcohol delivery app. Feel free to contact us and we'll get back to you at our earliest.