You are on this blog for this simple reason.
You know that having an app idea is not enough.
That's the first step only.
In fact, according to Inc.com, two-thirds of apps fail to reach 1000 downloads in the first year. The major reason for app failure is the lack of mobile app market research.
Next, you need to validate it.
You need to perform detailed mobile app market research.
This will make sure you invest your time and money in the right direction.
But, how to conduct detailed market research?
In this blog, you will learn:
How to conduct market research using 5 simple steps
3 core benefits of market research before app development
This guide is based on our understanding of validating and developing over 4400 Android and iOS-based mobile applications. This is also based on our core experience in mobile app development services.
Let's first understand what exactly is mobile app market research.
What is App Market Research?
Market research helps you to identify the need and worth of your application in the market.
Thorough research will assist you to answer the following questions:
Is there any need for your app?
Who is the target audience?
Who are your competitors?
Does your mobile app give more value than competitors' apps?
Do you have a money-making business model?
If you do not conduct market research and find answers to the above questions,
you get yourself into a situation where you risk your money and time.
That's exactly what a social networking app did.
Here's a research on Vine- a social networking app that failed to sustain itself in the US market due to multiple reasons.
According to research conducted by Failory, Vine had hundreds of millions of users at its peak but gradually due to emerging similar services and competitors, Vine became an unprofitable business, especially against Instagram.
Vine's failure to meet market needs was the main reason for its shutdown, along with the inability to compete with other similar apps. You can check the below graph which conveys the downfall of Vine in comparison to Instagram.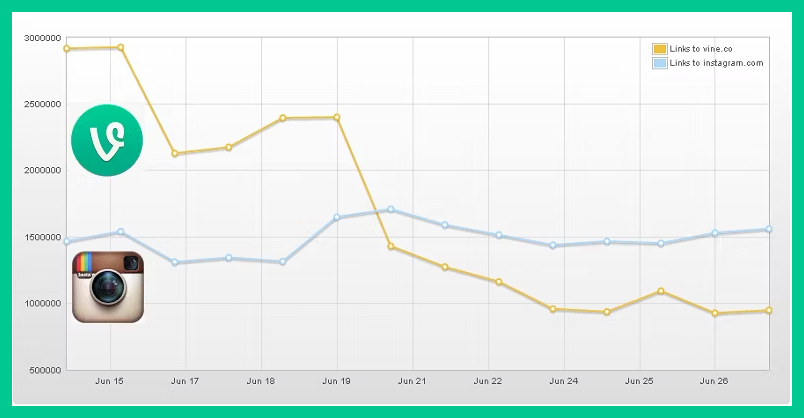 Image credit: Martech.org
So the learning is, do not focus only on your product. Before you launch an app, ensure to understand your market and product fit. This will help you contribute to product success.
Further, let's understand how to conduct market research.
Want to Turn Your App Idea Into Reality?
Let's talk – Space-O offers top-notch mobile app development solutions, having built 4400+ successful apps for clients worldwide.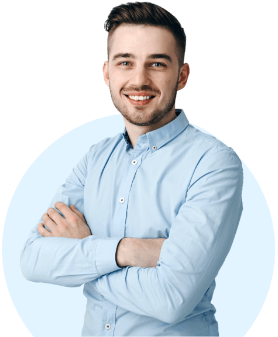 There are five easy steps that you will learn.
How To Conduct Market Research For Your App Idea in 5 Steps
It is much easier to perform market research when you divide everything into multiple categories. Mobile app research changes over time and it is essential to pay attention to the latest technology and conduct micro-surveys using various platforms.
Tip: Once you complete the market research, learn how to pitch an app idea for funding.
Follow the below steps to get reliable and helpful answers from market research.
Spot the Market Trends and Compare the App Ideas With Competitors

Search engines and various research tools like Google Trends, Statista, BusinessofApps, and Data.ai can help businesses to find out about the market trend and demand of the app. You can analyze if there's a real demand for your application.

Compare the app with the competitors to know what features they provide and what exclusive features will you add to give more value to your app.

According to our research, we have found that Data.ai and Google Trends are the two easiest tools to compare your app with competitors.

Data.ai will give you relevant insights about the app downloads, top apps by revenue, competitive growth analysis, etc.

Image credit: Data.ai

Google Trends is also helpful. This tool helps you compare search trends all over the world. So, if you need to know what countries have similar apps to your app idea, you can find out with just a few clicks.

Image credit: Google Trends

Also, keep an eye on App Store trends. App store optimization is essential to gauge the users purchasing patterns. A close check of the popularity charts will give you an understanding of what works in the app world. Trends in free apps will give you an idea of why people are using mobile apps and paid apps will help you realize the worth of the application.

Talk to People In Every Part of Your Target Market

A single viewpoint can be dangerous for any research as this process involves many users and contributors. It is essential to speak with the people who will use the product and take feedback from them.

Create a user persona to understand the target audience and their preference. Creating a profile is an ideal part of market research. User persona helps to make important decisions on monetization, personalization, scaling, UI/UX, and so on.

Tip: You can create a free buyer's persona by using Hubspot-make my persona tool

Now that you have created a detailed user persona, you are ready to move to the next step of market research.

Create Online Surveys for Data Collection

Field research entails a workforce that functions to question a focused group, personal interviews, emailing, social media strategies, and so on. Market surveys are focused on audience polls with certain questions. Surveys are a great tool that represents the product usually done to understand consumer behavior and loyalty.

Follow this checklist to create one of the most effective mobile surveys to move ahead with your app development:

Pick the desired survey tool of your choice.
Figure out what questions you will be asking.
Design the mobile app's UX around survey research questions.
Integrate that mobile app design into your mobile experience.
Do a pre-test for functionalities that you will include in your app.
Collect all your results and analyze them.
Keep in mind the behavioral aspects and how your users will interact with your app.

You can also choose to optimize social media accounts for your product. It is 100% necessary to have an online presence to make an impact on the users. But, many companies fail due to poor social media strategies. Dominating the social media market will enhance app growth.

To optimize downloads, read our blog to know more about various ways to increase user acquisition with free and paid campaigns.

Devise the Most Effective Business Plan

To get the best revenue for your app, you need to cater to the critical set of parameters like:

The uniqueness of your business
Short and concise details
The flexibility of your approach

Create a business plan after you have understood the market, your target audience, and competitors. An effective business plan that comprises strong strategies will undoubtedly succeed. Here are the key steps to writing a business plan.

Write an executive summary of the plan
Discuss with the team and stakeholders of the company
Elaborate on what the product will do
Write the organizational and management roles
Design sales and marketing strategies
Define business costs and budget

Do SWOT Analysis to Strengthen Your App's Core

Avoid app failure by studying carefully your app insights- strengths and weaknesses. Strengths and weaknesses are considered internal factors, and opportunities and threats are considered to be external factors.

| Strengths | Weaknesses | Opportunities | Threats |
| --- | --- | --- | --- |
| How is your idea different and useful from the other competitors? | What issues does your app have and what improvements should be implemented? | Identify the pain points of the users. | Is your app meeting the government guidelines and policies? |
| What value assets and resources do have? | Is your app idea as per user preference? | Benefit from competitors' weaknesses. | Did you find funding for your app? |
| What skills do you have that your competitors don't? | Are you lacking in market research and knowledge about the industry? | Understanding the economic and political trends that could benefit your app growth. | Are you aligned with the emerging trends of your industry? |
You have gone through the five steps process that you can follow during mobile app market research. Further, if you properly follow all these steps, you will observe these core benefits.
3 Core Benefits of Mobile App Market Research Before App Development
Here are three benefits of market app research you might observe before app development.
Helps You Understand Your Competitors' USPs and Weaknesses

Once you understand your competitors' USPs, end-users, marketing channels, revenue models, and business models, you will get a clear idea of what is working for your competitors.

Even, this competitor analysis report will help you find the loopholes in your competitors. You can use these points as growth opportunities.

Helps You Make Data-oriented Plan

Market research gives you numbers and insights to make accurate forecasts. This will impact making the key decisions to develop and adapt your strategy.

For example, this data will help you realize the value of your product, prioritize new features, change the pricing strategy, and choose the right target market.

Market App Research Provides Revenue Projections

Understanding the numbers, and trends of your target market is one of the core benefits of market analysis. Once you understand the different revenue models, and how your competitors are making money, you will get a basic idea about the revenue projection. Of course, this revenue projection depends on different factors, but, in general, you will have baseline data that you can use to measure the growth of your project over time.
Do You Want to Build a Well-monetized App?
We have expert mobile app consultants to help you with the best app strategy to generate high revenue.
Frequently Asked Questions About Mobile App Research
Why is mobile app market research important?
Mobile app market research is important to understand the current state of the market and identify the latest technology trends and patterns of the app. Gain insights into the needs of the target audience and use the information to make informed decisions about the app's features and design. Increase the chances of success by implementing these into mobile app development process.
What are some online survey tools for app development market research?
Google Forms, SurveyMonkey, Typeform, and Qualtrics are some of the online survey tools used for primary research. The best online survey tool for conducting competitor analysis depends on your specific needs and goals. It is important to consider the features and pricing that each of the tools offers.
How to know if your app might get traction from the users
You can develop a minimum viable product (MVP) to receive relevant data and customer feedback. This must give you a clear idea of whether your mobile application is going to be successful or vice-versa.
How does mobile app market research help app developers create a successful and profitable app?
Mobile app market research can help the development team to create a successful and profitable app by providing valuable insights into industry trends, competitors, and the needs and preferences of the target audience.
Let's Start Mobile App Research for Your App Together
Yes, we can help you do the market research on your idea.
Contact us and schedule a 30-min free consultation call with our technical expert. Being in the mobile app development industry since 2010, we know how to conduct detailed market app research and validate your app idea before moving towards development.
When you contact us, just make sure that you give more details about your idea and your vision so we can better guide you through the process.