'I want to create such app that creates videos of maximum 5-minutes – combining pictures and videos." Is it possible for you to develop such type of video-maker app?
Without thinking for a single minute, we said: "Yes". We can create video maker application. And thus, Slide.show make.r born. It's not easy to develop an application with such features. It takes around 3-4 months to develop the first version of an application. However, client didn't get success with his app with the number of downloads.
We discussed with clients and create the marketing plan to increase downloads. We tested App Store Optimization by trying 5 different app icons, screenshots, titles, description and so on. This application firstly launched in 2 languages, English and Spanish and after that, we have added 3 more languages, i.e. Japanese, Russian, Simplified Chinese. Surprisingly, Slide.show make.r gets 4k-5k download daily and getting huge popularity.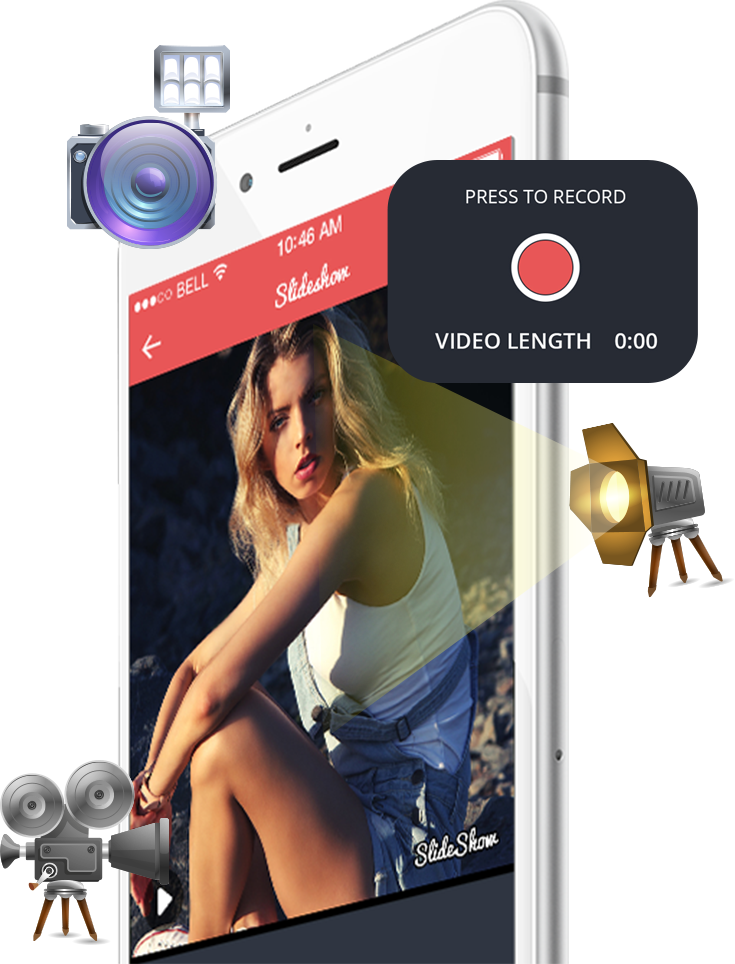 Slide.show make.r is an iOS application that turns your photos & videos into sensational movies by adding beautiful animations/transitions and music to your beautiful photos and videos.
Choose Themes/Effects – Select Audio- Create Stunning Video and Share on social media networks.
Create slideshows with this application by using your photos and videos from Gallery, Instagram, Facebook and add your favorite music. It's simple!
General Features
Import Photo or Video from Instagram, Facebook or Gallery
Make video with adding Music (or recordings) up to 5 minutes
Make slideshow with 45 photos or videos
Drag to trim the length of video
Upgrade to a Plus or Premium account to unlock full-length shows
Rearrange your photos by dragging
Export the video to your camera roll and share on Instagram
Create videos for Instagram of maximum 60-seconds.
You can directly Share your Slideshow with friends on social media
Free version
5GB of storage only
Same limit on number of photos and videos as today
Same limit as today in maximum time that a movie can last once finished
Saving the video locally for 1jQuery (same as magisto)
PRO version
Unlimited cloud storage
Unlimited HD downloads to your device
Upload 30 photos + videos per movie
Create longer movie of 5 minutes
Download your created movie from desktop or app devices
Free version
User growth and demand of Slide.show make.r increases gradually and thus, we have added more innovative features like:
Aviary SDK
Video editor SDK
Music/Sound SDK
Animations
Social icon Integration
And, many more innovative features. The application is developed with Objective-C and available for iOS users.
Challenges
Slide.show make.r commissioned Space-O to develop an effortless way of creating video by combining pictures + videos along with the music. Clients wanted to create a video of around 5 minutes with 20+ different transition.
Solution
Slide.show make.r is developed with Objective-C. This application creates video by taking videos and pictures from Facebook, Instagram or your own gallery. Users can also add stickers, text, etc. Once a video is created, you can share it to your social networks.
Your Videos
In 'Your Videos' option, all the videos are available that users have made with this application. When you start an application, you will land on the screen on the left. When you open an application, you will land on "photos" option.
Make My Movie
You have already created a slideshow when you are here. Now, click on "make my movie". The app processes the video and uploads it to our back-end. After that, you will reach to "your videos" page.
These saved videos need to be hosted on a server. If you click on a video, it takes you to the next screen (share and save). The user won't be able to edit his video once it's been created.
Add Sound and Music
Users can add music from given "music library". There's 8 moods on audioblocks. Users can integrate 5 free sound tracks per mood. Users can also add paid tracks that have a little star on. A search bar is also added to find the sound tracks.
Interestingly, users can have voice recording option to add in the video. Users can add several voice on the same video and can also edit sound by recording another voice.
Media Time
Before picking the media, users can see how long the movies are (see "2:18"). If users try to edit the video, it should open the video editor.
20+ transition in video
Add 20+ different transitions when creating a video. A video or a slide a transition is an effect that happens between each photo, slide, or video clip. For example, a fade transition can be used to fade in or out of each picture in a slide show.
20+ Effects in Video
Give any effect to your video from 20+ different given effects to make it more appealing.
For e.g. you can keep video simple by clicking to None, or can change to Monochrome, Noir, Vignette, Softlight, etc.
Add Text
Users can add different types of font to their videos. Text type, size, colors are changeable. It is also rotatable.
Share Socially
Once you click on a video, you will land on this screen. When you click on one of the sharing function (like share to instagram), you're prompted to sign in via facebook / gmail /email. That way they create an account and can have access to the videos anywhere.
If you click on 'save' option, you will reach to the "sales page".
Website
A website will also launch in May 2016 for users to create video from their desktop. Just like Instagram, you can access your account, but registration can be done through app only.
Users can download their video through website, if they upgrade to the pro version. They can view their videos (and download them to their computer only, if they are using the premium version)
Even if, users have a free version of the app: they can have access to the videos online (up to 5gb).
Video Edition
Import SDK to create own video editor. Previously, users only use music from their phone gallery, after this update, they can select music from the list included in an application.
Additional
An upcoming update allows users to create per video for jQuery1. Users have to take a monthly subscription.
Appreciation from Clients
Space-O helped to design the app in a very user-friendly way. They helped us to navigate solutions for the app.

I would like to thank the entire Space-O team for helping us with our photo editing app. We have been working with other developing teams before, and we were able to find Space-O. And all the other developers failed to deliver all great working apps for us. Space-O helped to design the app in a very user-friendly way. They helped us to navigate solutions for the app. And overall went above and beyond with our request.

They were highly recommended to me by my mentor and I am so glad that I chose to work with them.

This was the first app I've ever developed and they been extremely helpful every step of the way, answering questions, writing recommendations, and tips. If you're looking for a high-quality app, definitely go with Space-O technologies.

We were all quite demanding in terms of quality, but Space-O has managed to go beyond, to fulfill our expectations.

When we started 2 years ago, the main struggle was to find the right developing team, because the problem was we were all quite demanding in terms of quality. And, this showed that we were able to develop some successful apps. But, this would not have been possible without Space-O.
Douglas Laver
Australia
The Space-O team were great to work with. Every part of the process went as per the agreed schedule, and the finished prototype met, and in most cases, exceeded my expectations. While Space-O wasn't the most price competitive of the quotes I received, the quality of their work, professionalism, and product, was well worth the additional cost. Highly recommend, and will continue to use their services for future projects.
Philip
United Kingdom
They performed in all aspects excellently. They have given well-appreciated discounts at various stages of the project and also with suggestions that saved cost. When it comes to delivering, they were always ahead of time. We don't know how they do that but that's very impressive. Their agility and customer support is on a different level, well appreciated.
Ashton Asherian
USA
Space-O Technologies showed genuine interest in the project. The efficient team delivered quality results at a cost-effective price. We wanted to develop a minimum viable product that would be ready for scalability. It was a great experience working with them. We are so happy that we had the chance to meet Space-O. We love their work. Their project management and structure were amazing. The team loved what they were doing. There was passion behind every single piece of work.