Pets are a part of the family. Just like kids, even they need sitters when the pet parent is busy. With an increasing number of pet parents, the demand for on-demand dog walking apps is also increasing. In fact, a report by Research and Markets states that about 68% of households in the USA have a pet and this number is set to grow.
In fact, according to American Pet Products Association, pet industry expenditure was USD 123.6 billion in 2021. This boom in pet numbers has opened opportunities for different pet care services to grow their business. Dog walkers being one of them are enjoying this situation the most. Being a leading on-demand dog walking app development, we decided to help out entrepreneurs who are looking to tap into this field.
How to Create a Dog Walking App like Rover and Wag
Here we have mentioned 5 steps to create dog walking apps such as Rover and Wag. If you are an entrepreneur and looking for the easiest way to develop on-demand pet care app solutions, then these steps will help you to understand the entire app development process to build pet walking software. Check all the 5 steps you can consider to build your own dog walking app like Rover or Wag.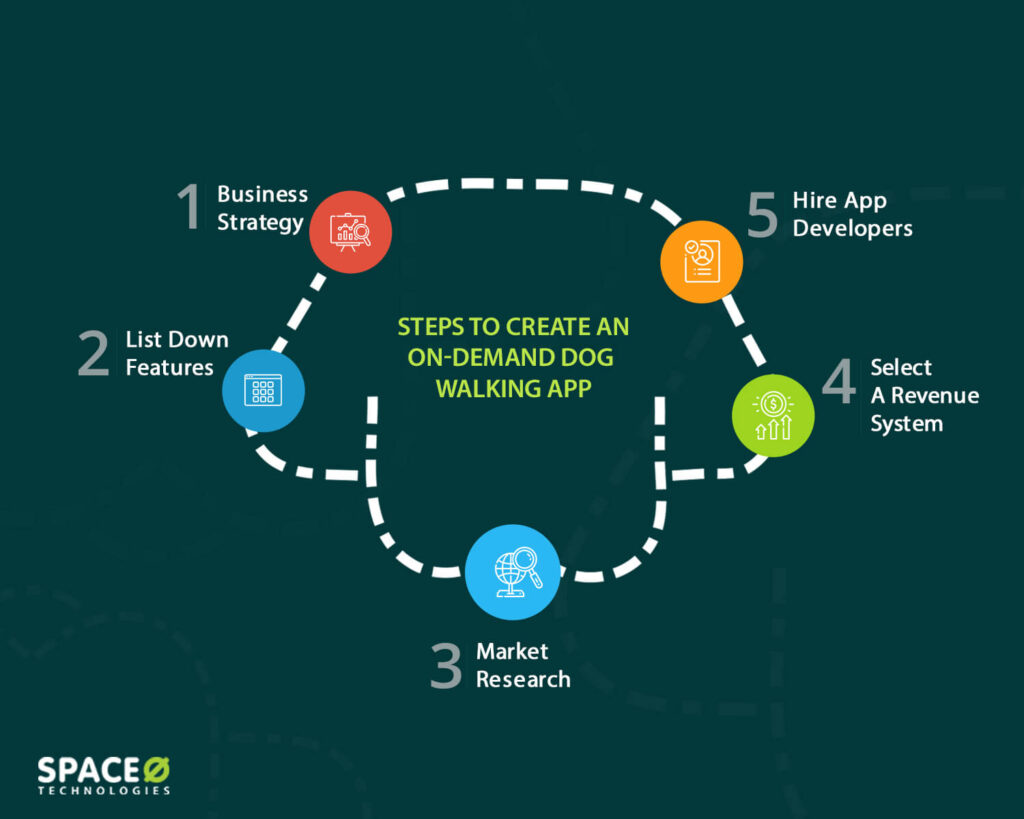 Business Strategy

Are you wondering how to start a dog walking service? The first step to developing an on-demand dog walking app is creating a business strategy that suits your current and future business goals. You can either be a pet-walking / pet care agency or an entrepreneur who is planning to start a dog walker service aggregator business. You may also decide to add new services like dog care, dog training, pet grooming if you want to expand the business, and earn more revenue.

However, make sure you do not bite off more than you can chew. First, focus on what you do the best and then slowly expand to other pet care services.

Decide on a Revenue System

The next part is planning on the monetization strategy for your business. There are a few ways that can you use to earn revenue from the on-demand dog walking app.

For Dog-walking Agency- If you own an agency then monetization is simple. You are basically using the dog walking application to automate the entire process. Your earning method will be pretty much the same.

For Aggregators-

1.Transactions Fee: Every time a person makes a payment in exchange for services booked via your app, you can charge a percentage from it.

2. Paid Promotions: You can charge the dog walking agencies or freelance pet walkers to list them on your app. You can charge extra for featuring their services at a certain position.

3. Paid Ads: Many pet-related businesses will also pay you for running their ads on the app.

4. Surge Charges: This is similar to Uber surge prices. Many times dog and pet owners cannot find walkers for their dogs in their area due to huge demand. You can provide a dog walker to such dog owners at a higher rate through your dog walking applications. This helps you as well as dog and pet walkers to earn more

Market Research

We will divide this step into three pain parts to explain it in a better way

1. Understanding Market Landscape: First, get a basic understanding of the market. Answer the following questions to yourself prior to building an on-demand mobile app solution for pet care:

Who is your target audience?
What are the problems that they are facing? How can you solve them?
What are the trends in the pet care sector and how can you add value to it?

After answering these questions, analyze your competition.

2. Analyze Competitors: You need to find out who your competitors are. What's the popular dog walking app? What kind of services do they provide through dog walking applications? What sort of marketing channels they use and how are they performing in the market. Next, you should see the type of features they have in their dog sitter or dog walking applications. (We will help you with this in one of the next segments of the article)

This doesn't mean you should copy them. This is only for understanding and getting inspired. You can not just follow others, you need to carve your own path that helps you stand out from the others. Think about what you can do better than them. Make sure you develop an on-demand dog walking app or dog walker apps that is the best dog walking app for walkers as well as dog and pet owners.

3. Find Partners: A business that is mutually beneficial for two parties is more likely to be successful. Apart from comparing your competitors, you should also find out businesses that are related to yours but are not competitors. For instance vet hospitals, pet-food brands or stores, pet grooming, or training institutes. You can partner with such firms and bring in more business from your dog walking app. In the case of aggregators, you need to find and reach out to freelance dog caregivers as well as dog walking agencies to collaborate with them.

List Down Features

After comparing and contrasting the competitors, you will get a brief idea of what type of features are extremely important for developing the best dog walking app like Uber for dog walkers. You should note down all the features that you want in your on-demand dog walking app. We will talk about the important and recommended features in the next subtopic.

Hire App Developers

The last step in developing on-demand pet sitters or dog walkers app is hiring the best developers for your project. You can find and hire developers from various sites like Upwork, AppFutura, Clutch, and so on. These sites have hundreds of thousands of app developers in their database.

You need to select a company that has expertise in dog walking app development or building on-demand solutions and has developed similar apps in the past. This will give their work more credibility and their experience will also help make your project better.

As promised, in the next segment, we will talk about the important features of the pet walker app.
Do You Want to Develop an Uber for Pet Sitters?
Request a free cost estimation from our team of experts today. We will help you provide the best solutions within your budget.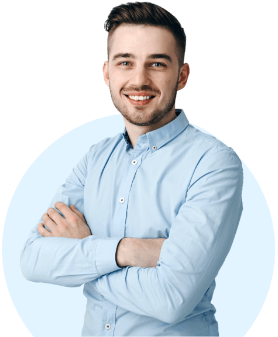 Important Features of an On-demand Dog Walking app
Let's make one thing clear, it is not one app. In fact, there are three main components of a dog walking app: Customer's App, Dog Walkers App, and dog walking management software dashboard. Let's check out each component and its features.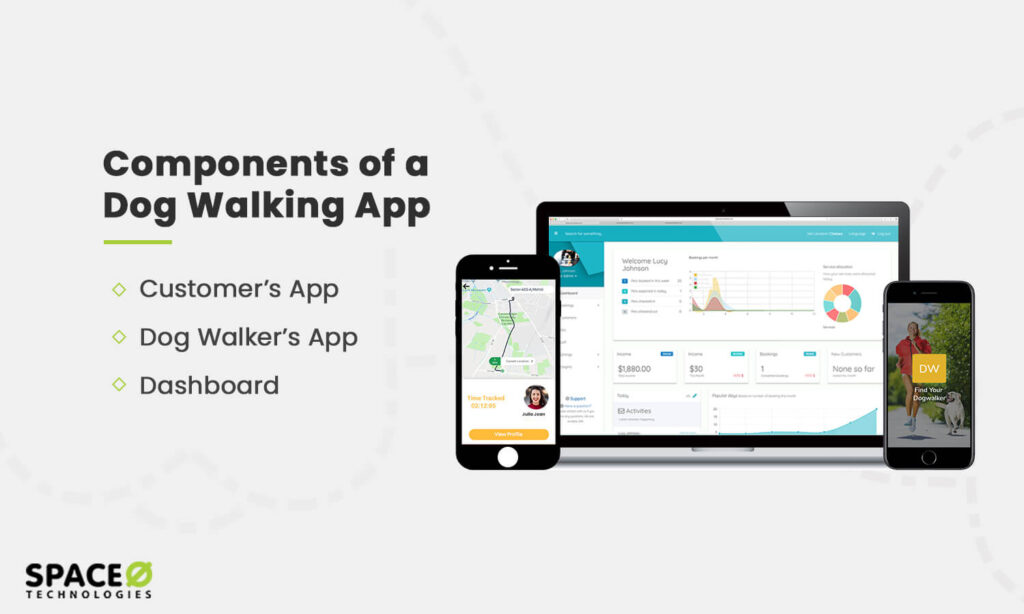 Customer's App

1. Search and Filters

: This feature helps the customers in finding appropriate dog walking services according to their requirements. The customer can search for a specific service, agency, dog walker, dog walking rates, or location. The feature of filters helps pet owners to sieve out unsuitable dog and pet walkers and choose the one that fits their needs.

2. Profile: Before booking a dog walker, pet parents should have an option to check out the profile of dog sitters through the dog walking app. This profile can help them do virtual background checks and make informed decisions about leaving their beloved pets under pet services.

3. Photo Updates: This feature helps the dog and pet owners in getting updates and proof of their dog's care and health. The dog walkers can click photographs of their activities with the pets and send them to the dog and pet owners.

4. Real-time Tracking: This feature is a must in any on-demand marketplace app like Rover and Wag- top apps for dog walking services apps have this feature. The GPS tracking feature helps the dog and pet owners in knowing the real-time location of their dog and dog walkers, giving a sense of safety.

5. Reports: This feature will help dog and pet owners track all their bookings, walking distance, the performance of the dog and pet walkers, and payments in one place.

Dog Walker's App

1. Create a Profile

: The dog and pet walkers can create a profile to show their previous experiences and they give a brief about how they take care of dogs or other pets. They can add their profile image along with some identity proof for the dog owners to check before handing over their pets to walkers.

2. Accept/ Reject Requests: When dog or pet owners send requests to the dog and pet walkers, they can check the description of the job like the number of pets, whether they need to sit the dogs or take them to dog parks, or take care of any other way. After that, the dog walker can accept or reject

3. Schedule: A feature like a calendar or scheduling feature helps the dog and pet walkers in planning their dog walking jobs and scheduling their bookings in an orderly fashion. This also helps them in keeping track of their upcoming appointments and payments from dog owners.

Dashboard

1. Manage Customers and Walkers

: The admin handles the dashboard and has access to the information of dog owners and on-demand dog walkers. The admin manages the details and takes care of any issues in the dog walking software.

2. Allocate Jobs: The admin manages the job requests as submitted by the dog or pet owners. Automatic as well as manual job allocations must be possible on the dashboard.

3. View Reports: The admin can also have access to all the generated reports that can help him keep track of the activities on the app. The bookings that are made to how many are accepted, canceled or completed, every information is available in the reports.

4. Manage Payments: The admin can manage his commission from the service charge and make the payment to the dog walkers accordingly.

Now that you have seen the important features, let's take a look at how much time and money will it cost to build the app.
Time and Cost to Develop an On-demand Dog Walking App Solution like Wag or Rover
After deciding to develop a pet care platform or the best pet app, you must have certain questions like "How much does it cost to create a dog walking app?" and "How much time does it take to develop a pet walking app?". The answers to these questions are connected with each other.
The time and cost to develop a dog walking app depend on the type of features you want in the dog walking app. A simple dog walking application with regular and only important features takes less time to develop, up to 3 to 4 months. Whereas, a complex app with advanced features takes longer to develop, 4 months or more.
If you consider the Customer's App, features like registration, the profile of the user, add/edit information of dogs, filter routes by type, location, search on the map, booking section takes about 120-150 hours to develop. If you need more features, the developing hours might increase.
Coming to the cost part, the cost of developing dog walking platforms like Wag and Rover is dependent on the time and developer's per hour charges. Here is a formula that you can use to estimate the total app development cost.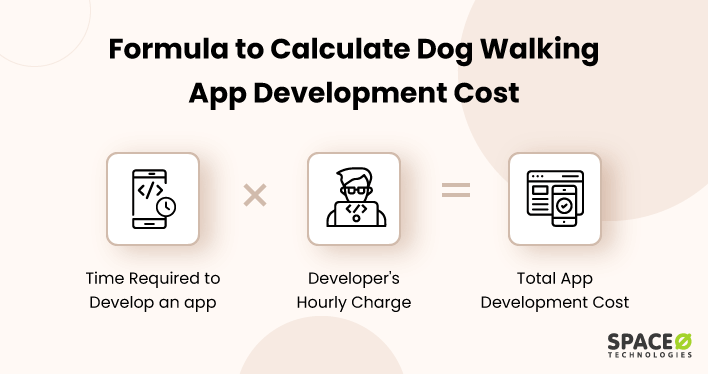 Now, if to make your competitor analysis easier, we have a list of 4 apps that you need to study before you start your own app development.
4 Best Dog Walking Apps like Uber for Dog Walkers
Name Of The App
Features
App Link
Wag

Book and hire walkers
In-app messaging
Dog training services
GPS tracking of dog walks

Rover

Book trusted and experienced caregivers
In-app messaging
Get instant alerts and photo updates
Drop-in and daycare reports

Pawshake

Insurance covered bookings
Provides 24/7 support
Public reviews by dog owners
Quick messaging services

PetBacker

Social media for pet owners
ID verifications and genuine reviews
Receive and send photo updates
Real-time tracking
We have checked the features of all the 4 best dog walking apps. You can also install these dog walking apps to check their features, how well they function, and their user experience. We have also explained these dog walking apps in detail. Let's check all the 4 dog walking apps one by one.
Wag

Wag is one of the most popular apps in the pet industry. It was launched in 2015 and has now become a household name for people who are too busy to take care of their pets. The popularity is because dog owners can hire a dog walker within as little as 30-60 minutes. On-demand is what they really offer.

Source: Wag

Wag ensures that they offer pet parents only 5-star dog walking, pet sitting, vet care, and training services. You can easily book a convenient time in your neighborhood with the Wag app. Moreover, if you want to give daily walks to your pets or plan for a trip and or are just stuck at some work, you have a trusted team of dog sitters who will take care of your pets.

Some of the top features of the Wag app are as below:

Book and hire walkers at short notice
In-app messaging to stay in contact with the walker
Dog training services are available
GPS tracking of dog walks

Rover

Ask any dog owner or pet parent and they would've definitely heard of Rover. The policy of Rover guarantee makes it popular among its peers. This policy assures the pet parents that in case of any sort of rare injury or damage is done during the caretaking, Rover will reimburse for any cost that you need to spend.

Source: Rover

The best thing about Rover is that it accepts less than 20% of potential sitters to ensure they offer the best dog walkers and dog sitters. Any dog walking services that you take are backed by The Rover Guarantee and also have 24/7 support. With more than 200K dog sitters in the USA, the UK, Canada, and Europe, Rover, an on-demand dog walking app make it easy to book pet care you can trust.

Some of the top features of the Rover app are as follows:

Book trusted and experienced caregivers
In-app messaging to stay connected with the sitter
Get instant alerts and photo updates
Drop-in and daycare reports

Pawshake

Founded in 2013, the app had a backing of over $1.5 million and used it pretty well. It has become one of the top names when it comes to dog sitting and walking apps. Pawshake claims that it accepts only 15% of caretaker applications after thorough background checking.

Source: Pawshake

Pawshake lets you connect with the trusted pet sitters in over 15 countries. This app is best to rely on home dog boarding, dog sitting, daycare services, dog walking and sitting, and house sitting services. The trusted Pawshake sitters are pet lovers who will always look after your pets when you are not available at home.

Some of the top features of the Pawshake app are as below:

Insurance covered bookings
Provides 24/7 support
Public reviews by dog owners to help make a decision
Quick messaging services

PetBacker

PetBacker calls itself Uber and Airbnb for Pets. The customers can find sitters from this dog walking application as well as drop their pets at dog boarding care services. PetBacker has your back for everything from a pet sitter, a groomer, or a dog walker. All the services are insured and you do not have to pay anything extra for it.

Source: PetBacker

Even you can hire trusted pet sitters for your dogs and cats for boarding, minding, walking, grooming, spa and daycare. In case you are not available, then you can trust the pet sitters to take care of your pets. In fact, pet lovers can too earn extra money for taking care of the pets.

Some of the top features of PetBacker are as below:

Social media for pet owners- share photos
ID verifications and genuine reviews
Receive and send photo updates
Real-time tracking of the walker and pet
Want to Develop an On-Demand Dog Walker App?
Let's move on to some of the commonly asked questions. If you want to know how to start an uber for dog walking or pet walking business or whether it is profitable or not, or how a dog walking app works, then read our next section.
Frequently Asked Questions
How to start a dog walking business?
Steps to start a business for dog walking:
Step 1: Come up with a business plan. Decide on what sort of services you will provide
Step 2: Allocate budget and get resources necessary for your business
Step 3: Get the necessary documents, license, and insurance
Step 4: Develop a dog walking app and website
Step 5: Advertise and promote your business
Is a dog walking business profitable?
Yes, dog walking businesses are in demand right now. About 70% of Americans have a pet. This number is set to increase in the future. Most of pet parents need a caregiver for their pets on a daily or weekly basis. With proper strategy and marketing, you can make the most of this demand and earn profits.
How do dog walking apps work?
The dog owner searches for a walker by entering requirements on the app. He can send a request to the walker that is available and suits the needs. The walker can accept or reject the request. After the walker accepts a request, the walker reaches the required location and takes care of the dog, and returns back. The payment can be online as well as in cash. The admin takes its share of the commission and the rest is paid to the walker for their services.
Which dog walking app pays the most?
We have listed the top 3 dog walking apps that pay the most.
1. Rover – The basic dog walking salary starts from $10 per hour. You have the flexibility to choose your own and hours. You will get a liability insurance package along with the app.
2. Wag – Wag pays $15 per hour after you complete the job. The app is a well-known dog walking platform and has integrated GPS coordinates. So, the dog owner can know the exact location where you are walking the dog.
3. BarklyPets – The app gives the opportunity to dog walkers to work at their own time and rate. Rather than charging commision, Barkly charges flat membership of $8.5, if you earn more than $100 in a month.
Conclusion
We hope that this blog has answered your question about creating an on-demand dog walker app like Uber. If you think we have missed out on something, feel free to connect with us.
We are a leading mobile app development agency with experience of developing over 50 on-demand apps like Glovo- the most downloaded on-demand grocery app in Spain and Bevy- an on-demand alcohol delivery app for a UK startup.

Most downloaded Spanish on-demand delivery app
Services in over 25 countries and 1500 cities
Has over 50M installs on PlayStore

Alcohol-delivery app developed for a UK based startup
'The New Age of Alcohol', according to TechCrunch
Services across London
If you have any questions regarding app development cost, process, or timeline, you can contact us and we will do our best to answer all your questions. The consultation is absolutely free of cost.