Are you planning to develop an online car repair app solution? Herein we have curated 3 tips to make a car maintenance app like Wrench, which has recently raised $20million. The app is well-known for its car servicing from refueling to maintaining a vehicle all is done through one app. Being a car repair startup, you should consider these tips to create your own app like Uber for car repair.
There is an app for everything from buying a small board pin to booking a property. The on demand app genre is highly influenced by 'Uber for X' trends. Everything and anything is availed just a finger touch away. In this digital era, to make one's business run successfully, no stones have remained unturned. People are investing in the digital world, be it websites, mobile apps, social media, everything is done for building a successful online brand.
Recently we at Space-O Technologies, came across a car maintenance app named Wrench that has raised $20 million, to provide seamless vehicle repair and maintenance service. The round was led by Vulcan Capital with additional participation from Madrona Venture Group, Tenaya Capital and Marubeni Corp.
Now, being a car repair startup or an owner of the garage chain store, you might wonder what is the necessity to make an app for the mobile mechanic service.
Think about today's customers.
Currently the word "on demand" and "apps" are going parallel to each other. And startups are investing in Uber like app development ideas in different industries. Usually, customers forget about car servicing, or too lazy on their holidays to get up and go to a garage for the servicing. What if you provide your consumer with a mobile mechanic service wherein they can book or hire a mechanic at their doorsteps or wherever they are.
Of course, they are going to choose the instant "mobile mechanic near me" facilities available on their smartphones. The automotive industry witnessed a 5.3% increase in sales, with 81 million in unit sales in 2021. Today's Gen Z is preventive about their vehicles but at the same time, they are lazy too. Thus, to become a part of such a huge revenue-making market, you need to expand your business through apps.
The annual growth rate of the automotive repair and maintenance service market is projected to increase at a 5.8% over the forecast period of 2017-2027. Apps like RepairPal, GasBuddy, Fuelly, Washe have already made a mark in the 'Uber for car repairs' segment.
Want to Create an App-like Uber?
Let's talk. With thorough research and market analysis, we help you define your project scope and check the feasibility to develop Uber app.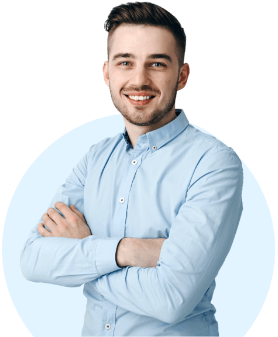 Being a tech startup, if you are looking for on demand solutions for car repair then you need to check out these tips from our expert app consultant. It will help you to create a customized mobile app for your on demand car repair service. Before discussing tips, let's have a quick look at the top car repair service app that has caught the attention of investors.
Wrench: App Like Uber for Car Repair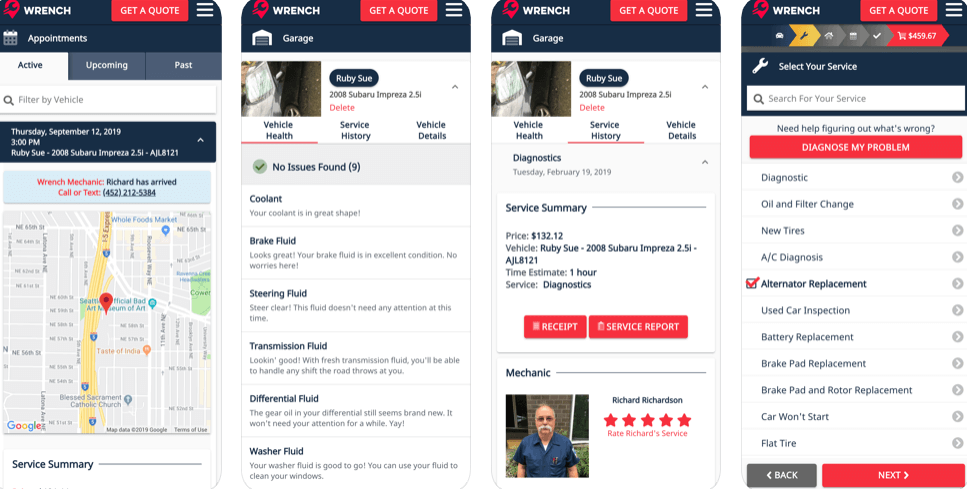 Image Credit: Wrench
Wrench app was founded in 2014. It is one of the growing companies using the latest technology to adapt a convenient business model for heavy services like car maintenance. The app is now valued at $22.4M with a recent increase of $20M in its latest round of financing.
This Seattle based auto repair app has serviced around 1,00,000 vehicles and all of the company's repair and servicing visits come with a 12,000 mile warranty and a vehicle inspection with the results delivered to a customer.
For geographical expansion, the car repairs app acquired a Canadian mobile automotive mechanic startup Fiix. This startup provides mobile mechanic service to around 80,000 customers across North America.
With more than 270 million vehicles in the United States, the opportunity is enormous for the car service startups and investors. Without doing any further due, let's have a look at the tips for a successful app like Uber for car repair.
3 Tips to Make an App Like Uber For Mechanics for Car Repair
Here are three tips from our app consultant for developing apps for auto mechanic involved in the automotive repair industry.
Create a full-service online auto repair shop for your loyal customers

There are hardly any apps that provide all-in-one vehicle servicing. Apps like Filld, Yoshi, Spiffy, Washe are refueling and car wash apps. The genre for fully-fledged mobile mechanics service is yet to be explored. With an app like Uber for car repair, you can offer everything from oil changes to tune-ups to brake jobs and no-starts.

Being an owner of a car repair business, your app for mobile mechanic should provide your user with a fixed quote, depending on their maintenance & service, with special requirements. With app development, you as a repair agent can easily streamline the job process, and can also allow other agents to take on the work.

Sometimes, it might happen that the customer is not able to figure out the problem. With an app like Uber for repairs, you can provide a diagnostic visit feature in the app and can create a quote for the service after a free visit to the customer's place. Such an approach will increase the engagement into the app as the users will get correct guidance for their vehicles.

Professional platform in the form of app for automotive technicians

There are many car repair experts and garage owners who are looking for new customers, so online platform is the best solution to earn some extra income. With a mobile app for car repair service can be platform that can bridge the gap between the customers and mechanics who need jobs to do.

In this gig economy world, you can become the best auto repair app by providing fast servicing. For that, you need more manpower and through such part-time employees, freelancers, you can easily match the on demand car repairs.

Through the car mechanic app, you can maintain their payment records, manage fleets, number of services, workdays of the employees. Thus, there is no need of maintaining long excel sheets or check the computer records or have a risk of losing sheets. Everything will be easily available in your smartphone. As an owner, you will have a detailed insight into your business, sitting anywhere, anytime.

Provide seamless feature integration for a successful user experience

The first thing that you should consider after deciding a car repair app idea is its features. To improve user experience for better mobile design , features play a major role. Consider features which are easy to understand and are user intuitive.

Now, after developing over 40 on demand apps , we have curated some of the important features for a car repair app that you can consider while developing an app like Uber.
Some Recommended Features to Consider for App Like Uber for Car Repair
Schedule an appointment
Profile of the technicians
Diagnostic visit
In-app calendar for available dates
Choose the kind of car repair
In-app payment
Real-time GPS tracking
Car maintenance reminders
Detailed report of the service
Ratings and reviews
Offers and discounts
Well, by providing an online platform for on demand car repair services, it is important to consider these useful features of Uber for mechanics app which makes things easier for your customers i.e. car owners and mechanics. Well, such features will organically increase the app traffic and will result in word-of-mouth marketing for your online business.
Want to Create an App Like Uber for Car Repair?
We, being among the best mobile application development companies,have the apt solution for your app development. With 200 experienced mobile app developers and 14 UI/UX designers, we have developed successfully on demand app solutions which are covered by TechCrunch, Digital Trends, BBC, and the Huffington Post. The market is still full of possibilities and you can still build an app like Uber for auto mechanics and grab market share.
Want to Hire Skilled Developers?
Hire professional web developers that will work dedicatedly with your project. Talk to us and find the most eligible developers.
In case, if you have any query or confusion regarding mechanic apps development, how long does it take to create an app like Uber for car repair, the cost of making an app like Uber or the cost of development of mobile applications like Wrench, YourMechanic, or how do apps make money if it's free, then you can discuss it with us through our contact us form. One of our sales representatives will revert to you as soon as possible. The consultation is absolutely free of cost.