eComChat: AI-powered eCommerce Search Bot
eComChat is a ChatGPT-like eCommerce search bot that increased the speed of online stores by 23% by providing quick and relevant search results based on the user's intent. Using OpenAI technology and 20,000 external data of eCommerce products, eComChat eliminates zero search result queries and streamlines the product discovery process.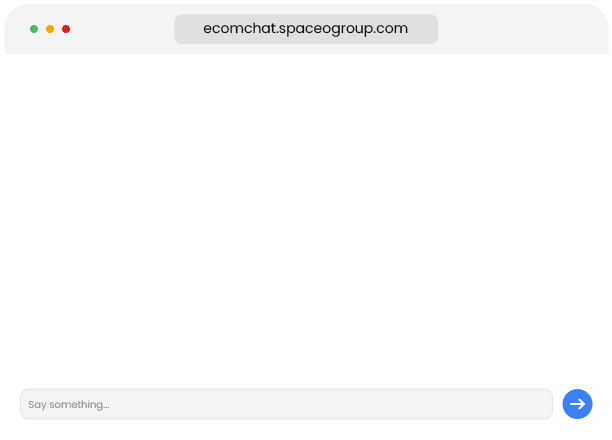 Solution
eCommerce Search Bot
Services Provided
Design, Development
Abstract of eComChat Search Bot Solution
Our AI app developers developed an eCommerce search bot like ChatGPT for an eCommerce store. This solution utilizes OpenAI libraries and natural language processing (NLP) algorithms to understand and interpret user queries from the 20,000 eCommerce product data.
The gathered information is then analyzed and organized based on its relevance to the user's query and presented in a user-friendly manner. eComChat search bot solution is a time-saving alternative to traditional search engines as it eliminates the need for users to manually filter through irrelevant search results.
Our Client and His Project Requirements
The client is an eCommerce business owner, who manages a large eCommerce store(B2B and B2C) in the USA with a significant inventory of 47,000+ products. The company relies heavily on search-driven revenue on its platform.
However, they noticed a decrease in sales and revenues due to irrelevant search results. Customers complained that they were unable to find what they were looking for, resulting in abandoned carts and high bounce rates.
To address this issue, the client was seeking a fast and accurate eCommerce site search solution that can understand the intent behind their customers' queries and provide relevant results. Their goal was to improve the overall user experience and increase revenue on their platform.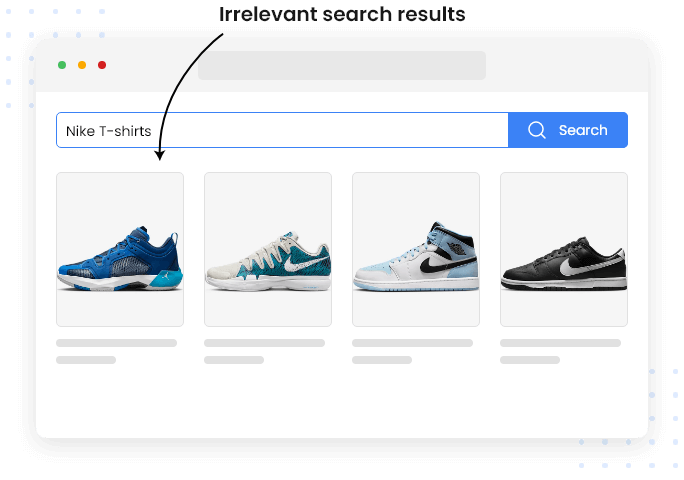 Solution We Offered to the Client
We developed an eComChat search bot that helps users to find relevant products after understanding the user's intent. Our AI development team used OpenAI technology and NLP algorithms to elevate website search functionality by building a ecommerce search solution that streamlines the product discovery process, and find relevant products in real-time.
Here's how we created eComChat using OpenAI technologies:
Loaded the 20K data in a suitable datastore and prepared it for embeddings
Generated text-embedding-ada-002 vectors and stored them with product metadata
Parsed user inputs with the previous chat history
Understood the intent and query the vector
Fetched the nearest vector, combine its metadata with a human-like personalized response
Responded back to the user with formatted tex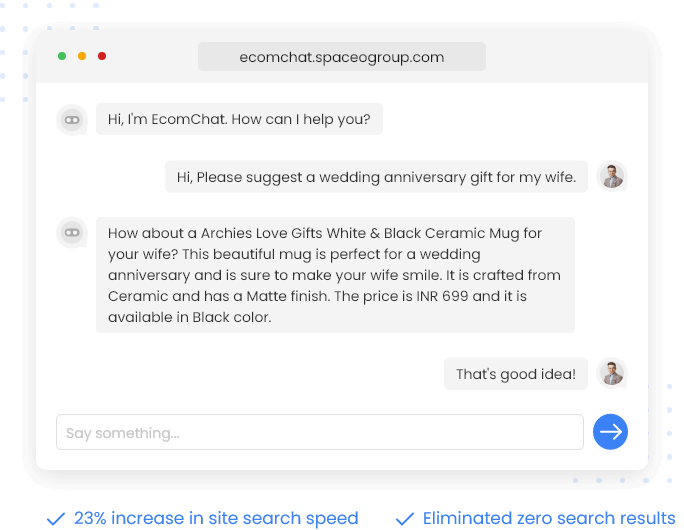 Challenges We Faced
During the development of our eCommerce search bot, our developers faced a significant challenge with data indexing. The eCommerce site had a large and constantly changing product catalog, and indexing all of this data in a way that was accurate and efficient proved to be a major challenge.
To resolve this challenge, our developers implemented two strategies:
Used machine learning algorithms to automatically extract relevant information from product descriptions and attributes, such as color, size, and brand.
Optimized the search algorithm to prioritize the most relevant results based on user queries.

Finally, our developers implemented a real-time indexing system that automatically updated the index whenever new products were added to the catalog or when changes were made to existing products.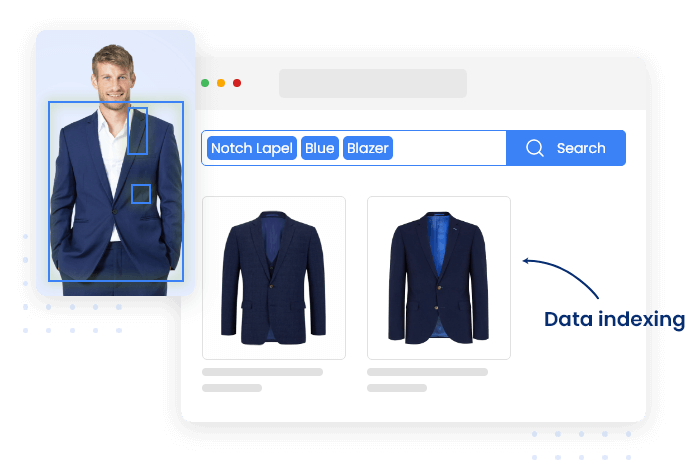 Key Features of eComChat to Improve Customer's Shopping Experience
Semantic search
The search bot solution understands semantics and recognizes synonyms and related terms to provide accurate search results even if the user searches for a slightly different term than what the site contains.
Natural language understanding
Provides accurate search results by interpreting user intent, identifying relevant terms, and understanding the relationship between words in the query. Reduces the need for users to use specific or technical search terms.
Integration with e-commerce platforms
The eCommerce search bot integrates seamlessly with popular e-commerce platforms such as Shopify, Magento, WooCommerce, and others.
Real-time inventory updates
When a user searches for a product, the search bot queries the inventory management system in real-time to determine if the product is available and to provide accurate pricing information.
Understands misspelled terms
Uses machine learning algorithms to analyze the structure of queries and identify keywords & phrases. Search bot ensures that users receive relevant search results.
Looking to Increase Your eCommerce Revenue?
Our AI app developers have the skills and experience to increase the on-site conversion rate and average order value using OpenAI technology.
Technology Stack
Programming Language

R

Python

Node.js
OpenAI Models

GPT-3
AI Frameworks

PyTorch

Tensor-flow
Increased Revenue by 23%
By leveraging advanced OpenAI technology, the search experience was improved which resulted in increased sales. Since the users quickly found the relevant products, the eComChat solution drove more conversions. The faster search times have resulted in a reduction in bounce rates, as visitors are no longer abandoning the site due to slow load times.
Provides Specific Pricing from Real-time Inventory
eComChat solution connects visitors with the right product, at the right price as per the localized inventory. It ensured that the search results reflects the pricing as per the CRM, CMS, or ERP data. The solution accesses the inventory information in real time and presents it to the customer in a way that is easy to understand and use.
Reduces Operational Costs
eComChat solution minimized the need for human intervention. Since the search bot solution provides relevant search results, it reduces the number of customer support requests related to search bot issues.
Appreciation from Clients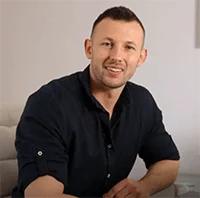 Steve
USA
I would like to thank the entire Space-O team for helping us with our photo editing app. We have been working with other developing teams before, and we were able to find Space-O. And all the other developers failed to deliver all great working apps for us. Space-O helped to design the app in a very user-friendly way. They helped us to navigate solutions for the app. And overall went above and beyond with our request.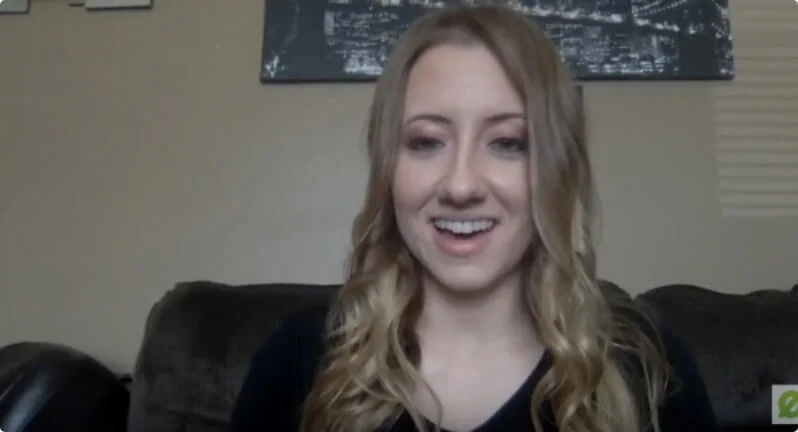 Olivia Grande
USA
This was the first app I've ever developed and they been extremely helpful every step of the way, answering questions, writing recommendations, and tips. If you're looking for a high-quality app, definitely go with Space-O technologies.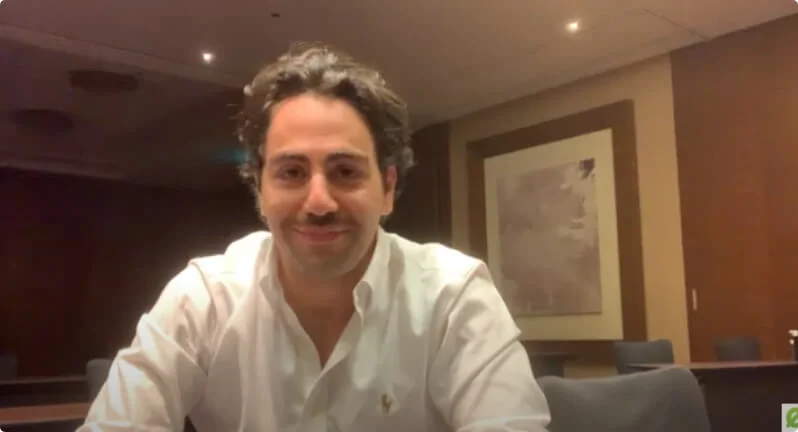 Kaveh
UK
When we started 2 years ago, the main struggle was to find the right developing team, because the problem was we were all quite demanding in terms of quality. And, this showed that we were able to develop some successful apps. But, this would not have been possible without Space-O.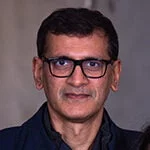 Aamir Jaffar
Kingdom of Saudi Arabia
I hired them for a BA assignment for a project. They did a fantastic job. Quite professional and also good at making the customer understand non technical aspects. Put their mind to think like the customer. A guy named Jaimin was assigned as the work lead and really appreciate his knowledge, understanding customer perspective on the assignment and come up with very valid suggestions. Recommended for mobile app development.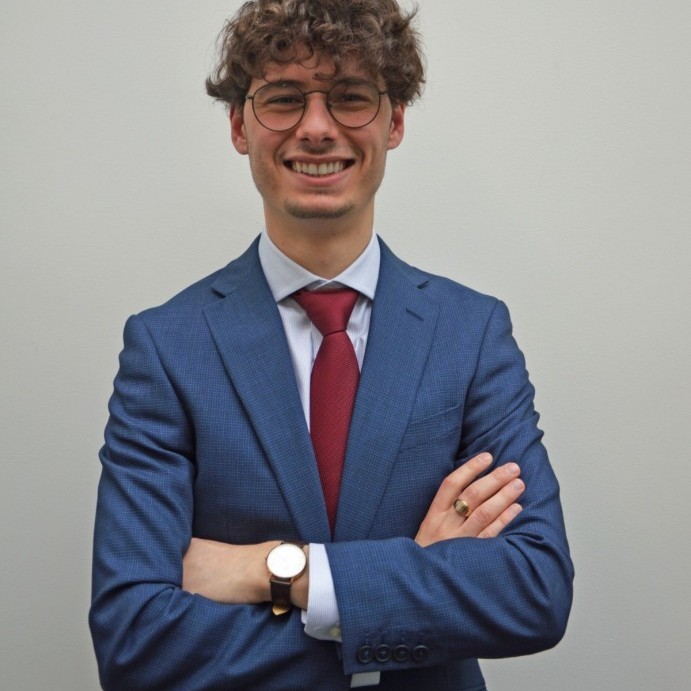 Riccardo Petrachi
United Kingdom
We searched online for app developers that had an extensive experience in mobile app development as well as a strong presence in the market. We chose Space-O specifically because of the up-close experience we had with another app they had developed and we wanted to achieve the same high level of standards, quality, and satisfaction. We were looking for brilliant experts and we found them.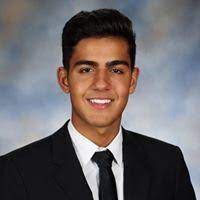 Ashton Asherian
USA
Space-O Technologies showed genuine interest in the project. The efficient team delivered quality results at a cost-effective price. We wanted to develop a minimum viable product that would be ready for scalability. It was a great experience working with them. We are so happy that we had the chance to meet Space-O. We love their work. Their project management and structure were amazing. The team loved what they were doing. There was passion behind every single piece of work.

Tom Asare
Ghana
The app was successfully launched and fulfilled original expectations. The Space-O Technologies team was communicative and effective in completing the project. The app is available in the Google Play store, and we're thrilled with the final product. They were a highly efficient team to work with. They were strong communicators—whenever I had an issue they were available. Additionally, they were timely in getting deliverables to us.

Nick Power
Australia
Eugene, Vlad, Jigar and their respective teams have been fantastic on all the various apps they have worked on and developed for us over the past 18 months. They are always proactive, responsive to questions and consistently provide top quality development and design work. The use of Skype, email and their own project management tool also makes it easy to keep track on how a project is progressing. I would highly recommend Space-O Technologies for any iOS development or design.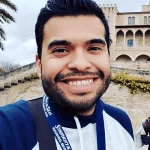 Mark
USA
I can't say enough about how great of a partner Space-O has been to work with over the past year. They were always pushing the project forward and ensuring quality checks at every turn, even pieces of my app that I should have caught before sending to development. Will definitely be referring any clients of mine to Space-O and will have them first on my list of partners to work with.