This blog is for entrepreneurs and tech giants, who want to start their own eScooter sharing startups like Bird, Lime, and Spin and looking for escooter app development. Here, we have covered the top 10 scooter sharing system operators of 2023 along with their growth and market presence. It also contains approximate hours of developing Scooter apps like Bird.
If you are living anywhere in Santa Monica, San Jose, San Diego, Washington, DC, and LA, you might have noticed e-scooters on the road that are highly preferred by people for their daily commute.
These electronic scooters are the future of daily commutes like activity classes, office, tuition, and attending colleges on a big campus as students have recognized this new affordable way to get around in the city.
Before discussing top electric scooter sharing applications, let's check out the overall growth and current market situation of electric scooter app sharing startups.
The Growth of Scooter Sharing Startups
The worldwide electric shooter market size was valued at USD 20.87 million in the year 2021 and is anticipated to grow at a CAGR of 11.2% during the forecast period, according to the report by Polaris Market Research.
The arrival of increased greenhouse and carbon emissions both are expected to contribute to the adoption of electric scooters over the next eight years. This graph shows the electric scooters market by product, 2014 – 2024.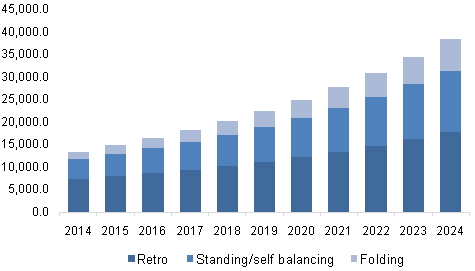 E-Scooter sharing startups like Bird, Limebike, Spin, Skip, Dott are making money in the same way their much larger car-sharing counterpart Uber does.
Bird has launched its e-scooter services in Paris and laid out its intention to bring electric scooters to Tel Aviv.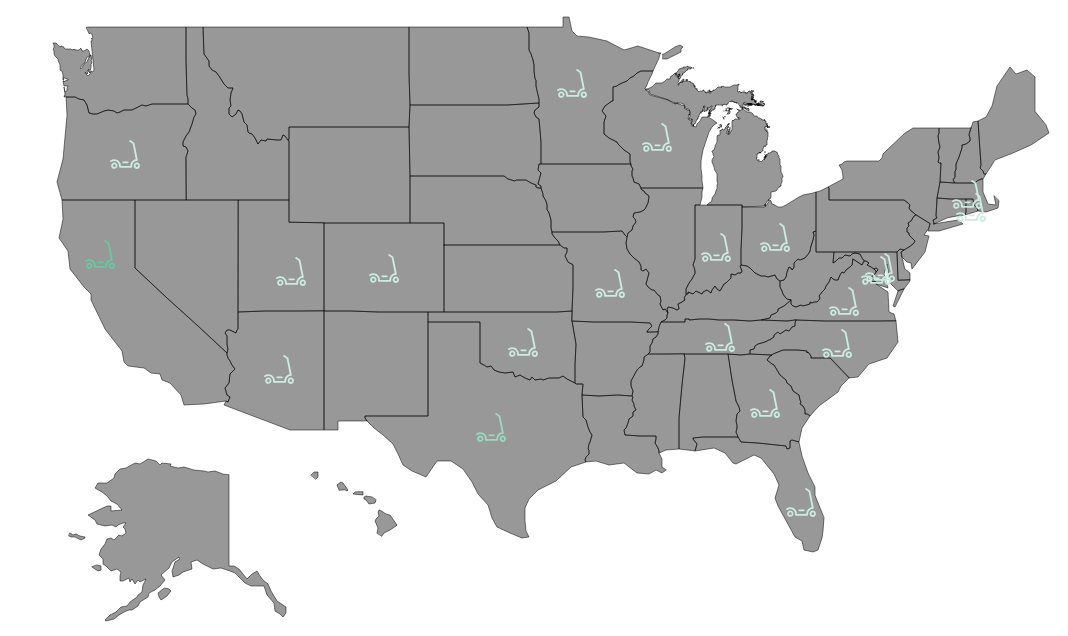 Image Source: TechCrunch
Countrywide, you can find Bird, Spin, Lime, Goat and Skip that have collectively deployed scooters in 33 cities.
When it comes to talking about the new player in the e scooter industry, Wind Mobility, a Berlin-based mobility startup and one of the best scooter apps, offers dockless escooter rental services. This electric scooter rental app startup has raised $22 million in seed funding, giving competition to Bird and Lime.
Best Electric Scooter Apps
Below table contains information about best scooter rental apps and its features. Let us have a closer look at it.
Apps
Features
App Link
Bird

Real-time GPS Tracking
Smart Lock facility
Relocate and maps facility
QR Code Integration to Lock and Unlock
Payment Gateway Integration

Lime

Secure Payment Gateway Integration
Unlock your trip by simply QR code scanner or entering the ID.

Spin

Map to locate the closest electric scooters.
Enter your payment information and get an automatic free excursion.

Skip

Unlock with QR
Pay via different payment methods
Add your social media accounts

Goat

Book a scooter
Instant unlock via QR
Easily locate nearby scooters

Wind Mobility

Perfect for local Electronic Scooters
Unlock with a single click with the wind app
Finish your trip and then lock the electric scooter

Scoot

You can easily find an eScooter nearby location.
You'll love your trip/services and make payments
Finish your trip and then lock the scooter

Jump

Book nearby electric scooter
Scan QR code to unlock the bike
Level down your speed for the safety

Dott

Book ride with eco-friendly price
QR code scanning to confirm the ride

Circ

Sign up using the free app
Search for the nearby scooters
Park your scooter and lock it using Circ app
Bird – Electric Vehicle Sharing Company

Based in Santa Monica, California, Bird is a dockless scooter sharing startup that is popular for operating electronic scooters in cities throughout North America, at a cost of one dollar to rent plus fifteen cents a minute. It is certainly one of the best apps for electronic scooters and to avail ride sharing services, since, it gives you the facility to find your nearest electric scooter ride and you can get the latest information about the charges as well. Based on these factors, we can consider Bird as the cheapest e scooter app.

Talking about the total funding amount, Bird has raised $415 million in funding so far; however, the startup has recently secured the funding of $300 million in a round led by Sequoia Capital. It was the second round of funding that Bird secured in the past few months.

The funding amount has sent the company from a reported $1 billion valuation in May to a $2 billion valuation by the end of June. Moreover, the company has become the first electric scooter-sharing unicorn.

Coming across the latest news from TechCrunch, Bird is betting on the French market in a significant way. The e scooter apps sharing company is planning to open up its biggest European office in Paris and wants to hire 1000 people by mid-2021.

As per another news from TechCrunch, Bird, a smart e scooter sharing startup, is about to extend its Series C funding with an additional $300 million led by cross-over investor Fidelity. As of now, the scooter sharing company, Bird, has declined to comment, but so far, it has raised more than $400 million in venture capital funding. It has recently acquired Scoot, the San Francisco-based electric vehicle pioneer and one of the top scooter apps, on June 12, 2019. However, the price is not known, but the report noted that Scoot has raised about $47 million to date with its last round, valuing it at $71 million.

Image Source: Bird

The people can locate and unlock the electric scooter through a smartphone application that comes with a range of features, including:

Maps to Find Nearby Scooter
Real-time GPS Tracking
QR Code Integration to Lock and Unlock
Payment Gateway Integration
Smart Lock

Lime – Your Ride Anytime

Founded back in 2017, Lime is one of the most buzzworthy scooter startups and ride sharing services provider for helping people to move around their cities in an affordable and convenient way while eliminating their carbon footprint. If we talk about app usability, Lime is the best app for electric scooter.

Recently, the company has raised $335 million round and teamed up with transportation behemoth Uber. Moreover, the company has gone international by launching its services in Madrid, launching hundreds of electric scooters in the Spanish Capital. Lime has already hit over 3 million rides across the fleets of bikes and scooters.

According to one of the latest news from TechCrunch, Lime has differentiated its scooters and bikes with a physical storefront, where it can convince customers for on-demand mobility. The startup is planning to open a lifestyle brand store in Santa Monica to rent vehicles directly from the store as well as charge them. The full-time manager will guide the customers and his role includes monitoring inventory levels and daily operations.

The company has launched its e-scooter service in Sydney earlier this month and planning to tackle the market differently from its predecessors with heavier bikes that are electric, consultations with local councils, and a team of 50 already employed to run its Australian operations.

As per the recent news from Lime, the company has launched in the United Kingdom today with a group of dockless electric-assist bikes in a Milton Keynes shopping center. The company is also planning to expand into more U.K cities in the next couple of weeks. As per another report from TechCrunch, Lime has just announced it has raised a $310 million Series D round led by Bain Capital Ventures, Andreessen Horowitz, Fidelity Ventures, GV, and IVP.

Image Source: Lime

The Lime rider needs to download the application in the device to check nearby scooters and e-bikes, scan the QR code or enter a number to unlock and lock-up safely when finished riding. Here are some of the main features of the lime bike:

Find a nearby Lime-S (electric scooter )
Unlock your ride by scanning the QR code or entering the ID
Safe & Secure Payment Through Payment Gateway Integration

Planning to Develop Your Own eScooter App

Want to Convert Your e-Scooter Sharing App Idea Into Reality?

Spin – Ride Your Way

Founded in 2016 by Derrick Ko, Euwyn Poon, and Zaizhuang Cheng, Spin is an electric scooter startup that has raised a total funding amount of $8 Million that led by investors like Grishin Robotics, CRCM Ventures, and Exponent.

According to TechCrunch, the company is raising around $125 million through blockchain-based security token offering (STO), Axios first reported and TechCrunch has also learned. Talking about this startup, it is one of the popular electric scooter service providers that are currently available in more than 19 cities as seen in the below image.

Image Source: Spin

Last year, Spin brought its stationless bike-share program to South San Francisco, but in the month of January, the company unveiled its stationless electric bikes and it is solely focusing on electric scooters, according to the sources. According to another latest news from statenews.com, the company acquired by the Ford Motor Company late last year, and it may join Lime and Bird on local streets this spring if the East Lansing City Council establishes planned regulations.

Riders of East Lansing City can access the electric scooter service through the Spin app, allowing them to find nearby scooters and books as per their convenience. Here are some of the exclusive features of the Spin smartphone app:

Map to find the nearest e-scooters
Enter your payment details and receive an automatic free trip
The QR code to unlock the scooter and ride it

Skip – The Best Way to Get There

Skip is a San Francisco-based dockless electric scooter startup that is launched by Boosted Boards. According to the latest report from TechCrunch, "The dockless electric scooter startup, Skip, has raised $6 million funding with these top strategies. The funding amount led by Initialized Capital via Alexis Ohanian (Reddit co-founder) and Ronny Conway's A Capital, with SV Angel".

The company has landed permits to operate in Portland under a new pilot program that aims to gauge how the controversial form of micro-transportation will fit in the city. So, the commuters can download the Skip application on their smartphone to locate the nearest scooter, scan a QR code and they are good to go.

Image Source: Skip

Using skip application, users can find nearby e-scooters and book in advance. They can unlock the scooter through a QR code and ride it as per their convenience. Here are some of the top features of the Skip application:

Maps to look for the e-scooters nearby
Schedule Ride allows people to schedule the ride in advance so that they don't get to the place
Unlock the bike using the QR code
Make a payment of the ride through different payment methods
Social media integration to share with friends and relatives

Goat – Dockless Scooter Rental

When it comes to talking about dockless escooter app company in Austin, GOAT has received official permits from the city's transportation department for its pilot program. The spokesperson of the company says the company plans to continue partnering with local cities to launch its electric scooter service across the nation.

This electric scooter sharing system operator has not raised any venture capital dollars, and so far, the company has deployed about 20 scooters in Austin – although it has a permit for up to 500. While the competitors of this startup have already put out 500 scooters each on local streets.

Image Source: GOAT

Moreover, the GOAT app provides instant access to dockless electric scooters in cities and on campuses. Commuters just can download this smartphone app and get access to the following features:

Instantly find a nearby scooter on the map
Unlock scooter through QR code & ride anywhere
Reserve a scooter in advance using schedule feature
Share with your friends and ride together through social media integration

Wind Mobility – Smart Electric Scooter Sharing

Wind Mobility is a Berlin and Barcelona-based micro-mobility company that is started in the year 2017 by Eric Wang. The company is dedicated to offering convenient, safe, and fun last-mile transportation and the best e scooter app experience. Recently, this Berlin-based mobility startup has raised $22 million in seed funding, giving competition to Bird and Lime.

According to the latest news from Techcrunch.com, Wind Mobility has raised $50 million in Series A funding. This new round of funding is backed by existing investors, bringing total funding to $72M.

Providing its Escooter services to different cities, companies, hotels, and universities with different solutions from hourly/daily rents and employee bonus programs for clients. So, users can download the Wind Mobility app from the app stores and get ready to try this new escooter service. Talking about the features of this new scooter sharing app, here's the complete list:

Search for nearby Electric Scooters
Unlock with one click using the WIND app
Enjoy your ride and make payments
End your ride and lock the scooter

Scoot