According to Research and Markets: "The global video live streaming solutions market to grow with a CAGR of 17.80% over the forecast period from 2019-2025". This market is set to reach new heights, as more and more people are looking for platforms to access live video streams. Being a leading app development agency, we deal with a lot of queries like which are the best live streaming platforms, the cost to develop live-streaming apps, and how to earn money from live streaming platforms. We decided to answer all these questions in this blog.
'Going live' is a style statement. We see social media influencers, artists, speakers, and gamers going live on various platforms to interact with their audience and build their brand.
Many businesses also release their products on live streams instead of holding a press conference. When businesses or artists stream live, it allows users and the general audience to ask meaningful questions and make a connection with them.
With the world facing the COVID-19 pandemic, it has become a norm to stay home more. Many offices have announced work from home, students are studying in the safety of their houses, artists are not allowed to organize concerts, conferences, training sessions, and even fitness classes are held online.
This gives an opportunity to new players in the market to not just create a live video streaming service app but also earn from it. Let's take a look at some stats to prove our point.
According to the Grand View Research, the global video streaming market size was valued at USD 59.14 billion in 2021 and is expected to grow at 21.3% annually from 2022 to 2030. You can see the graph that shows the growth of video and live streaming market.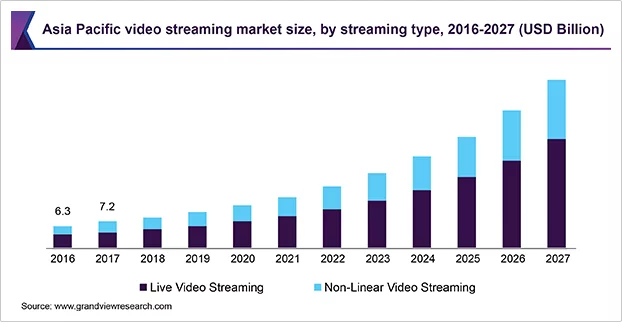 According to Crunchbase Daily, in one of the recent funding rounds (Series E), an event-streaming tech startup called Confluent raised $250 million, making the company value at a $4.5 billion valuation. Confluent is an enterprise event streaming platform used by many companies like Audi, Euronext, Demonware, and TIVO.

Whether you're looking for apps to stream live videos, apps to go live on or want to build your own app and need to study your competitors, here are the top 10 live streaming platforms you must look out for.
Top 10 Live Streaming Apps
Here is the list of top live streaming apps for you to check.
Apps
Features
Reviews (Play Store)
Download
Tango

Collaborate with your friends or other Tango streamers
Meet, interact, and engage with new people
Start earning money through gifts

4.3
3,917,219 Reviews
Streamlabs

Swap between the front and rear cameras
Customize your stream with our new mobile themes

3.9
90,209 Reviews
YouTube Live

Edit privacy of live streams to target a specific audience
Preview before you go live on YouTube

4.3
12,07,46,457 Reviews
Facebook Live

Choose who sees your videos
Engage with the audience via comments

2.3
11,98,49,892 Reviews
Twitch

Watch gamers playing video games and esports tournaments
Do live chat during any gaming, Esports, and IRL broadcast
Broadcast your own gaming content

4.6
4,461,376 Reviews
Instagram Live

Join with other users
Send responses and comments
Record live videos to post later

3.8
12,31,10,480 Reviews
Livestream

Explore live events from broadcasters around the world
Get notified when your friends and followed accounts go live
Built-in chat to engage with viewers

3.6
70,303 Reviews
Vimeo

Discover and upload videos
Use live Q&A and polls, live graphics, audience chat
Track progress with video analytics

4.1
1,30,921 Reviews
Hakuna

Join as a guest to receive gifts from viewers
Invite multiple guests
Watch or listen to top live streamers

3.7
72,525 Reviews
Broadcast Me

Order with a tap
Find restaurants
Real-time tracking
Online payment

3.8
150 Reviews
Planning to Build Customised Live Streaming App?
Talk to us. Validate your mobile app idea from our app development consultant and start building your high performing mobile app.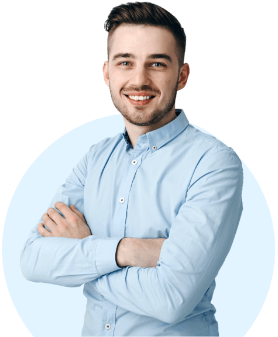 Tango

Tango is one of the popular live streaming apps that allows you to go live and video chat with your friends and viewers. It is the best app for live streaming because it helps you to meet new friends, showcase talents, and support artists. This platform allows content creators to earn online by turning live streams and broadcasts into a business. You can also collaborate with other streamers and create great live stream experiences for the audience as well as receive gifts from them.

Pros
Cons

Earn online through live streams
Play interactive games with live video streamers
Collaborate with your friends and streamers

App gets frozen frequently
Fewer filter options to search favorite streamers
Some keyboard functions don't work properly

Streamlabs

Second, on our list is Streamlabs. Whether you're playing mobile games or using your camera, it is easy to go live with just a few taps of the Streamlabs app. It gives you an option to chat with people all over the world in real-time. Also, it is easy to swap between the front and rear cameras efficiently, hence it is the best live streaming app for Android. Link to your existing channels so that you can go live and chat quickly with your fans whenever you want.

Pros
Cons

The app doesnt take too much space
Customize your stream with new mobile themes

No new content is displayed sometimes
No floating window option is available

YouTube Live

YouTube, of course, needs no introduction. It is the world's biggest Live Streaming Apps. YouTube is a great channel to monetize for artists via ads but only after they've become popular enough. It allows the users to use YouTube live and broadcast their content on a real-time basis if they have 10,000 or more subscribers. You can reach your community in real-time, host charity events, in short, it is your chance to interact, discuss and build community in real time.

Pros
Cons

YouTube app is free to use
Users are in control of what to put out

Only available to users who have 10k+ subscribers
Users won't be able to monetize it unless popular

Facebook Live

Facebook is the world's largest social network with over 2.45 billion monthly active users. Basically, about a third of the world's population actively uses Facebook. One reason for this popularity is the Facebook live feature. In fact, one out of every 5 videos uploaded on Facebook is a live video.

Pros
Cons

It is free to use just like the app
Any user can do a live video

There are data security issues
The app takes up too much space

Twitch

Professional live video game players are familiar with Twitch TV. It is considered to be one of the best gameplay streaming apps. Twitch TV is used by approximately 10 million gamers every day to stream, watch, and chat about video games. With livecast streaming, users can watch live stream gaming videos, Esports, and any IRL broadcast.

Pros
Cons

There is a lot of variety of live streams
Videos are very interactive

The app constantly buffers
Need to log in every time with an OTP

Instagram Live

Instagram has become one of the most popular social networks in the world. Instagram has various features that have its users hooked to it. Instagram launched the Live Stories feature in late 2016. It became popular within a short span and many social media influencers have made their career all because of this app feature. Instagram live is introducing the new feature, "Practice Mode" which permits Instagram creators to test the connection, other pre-show preparation, and manage the lighting prior to going live.

Instagram's ability to plan Instagram Live videos puts it on a level with other live platforms such as YouTube and TikTok, as well as Instagram's parent company, Facebook. Apart from enhancing live streaming features, Instagram is also changing its video strategy, by combing long-form video with the feed video.

has been revamping its video strategy in recent days

Pros
Cons

Any Instagram user can make a live video
The videos are interactive

Video gets paused if you get a call
No way to monetize

Livestream

Livestream was founded in 2007 by Max Haot, Dayananda Nanjundappa, Phil Worthington, and Mark KornfiltIn. It was known as Mogulus. It is a paid-for tool that requires a substantial investment. If you are an event organizer it may work for you but for individual streamers, this can be very costly. The free version integrates with Facebook Live, Tango, and many other platforms. It is now acquired by Vimeo and called Vimeo Livestream.

Pros
Cons

It has various advanced tools such as white-labeling and multi-bitrate streaming
Users can use the integration with popular social media platforms

Advanced features can get quite costly
The navigation voice sometimes skips directions due to glitches

Vimeo

Vimeo can be called as YouTube's competitor. It takes pride in being ad-free. Vimeo became the first video player app to support high-definition videos in 2007. The best thing about Vimeo is that it lets users can stream events, stream to unlimited viewers, and simultaneously cast them to social platforms.

Pros
Cons

View 4k, Ultra HD even when offline
Users can follow their favorite creators

Can get pricey and has a paid subscription
Has many video tools but difficult in navigation

Hakuna

Hakuna is a live streaming platform, where you can meet, chat, and make new friends. This is one of the best live broadcasting apps that allows you to invite multiple guests into your live session and find your own community. You can easily choose and switch from video to radio mode while streaming. On Hakuna, you can receive gifts from viewers even if you are not a host, you can join as guests.

Pros
Cons

Receive gifts from viewers being a host or guest
Follow live streamers and interact with them as guests

In-app advertisements
Less filter options available to search people

Broadcast Me

Broadcast Me allows the users to live stream on almost every social media network like Twitter or YouTube. These platforms plus various other applications are integrated into it. There is one upfront payment which gives lifetime access for using this live streaming application

Pros
Cons

It delivers HD video quality to viewers
This live stream app is fairly easy to use

Works properly only on latest gadgets and OS versions
Users have complained about hidden charges
Use Cases of Live Streaming Platforms
Live stream apps are used by a variety of users, from a standup comic to a professional fitness trainer. Here are some uses cases for apps that are used for streaming live video content.
Social Media Influencers

The Millenials and Gen-Z follow social media influencers for their lifestyle and even philosophy. These influencers need to interact with their followers frequently to stay in the limelight. Live video streams create a feeling of exclusivity and this is why influencers use a live video platform to get connected to their followers easily.

Gamers

Gamers is another set of people that use a live streaming platform. They interact with fellow gamers and also use screen share to let others know about their gaming techniques. They use discord servers and need strong video hosting servers for streaming video. Gamers use live streaming services with video management and security features. Gamers interact with their fans and also broadcast esports events and gaming tournaments on live video player apps.

Artists

Artists like singers, standup comics, dancers, musicians, cannot host their events and concerts due to the Coronavirus outbreak. This is why they have turned to stream videos on live video streaming platforms. They are looking to monetize their art and also for audience engagement via the comments section.

Speakers and Trainers

Whether it is motivational speakers or trainers of any sort like an educational teacher, yoga instructor, gym trainer, art teacher, they have started to look for video platforms. They need their viewers and listeners to understand what they are saying with a great viewing experience and broadcast quality.

Business people and Brands

Many businesses need live streaming platforms to organize conferences, meetings, and other business events like launching a product. Many big brands choose to go for viewer engagement with the help of streaming platforms. They promote or sell their products or services audience members via such platforms. This saves them money on marketing their products on television or newspapers or other mass media.

Event organizers

Event organizers are among the class of professionals whose business has suffered a lot due to the pandemic. Many events have been canceled or postponed indefinitely. Video streaming application has become a part of their business needs. Whether it is a conference, wedding, concert, business function, religious event, or any other event, live streaming platforms have become the safest way to conduct an event.
Want to Know the Cost to Develop a Live Streaming App?
Talk with us. Validate your mobile app idea from app consultants and get a personalised cost.
Cost of Developing a Live Streaming Platform
The cost of developing a live streaming app depends on various factors like the hourly charge of the developer, the number, and the complexity of the features to be included. To help you make an estimate, there is a simple formula that you can use to calculate app development costs.
Developer's Hourly Charge X Time Taken to Develop the Platform= Total Development Charge
Here is a table that has all the key features of a live video streaming apps along with their development hours:
Component
Name of Feature
Time Taken for Development
Native iOS Application
Walkthrough of the Application
3.75
Sign Up
20
List of Live Stream Videos
15
Live Streaming Session
30
Conduct Live Session
20
Discover Screen
25
Subscription Plans
10
Account Settings
35
Push Notifications
2.5
Google Location Services Integration
7.5
Total
206.25
Native Android Application
Same as above
206.25
Backend and Web Services for Admin Panel
Database Creation
12.5
Web Services
112.5
Admin Panel
Log In
1.25
Performance Indicators
15
Manage Users
12.5
Manage Broadcaster Requests
7.5
Manage Live Streaming Requests
10
Manage Flagged Reports
7.5
Manage Videos for Discover Screen
12.5
Manage Live Sessions
10
Manage Revenue Reports
20
Manage the Basic Content
6.25
Account Settings
3.75
Payment Gateway Integration
25
SMS Gateway (Twilio Integration)
5
Total
261.25
Grand Total
673.75
Suppose a custom mobile app development company like us charges $40 per hour and you develop both Android and iOS apps with only the basic features then according to the formula, 673.75 hours X $40 =$26,950.
How Live Streaming Apps Make Money?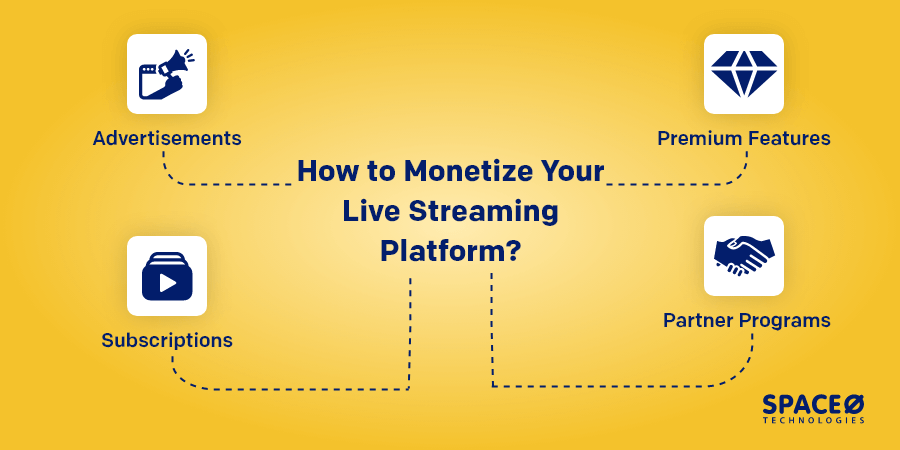 Do you know that good live streaming apps gets higher chances of monetization? Check the 4 best methods which live streaming apps apply to make money.
Advertisements

Many platforms like Twitch or YouTube use this model to get revenue.

Your revenue will be proportional to the number of ads you place. Although, we all know that nobody likes to see annoying ads. This is why you must only put interesting and useful ads, that too just 1 or 2.

Ads work best if the users have not subscribed. However, if you place the ads on the sidebar, they can be displayed to the subscribed users as well.

Subscriptions

Paid subscriptions are a great way for the users to get rid of the ads and for you to get a steady flow of income. Monthly or annual subscriptions bring in revenue at regular intervals.

You can also provide special services to only the subscribed users so they feel exclusive. This keeps them interested in the subscription as well.

Premium Features

Premium or paid features are another great way to monetize your app. You can develop additional features like analytics and give access to the users only when they buy this feature.

If your feature is actually worth it, users will have no problem in buying it.

Partner Programs

This is a great way to earn additional revenue. Your users will have an opportunity to partner with other live streaming websites. This way, websites will get good quality content and streamers get paid for their content.
Want to Develop a Live Streaming App?
Want to validate your app idea? Want to get a free consultation from an expert?
Let's check out some frequently asked questions and their answers.
Frequently Asked Questions
Where can I live stream for free?
Here are 3 tools that you can use to stream for free
Instagram Live
YouTube Live
Facebook Live
How to build a live streaming app?
There are six simple steps to develop a live streaming platform/app:
Step 1. Find out your requirements and list down the features you want
Step 2. Hire experienced app developers and designers
Step 3. Develop an MVP version of the streaming platform
Step 4. Get feedback from initial users and make changes
Step 5. Develop additional features to make it unique
Step 6. Keep updating the platform regularly
Where can I get seasoned developers for my streaming platform?
You may hire freelance developers or hire a dedicated team for your project. A live streaming platform is a fairly large project and needs a dedicated team to understand your specific business needs and develop a custom platform. You can find dedicated developers on websites like Clutch, or UpWork.
Ready to build Your Own Live Streaming App?
We hope that this article has answered most of your questions about live stream apps. If there are any other queries or doubts about the best live streaming apps, feel free to contact us.
We are a leading Android and iOS app development company. We have developed live streaming apps along with the photo and video apps like Photo Translator In fact, we have developed for 50+ photo-video apps for our clients worldwide.
If you want to hire dedicated developers for your project, feel free to contact us. We will also provide a free quote for your project idea.