Being a transport or taxi startup, if you want to make an Uber like app, then this blog is a must-read for you. The heart of any transportation business lies in its drivers. When you are planning a taxi app development, it is very essential to retain your drivers and customers both. There are many Google search queries on Uber for drivers application. Being a leading taxi app development company, one of our taxi app consultants came up with an idea of listing down some intricate features for Uber for drivers app which can help in redefining driver experiences. Let's have a look at these 7 unique features that we discussed and wrote with the help of our taxi app developer.  
The transport and logistics industry is rapidly revolutionizing with every apps like Uber, Lyft, Gett, and Curb. For a taxi business to run smoothly, there are two points which are to be taken care of.
For successful brand identity, a company has to maintain and retain driver relations

The convenience of a rider has to be considered beforehand
The former gives your business much-needed stability and the latter comes without even saying as the app world revolves around customer convenience. For a business to ace the taxi app development game like Uber, Lyft, Hailo, it is very much important to design and develop user-friendly features. When you design a taxi app, the drivers and the riders, both have their specific functionalities.
We can say this because we have experience in Uber clone app development as we have of developed over 50 Uber like apps including Glovo, Ninja Delivery, and some other successful apps. In fact, one of our clients shared his experience through one testimonial that you can see here: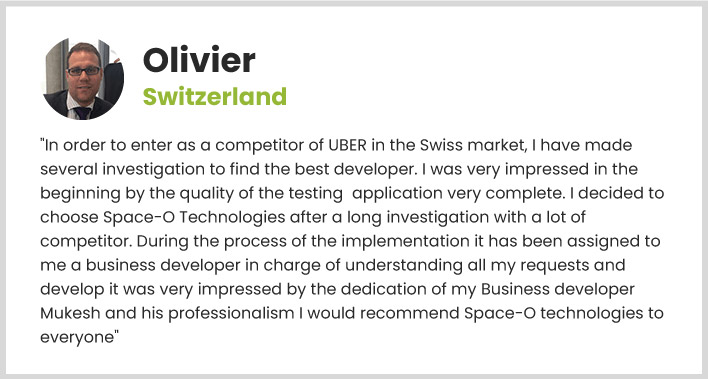 So, if you are also planning to enter the transportation market, don't overlook these 7 features when developing Uber for drivers app.
Want To Create An App Like Uber?
Get a free consultation from a App expert to discuss your requirements and take your App to the next level.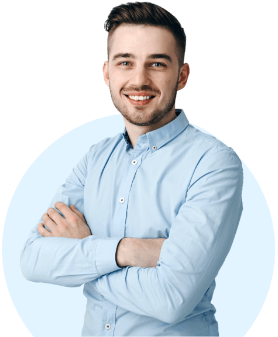 Consider These 7 Features While Developing Uber for Drivers App
Preferred destination pick-ups for the driver

This feature helps drivers to choose their preferred location. Let's say if they are going from point A to B and they want to get their rides or collect items coming on the same route, they just have to manually feed their location. A notification is sent to the riders who are searching for a mode of transport through your app like Uber. 

Being an admin, you will have to set a usage limit to use this feature for the drivers. Keep criteria like when heading towards home or during lunchtime so that there is no misuse possible from the driver's app.

Drivers can make their own customer requests

By integrating this feature, a customer can easily hail a cab without a taxi app. If a driver wants to hail a taxi for that particular user he can make a direct request from the Uber for drivers application. This helps the company to form a new customer database, who are not having an app facility and can send across information through SMS. And for drivers, they can get extra rides other than the one requested through the app.

We can also say that drivers can find their own customers. Upcoming discounts, ride sharing benefits, can be broadcasted via normal texts. Your business can reach its niche target audiences by this important Uber like app feature.

Driver's noble deeds reward points

Being a transport or taxi startup, support your drivers to opt for a noble cause like charity. As a company, you can opt for tie-ups with NGOs or organizations. With this feature, your app will get charitable support and the drivers who are willing to contribute can select their desired organization and be a part of the good work. The amount can be deducted as per the driver's convenience.

 For instance, if the driver wants a deduction of 1% from his monthly wages for charity, the admin can set the criteria as per his requirement and there is an instant bifurcation of the amount done at the end of the month. You can also integrate reward points, which helps the drivers to engage more and be the best-rated driver for the app users or riders. 

Limited working hours for drivers

If you are planning to create a white label taxi booking app, it is very essential to look after the employee's welfare. The driver's fatigue has to be taken care of beforehand. A driver gets a sense of protection when you initiate with such a "limited working hour" feature. 

For instance, limit the working hours of your driver. Let's say 10 hours. 

Now, when the driver completes 10 hours of job, he automatically gets sign out from the app for 6 hours (a normal human being's sleeping criteria). Once his day's cycle is complete, the app will sign him in, automatically.

This way, your drivers will remain healthy, and will also retain the app, because of its limited working hour policy. It is even possible that your fleet management solution grows because of a sound employment opportunity.

Preferred drivers are highly recommended

If a rider likes your on demand taxi app service with a particular driver, he can add him into a highly recommended or you can also say "list of preferred drivers." The driver and the riders both get a notification of the preferred rides in the app. 

If a random user is looking for a ride, he will also choose the highly recommended driver, as he will appear first on his taxi booking mobile app. Drivers behave when they know a fact that they can earn more by coming in the good in-app customer books. This is return helps in generating goodwill for the brand digitally.

Manual dispatch with multiple riders

Here, you can relate to the gig economy's working method. An Uber for driver app should have a bidding structure for drivers. The drivers can easily quote their taxi service price and the company looks to fulfill the demand by providing multiple riders. 

For instance, if the driver quotes a price of $1500, to go to a certain destination. It can be a carpool service, as the admin has to fetch one rider or multiple of them to fulfill his bid. It can also be the other way round both the parties can bargain (driver & rider). If you opt for the second one, the company will only have to keep track of the final trip ending report.

Daily summary report for drivers

For successful management of app like Uber for drivers, a daily report is necessary. Your app development must have a summary report consisting of login hours, current running kms, earnings, and total trips. This will keep a track of driver's working functionality for both, the company and the driver himself. Looking at such a report, he can define his day's routine in advance and work accordingly to earning more income through the app.  
Above we discussed the features of the Uber driver app and you can also go through our post to find the best Uber-like app features which will help you get a better idea about features and functionalities to add to your application. Additionally, if you're still unsure about your app idea and want to explore more, you can also read our post on Uber for X app ideas. This post will help you understand the possibilities of building a similar app for other on-demand services.
On a Concluding Note
By making such an Uber for driver app, you can be a part of the gig economy and serve as a revenue-earning source for people. So, now if you are done planning theoretically, to gain practical knowledge you can consult us at Space-O Technologies.
Still in two minds? Have a look at these statistics to have a clear idea about your taxi app development.
According to a report from Statista, the revenue of the ride hailing segment is expected to show an annual growth rate (CAGR 2019-2023) of 14.8%, resulting in a market volume of US$318,765m by 2023. Such statistics prove a stable growth of your Uber like app development in the taxi app space.
Want To Develop An Application Like Uber?
Need to validate your app idea or consult with an expert? Get a free consultation now!
The genre is open for many opportunities. We do not develop Uber clone apps or use any readymade Uber clone script. We create an app from scratch, and we do such practice for every app genre. We are an extended family of over 300 employees, thus, we believe in following a proper mobile app development process steps which result in authentic as well as the systematic working flow of our firm.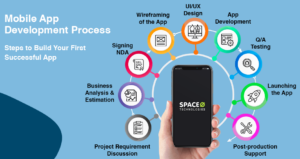 If you are still in confusion or query regarding Uber app development cost, taxi app developer cost, Uber app development timeline, fill our "contact us" form with your requirements. Our sales representatives will contact you shortly. The consultation is absolutely free.