This blog is exclusively focused on travel organizations and businesses who want to build their customized travel application solutions. According to Statista, the total revenue of the Travel segment is about to reach $364 in 2022 alone. The revenue change has increased to 23% in the year 2022. Based on this statistic, we can conclude that the travel industry is consistently growing.
In this blog, you will learn about
How to develop custom travel app solutions from scratch even if you don't have any technical experience?
How much does it cost to develop a custom travel application?
What are the core features required for travel apps development?
Statistics About The Travel App Industry
Here is the statistics about the current travel app industry.
The number of mobile app downloads is about to reach $2308.2 million downloads in 2022.
In-app purchase or IAP revenue in the travel business has reached $97 million in 2022.
The average revenue per download is about to reach $0.16.
In the USA alone, the total revenue is about to show a CAGR of 13.52% between 2022 – 2026, which is about to reach the market volume of US$139 million by 2026.
The total number of downloads is projected to reach 78.4 million in the year 2022.
How to Create a Travel Application from Scratch [6 Step Guide]
Follow these six steps to develop your own travel application solution. Even if you don't have experience in the development field, these steps will help you understand the overall concept.
Step 1: Define the objective for your application
Step 2: Do in-depth market research of travel app industry
Step 3: Make a list of the core features you required in your app
Step 4: Consult and hire top travel app development company
Step 5: Coordinating with the development team to get the expected app solution
Step 6: Market your app
Define the Objective for Your Application

You must be able to list down your objective in a single sentence. The initial question you must ask is what is the objective of your app. What problems are you solving? When you know your audience, their core challenges, geography, and overall demand, it'd be easier for you to set an objective for your application.

But, for defining an objective, you must know your competitors, top travel applications in the market, and what are their USPs. When you know these details, you will be able to define your objective. So there comes a second step. Doing in-depth market analysis.

Want To Validate Your Travel App Idea?

Let our experienced travel app developers turn your idea into a fully-fledged mobile app solution.

Do in-depth Market Research of Travel App Industry

Detailed market research is the second step towards building a seamless travel app.

But, how to perform detailed market research for the travel app industry?

Discovering the best travel applications is one of the best methods.
Search for the best travel applications, make a list, install, and check out these applications thoroughly.

What you can learn from the best travel applications?

How do these applications work and how do they make money?
What are the core features of the best travel applications?

Also, look into how the audience reacts to them. This will assist you in gaining a better understanding of what you need to do to outperform your competitors. During this market research, you will find a list of core features that you need in your application. You must have a clear idea about the MVP and advanced features required to develop your travel mobile application.

Make a list of the Core Features You Required in Your App

According to ThinkwithGoogle, a smartphone app is being used by 71% of users while traveling. Therefore, to capture your target market, it is essential to take some time out to decide the must-have features for travel app development.

The features of your mobile app should be decided according to your target audience. Rather than cluttering your app with unwanted features, only implement the features which will provide value to your target audience.

Features such as user account, booking, social sharing, in-app purchases, location-based search, Google maps integration, and filters are some of the basic and essential features to include. By implementing advanced features, our travel app developers have built 2 popular applications, please have a look.

Weather Radar Live app has been downloaded by over 150K people. This app is well-known for providing the most accurate weather warnings 24/7 for any area, with 2.1K ratings and an average rating of 4.4 stars.

This Travel Cutter is an expense tracker application, which helps users to track expenses and helps travelers in budgeting as well. Some of Travel Cutter's features include multi-currency conversion, limit reminders, historical transaction tracking, and dynamic reporting.

Once you have defined the objective of your application, listed the core features you need, what should be your next step?

Of course, you need to consult and hire a reputed mobile application development company that has experience in developing custom travel app solutions from scratch. What are the points you need to take care of while hiring an app development company? Or while hiring travel app developers?

Consult and Hire Top Travel App Development Company

As you have defined the exact features and functionalities of your travel app, the next phase is to hire a reputed travel app development company. Make sure the company you hire is reputed and consists strong portfolio of travel-related mobile apps.

How to find the best app development company?

To find the best app development agencies, gather data from the different rating websites, contact them, explain your project to, consult with the developers, and decide on the basis of your data which company fits in your project.

Which factors do you need to consider before hiring an app development company?

Check if a company has

Prior experience in developing custom travel app solutions or not
A reputation of delivering custom mobile solutions on time without any issues
An in-house full-stack development team that can help you throughout the project

Once you have finalized an app development service provider, now is the time to get in the design and development phase.

Coordinating with the development team to get the expected app solution

After you hire the best travel app development company, the design and development phase starts. You need to explain your entire plan to build your travel app. The experienced development team will understand and even suggest innovative ideas to make your app unique.

At Space-O, the application development process begins after discussing the best course of action for your project. Being one of the top software and app development companies in the USA and Canada, we realize the importance of updating our systems on a regular basis to ensure that we continue to improve. Here is the process that we follow to create a native application from scratch.

Travel App Development Process
Stage
Required Resource
Explanation
Wireframe
Business analyst
For all of the app displays, a business analyst team creates a blueprint framework. This group generates wireframes to show how the screens, features, and specs work together.
Design
UI/UX designer
To appeal to end-users, the designing team will create app design with perfect visuals, color schemes, and iconography.
Development
Full stack app developer
The developers now create the app for Android and iOS platforms by using well-known technologies such as Swift and Java programming language.
Testing
Mobile app tester
A team of quality analysts thoroughly examines each and every aspect of your built program, ensuring that it is free of bugs.
Deployment
Application server specialist
It's the last step in the procedure. The built software is now deployed to your server and published on the App Store or Google Play Store, making it available to your end-users.

After following the complete app development procedure, the next step is to launch your travel app in the market.

Market Your App

Building a travel app is not the end, but the beginning of your travel business. Consider app marketing as the prime factor of your travel business. To help you simplify the marketing process, here are the strategies and steps to follow to successfully prompt your travel app.
How Much Does it Cost to Develop Mobile Travel App?
The approx cost of travel app development ranges between $5000 to $50,000.
Travel app development cost depends upon the features, functionality, and complexity. However, it becomes quite challenging to share the exact cost of app development. In the below table, we have divided the price range of the mobile app based on its app type, factors, per hour cost, timeline and travel app example.
Know your travel app development cost by using this simple formula.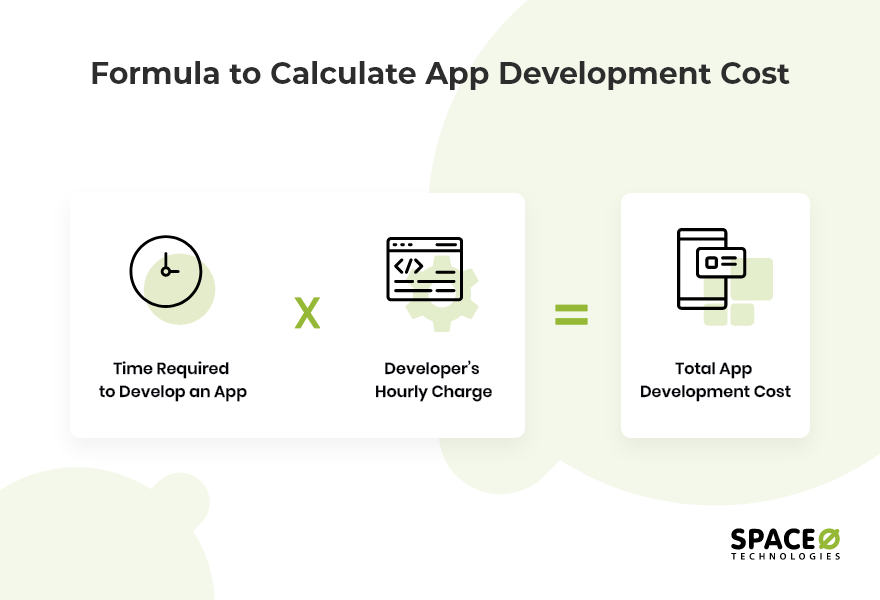 App Type
Total Timeline
Dedicing Factors
Examples
Basic app
240 – 300 hours

1000+ travel guides
Access plans and maps online and offline
Purchase tours and tickets

Advanced app
400 – 600 hours

Discover travel recommended places nearby
Find the great deals from 200 booking sites
Free cancellations

Complex app
600 – 850 hours

Latest inventory
Pay at checkout
Check live running train status
Train, hotel, flight, cab, holiday package booking from the one app
Wondering How Much Travel App Development Costs?
Let's discuss. Get your personalized quote today. Book your 30-min free consultation session with our travel app development consultant.
Essential Factors That Impact Travel App Development Cost
Being a travel app agency, you will have to set a specific budget for your travel app development. As the complexity of the features increases, so does the cost of the travel app. We've compiled a list of the most important criteria that influence the cost of developing a mobile app.
App Platforms: You must ensure that the travel app is accessible to all users. Choose a platform based on the mobile application's market research. Because of the numerous tests, the iOS platform is less expensive than the Android platform.
Team for Mobile App Development: A well-resourced company can only provide end-to-end app development services. When you have a skilled development team that includes managers, designers, testers, and app developers, the best things happen to your mobile app.
Custom APIs: To fulfill the business's unique requirements, it is essential to build custom APIs that suit the specific business needs. Therefore, investing in custom API development will impact your overall budget.
Geography: The country you choose for traveling mobile app development also impacts your overall cost. For example, the hourly rate of the app development company in the USA and Canada differs, and that will directly impact your app development budget.
Latest Technologies Used in Travel App Development
The table contains the types of development and technology utlised while building a traveling app.
Type of Development
Technology
App development
Web tools

JavaScript
Angularjs
Nodejs

Testing
3rd party services

Google Maps API
Google sign in

Release
Above mentioned technology depends upon the specific project and business requirements.
Which are the Core Features Required to Build a Successful Travel App?
The below table contains the basic features of the travel app. Along with the features, there's a detailed explanation of each feature to help you understand it better.
| Basic Features of Travel App | Explanation |
| --- | --- |
| Login and Registration | First-time users need to register themselves to access the book, pay and chat within the app. |
| Searching system | A travel app should help users to search for a place to stay, for instance, budget, people, dates. The more complex filters users have, the more precise result they get. |
| Reviews and Recommendations | The app should ask for the user's feedback after booking a ticket or accommodation. |
| Push notification | This function is ideal for keeping users informed about developments, promotions, and sending reminders before their travel. Especially, when you work on a travel app that you won't be using regularly this feature should be included. |
| Real-time Booking & Tracking | Travel apps permit to book tickets, tours, hotels and allow them to book a service in real-time. |
Another table includes the table of advanced features along with an explanation.
| Advanced Features of Travel App | Explanation |
| --- | --- |
| Smart Voice Search | To enhance the user experience voice search feature plays an essential role. Alexa, Siri, and Google Assistant power voice search for travel apps. |
| Itinerary generator | The app automatically creates a custom itinerary plan for the user. Hence, this feature is highly in demand. Well-known travel services such as Trip Hobo exactly work similarly to this. |
| Currency Converter | While being on the trip, in case you require to exchange the currency, use this feature to implement currency exchange in your app. |
| Geolocation Integration | Find the nearby accommodation, cafe, booking place using the GPS-based location service integrated into your app. Also, our team of specialized travel app developers has built an audio tour guide app which has gained more than 1.5 million app downloads. |
| Live Weather Updates | To make accurate tour planning, it is essential to integrate climate forecasting features. |
What are the Popular Types of Mobile Travel Apps?
The table contains the list of well-known mobile travel apps along with their features and examples.
Popular Travel App Type
Example
Features
Flight booking apps
Hopper

Search flights
Book price instantly or wait for the desirable price
Get notified when it is the best time to buy

Accommodation booking apps
Airbnb

Millions of places to choose from
Search flexibility
Join group, meet other people, make

Transport app
Transit

Real-time data to find your ride
Maps of Subway
Tour guide (works offline)
Real-time predictions that tell you when your train, subway, bus, ferry, metro, and so on will arrive.

Travel guide
Citymapper

Search the best route
One-stop-shop mobility to compare fares instantly
Offline travel
Beat the rush hour by getting live ETA
We have discussed steps, features, and cost of travel app development. Now, you will learn about the essential questions related to travel app development.
FAQs About Travel Apps Development
How to monetize a travel app?
The below table shows the different monetization methods to turn your app into a money minting machine.
| Type of advertisement | Explanation |
| --- | --- |
| Advertising | Display relevant advertisements such as hotels, tour operators, airline ads. You can even sell advertisement space to companies in the travel & hospitality industry. |
| Paid downloads | Make your application value-driven for users and they will pay for the service. |
| Premium features | Make your application free, however, some of the features should be paid for. |
| Paid subscription | Charges users a monthly fee for using your application. |
| Commission from booking, sales of tickets | One of the well-known methods is affiliate commission, whenever a user books a hotel or air ticket from your app, you will receive a specific percentage of the commission from the company. |
Are travel apps profitable?
Certainly, creating a travel app for your business can help you to earn a significant amount of revenue for your business. The travel apps are about to generate $364 million by the year 2022. Therefore, building travel is extremely profitable when done right.
What are the most popular travel mobile apps?
This table contains the well-known travel mobile apps you should take inspiration from.
Application Name
Core Features
Airbnb

Filter based search
Option of booking
In-app chat

Tripadvisor

Hotel, places, and flight listing
Save ideas
Review posting
Image upload

Hostelworld

Translate up to 43 languages
Access to your booking info 24*7

LoungeBuddy

Free to use
Update about lounge access
Create trips to keep track of travel plans
Let's Convert Your Travel App Idea into a Reality
We have comprehensively discussed steps, cost, features, types, and FAQs of a travel app. After referring to this blog, you will have the majority of your questions answered about travel app development. If you have any other questions, such as how much it costs to develop a travel app on iPhone, how long it takes to create a travel app, or how to create an app like Airbnb, let's get in touch.
We are a mobile app development company and are well-known for developing full-featured apps for the web, Android, and iOS platforms. We have experienced and dedicated travel app developers.