If you want to learn how to launch an app on the Android and iOS platforms, you are at the right place.
Our Experience with Launching an Application
At Space-O, our expertise lies in being a reliable apps developer company, having developed over 4400 Android and iOS-based applications. We know how to launch an app successfully so that it doesn't get rejected by Google or Apple.
In this blog, you will learn the process that we follow throughout the app launching process.
First, let's start with the steps that we follow before launching an application.
And before we begin, let's discuss the steps you need to keep in your mind before launching your app.
Want to Make an Launch Your Own Application?
Want to validate your app idea? Want to get a free consultation from our specialized app development team?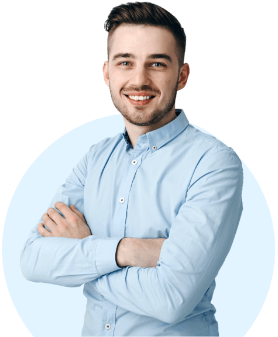 Follow These 5 Steps Before Launching an App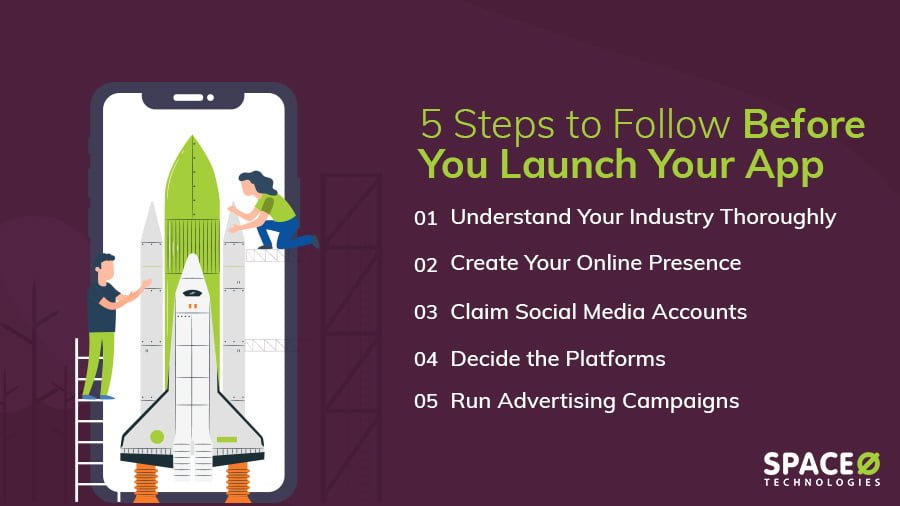 After understanding how to create an app, the next important step is to how to successfully launch an app? If that's what you're thinking about, follow us. Here we've compiled the steps in launching an application successfully to enter the giant app ecosystem. These are the things to do before launching an app on the app stores.
Understand Your Industry Thoroughly

Before asking how to launch an application, it's important to do market research to understand your industry and its norms. With over 2.09 million apps on the app store and over 3.14 million apps on the Google play store, the competition is getting fiercer every day. Thus, understanding your space will help you stand out amidst the cut-throat competition.

Create Your Online Presence

You need a digital home for your app. Thus, before launching an application, you must create a website that has all the information about it. This way, you will be able to attract more users and help your existing user base with their queries and concerns.

Claim Social Media Accounts

Social media plays a vital role when you are launching an application. Through various platforms, you can create awareness and build a user base via a media outreach strategy even before you're officially launched. You can run targeted ad campaigns and various other marketing initiatives to gain traction from social media.

Decide the Platforms

Once you're all set with a solid online presence, and potential users, it's time to decide on which platforms you will be launching your application on. In order to successfully release your app or mobile app launch, you must have a sound app launch strategy. You can create a press kit, understand where your target audience is, perform comprehensive market research to make the most out of the platforms you're releasing your app on.

Run Advertising Campaigns

Before you officially go live, you should promote your app. Create a marketing strategy revolving around your target audience. This way, you will have a few users interested in your app even before it's officially launched.
With that being said, now let's look at a quick checklist that you could follow to launch an app. We have discussed all the 5 steps that you need to follow for a successful mobile app launch.
Follow These 5 Steps to Launch An App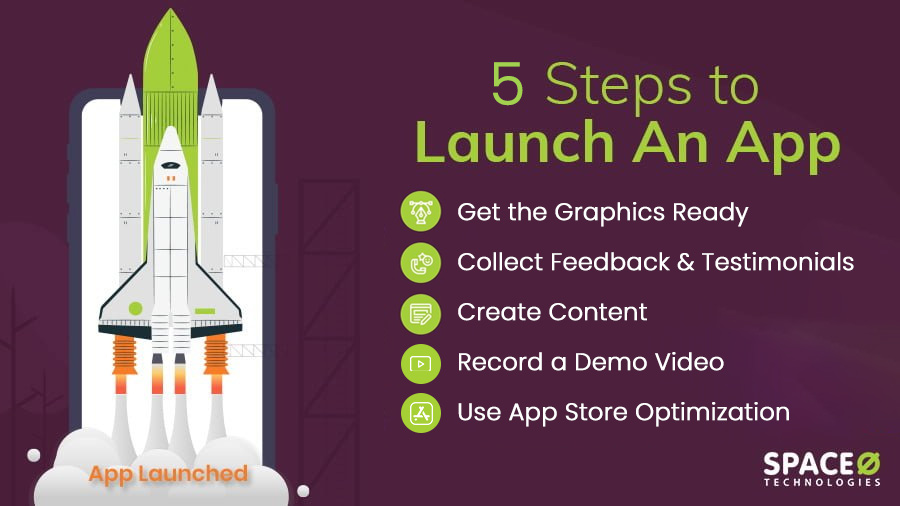 Alongside a solid marketing strategy, if you questioning yourself about how do you launch an app, then read ahead. As there are several things you should take care of while launching your app. Here is the comprehensive answer to how to launch a mobile app.
Get the Graphics Ready

While launching a successful mobile app on the app store or play store, you will need visually engaging app screenshots of the app to attract users. Thus, having it already will make things easier while launching your app. You can also consider preparing a press kit for your app.

Collect Feedback & Testimonials

While adding your app's description to various app stores, you will need a few testimonials that highlight how useful the app is. You can find a few beta testers through social media and collect feedback and testimonials from them.

Create Content

Content is the cornerstone of a successful app marketing strategy. You can create a blog post, landing pages, and guest blogs to reach your ideal users who'd be eager to get your app. You can start market research and build a marketing team to target your actual users and potential customers once the mobile app release date is decided.

Record a Demo Video

You might want to record a video. It would explain the functionality of your app and how it works. Clearly mention the app functions and how it could be useful for the users in real-life situations. There are so many mobile apps available on the app stores, so make sure you differentiate your app with clear communication in all of your marketing materials.

Use App Store Optimization

App Store Optimization (ASO) helps you to get your mobile app noticed within the app stores that you have chosen for your app. The best practice that you need to follow is optimizing your app title with relevant keywords. Also, be careful while you fill out all the categories that are most relevant to your app. This way, you increase the chances for your app to get noticed. It also includes the screenshots that showcase the most common use cases of your app.
You know the steps to launch your app on the app stores. Now, we will discuss the steps that you need to follow after launching the app. This will help you to attract more users and gain a satisfactory number of app installs.
Follow These 6 Steps After Launching Your App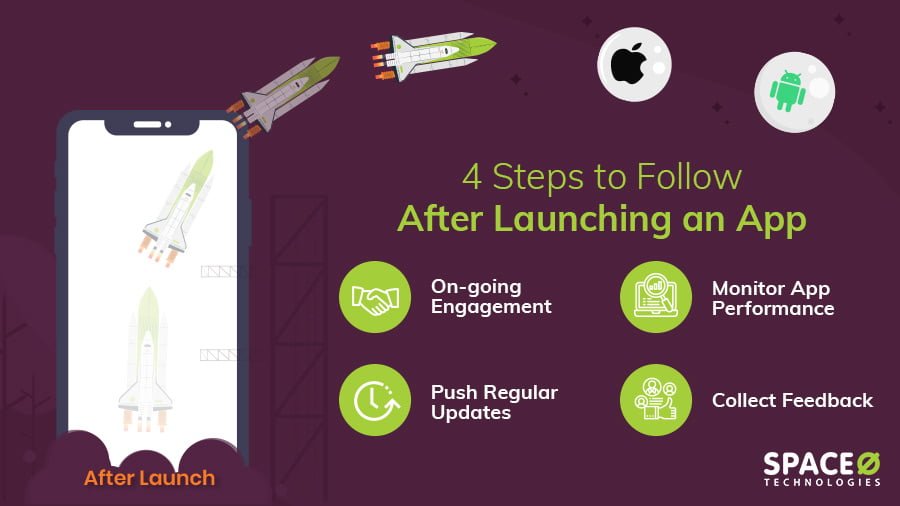 Once you have successfully launched your app, what next? How to market an app successfully? How to gain new customers? The process of launching an app doesn't end with publishing it. There are a lot of steps that follow. Here are a few of them:
On-going Engagement

After the successful launch of your app, you should divert your focus to boosting engagement and attracting more users. Launching a new app is the first phase of the engaging an audience to your app. This could be done through strategic social media marketing, running paid ad campaigns, and hosting events that attract your target market. Make sure you run ongoing marketing campaigns regularly to gain more app downloads.

Monitor App Performance

Your app's performance is certainly one of the most important aspects that will determine its success. And hence, you must constantly monitor and optimize it to ensure the app delivers an engaging user experience round the clock, throughout all the seasons. Keep in mind that the app's average rating is good, so keep track of your app's performance.

Push Regular Updates

Pushing continuous updates will keep your app alive in today's fiercely competitive market. If you're seeking to make your app successful, you must consistently add new features and work on the UI to attract more potential users and increase app store search.

Collect Feedback

This is again one of the best practices you can follow once your app launches. Collecting feedback will not only help you improve the app's functionality but also contribute to market research by helping you understand your target users and their pain points.

You can go through the review section, where users generally share their expectations. You can also ask your friends and colleagues to review your app and make a list of the improvements. Ask for the features that can help your existing users and attract more potential app users.

In case you need the checklist for publishing your app, then refer to the next section.

Onboarding Process

Getting the user to install your application is half the battle. The next challenge will be how to retain your user? By making the onboarding process smoother in the first place. But, how to streamline your onboarding process? Below mentioned points will help you to design a clear plan about how you can create an effective onboarding process.
Don't let go your lead

Users should be clear about the benefits of using the app. If the application is slightly challenging to function, make sure to post the app tutorials first. Putting the tutorial will help users to know how the entire application functions.

Highlight key functionalities

Show the key functionality and the user-friendliness of the application. Highlighting callout, buttons will help users to navigate easily and help in your app promotion as well.
Focus on the Feature Usage
Feedback gathering is important however, it is also essential to monitor the exact activity of users to understand where you can enhance your application. That's when app analytics will help you to share the data such as how a user engages with a specific feature, which features are not being used by users.
To your surprise, users may even find the most basic feature extremely useful and vice-versa. Therefore, it is critical to understand the user behaviour that helps to drive users to your mobile app.
Additionally, app analytics will tell you the things that users might not reveal directly due to their unawareness and lack of information. Therefore, it is crucial to consistently monitor usage metrics, have a futuristic approach, and implement marketing strategies to drive an increased amount of users.
Want to Create and Lanch a Successful App?
Want to build best in class mobile app? Connect with our app developers and validate your app idea with them.
Checklist to Launch an App
After thoroughly following the mobile app development process steps, the next step is to refer a following checklist to understand key points before launching your mobile app.
Beta Testing – Ensure that your app is fully tested and good to go
App Analytics – Setup the trackers for monitoring your user's behavior and collecting feedback
Website & Landing Page – Make sure the landing page and the website are up and running
Video Trailer – Video trailer which offers a quick overview of the mobile app features, and generates organic downloads of your app.
Press Kit – The press kit includes a press release, store icon, screenshots, video demo trailer, and company information. It is essential for your product launch.
Social Media – Through various marketing channels, boost your social media accounts and prepare them before you launch the app
Push Notifications – Regular updates of your app will keep engaging your users with the app
Let's check how you can publish your Android app on the Google Play Store.
How to Publish an App on Google Play Store
You might be surprised to know this but, users of Google Play downloaded 111.3 billion mobile apps in 2021, up from 76 billion in 2018. Google's success is surely reflecting on their app downloads.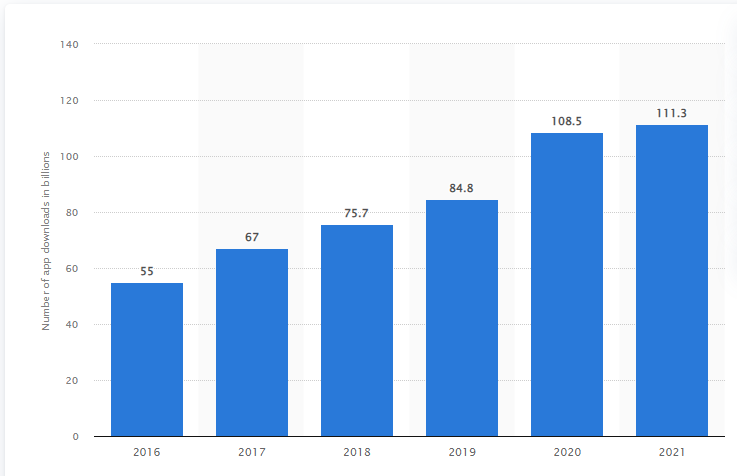 There are a lot of steps you should follow for publishing Android apps to the Google Play store. Once your final build is ready, you have to upload it to Google Play Developer Console and make sure it adheres to all the guidelines provided by Google.
Here's a detailed guide that describes how to upload and publish your app on Google Play Store. Please know that, unlike iOS, publishing an app on the Google Play Store doesn't take much time. Generally, it takes a few hours to 2-3 business days to publish your Android app.
Now, let's see how to launch an iOS app on the App Store.
How to Launch an App on Apple App Store
According to LifeWire, total 1,800,000 apps are available on App Store. This number is consistently increasing, day by day. One thing is clear that there is a competition in market, therefore, understanding the right method to upload the app is crucial.
For launching your app on the app store, you should first register as an Apple developer. Once you do, you can submit your app by joining the Apple developer program and following all the steps carefully to get started.
If you're still not certain about how to upload an app to the app store, check out our guide on it. It is also important to note that the App Store has a guideline that you strictly need to follow in order to publish your iOS app. Generally, it takes 2 to 4 business days to publish your iOS app on the app store. It will depend on how well you have followed the guidelines set by the App Store.
After discussing how to launch mobile apps on the Google Play Store and App Store, let's check how we do it and how we launch the mobile app from scratch.
The Secret of How We Do It!
To succeed in today's fierce competition, you'll need much more than just a "Million-dollar idea". And if you plan on reaching out to investors for funding, then it's necessary to build a startup business plan for your "Million-dollar idea".
Do you know how to build a business plan?
If not, go check out our comprehensive guide on how to build a startup business plan for your mobile app idea.
Ideation

In the first step of our process, our expert business analyst gets in touch with clients, responds back to their inquiries posted on our Contact Us page, and starts the initial discussion about their project.

Once we have the basic idea, our team then explores the concept further, expanding functional possibilities, mapping the core features, and brainstorming for the possible issues and opportunities.

After that, a document is prepared including all this information and is sent over to the client to check it. Then we have the second stage, where we validate your app idea. Let's discuss this stage.

Validation

After initial brainstorming sessions and discussions to prove that an idea has legs or not, we move further to the validation part. This step of the process includes customer interviews, focus groups, competitor research, audience surveys, and app marketplace analysis.

This way, we validate our clients' app ideas and discuss further the business development plan. Once they approve the ideas and strategy, we move to the development part of the mobile app.

MVP Development

When it comes to the product development part, we always recommend developing an MVP first. A minimum viable product (MVP) is a technique in which a new product or app is developed with sufficient features for early customer satisfaction. The complete set of features is only developed after considering the feedback from early adopters, so keep in mind and move accordingly.

User Experience (UX)

During the MVP app development process, our experienced top mobile app developers ensure that the app is clean, simple, and easy for anyone to understand and use it. The main aim behind using UX is to create an easy-to-navigate and simple app. From sign-in screen to the payment and thank you screen, we design and maintain a smart UX across the entire app that people love to use.

User Interface (UI)

UI is the way through which users interact with your mobile app. This includes all the controls, key buttons, blocks, and elements of your app. Everything is associated with an app's look and feel, including designing and branding. This is why our professional UI designers always build a compelling UI that builds legitimacy, attracts users, and ensures a clean, easy-to-navigate app UI.

Quality Assurance/Testing

This is the final step of our process. Here, our experienced QA engineers take the reins to find and exterminate bugs with the help of different app testing methods before the launch. They clarify screens, and user flows to enhance the onboarding process, and also tweak anything and everything that is required to give an app its best possible shot at success.

Once it is done, the build is sent to the client for testing. And after the client's approval, the mobile app launch strategy is laid out. Now, know that all of these steps require deep, specialized, and ever-changing expertise. This is why, at Space-O Technologies, we have to build a team that has devoted its entire career to digital product design.

For example, our professional UI/UX designers know which button colors inspire action and why a specific app form should be of six screens, and not three. And since all clients have other things to focus on for their businesses, we take the responsibility of developing the best possible quality app on our shoulders, so that they can focus on other aspects of their startup.
In case you still have some questions in your mind and want to know how to choose names for the app, how to promote an app, or how much it costs to launch an app or have any queries relating to how to launch application, then refer to the FAQ section.
Have a Great Mobile App Idea?
Consult us. Talk to our experienced app consultants and get a custom quote based on your requirements.
Frequently Asked Questions
How to choose app names
While there's no one answer to this question, it really depends on your app's features and how you want it to be perceived. You can consider evaluating your app's functions and analyzing your competitors to find an ideal name for your app. Try to include any relevant keywords in your app to get it noticed by the users who wish to install it.
How can I promote my app?
There are several ways you can reach your target audience. A few of which you can follow to promote your app is publishing blog posts through various marketing channels, running paid advertising campaigns, and engaging with users on social media.
How much does it cost to launch an app?
There is no specific cost to launch an app. The professional app development company builds an app and also publishes it on the app stores. Make sure you confirm the same while hiring an app development company.
However, the mobile app development costs between $5000 – $1,00,000. This range is based on various factors, such as features and functionalities of the app, type of mobile app, the complexity of the app, and location of the app developers.
What if someone copies my app?
Even if you are the original creator of an app, you still need to beware of copycats. There is a high probability that good ideas will be stolen. Therefore, it is essential to register a trademark and copyright your app. The guide on how to patent an app will help you understand the entire briefly.
Let's Make and Launch an App For You
These steps determine whether to move forward with a product or not, which you can consider while launching an app. Since it is the first test in the market of your app with real users, you should be prepared for the cruel reality and discard all the romance. It's the step of collecting feedback from the early adopters.
Space-O Technologies, a mobile app development services provider, is always interested in the client's success. And we're ready to do anything and everything to help our clients achieve their goals. This is our philosophy at Space-O. So, use our expertise to the full, and communicate thoroughly with our project manager to make your product of excellent quality.
Developing unique and successful mobile apps is our mutual goal. Developing unique and successful mobile apps is our mutual goal. In fact, we have developed more than 4400 iOS and Android apps and published them on their respective app stores. You may want to read more about Bevy and Jabrool are some of our best on-demand apps developed by our team of app developers, app designers, and quality testers.
Therefore, don't hesitate to ask questions about our business analysts. We're more than happy to help you with your inquiries and get you on top of the list.