Want to create a custom stock trading app with unique features?
But not sure about the cost and how to proceed further.
You have landed on the right blog.
Developing a stock trading app can help a business tap into this growing market and reach a wider audience of investors. As per the forecast of Statista, the global online trading market increases by 6.4% per year and is estimated to reach 13.3 billion U.S. dollars in 2026.
Below is a screenshot from Statista, which represents stock trading market is increasing it's growth in recent years.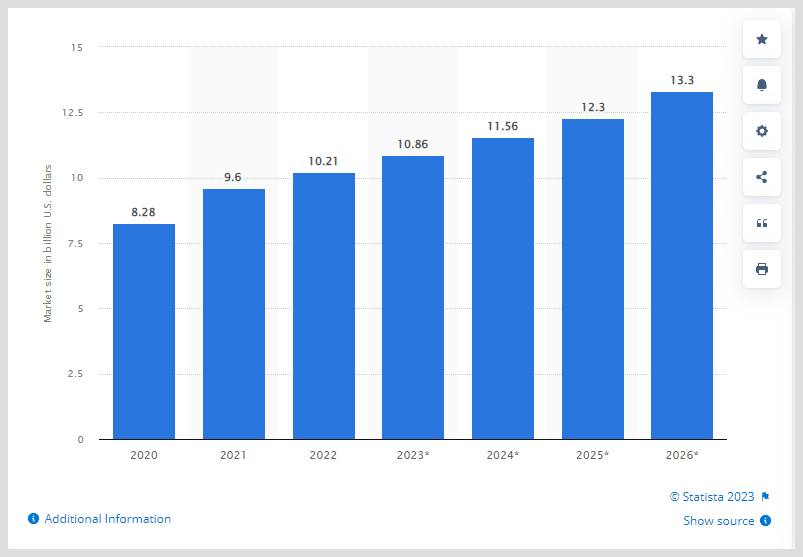 Source: Statista
If you are wondering about stock trading app development to leverage the opportunity, then keep reading this blog.
Being a leading mobile app development services provider in the USA, we understand what it takes to develop a trading app. So, we decided to curate an A-Z guide about stock trading app development with the help of our fintech app developers and consultants.
From this blog you will learn about:
Process of developing an online trading app
Development cost, timeline, and technology stack
Benefits of developing a fintech app
5 top stock trading apps available in the market right now
Let's dive into the blog.
How to Develop Stock Trading App in 5 Easy Steps
Let's quickly understand the different phases of trading app development in 5 simple steps.
Perform Market Analysis for Stock Trading App Development

Before you hire an app development company for building a stock trading app, you need to conduct market research to understand the market trends, audience pain points, and market requirements. This is one of the essential stages where you will get clarity about what you will offer to your users and define the app development requirements. Let's understand in detail the reasons to conduct market research for your app.

Why should you conduct market research for stock trading app development?

To identify opportunities and challenges, and make informed decisions about the features and functionality of your app.
Understand the needs and pain points of your target users.
By researching competitors, you can learn about their strengths and weaknesses, and differentiate your app from theirs.
Help you stay up to date on current trends in the stock market and financial industry, and adjust your app accordingly.
Understanding the market and the value your app provides to users, you can determine a price that is competitive and fair.
Enables gathering feedback from your users, which can be used to improve the app and make it more appealing to potential users.

Once you have conducted the market research identify the top competitors of your app. Make a list of the best stock trading apps available in the market. In fact, we have created a list of the 8 best fintech apps available in the market. Do check it. After that, check the app store ratings and reviews to find out loopholes in existing applications. Generally, app users share their requirements and challenges in the feedback section. It allows you to plan for your mobile app in a better way.

Ready to Develop Your Custom Online Trading Application?

Let's talk. Discuss your requirements to build a scalable and bug-free stock trading app with high-standard code.

Select the Features to Include in Your Stock Market App

Once you complete your research, you must evaluate the basic and advanced features you want to integrate into your stock market app. Before deciding on the features, remember that your users want to track and manage their investments in the stocks easily.

We have mentioned some of the features for you to include in your stock market app. Refer to the below table and take references to customize your online trading app accordingly.

Features to Include in Your Stock Market App

| Features | Description |
| --- | --- |
| Predictive analysis tool | A feature that analyzes historical data in the finance market and makes predictions based on the available data for the future. It works as a kind of machine learning. |
| Buy and sell crypto | With this feature, you allow users to make real-time trades of cryptocurrencies. Even, you can charge trading fees to your users. |
| Push notifications | With this feature, you send essential alerts on the stock, events, earnings, price drops, and growth of stocks. Also, providing a custom alerts setup allows your users to get notifications accordingly. |
| Real-time market data | This feature allows users to see up-to-the-minute stock prices, trading volume, and other market indicators. This can be useful for keeping track of the performance of individual stocks or the overall market. |
| Advanced charting tools | The users can analyze market trends and make informed trading decisions. Technical analysis tools such as moving averages, trend lines, and oscillators can help users identify patterns in stock prices and make predictions about where prices might be headed in the future. |
| Add to watchlist | It is a special feature that allows your users to add favorite stocks to their wishlist to keep an eye on them. This way, it eliminates the efforts of users to often search on the stock and check its market value. |
| Online chat customer service | To get the most out of any stock market app, take advantage of customer service features. Some investors prefer to call, while others are more comfortable chatting online with a company representative. Explore all the options before deciding on an app. |
| Integration with other financial accounts | Some stock trading apps allow users to link their brokerage account, bank account, and other financial accounts. This can provide a more comprehensive view of a user's financial portfolio and may allow for easier management of their investments. |
| Educational resources | Some stock trading apps include educational materials such as articles, videos, and interactive courses to help users improve their investing knowledge and skills. These resources can be helpful for both beginner and experienced investors. |

Apart from these advanced features, you can also use other functionalities that will make your app unique and stand out from others.

Hire the Best Fintech App Development Company

When you are done with the market research and made a list of features to implement in this app, you need to hire dedicated app developers or a custom mobile app development company. Once you get in touch with an experienced app development consulting company, your idea gets validated and you get suggestions, and you will even know the cost and timeline to build a stock app for your business.

Quick Tip

Look for app development companies that have a clear and transparent process for developing apps and a focus on collaboration and communication. This can help ensure that your project stays on track and meets your goals.

Let's understand the reasons to hire the top fintech app development company.

5 Benefits of Hiring Stock App Development Company

Provides experience developers: Developers who specialize in building financial apps have the technical skills and expertise to build a high-quality, reliable app. They can ensure that the app is built to meet the specific needs and requirements of the user.
Get customization as per your requirements: A custom stock app development company can build a stock trading app that is tailored to your specific needs and requirements. This can include features such as real-time market data, advanced charting tools, trade execution, risk management tools, and integration with other financial accounts.
Ensure scalability of your app: As your business grows, you may need to add new features or scale the app to meet the demands of your users. Working with developers or a custom app development company can ensure that the app is built to be scalable and can grow with your business.
Get ongoing support: When you hire developers or a custom app development company, you have access to ongoing support and maintenance. This can be helpful if you encounter any issues or bugs with the app, or if you want to make updates or add new features in the future.
Ensures time and cost savings: Building a stock trading app from scratch can be a complex and time-consuming process. Working with developers or a custom app development company can save you time and help ensure that the app is built efficiently and cost-effectively.

In case you are planning to hire a dedicated app developers team, you can check their presence on Clutch, Upwork, and Toptal. Or check this detailed guide on how to find and hire skilled app developers. Before you hire a team of developers, ensure to check their portfolios, work experience, reviews, and feedback from the clients.

If you do not want to do all this tiresome work, you can also consider Space-O Technologies as your technological partner. We have experience building more than 4400+ mobile app solutions and working with over 1200+ clients across the globe.

Here is feedback from our client Mr. Riccardo Petrachi who got 500 downloads in just 2 weeks. Check his testimonial to know how Space-O Technologies helped him to optimize his overall idea and deliver a unique solution.

Design and Develop the Stock Trading Application

Once you have hired the company, the stock market app development team will develop your stock app solution as per your custom company's needs. After validating your idea, the company will provide you with a timeline, cost, and SRS – to know the outline of your project.

When you get SRS, the business analyst team will start with wireframing your stock app. With the help of wireframing, you will know how your app will navigate and will help you with the overall outline of the project. Once the wireframing is completed, the UI/UX team uses tools like Adobe XD to add hues to your design. UI/UX designers create a sample design to know your color preferences.

Once the designs are finalized from your end, the app developers will start developing your application and complete the mobile app development process within the estimated timeline.

App developers start writing code. The coding is done based on your specified requirements mentioned in the software requirements specifications documents.

App developers need to choose the following as mentioned in the SRS document.

Programming language
Third-party integration
Software development methodologies

In addition, mobile app designers follow the best practices of app design so they are able to create a top-notch and quality apps for your business. The use of the right programming languages like Kotlin, Flutter, React Native, and Swift and technologies like AI, VR, AI and ML helps to create scalable mobile apps for the future.

Test and Launch Your Stock Trading App on App Stores

When your stock trading app is developed, mobile app testers conduct testing to ensure the app is bug-free. Your stock trading app is tested on various parameters like functionality, logic, and design. Mobile app testers perform testing to know whether your app is functioning properly or not.

Here are some of the tests that the QA team performs for the stock trading app.

| Test Type | Description |
| --- | --- |
| Functionality Testing | Verifies that all features and functions related to stock prices, trading, and market data feeds are working as intended |
| Performance Testing | Ensures that the app can handle high levels of traffic and transactions related to scalability, reliability, and speed without crashing or experiencing delays in real-time. |
| Security testing | Verifies that the app is secure against threats such as hacking and data breaches and has proper authentication and encryption for data security |
| Usability Testing | Ensures that the app has a user-friendly interface and provides a good user experience. Testing is done on different devices and operating systems to ensure that it is responsive and easy to use. |
| Compatibility testing | Ensure that the app is compatible with different devices and operating systems. This includes testing the app on a variety of smartphones, tablets, and desktop computers. |
| Integration testing | If the stock trading app integrates with other financial accounts or apps, integration testing is done to ensure that the integration is working as intended. This includes testing the app's integration with brokerage accounts, bank accounts, and other financial apps |

Once testing of your stock trading app is done as per the mobile app testing checklist, your mobile app is ready for uploading to the app stores. Developers know the app store guidelines and will successfully help you launch the app on the respective app stores.

So now you know the process, let's understand the cost of developing the stock trading app.
How Much Does it Cost to Develop a Stock Trading App?
The stock trading app can cost you around $25,000 to $1,50,000.
The cost of developing a stock trading app can vary significantly depending on a number of factors, such as the complexity of the app, the number of features it includes, the platform it is built for (e.g. iOS, Android), and the location and experience of the development team.
However, we have bifurcated the cost of developing the app based on the development stage, features, and location. Let's check.
Stock Trading Application Development Cost on the Basis of Development Stages
Let's check how much it would cost you based on different app development stages. The following cost is for medium-level stock applications.
| Stock App Development Stage | Estimated Cost |
| --- | --- |
| Planning and Prototyping | $2,800 – $3,500 |
| Designing and Coding | $21,000 – $22,400 |
| Stock App Testing | $3,150 – $3,500 |
Stock Trading App Development Cost on the Basis of App Complexity
App complexity also influences the app development cost. Please know that the app features increase the complexity of the app. Hence, the more you integrate features into your app, the more it will cost you to build a stock trading app.
We have bifurcated the features and cost into two tables so that it is easy for you to know the cost.
a. Simple stock app
b. Complex stock app
Let's first know the cost and features of simple stock app.
App Type
Stock App Features
Estimated Cost
Simple Stock App
Real-time market data
Starts from $35,000
Portfolio tracking
Market insights and analysis
Customizable dashboards
Charting and risk management tools
Educational resources
Here are the features and cost of complex stock app.
App Type
Stock App Features
Estimated Cost
Complex Stock App
Trade execution
Starts from $50,000
Advance portfolio analysis
Social trading and collaboration
Stock Trading App Development Cost on the Basis of Locations
As we discussed above, the location of the developers also influences the app development cost; check per hour cost of developers from different locations.
| Location | Per Hour Cost |
| --- | --- |
| The USA & Canada | $100 – $250 per hour |
| Western Europe | $80 – $150 per hour |
| Eastern Europe | $25 – $100 per hour |
| India | $20 – $50 per hour |
However, there are no perfect mobile app cost calculators, but you can still calculate it by using a simple formula (refer it as an app development cost calculator), which is as follows:
Total Mobile App Development Cost Estimate = Development Time x Cost Per Hour
How Long Does It Take to Develop a Stock Trading App?
The average time required to create an online trading app takes around 5-6 months for each platform, i.e., Android and iOS. Generally, the hours of trading app development depend on the following factors.
Features and functionalities
UI/UX of the mobile application
Mobile app platform (Android or iOS)
Integration of data encryption
Integration of business model
Development of admin panelv
Integration of third-party API servicesv
Locations of developers you hire
The mobile application development timeline also includes the integration of features shown in the following table.
Create or register
User portfolio
Search and sorting capabilities
Stock quotes
In-app learning
Verification of investor
Market data collect
Selling and buying functions
Watchlist
Payment Integration
User Dashboard
Real-time Charts
2-factor authentication
Push Notifications
Depositing Money
Let's understand the technologies that you can use during stock trading app development
Want to Develop a Custom Stock Trading App?
Want to know the exact cost estimate for developing a custom trading platform? Get a free consultation to discuss your app requirements. Our professional will provide you with a detailed cost estimation.
Technology Stack to Develop a Stock Trading App
Being a leading mobile app development company in Canada, we use these technologies to build stock trading solutions. Check the following table that includes the information on the technology stack for building stock trading applications.
Categories
Technologies
Programming Languages
Flutter or
ReactNative
Android (Kotlin/Java)
iOS (Swift/Objective-C)
Database
MongoDB
PostgreSQL
MySQL
Backend
Python
Laravel
Ruby on Rails
Nodejs
Utilities
Google Analytics
Version Controls
Git
Apache SVN
Business Tools
Slack
G-suite
Asana
Jera
Trello
Payment Gateway
Stripe
PayPal
2Checkout
Moneris
Since you know technology, cost, and process, let's now understand what benefits you can get from developing a stock trading app.
What are the Benefits of Developing a Stock Trading App for Your Business?
Here are the top 7 benefits of developing a stock trading app for your business.
Provides competitive advantage: A well-designed stock trading app can give your business a competitive advantage by providing your users with a better experience and more convenient access to their investments.
Increases accessibility: A stock trading app enables your users to easily access their investment portfolio and track the performance of their stocks from their phone or tablet. For example, you could use the app to check their portfolio and place trades without needing to find a computer.
Improves customer retention: This app can help improve customer retention by providing users with a reason to continue using your services. For example, if the app provides valuable market insights or tools that users find helpful, users are likely to stick with your business.
Opens new revenue streams: A stock trading app can generate revenue through a variety of methods, such as charging a fee for downloads, monetizing through advertising, or offering in-app purchases. This can provide your business with new revenue streams and help you diversify your income.
Improves customer satisfaction: Through this app, you can make it easier for users to access their investments and provide them with a better overall experience. This can lead to increased customer loyalty and positive word-of-mouth for your business.
Increases brand awareness: A successful stock trading app can help increase your brand's visibility and reach. This can drive more traffic to your website and potentially lead to increased business for your company.
Increases data insights: A stock trading app can provide your business with valuable data on user behavior and preferences. This can help you better understand your target audience and make informed decisions about future product development and marketing efforts.
Till here you know the benefits, let's check the 5 best stock trading apps that you can consider developing for your business.
Let's understand the 5 best fintech apps that can help you to develop a similar application.
App Icon
Trading Mobile App Name
Ratings and Reviews (Google Play Store)
Ratings and Reviews (App Store)
Download Link
Robinhood
Rating: 3.8
Reviews: 450.4K
Rating: 4.2

Reviews: 4.1M
Wealthfront
Rating: 4.6

Reviews: 4.69K
Rating: 4.6

Reviews: 15.5K
MarketWatch
Rating: 4.4

Reviews: 40.5K
Rating: 4.7

Reviews: 178.7K
NerdWallet
Rating: 4.6

Reviews: 17.5K
Rating: 4.8

Reviews: 96.7K
Coinbase
Rating: 4.1

Reviews: 700.0K
Rating: 4.7

Reviews: 1.7M
Still have questions, let's understand in frequently ask questions
Frequently Ask Questions About Stock Trading App Development
How to monetize stock trading app
There are several ways that you can monetize a stock trading app, such as
Charging a fee for downloads
Monetizing through advertising
In-app purchases such as additional features or educational materials
The best monetization strategy for your app will depend on your target audience and the value that your app provides to users.
How to market a stock trading app
There are many ways that you can market a stock trading app like
Social media
Content marketing
Paid advertising
Partnerships with financial institutions or media outlets.
What are the legal considerations for developing a stock trading app?
Here are some of the legal considerations that you need to take care of:
Compliance with financial regulations
Intellectual property issues
Data privacy laws
However, you need to consult with a lawyer to ensure that you are complying with all relevant laws and regulations.
How to update and maintain a stock trading app
To keep a stock trading app running smoothly and provide users with a good experience, it's important to regularly update and maintain the app. This includes fixing bugs, adding new features, and keeping the app up-to-date with the latest market data.
How to handle data security for a stock trading app
Data security is an important consideration when developing a stock trading app, as users will be entrusting their financial information to your app. To ensure that user data is secure, it's important to implement proper authentication and encryption measures and regularly update and maintain the app to fix any security vulnerabilities.
Which are the third-party APIs to integrate into the online trading apps?
There are various third-party API services available to integrate into your stock trading application. We have shared a list of a few APIs that are beneficial to integrate. Here are the names of API services.
DriveWealth – It provides nearly every possible end-to-end solution for any investment in the app.
Alpaca – It simply allows any business or individual to connect applications and build algorithms for buying and selling stocks.
Bloomberg API – This Server API allows you to contain Bloomberg's real-time market, historical, key reference data, and calculation tools.
Alpha Vantage – It allows you to obtain the historical and real-time data of several trade markets.
Develop Your Custom Trading App
In this blog, you have learned essential information for building a stock trading app. You learned about the development process of stock trading apps, development technologies, cost, timeline, and unique features to include in your application.
Are you looking to develop a mobile trading platform for trading stocks? We are a leading mobile app development company in the USA having delivered 4400 mobile app solutions across the globe. Having 12 years of experience in the IT industry, we can develop custom mobile and web applications as per your requirements. Let's get in touch.