If you want to create the best and most successful application,
you need to hire the best app developers.
But, how do you find and hire the best app developers?
This blog will help you answer a number of questions:
How to get an app made
Can you hire someone to build an app?
Where can you hire someone to make an app for you?
How to hire a skilled mobile app developer
How much does it cost to hire an app developer?
We understand that your app concept is your baby. You wouldn't want an irresponsible or inexperienced Nanny to handle your brainchild. After you think of a great idea, the next thing to do is to find an app developer. 
Finding an app developer could become a strenuous task unless you know your options. We, at Space-O, make applications for a living and we speak from experience of developing over 4400 mobile apps.
We have dealt with enough clients to know what kind of doubts arise while hiring iOS and Android app developers. This blog will explain to you which questions to ask yourself and how to make the decision in the right way.
Want to Hire Experienced App Developers?
Our mobile app developers have built more than 4400 customized solutions. Let's help you to build yours.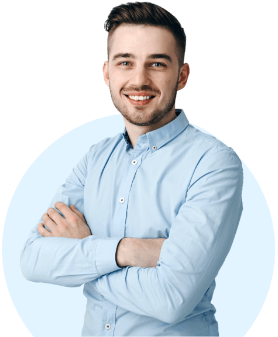 Before you start looking for app coders, first let's understand a few things about hiring app developers and how you could find one that perfectly fits your requirements.
How to Hire Best Mobile App Developers in 6 Easy Steps
In this image, you will get the answer to how to hire an App developer. We have shared 6 steps to hiring mobile app developers. You can consider these steps if you have planned to hire someone who can help you to build apps.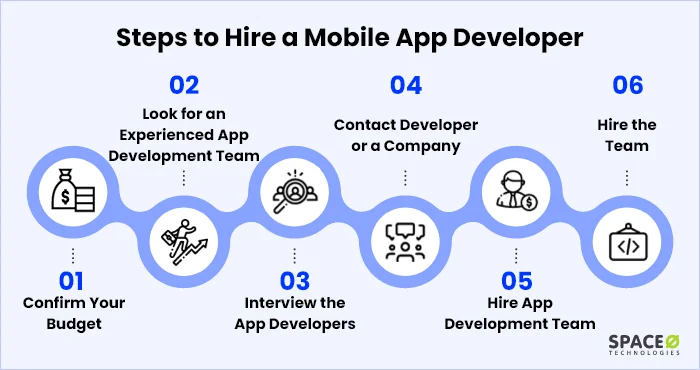 Here are the detailed steps to follow to hire an experienced mobile app developers.
Confirm Your Budget

Confirm your budget, list out all your requirement, platforms like Android, iOS, Web, and take the first step. Decide whether you want a freelancer or want to hire an app development company. 

Before hiring, you need to be sure whether a freelancer is able to understand your concept and project detail. Never compromise your project concept, quality, app design, or functionality due to money constraints.

You do not have to spend a lot of capital on your project but you also can not make the constraints too tight. You need to be a little flexible but must have a range that you do not want to cross. So, check your requirements and according to that, you can estimate your budget limit.

Look for an Experienced App Development Team

Start looking for an app developer for hire or an experienced company. You might wonder "How to find an app developer? " or "Where to find an app developer?".

The answer is Freelance websites, tech blogs, GitHub, online directories like They Make Apps, and job boards like Get Apps Done, or references from people you know. Another example would be that of Clutch. Clutch.co is one of the best sites to find an established app development firm.

If you are looking for an iOS app developer for hire, you may try the MacRumors iOS forum. Looking for an Android app developer for hire, try Android Forums, Koding, or Topcoder which are general app developer communities.

You may also check official groups of Google, Facebook, Apple, and Windows developers. Online platforms like LinkedIn, Indeed, Upwork, and even Reddit are helpful for hiring a full stack developer.

Source – Upwork

Interview the App Developers

Screening or vetting is the next step in hiring mobile app developers with good experience. You need to select and list out a few iOS or android developers according to your need.

How do you choose? Not only the years of experience, but you also need to find developers that have experience in developing similar in the same niche.


You could check their portfolio and even download some of their applications and test them. A full-proof way could be reading client testimonials or users' feedback that vouch for the company or the developer. You could contact them and cross-verify whether this is a genuine and quality service. In fact, you even get to know what you can expect from the service.

Contact Developer or a Company

After evaluating the developer and their competitors, you should contact them personally. Talking to them yourself will help you give proper judgment. You could inquire about their technology, user experience, designing skills, and payment model, keeping in mind what you need.

While hiring a developer, you can not just search for "mobile app programmers for hire near me" and hire the top results. You need to make sure that you interview the developers you're going to hire and find out whether they have the tech talent to build a complex app or not.

A reputed mobile app development agency will give you the option of hiring a developer or a dedicated team after you see their resumes and interview them.

You can make sure that you find the exact skills of a developer you're looking for. Whether you want to build native apps or interested in cross platform app development, you need to check their previous experience, successful projects, and client referral before you look and hire a skilled app developer to build your app. After the interview procedure, you should discuss the terms and conditions from your and their side.

NDA Template for App Development

If you do not have a copy of the NDA template for app development, we have prepared one for you – download it by clicking on the download now button.

You need to know about any loopholes in their payment terms, whether they sign an NDA to protect the app's code or not (very important to protect your application idea). It is also important to know about the app development process, contracts, how they code, and style of working.

Look for the Full Stack Mobile App Development Team

If you're looking to build your app with complete details, it is not about only coding. There's more to building an app than just coding. You need to hire someone for business analysis, a designer to design the UI/UX of the app, maybe even a QA tester who will test the code of your well-rounded app and solve any bugs. You're going to need an app development team if you want to make an app like this.

You can get an entire package instead of a single freelance developer when you ask for a whole package from a reputed agency. Everyone in the development team will dedicatedly perform the task they're hired for and the entire process is finished seamlessly.

Hire a Team

Finally, it's time to hire the best mobile app developers! After you have found the right development team, you can discuss your non-disclosure agreement to protect your code and terms and conditions. After signing the required documents, you can start your development process with your app development team.

Finally, it's time to hire the best mobile app developers!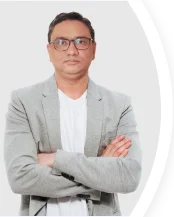 Do you have a great app idea but don't know what to do next? Consult our experts. The consultation is absolutely free.
How Much Does it Cost to Hire Dedicated App Developers?
To hire experience mobile app developers in the United States and Western Europe, it costs between $50 to $200 per hour.
And to hire experience mobile app developers in India, Nepal, and Pakistan, it costs between $50 to $200 per hour.
The table below shows how much app developers charge based on their talents and experience.
Type of Mobile Developer
Description
Average Hourly Rate
Basic/Intermediate Android Developer

Skilled in Objective C and Swift
Skilled in APIs such as Foundation, UIKit, Cocoa Skills

$40 to $110+
Basic/Intermediate iOS Developer

Should know Java, the Android SDK, and the Android Studio IDE
Familiarity with frameworks such as Ionic, Corona, Material Foundation

$50 to $100+
PhoneGap Developer

Extensive knowledge of programming with C#, .NET Visual Studio and Xamarian

$20 to $50+
Xamarin Developer

The knowledge of HTML5, CSS, JavaScript, or Backbone.js

$16 to $55+
How to Hire Experienced App Developers for Your Project
Hiring an app developer for your project can be overwhelming. After all, you have countless options at your disposal and all of them are appealing! Let us help you and guide you through the process to hire a developer to make an app.
First things first, do you need a developer or an app agency? Yes, that's where you start. If you're just starting out and have limited funds, a freelance app developer will be ideal for your project.
However, if you're seeking to build an enterprise-class app, you should consider hiring a full-fledged agency for your project.
Whether you want app developers for hire or a full-service agency, you must ensure they're reliable and trustworthy. Here are our top 5 tips that will help you find the right partner for your business:
Research Well

Before handing over your project to anyone, it's important that you know ins and outs of the industry. If you're new to the world of app development, consult a few app programmer and app development specialists to understand a few basics.

Learn about the programming languages used, communication tools, project management tools, average rates, and best countries for outsourcing. This will help you pick the right technology partner based on your needs for creating a successful mobile app.

Validate Their Experience

Learn about their experience with app creation. More specifically, ask them if they have created an app similar to yours before or any such app concept.

Understanding more about them will give you a clear picture of what you can expect from the potential app developer.

Check Communication Skills

While communication isn't the first factor you should look at, you cannot overlook this aspect. If your technology partner won't understand your requirements, they won't be able to deliver anything close to your expectations.

And that's why it's necessary to understand how well they can communicate and grasp your vision.

Set Clear Expectations

In the initial meetings, make sure you set clear expectations about your requirements. This will help you keep conflicts at bay and accelerate the development process. So, communicate with them in the very first place and share your requirements.

Take Interview and Set the Right Expectations

Whoever you're hiring, interview them rigorously. If needed, you can seek help from an expert to help you with the interview. Apart from that, here are a few things you should consider before collaborating with anyone.

Their Reviews and references
Overall Industry Exposure
Expertise
Programming tools
Development process
Legal process/contracts
Project management
Communication

Get clarity on these important areas in your initial meetings themselves. This way you will know if an iOS or Android app developer is the right fit for your project or not.
Check these four tips to reduce app development costs.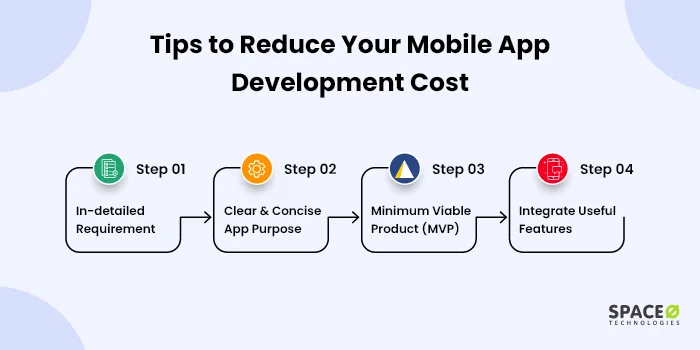 Questions to Ask Before You Hire an App Developer
How much budget do I have for the mobile app development project?

You need to decide your budget while hiring an app developer. You might want all the features in the world for your app but that's not a realistic way to think.

You can't and shouldn't utilize too many resources on the app.

It is highly recommended that you have an idea of the app development cost. Having an approximate estimate of how much you want to spend will save a lot of confusion during the course of app development.

To decide on a budget you need to be sure about your mobile application type, requirements, UX/UI design, functionality type, software developers among other parameters and options.

It is also important to be a little flexible with the budget but chances are that if you are too flexible, the cost will be much higher. It is necessary to maintain a balance.

Do I want to hire a freelance app developer or a mobile app development company?

This is the first question that must arise when you think "I need an app developer".

It is probable that you already have an app development team. Let's assume something. This development team is not very fluent in developing an app in Kotlin but you need specifically that.

You have more than one way here, your developers could either learn it or you could hire freelance developers or contact one of the best mobile app development agencies like us, having experience in Kotlin development.

The first option might be too slow, you can't afford to waste weeks or months till your developers get a fine grip on it and it is going to take up a lot of time. While the second option might be beneficial if you want the results quickly.

If you're a business and stepping into the app development segment for the first time, the second option might as well be the only and best option. Now, while deciding which option to go for, you need to understand the scope and type of your project.

This means that if you have a small project and simple type of requirements in your app, a freelancer might able to handle it singlehandedly. But there are a few drawbacks to it as you will see in the next segment. You need to make sure you look and hire the best app coders.

On the other hand, if you need a more versatile, feature-rich, and advanced app, you will need a dedicated app development firm. The app development process could be a little complicated and a company could manage such projects with effective project management.

What are the major challenges I will face while hiring mobile app developers?

This question has four answers.
1. Budget

Deciding a budget extremely important. If you're under money constraints, you might select an inexperienced app developer because his rates are cheaper. You may also try to save money by hiring a cheap app developer without realizing the importance of experience here.

In fact, if you allocate too much money, a freelancer might try to rip you off. So you need to be careful. You shouldn't waste capital when it can be utilized in a better way.

2. Freelancing websites

Sometimes, developers and IT companies tend to exaggerate their knowledge about software development life cycle (SDLC), skills in a programming language, ability level, and capabilities. This gives a false perception and might lead your way into hiring coders that are not eligible for your company.

3. In house app developers

The hiring process of in-house developers is expensive and they are paid a full-time salary just like any other employee even when their services are not required for long durations.

You need to take care of each and every aspect when you look and hire an in-house team of developers, from hiring costs to paid leaves, vacations, sick leaves, perks, employee insurance.

4. Outsourcing

When you outsource app development, there may be a communication gap because of the lack of face-to-face interaction.

Sometimes the time zones also differ but a good mobile application development firm doesn't let this hinder the progress of the app project as it is managed by an experienced project manager.

An outsourcing company also provide an option to set up an on-site development team, making the benefits more prominent.
Outsourced App Development v/s In-house App Development
Outsourcing companies or in-house team are more affordable in comparison as you do not have to manage overhead expenses
Development is faster
You can find developers with a wide range of skills
The developers can work off-site or on-site as per your requirement
In-house team is more costly because of overhead expenses and salaries
Development is slow and gradual
You will have to find your own developers with the exact and narrow skillset
The developers need time to adjust to the company environment
After answering these questions, it's now time to look and hire a mobile application developer. We will make hiring developers a cakewalk for you with these easy steps. Let's check all the steps one-by-one.
Best Websites to Hire App Developers
The following table illustrates the best websites, benefits and per hour rates to hire mobile app developers.
Websites
Benefits
Price

Experienced in house mobile app developers
4 types of engagement models to choose from

$25/hr to $49/hr

Hire talented app developers across the globe
Cost-effective solution
Backed by payment protection

$40/hr to $100/hr

Check the reviews of the companies
Filter companies based on their location, pricing, services

$25/hr to $100/hr

Find qualified app developers
Review company anonymously
Decrease the screening process by choosing the right app builder

$25/hr to $300/hr

Access to experienced resources and expertise
Services and their reviews

$25/hr to $100/hr
You can find app coders for hire on various websites, tech blogs, forums, and freelance job boards. Here, we have listed our top 5 websites where you can easily hire experienced app developers.
Space-O Technologies

Our expertise in building top-notch mobile applications is recognized across the globe. Bloomberg, HuffPost, Business Insider have featured our mobile applications. Additionally, we have served clients such as Nike, McAfee, and Saint-Gobain who are well known across the globe. Therefore, you can be assured to get the customized software development services according to your requirements.

Whether you are a startup or an enterprise-level organization, we have engagement models for you. We have distinguished different engagement models into 4 types. Dedicated team model, fixed price model, hourly price, model, on-site team model are our main models, you can choose the model according to your requirements.

Being a top mobile app development company, we have been accredited by the top companies across the globe such as Clutch, AppFutura, Upwork, and Good firms. Therefore, if you are looking to develop an app then contact us right away for mobile app development service.

Upwork

You will find millions of remote app developers from across the globe on Upwork. In addition, it is one of the biggest freelance portals in the world.

This portal is not just for developers, you can find a huge variety of tech-based professionals ranging from software development, design, to marketing. It is basically a freelance platform that brings together clients and freelance app developers in one place.

You can filter through millions of profiles and find the developer that matches your skill requirement exactly. The algorithm is very simple and you just need to define your parameters. You can also check out the performance and project completion score of every profile.

We have a 100% job score on Upwork. We were recently awarded the Top Rated Plus Badge because of our consistent work with high-value and long-term enterprise projects at reasonable prices/ costs.

If you want to hire an app development agency or a freelance application coder with a per-hour fee structure, this platform is for you. It is a huge marketplace to help you in finding and hiring an app coder from a massive pool of professionals in the industry.

Clutch

If you want to hire an app development agency and not just freelance developers, you should take a look at the Clutch website. This platform is like a B2B directory where you can find information, reviews, and ratings of the listed companies.

Clutch has more than 7,000 companies that are working in a variety of IT-related fields. They post their profiles and offers. Another pro is that they focus on only verified client reviews and feedback on this website. You can make informed business decisions based on this unbiased feedback from users.

You can be sure of their evaluation as take into consideration factors like quality of work or code delivered, provider's services, and market presence in the segments. Space-O technologies has been listed as among the top mobile app developers in India.

GoodFirms

GoodFirms is a research and review platform for software products and service providers. The seekers can find reviews of various software services and product providers and choose the firm that fits their needs.

This platform helps good IT firms to stand out in the cluster of other firms. It helps the firms to create brand awareness in the market. GoodFirms provides a categorized directory, client reviews, and company resources to the clients. The software vendors can increase their business while software seekers find and hire the vendor with appropriate skills or products.

GoodFirms claims to have helped over 160K customers in finding the right software companies and products. You can choose from various categories like app, software, or web development, digital marketing, e-commerce development, SEO among others.

Space-O Technologies has been ranked as "Top App Development Company" by GoodFirms.

AppFutura

AppFutura is a community where you can meet app developers, software development companies, and digital marketing agencies. You can also be a part of their forum and discuss it with other people around the world.

AppFutura has a unique methodology that they use to rate and rank over 6000 listed companies. This platform claims that it works closely in projects with buyers and service provider companies.

The AppFutura team certifies and monitors active firms to validate authenticity. You will find verified feedback from real clients and users to help you make a decision while hiring an android developer for your goals.

Space-O Technologies has been featured in the list of top 10 Mobile App Development Companies by AppFutura.

Now you can easily hire app developers through these websites. In case you still have any queries related to app development or want to know how to make money from free apps, then refer to the FAQ section.
Here, we have answered all the most asked questions that generally readers have in their minds.
Frequently Asked Questions
Will the developer publish my app on the App Store?
Most app developers publish applications on respective app platforms. The developer publishes an Android application on Google Play Store and iOS app on Apple App Store. Before you hire an app developer, you must make sure that you include everything in your deal. We at Space-O technologies know the entire procedure of publishing apps and we will guide you through the entire process or publish the app on your behalf if you need it.
What are some appropriate situations to hire app developers?
You need developers for any short project
You need an app developer with a specific skill set for the time being
You want to integrate any features or want to update your existing app
What are the skills that you must look for before hiring app developers?
Analytical Skills
Programming Languages
Creativity
Problem Solving Attitude
What are the steps to hire app developers?
Confirm your budget plan
Look for experienced app developers or app development companies
Interview & shortlist the app developers
Get a proposal for your app brief from shortlisted developers
Check previous work, development approach, technologies they use, skills & pricing
Hire the best app development team
Want to Hire Skilled App Developers for Your Project?
The purpose of this blog was to answer questions like "How to find mobile app developers?", "How to hire mobile app developers?" and "How to hire an app development company?". We hope we have been successful in solving most of your doubts. If you still have queries, you may contact us. In fact, if you have an idea and wish to hire someone to build an app, you can cross-verify your idea with us.
Space-O Technologies is a leading iOS and Android app development agency. We have experience in developing over 4400 apps (Android, iOS, web, cross-platform) in various categories and we continue to grow every day. If you are looking for an android developer for hire, or if you want to hire an iPhone app developer in your location, you may contact us.
We would be happy to provide you with a 30-minutes of consultation for free in which you can discuss our app development cost, process, and timeline or any other query that you may have related to app development services or mobile app developers.