If you are planning to develop a healthcare app, this data will excite you.
A recent report from the Morning Consult states 40% of U.S. adults use health applications and 35% use wearables.
It won't be false to say that this is the most ideal time to get into this market. As a leading healthcare app development company we have developed over 40 healthcare apps and we are constantly getting inquiries regarding different ideas. So, we have decided to share the 12 best healthcare app ideas for our readers.
Who should read this content?
Hospitals & Wellness Centers – Who want to gain technology advantage in order to provide more efficient healthcare services and receive lucrative profits.
Doctors & Medical Professionals – Who want to improve the operating performance of their clinics and reach their patients anytime, anywhere.
mHealth & Wearables Entrepreneurs – Who are looking for app ideas for Healthcare to build their own healthcare applications.
The use of healthcare apps has increased patient engagement, which means more individuals are focused on improving their health and wellness by sticking to a healthy diet recommended by a fitness expert, or regular doctor visits for checkups, and adhering to their medication reminder app schedule along with follow-up appointments. Additionally, the right diet planner app will also help you to manage your daily food consumption.
Today, healthcare apps are revolutionizing the way medical aid is given in terms of consultations, treatments, and medical prescriptions.
Like every other industry, the healthcare industry is also in the race to gain mobile technology advantage. In fact, based on this survey, about 52% of people prefer the smartphone to get health-related information like prescription details, and health diagnosis information. And around 33% of medical professionals/doctors prefer utilizing smartphones to make their tasks efficiently.
Currently, the healthcare app market has already reached $20 Billion, and this research also says that the global mHealth market or healthcare app market will grow further to $213.6 Billion dollar industry by 2025.
Now, there are different types of hospitals and wellness centers available in different areas and cities, but there are only a handful of multi-specialty hospitals in every city. This makes it difficult for patients to find the right place to avail themselves of the best treatment.
Thus, many hospitals, healthcare professionals, and mHealth entrepreneurs are investing in healthcare app development to provide better services to patients. Herein we're going to cover 12 healthcare mobile app ideas that are provided by the top healthcare app developers who have hands-on experience in healthcare application development.
Top 12 Healthcare and Medical App ideas
Medical applications, mHealth solutions, and healthcare apps for patients are now conquering the market rapidly. Different types of healthcare applications or the so-called mHealth solutions are growing along with the global increase of smartphone usage.
Such medical apps for healthcare organizations help to provide their services with quality care, improved workflow and increased patient interaction while minimizing the cost and complexity. Nowadays, the way people are adopting smartphone technology and looking for convenient ways during illness has directly impacted as increased demand for healthcare applications.
And don't just trust the words, take a look at the numbers yourself.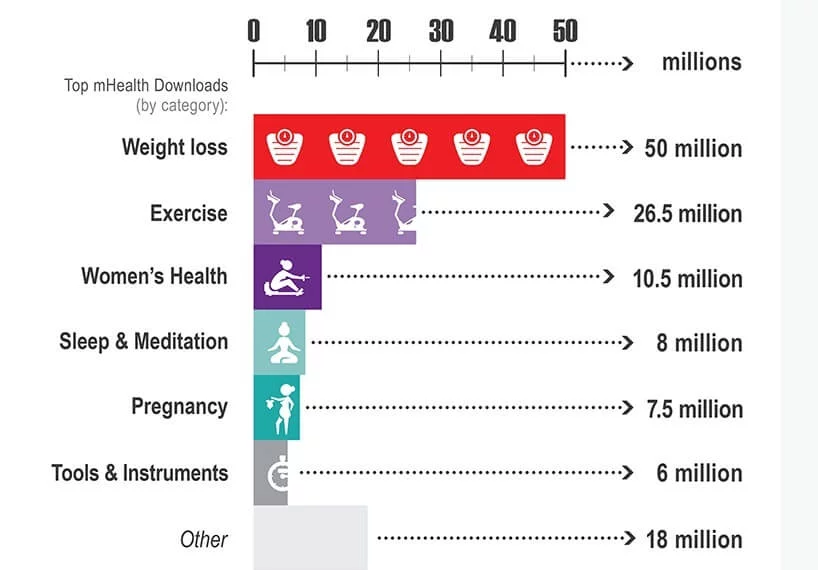 Want to Develop Customised Healthcare App Solution?
Contact us. Get free validation for your app idea, free professional guidance, and a free mobile app development quote.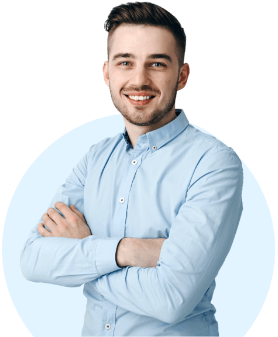 According to a report by Pew Research Center, 15% of smartphone users of 18-29 ages have healthcare apps on their mobile.
By looking at these numbers, we're sure that you got your answer for – Why Build Healthcare app. But, do you know how to create a meditation app in the first place? Don't worry, our app development consultant will surely help. So, let's explore health app ideas and types of best healthcare apps Space-O can help you develop.
Healthcare Monitoring App

This type of apps is mainly developed to monitor chronic conditions like diabetes, blood pressure, sugar levels, cancer, and much more. The app allows doctors or healthcare professionals to track the health conditions of each and every patient by keeping their health history to provide appropriate treatment or prescription.

General Health and Wellness Test App

General health and wellness test apps are used mainly for patients who are suffering from a disease or want to track their health with tools such as blood pressure tests, heart rate tests, and measure diabetes. This type of health tracker apps can be developed by anyone for people who just want to track and record their health data on regular basis. You can go through this post on best health apps to find some inspiration.

Sleep Cycle Tracking App

These apps also fall under the same category as health test apps and can be developed by either doctors or entrepreneurs. The app is basically an ideal solution for people having trouble relaxing into a restful sleep. Users can select some relaxing sounds to get a good night's sleep.

Personal Medical Records App

This app idea related to personal medical records is a diary kind of app that allows patients to add their personal health records manually and share those records with the doctor before the appointment. This type of solution allows the doctor to learn a patient's past health history and by keeping it in mind, doctors can prescribe medicines or take further action.

In fact, our blockchain developers have already dig deeper into this subject and came up with a solution to developing the best records app for medical on blockchain technology. You can read our blog about how a personal medical records app developed on Blockchain could revolutionize the health sector.

Appointment Booking App

The on-demand doctor app is quite simple and mainly developed for doctors' benefits. Many healthcare professionals and well-known doctors develop a doctor appointment booking app for their patients to let them know their availability and give an option to book an appointment.

Another option is to make a social platform for both patients and doctors where patients can connect with doctors based on their illness and ask for a consultation, schedule a call, or book an appointment for a home visit.

Online Therapy App

An intention to make therapy accessible to as many people as possible. The online therapy app allows users to pay subscription fees for unlimited messaging. Such an app idea can eliminate the hesitation of patients to talk in person about their health matters. 

There is a lot more exploration to be done in the health sector, which can be easily done with the help of such mental health apps development. The professional therapists can also contact each other and can reach to more mental illness patients, and grow their networking skills.

Recovery App for Addiction

One way or another, we all are addicted to something or someone, right? That's normal. But, there are some addictions that can take a life out of you, take your time, take your everything, and can get you on different unexpected tracks.

We did some basic Google research and found this top addiction that is impacting a lot of people around the world.

For example Alcohol addiction, Drug addiction, Caffeine addiction, Nicotine addiction, Phone addiction, Sugar addiction, etc.

What if we have an app for its recovery?

Let's say a recovery app for drug addiction. The app helps drug addicts to get out of this endless chain, to get out of this hell.

Recovery app for drug addiction can have features like

Community: to create a community of people who can help or who are addicted to drugs
Video: to share videos on how to recover
Chat integration: so that they can talk and discuss with experts

These are basic ideas. If you want to learn more check out some more addiction recovery app ideas.

Pharmacy Delivery App

This type of apps is now much in demand. The reason is pretty straightforward, COVID-19. We are fighting an invisible enemy, and the only way to win is by staying home as much as we can.

If anybody is sick, they probably won't feel like going out to buy medicines. Further, they wouldn't want their close ones to go out and take the risk of getting infected as well. In such cases, prescription delivery startups can come forward.

Uber for medicine apps or prescription delivery apps has made it possible for people to get the required medicines whenever they want. Also the trend of medicinal cannabis is increasing which has led to a rise in marijuana delivery apps. This pharmaceutical sector has still a lot of room for growth.

On-demand Doctors App

On-demand doctor's application is another best healthcare app idea that will surely perform exceptionally in the healthcare industry. You can develop a telemedicine app which will just act like an Uber for doctors, allowing patients to connect with doctors in real-time through chat and video calls.

Such on-demand doctor apps enable patients to book consultations on-demand and get in touch with the right doctor through chat or video calls. Using the on-demand doctor's app, patients will get in-house telemedicine service within an hour or the next 2 hours from the comfort of their home. They can discuss comfortably and privately their problems with doctors and get instant assistance.

Mental Health Apps

With an increasingly busy and stressful lifestyle, people are facing a lot of mental issues every day. A lot of people suffer from anxiety, depression, panic attacks, and other mental health issues. Awareness toward mental health has been increasing and people are taking it more seriously.

There is a range of apps or a single app with multiple functionalities that you can develop. You can develop meditation and sleep apps, or you can also go for online therapy apps. The users can book an online therapy session as going to a therapist in a pandemic is not ideal.  Such apps are therefore much in demand because millennials are woke and consider mental health their first priority.

App for Woman's Wellbeing

There is no question that women and men have different healthcare demands and needs. When it comes to women, their monthly menstrual cycle plays an important role in their health and bodily aspects.

If you want to address the issues and requirements of women's health and wellbeing you choose this direction. You may develop an app that tracks their menstrual cycle for them and tells them about their most safe and most fertile days for managing intercourse and pregnancy. You can also develop an app that gives them information about different types of diseases like PCOD, breast cancer and also helps them track it along with contact information of leading gynecologists as well as tips from them.

Diet and Nutrition Management Apps

Apps to help individuals track and manage their diet and nutritional intake are very popular. These apps allow users to input information about the foods they eat, track calorie and macronutrient intake, set weight loss goals, and receive personalized meal plans and nutritional advice.

For example, you can look at the best intermittent fasting apps, which are designed specifically to assist users with incorporating intermittent fasting into their diet plan. Building an app in this segment will help you cater to an audience looking to incorporate healthy eating habits and manage conditions like obesity, diabetes, and food allergies. They can be useful for individuals looking to lose weight, gain muscle, or simply maintain a healthy lifestyle.
Want to Validate Your Healthcare App Idea?
Get your idea validated by our experienced healthcare mobile app developers. Start your free consultation now.
So, the above app ideas could be used to build a mobile app as well as a web application. You can learn more about building apps for web by referring to our guide on building healthcare web application. This will help you with the detailed process of developing a web-based healthcare application.
Now let's take a look at some of the most commonly asked questions
Frequently Asked Questions
How many healthcare apps are there?
The demand for healthcare related apps has surged at an all-time high. There are approximately 318,000 mHealth or healthcare related apps present on major app stores. Which includes from medical training apps, medication reminder apps. In fact, there were only half as many apps in 2015 and the entire number almost doubled within 4 years.

How are mobile applications used in healthcare?
Mobile applications become a telemedicine platform to streamline all the processes in healthcare. Apps also make communication between patients and healthcare workers like doctors and nurses faster and more effective. Many apps also monitor diseases and track treatment,  and other health conditions.
Which are the best healthcare apps?

If you are planning to start your own health app, do get healthcare startup idea from some of the best healthcare related apps
Mobile MIM
Diabetes Manager by WellDoc
CareWare Connect
Practo
Doctor On-demand
Conclusion
Having analyzed as well as developed dozens of healthcare-related apps, we've reached a level where we can develop a custom healthcare app to match the app requirements of either a hospital, wellness center, or doctor.
Space-O Technologies offers you to hire dedicated developers who understand your app requirements and provide a full medical app development cycle, including native or cross-platform technology. This means, we can develop a healthcare app on your own idea, or you can choose from the above healthcare app ideas, and develop for iPhone and Android platforms.
We have developed over 40 healthcare and fitness apps. We have also integrated HealthKit Data while developing iOS health and fitness apps. Two of our apps are ConduetMed and Ryan Spiterri Fitness.

On-demand doctor application for a US-based Startup
Patients can enter their symptoms and doctors can view them
Allows in-app chat and virtual appointments

Ryan Spiteri
Personal training app by one of the most popular trainers- Ryan Spiteri
Users get a personalized meal plan by professional nutritionists
Users also get personalized training and cardio plans
In case, if you still have any queries or confusion regarding how to create a fitness application, how long it takes to create a health and fitness app, how to find the right mobile app development company or how to make money with an app idea, then you can get in touch with us through our contact us form. One of our sales representatives will revert to you as soon as possible. The consultation is absolutely free of cost.