Want to develop a telemedicine app for your business? You are at the right place.
Developing a patient care app can help a business tap into this growing market and reach a wider audience of investors. According to a report by Statista, the global telemedicine market size is forecasted to reach a value of US 460 billion dollars by 2030.
If you are wondering about healthcare app development to leverage the opportunity, then keep reading this blog.
As we are a leading app development company in the USA and developed custom telehealth solutions for clients across the globe, we have experience developing custom telemedicine solutions from scratch. So, we decided to curate an A-Z guide about telemedicine app development with the help of our app developers and consultants.
Let's understand this further.
Scope of Telemedicine App Development
The scope of the telemedicine industry is vast and continues to expand each passing year. Below are the market trends in the healthcare industry.
With an expected CAGR of almost 25 percent from 2019 to 2025, the digital health market should reach nearly 660 billion dollars by 2025 as per Statista
The market's largest segment will be Digital Fitness & Well-Being with a total revenue value of US$96.94bn in 2023 as per Statista
The overall industry has an annual size of over 500 billion U.S. dollars and will continue to grow over the next few years. The largest segments within the industry, by revenue, are in vitro diagnostics (IVD), cardiology, medical imaging, and orthopedics as per Statista.
Why Build a Telemedicine App?
There is no room for doubt that physicians are overworked and emergency rooms are overloaded. And, top of it, the cost of healthcare has been rising continuously. After the emergence of telemedicine, the change in the healthcare industry is at pace. The cause of this drastic change in this industry is due to the makeover of mobile applications, or better to say 'telemedicine apps'.
Undoubtedly, telehealth app development has changed the way people manage their health. The telemedicine app provides a blend of convenience and medical care mobility.
Being a healthcare organization, healthcare startups or entrepreneur, if you want to build a telemedicine app, then let's check out the development process you need to follow for developing a doctor's on-demand app.
How to Create a Telemedicine App in 6 Steps
Here is a step-by-step development process of a telemedicine mobile app.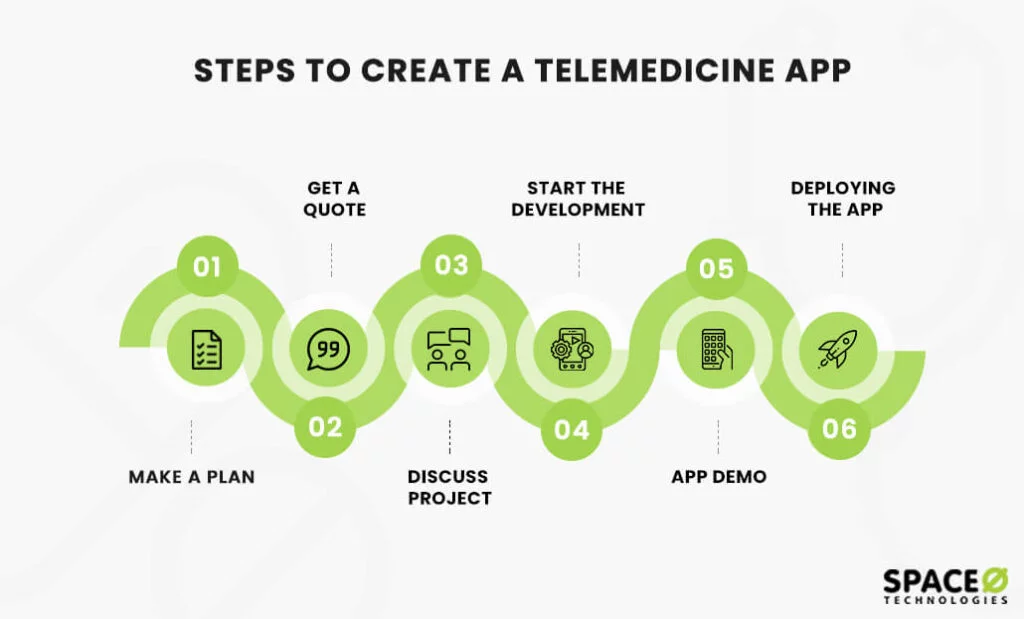 Make a Plan

A goal without a plan is just a wish. – Antoine de Saint-Exupéry

Before you start developing the app, you must make a project plan with all the necessary details. You need to decide on the important features that you want to include in your app. We have tried to help you with the 5 most powerful features that you will find in the next topic of this blog.

You should also have a flexible yet approximate budget for your telehealth app development project. You must know your upper limit to spend on the project. BA team analyze your project and provides you WBS to know the overall cost and timeline of your project.

Get a Quote

After business analysis, it's time to get a quote from a top healthcare application development company. This step is very easy. All you need to do is contact us and tell us some details about the software idea. We have experience in building 40+ healthcare apps, so we will discuss your business needs and solve all your queries. In fact, we will give an estimated price for your telemedicine / on-demand pediatrics app development.

Discuss

After finalizing the budget and project plan, it's time to discuss the hippa compliant action plan and terms of the project. We will discuss the MVP project scope, project management tools, and sign an NDA to safeguard your app idea and avoid data breaches. Then, we will finish the necessary paperwork and move on to the development stage.

Start the Development

After the action plan is finalized, we will start making app wireframes, mockups along with design prototypes for a better user experience. When you approve the UI design, we will start developing the code, testing it, and fixing bugs. We make sure the app includes all the required features and runs seamlessly on various mobile devices.

We do this keeping you in the loop and taking care of any user feedback and instructions that you need to give.

App Demo

Once the health care system's necessary features are ready, we will give you a project demo. If you are satisfied with the remote monitoring system, we will start doing the paperwork for publishing your telemedicine system on the designated marketplace.

Deploying the App

Whether you want to launch your app on Google Playstore or Apple AppStore, we take care of the guidelines that these app stores require. We, then, deploy your application on the app marketplace as well as your servers.

Further, we also submit your project-related data like the source code, databases, designs, mockups, and admin panel access credentials.
Have a Telemedicine App Idea in Mind?
Discuss your requirements with our professional mobile app developers, even get your quote at no cost.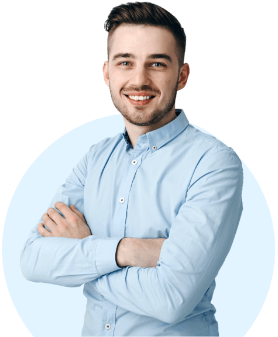 How Much Time Does it Take to Develop a Telemedicine App?
Telemedicine app development takes from 3 to 6 months. The app development steps include requirement gathering, engineering, project planning, app designing, app development, and launch.
The telehealth app team includes a product manager, business analyst, app designer, and front end and back telemedicine app developers.
How Much Does it Cost to Develop a Telemedicine App?
Telemedicine app development cost $10,000 to $200,000. The app development cost depends upon your app functionality and complexity as well.
Most developers have a per-hour charge for developing an app. This means the MVP development cost of telemedicine app solution as described above can be calculated. Suppose, the developer charges $35 per hour then 280*35 is $9800.
Features to Consider While Developing a Telehealth Application
Here is a table summarizing the basic features to add in a telehealth application
| Feature | Telemedicine App for Doctors | Telemedicine App for Patients |
| --- | --- | --- |
| Video Consultation | | |
| Messaging System | | |
| Appointment Scheduling | | |
| Prescription Requests | | |
| Electronic Health Records | | – |
| Remote Monitoring | | |
| Secure Data Storage | | |
| Payment Processing | | – |
| Integration with Wearables | | |
| Multilingual Support | | |
| Doctor Profiles | | – |
| Patient Profiles | – | |
| Symptom Checker | – | |
| Health Education Resources | – | |
| Virtual Waiting Room | | – |
| Prescription Delivery | | |
| Prescription Tracking | | |
| In-App Translation | | |
| Review & Rating System | | |
| Insurance Verification | | |
Now, let's explore some of these features in detail
5 Telemedicine App Features for Patients
The patient's app is for the users to make an appointment, add symptoms, and get a consultation from doctors.
Schedule Appointments With Doctors, Practitioners, or Therapists

With this feature, your telehealth app users (patients) can book appointments from a wide range of doctors, physicians, nurses, or practitioners as per their requirements. Also you can develop a doctor appointment booking app just for this specific functionality.

Image Credits: mdlive
Source: Google Play

By including this feature, you can make it easy for them to find doctors on-demand. An online telemedicine platform for digital health can connect patients in minutes with senior doctors as per their needs.

Video Consultation With Doctors, Nurses, or Practitioners

The telemedicine apps provides a convenient and quick way for patients. With two-way communication, patients or app users can easily connect with experienced doctors, nurses, and practitioners. If you are planning to develop a successful virtual clinic or telehealth app for your customers, then the schedule live session feature is important in order to connect with patients and physicians.

Image Credits: amwell
Source: Google Play

The virtual medical care app shows all the professionals and connects patients and doctors virtually. Instead of going to the urgent medical treatment provider, the mHealth (mobile health) app can help patients to a great extent. With a doctor's on-demand app, patients can consult for a wide range of diseases like acne, allergies, cold/flu, sinus infections, ear problems, severe headaches, or any other concerns of behavioral health.

In-App Chat

The mHealth (mobile health) app provides every medical treatment virtually as per the convenience of your users. There would be no hurdle in the way of virtual medical treatment; the in-app chat feature is another powerful feature, which can easily connect your users (patients) to experienced doctors. There are patients, who could not consult through video conferencing to doctors, so you can give the in-app messaging option for an instant consultation.

Image Credits: talkspace
Source: Google Play

When the patient is having a cough or just a cold, then they can go with the in-app chat option. Also, you can also provide a wide number of options in the in-app messaging chat like recording a video, take a photo, and record a video message. In addition, patients can also get their prescriptions through the in-app messaging option.

Organize & Track Health Patient Information in One Convenient Place

The next important feature is to allow users to organize and track health information of themselves. For patients who have long treatment like heart disease, assembling medical health records is essential for them. So, such a feature comes from there. However, first, it looks like a basic feature, but it actually plays an important role in the lives of patients.

Image Credits: mdlive
Source: Google Play

By providing such an online digital health platform where they can organize and track their patient records, you can simplify their lives. If you have not yet included such features, then there's still time to include it.

Prescriptions Sent Automatically to Nearby Pharmacy

Another important feature, which can make your telemedicine application stand out is to make things seamless for every age group of users. Once the patient is done with a consultation with the doctor, then you can prescribe medicine to the nearby pharmacy and get it delivered to their places.

Image Credits: doctor on demand
Source: Google Play
4 Telemedicine App Features for Doctors
The doctor's App is for doctors to communicate with their patients. They can also organize their schedules and manage their virtual and walk-in appointments accordingly. Some of the common features based on Hippa comliant doctor's app are:
Accept/ Reject Appointment

The patients have an option to send an appointment request to healthcare providers like doctors and therapists. The telemedicine application for doctors must have a feature to either accept or reject such requests based on their schedule. They can also have a list of accepted and rejected appointments to keep track of history.

Video Calls

This feature is extremely important when you develop a telemedicine application. This feature of video calls is the same as the patient's app and is used to treat patients virtually. These virtual healthcare appointments make up the most essential part of the telemedicine platform. The doctors can communicate with their patients through video calls and collect information about the symptoms to assist them in their health issues.

In-app Chat

Another feature of the telemedicine app for healthcare providers or doctors and patients is in-app chat. Even if the patients and doctors are not available at the same time, they can still be in contact via chat or text messages. Such telemedicine apps are very popular in the United States because people are always available in real-time.

The doctor can give telehealth services to the patient even discuss brief medical history, review their tests & treatment plans, and resolve any queries regarding prescribed medicines without the patients having to visit the doctor.

Appointment Calendar

While developing a telemedicine app, another feature for the target audience of doctors and patients is the appointment calendar. A doctor can keep track of all the appointments whether daily, weekly, or monthly via telemedicine applications. It makes it easy for the doctor to manage their schedule.

If you are all set to develop a virtual medical app, make sure to embrace such features while developing a doctor appointment app.

As a digital healthcare organization, healthcare startups or healthcare providers, if you want to add these features or any other important features such as below into your telemedicine app solution, discuss it with an experienced full stack developer.

Appointment Reminders
Appointment Scheduling
Patient Queue Management
Online Billing
Online Payment Management
ePrescription
HIPAA-compliance
Technology Stack Used in Telemedicine App Development
| Component | Technology |
| --- | --- |
| User Interface (Frontend) | React Native, Flutter |
| Server-side (Backend) | Node.js, Django, Ruby on Rails |
| Data Storage | PostgreSQL, MongoDB |
| Cloud Storage | Amazon S3, Google Cloud Storage |
| Real-time Communication | WebRTC, Twilio |
| Video Conferencing | Zoom API, Google Meet API |
| User Authentication | OAuth, JWT |
| Push Notifications | Firebase Cloud Messaging (FCM), Apple Push Notification service (APNs) |
| Payment Processing | Stripe, PayPal API |
| Cloud Platform | AWS, Google Cloud Platform, Microsoft Azure |
| User Behavior Analytics | Google Analytics, Firebase Analytics |
| Continuous Integration/Continuous Deployment | Jenkins, GitHub Actions |
| Containerization | Docker |
| Orchestration | Kubernetes |
This tech stack provides a comprehensive set of technologies for developing a telemedicine app.
If you're wondering why telemedicine apps are so popular, take a look at the benefits.
Benefits of Telemedicine App Development
The following section includes the top benefits of telemedicine apps that you should know.
3 Benefits of Telemedicine App Development for Patients
Convenience

Who likes to wait in a queue? No one. Do patients and doctor's time always coincide? On-demand telemedicine app or telehealth apps make it very convenient for patients to get treatment at any time they want. Video call or in-app chat features keep the doctor and patient connected at all times. If the patient is worried about getting infected while going to the doctor, it is advisable to book a virtual appointment.

Further, the time for traveling to the clinic can also be saved, and the patient can do other tasks in the free time.

Quality of service

The telemedicine platform is also known for a better quality of service. Appointments are rarely delayed and the doctors can also give complete attention to one patient at a time. The patients won't have to stand in a queue or wait for their token number. Everything becomes streamlined with telemedicine solutions.

Saves cost

One of the most important factors that impact healthcare decisions is the cost of healthcare services. Though people have access to healthcare, most people would not go for a doctor's consultation because it can cost too much and they feel that they can't spend this much. Telemedicine app development or telehealth solution has made many of the telemedicine services directly on a mobile app and that makes it affordable to most people.

Moreover, patients also save money on commuting to the clinic if they have a virtual appointment. Weekly consultations can be heavy on the pocket but with a telemedicine app, the cost is reduced drastically.
3 Benefits of Telemedicine App Development for Doctors
Time management

Ask any doctor about work-life balance and they'll say they have almost none. Many appointments take longer time than expected and doctors can not turn away the patients next in line. It is a huge task to manage time for doctors. Telemedicine app development comes as a boon in such cases. With marked calendars and virtual appointments, they can choose to invest their time in the way they want.

Recordkeeping

This benefit is for the doctors as well as other healthcare professionals like nurses and office administrators. Record-keeping becomes completely digitized and automated. There is no need to look for patient data in different files as everything is stored at one central location. The doctors can manage patients' medical history, patient health data and prescription with just a click.

Patient management

From appointment to diagnosis to treatment and payment, every part of the patient management process can be handled just on the fingertips. The doctors can even manage the dosage of drugs and monitor health conditions if the telemedicine app has such advanced features.
Want to Develop a Telemedicine App?
Now, let's check out the top 5 telemedicine apps for health monitoring that are performing well in the market.
Top 5 Best Telemedicine Apps with Their Features
These best telemedicine apps are creating a buzz for the past few years.
Name Of The App
Features
Playstore Ratings and Reviews
App Link

MDLIVE

Services available 24/7
Medical, pediatric, psychiatric,and other healthcare services
Instant messaging

4.7
9.41K reviews



Talkspace

Find a therapist
In-app chatting
Schedule live sessions
Track your progress

4.1
5.26K reviews



Doctor On Demand

Live video sessions
See a doctor on-demand or schedule a session
Prescription delivery

4.8
59.5K reviews


Babylon

Services available 24/7
Schedule sessions
Prescription delivery

4.8
3.23K reviews


Dialogue

Secure live video sessions
Find doctors and nurses online
AI-driven chats for the initial conversation
In-app chat
Receive personalized care-plan

4
2.13T reviews


Want to Get a Free Quote for App Development?
Talk to our professional mobile app consultant to help you validate your app idea. Get a personalised free quote according to your requirement.
Scope of Telemedicine App Development
Healthcare is a trillion-dollar industry that is rising continuously. However, telemedicine software is also contributing to the healthcare sector. In 2017, the global telemedicine market generated $21.5 billion in revenue.
According to the report from P&S Intelligence, "The global market of telemedicine is projected to attain a size of $48.8 billion by 2023." In addition to this, tele-home is one of the expected faster-growing categories during the forecast period, with a CAGR of 17.1%.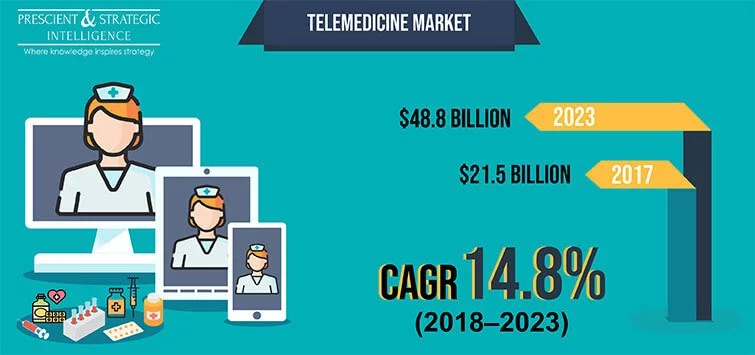 Source: p&s intelligence
Let us now check out some of the most commonly asked questions and their answers.
Frequently Asked Questions About Telemedicine Health App Development
What are the types of telemedicine or healthcare apps?
Different types of healthcare apps are as below:
Mental Health Apps
Apps to Monitor Chronic Conditions
On-demand Therapy App
Women's Health and Wellbeing Apps
Remote Patient Monitoring
Conclusion
So, if you are having an patient care app idea and want to provide a great patient care experience, then verify your idea with us as we're the best mobile app development company in the USA. And, we've already developed over 4400 mobile applications of varied categories like over 50 apps on healthcare solutions and over 60 on-demand solutions along with diverse features and functionalities.
Two of our telemedicine applications are Conduet and MedCall.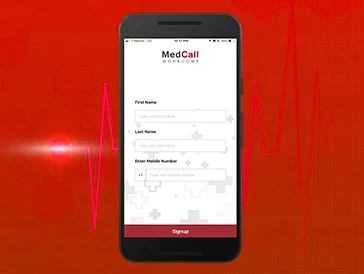 The web portal, doctor's and patient's app
Patients can send photos of injuries or other symptoms
Patients and doctors connect via text, or audio and video call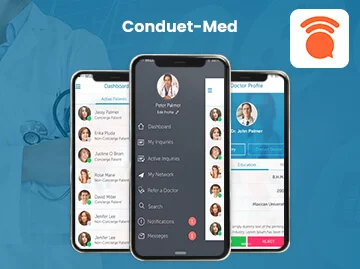 Doctor's and patient's app
Patients create inquiries and add symptoms
Option to connect via text, or audio and video call
In case, if you still have any confusion regarding how to make money with a patient care app idea like MDLive and want to develop telehealth app or want to streamline your health data then you can get in touch with us through our contact us form. One of our sales representatives will revert to you as soon as possible to convert your healthcare systems into reality. The consultation is absolutely free of cost.