Apple announced the arrival of iOS 16 a few months ago. Compared to the previous version, iOS 16 has a big change in the style of the screen interface. With the new lock screen, a user can change the fonts and wallpaper, and put widgets on the lock screen.
With multiple such features, iOS 16 has made a buzz in the community. In this blog, we look at some of these exciting new iOS features.
Well, we have something exciting too.
Would you like to get some new iOS app ideas based on these features?
From this blog, you will know the five simple ideas for iOS app development. However, we also want you to know how to find profitable app ideas.
So, we have created a PDF with the 3 easy steps that you can follow. Download the free guide below.
5 Unique Mobile App Development Ideas With Best iOS Features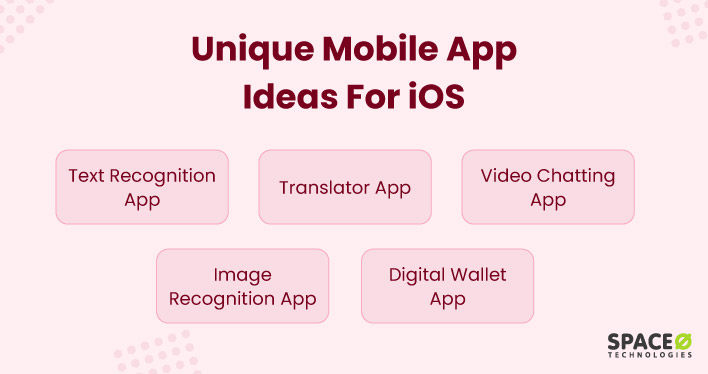 Using cutting-edge technology, Apple has introduced an operating system that can do it all.
With iOS, entrepreneurs and startups like yours have the opportunity to build innovative mobile apps that will benefit users.
You can build mobile apps for secure transactions with a single tap using Apple Wallet, or perform on-the-go translations. You can even utilize the update of the App Store to improve the discovery of your apps.
Being a leading iOS app development company, we realize the importance of a unique app idea. We have curated a list of the top 5 iPhone app development ideas using the latest iOS features.
Do You Want to Develop an iOS App?
Validate your idea with us. We are a leading mobile app development company in the USA since 2010 with experience in developing reliable and scalable iOS apps.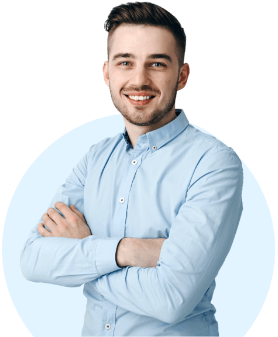 Text Recognition App

A text recognition app analyses an image and provides the words in the image in a text format.

Taking notes in schools and meetings has never been easy! Just take a photo of the whiteboard or the presentation and your Apple device will convert the image into text.

Using the improved text recognition feature in iOS, you can develop a highly performative text recognition mobile app. These apps are highly marketable with a wide user base ranging from students and teachers to secretaries and managers.

Although there are a large number of such apps on the Apple store, with the release of the latest iOS version, iPhones and iPads will be more capable of higher accuracy. By incorporating unique features as given below, you can make your mobile app stand out.

Different fonts including hand-written font
Support for recognizing Mathematical and scientific symbols
Support for multiple formats like .txt, .doc, .docx
Search, highlight, and editing enabled in the text docs

Translator App

With every new advancement in the technological field, new forms of connectivity are formed. In such a world, translator apps have become a necessity. They help bridge the differences between different regions.

Apple Translate adds a new Live Translate feature that allows users to translate text in any app. So you can write in any language on Notes, Social media platforms, text editing in photos and videos, and more.

The Live Translate feature of iOS is an opportunity for all businesses to develop and monetize on the translator app idea. Developers can use the inbuilt translating functionality in their app to build mobile applications for travelers, international companies, and students.

Unique features you can include in your Translation Mobile App –

Support for a large number of languages
Voice, text and camera translation,
Work offline when you don't have internet access.
Native language keyboards
Saving favorite words
Basic grammar and spelling checks
Suggestions of synonyms

Video Chat App

In these times of lockdowns, curfews, and social distancing, video calling apps are at an all-time high demand. With the new and improved FaceTime links, making calls is even simpler.

Developing Video Chat applications is a lucrative opportunity. Although there are many platforms available, there is space for innovation.

Using the new features introduced in FaceTime and the SharePlay app, you can develop a mobile app that lets friends and family chat for hours or binge a show together.

Users no longer need to download apps or multiple extensions for different media platforms like Netflix or Amazon Prime. Develop a Video Conferencing app that lets users share and sync their screens while being on video calls.

Some features and functionalities to incorporate in an iOS Video Chat app –

Live chatting
Emojis and GIF reactions
Fun live filters
Call Scheduling
Auto-generated captions
Screen and sound sharing (similar to Instagram calls)
Support for gaming calls

Image Recognition App

Another interesting iOS app idea that would be a profitable investment is an Image Recognition app. Searching files using photos, reconstructing images, and online shopping are only some of the uses of image recognition apps.

Image recognition apps are in high demand nowadays. These apps use technologies like machine learning and artificial intelligence to identify locations, texts, people, and other objects in an image.

Your app can be a custom-made app for a particular field. For instance, the Calorie Mama, allows users to count calories in a picture of food or Plant Snap, a plant identification app for zoologists and farmers.

It is essential that your app is unique to survive the competitive market. Some functionalities to include when developing an Image recognition app –

Photo organization in categories like food, scenery, location, time of the day etc
Allow adding customized tags to images to improve searching
Integration with popular online stores
Face recognition
Object and face recognition in videos
Offers web image search

Want to Create Your Own iOS Application?

Our iOS experts have successfully developed over 2800+ iOS apps using different technologies and integrated exclusive features.

Digital Wallets

When it comes to online payments, security is of utmost importance. Thankfully, Apple is very serious about safety and user privacy. Apple Pay is one of the most secure digital wallets to use.

You can develop a Digital Wallet app for iOS that complements Apple Wallet. Apart from adding debit cards and credit cards, your app can also support the usage of Apple Cash for instantly transferring funds.

An increasing number of people are moving to online transactions for safety and simplicity. Your app can help people manage their money, ensuring secure contactless payments.

Want to make your app stand out? You can implement some features like –

Support for various payment methods – debit cards, credit cards, cryptocurrency, bank transfer
Offer gift cards, discounts, and loyalty cards
Multiple platforms supported
Integration with third-party apps
Internal wallet
Scheduling payments feature
Easy-to-access history of transactions
If you want to learn more about developing iOS apps then read our guide on how to build an iOS app from scratch.
Top 11 New Features in iOS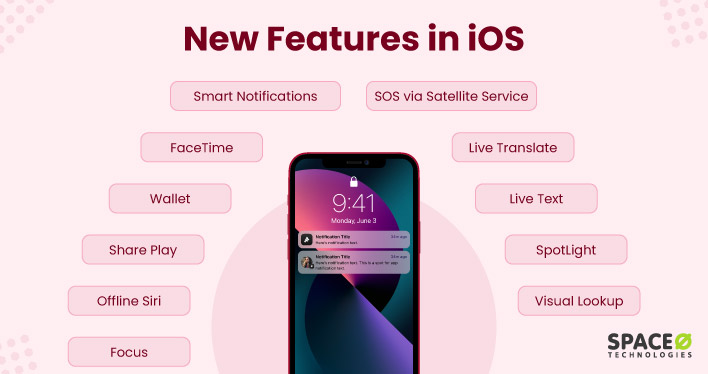 Want to know more about the new features of an iOS version?
We have curated a list of the top 11 features.
FaceTime

Users can now schedule FaceTime calls for a future date and time and share them with anyone using the app. Users of Android and Windows devices can also join your FaceTime calls using a web browser.

Wallet

Users will be able to unlock their house, garage doors, and even hotel rooms by adding the keys in the Wallet app. A lot of states in the USA will also support digital State ID and driver's license through Airport security.

SharePlay

Share your screens and watch movies, shows, or listen to music with friends using SharePlay!

Working across Apple TV, iPad, iPod, and Apple phones, you can use SharePlay with major streaming services like Netflix and Hulu.

Offline Siri

Setting an alarm? Ordering your regular pizza?

You can do it all with Siri- and without an internet connection!

Offline Siri will use on-device intelligence to fulfill basic requests. This means less power consumption and greater privacy.

Improved Notifications

With larger app icons and displaying contact photos, your notifications will become more accessible.

You can also set priority for apps (even contacts) and Apple will hide their notifications. You receive a notification summary at a time of your preference.

Focus

Focus is a new feature introduced in iOS latest version. With Focus, you can set 'dedicated modes', and create home screen pages with necessary apps. Other applications and notifications will remain hidden till you exit the mode.

Live Text

Live Text will detect and isolate the text for you from images. With a single click, you can perform different actions on the text like search, translate, add reminders, make a call ..etc.

SpotLight

With on-device speech recognition, Spotlight now supports intelligent searching using voice commands, textual query or images.

For example, when you search for a contact, you will receive in-depth results including recent conversations, shared photos, and important dates.

Live Translate

With Live Text and image recognition capabilities, Translate now allows users to simply translate texts from images, without typing or speaking. The translation is also implemented device-wide and can be used with all the default iOS apps.

Visual LookUp

With Visual LookUp, users can take actions for an image. You can get information about the image like its location, what the objects are, and their properties. Also, see your call and recent message history with the people in the image.

Emergency SOS via Satellite

iOS users will now be able to connect to a satellite and text, call, or share information with contacts in case of emergency. This feature is also beneficial if you want to develop an application for navigation or a weather forecast app.
Other features worth noting are –
Weather
Apple Maps
iCloud
Photos and Apple Music
Health App
Safari
Apple Tv
Develop a Feature-Rich iOS Application
Apple iOS has always been a pioneer in technology. With the release of the latest iOS version, users will continue to receive the best of what technology can offer today. There are many new features such as Live translate or 3D maps that bring exciting opportunities for developing state-of-the-art iOS applications.
We have presented some app development ideas that will be beneficial for entrepreneurs and startups. Wondering where to start? You can read our blog "I have an app idea now what?"
Want to validate your idea? Discuss your plans with our experts and formulate a business plan now with a free consultation session!