Key Takeaways

Conduct market research to ensure your app addresses users' needs. Consider patenting it to safeguard your intellectual property.
Select the most suitable revenue-generating method for your app to ensure sustainable income.
Create a minimum viable product to gather user feedback and execute a well-thought-out marketing strategy to increase visibility and drive user engagement.
Ideas are certainly one of the most powerful tools on the planet. When a great idea is backed up with seamless execution — wonderful things start to unfold. If you have an idea for an app, it's time to let it out.
With over 8.9 million apps already on the internet, mobile app development is at its peak.
Like many entrepreneurs, if you are thinking, 'Hey, I have an app idea. Now what?' then you're in the right place. Through this blog, we will share with you the right course of action that follows every successful app development idea. If that sounds exciting, stay with us.
What to Do With Your App Idea?
So you have an amazing idea for an app but don't know how to turn it into a tappable reality? Don't worry; you're not alone; who says – I have a great app idea now what?. Almost all successful app creators have gone through this dilemma before building their first app. In this post, we will lay down all the necessary steps for transforming your mobile app idea into a successful application that delivers value to its users. So buckle up! By the end of this post, you will be ready to monetize your amazing mobile app idea. Here we go.
Where to Start?
Every successful app solves a challenge for many. The question is, which problem is your app going to solve; and for whom? Creating an app from scratch isn't an easy job. It takes a lot of time, energy, and resources. The last thing you want is to end up with an app that only serves a handful of users.
That's why it's important to evaluate your idea thoroughly before investing in it. You can start with comprehensive market research. Think about how your app features will make its users' life easier. How many people actually need this kind of solution, and how badly do they need it?
Understanding what challenges your app will solve can help you save from falling into any pitfalls even before getting started. Once you've thoroughly evaluated your idea, the very next thing is to patent it.
Have an App Idea? Not Sure Where to Start?
Want to validate your app idea? Contact us today for a free consultation from an expert?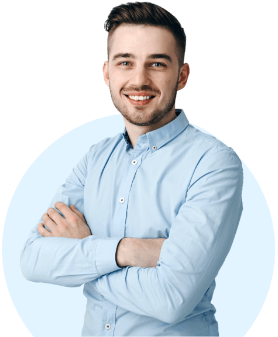 Conduct Market Research
Don't assume your app will be a success just because you have a great idea for an app. Conducting market research is essential to determine its potential for success.
Find out who your competitors are and observe their app features, reviews, monetization methods, downloads, and marketing strategies.
Learn about the demand for your app. You can use tools like Google Trends, App Annie, and Sensor Tower to determine the search volume, downloads, and revenue of similar apps.
Validate Your App Idea
Validating your app idea is certainly one of the most important steps in an app development process. There are several ways you can go about identifying the value proposition of your application. Let's look at three of them:
Define Your Target Audience

Who will use your app? Defining your ideal users can be a tough job. However, it's absolutely worth it. Put yourself in the shoes of your end users. Start thinking their way. Gather as much information as you can about your ideal users. It will help you design features tailored to their needs.

Determine Your App's Usability

How will your app help its users? How useful will your app be in their day to day life? How often will they need it? Try to live their day. It will help you maximize the usability of your app. At this stage, you can easily add/remove features based on your observations.

Interview Your Potential Users

Interviewing your prospects will not only help you validate your business idea but also contribute significantly to the later stage while you're actually developing the app. Gather users who'd be interested in using your app. You could find them on various social media networks like LinkedIn, Facebook, Twitter, or on forums like Quora, and Reddit. Try to spark a conversation, engage in existing threads — this way you will be able to draw your ideal prospects to you.
Protect Your App Idea
Thinking "I have an idea for an app" and hoping to make a successful app can prove harmful. Protecting your app idea is as important as creating it in the first place. After all, you have done all the hard work, be it the time spent in gathering ideas, or brainstorming the features, and finding the right resources to turn it all real. Even the slightest thought of losing that all can be nothing less than a nightmare. However, there are certain measures you can take to safeguard your app idea. Here are the three things you can do to protect your app idea:
Sign an NDA

One of the most common ways of protecting any intellectual property — be it an idea for an app or a business agenda — is a Non-disclosure agreement. In simple terms, an NDA is an agreement between you and your app developer. This means, under no circumstances, can your app developers disclose any information about your project to any third party.

In case the company developing your app breaks the contract, severe legal actions could be taken against them. Thus, before giving away your idea to a developer or an agency, make sure you sign a Non-disclosure agreement with clear terms and conditions.

Pick a Trustworthy Development Partner

If you have an app idea but no programming skills then choosing a reliable mobile app development company is as important as NDA. Make sure the partner you are working with is credible and trustworthy. Here are a few things you should consider before hiring a development team for your project.

Consult Their Clients — Look for client testimonials. Connect with a few clients via social media networks like LinkedIn. Consult them. Ask about their experience. This way, you will know whether a company is worth your bucks or not.
Find External Testimonials – Every company will flaunt their best client testimonials on the website. No one would ever put up a negative client testimonial on their site. But if you really want to see unbiased testimonials, you can do so on platforms like Clutch and GoodFirms. They will help you determine whether you should trust that company or not.
Examine Their Portfolio & Presence — Since when have they been into the business? What kind of clients do they work with? Again, don't solely rely on the information provided on their website. You should also check on other online forums like Reddit and Quora. See the discussions there. You can also ask a question publicly to get unbiased answers.

If you take care of the above aspects, it is most likely that you will end up being in the hands of a reliable technology partner.

Keep it Up to You Until It's Not Live

While you shouldn't discuss your idea with the stakeholders, it's okay to openly discuss it with friends, and other acquaintances, right? Wrong. As humans, we have this natural tendency to share ideas and insights with others. The more you discuss your idea, the more vulnerable it becomes to being stolen away.

Thus, it is always better to keep your idea up to you unless and until it's ready to be launched in the market. This way, you can save your idea from being leaked before it's launched.
Patent Your App Idea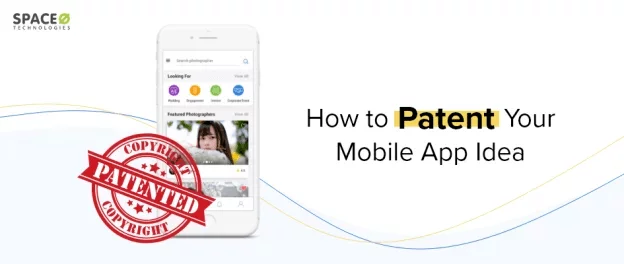 You can patent your unique mobile app idea. This will help you protect it from being used or sold by others. However, to qualify for patenting your app idea, you must meet the following requirements:
Your Idea Should be New & Unique

A prerequisite for patenting your app idea is that it should be 100% unique. This means your app idea shouldn't be transcripted, be it verbally or in any other format. In case your app idea already exists, you may not be able to patent it.

It Should be Useful

If your application idea cannot be materialized, you cannot patent it. Thus, for patenting your idea, you should know if it can be developed in the real-world.

It Must Be An Invention

Patents are usually for inventions. Because a mobile app idea is intangible, it can be patented. The only prerequisite is that your app should solve a problem/challenge.
Patenting your app idea will help you protect it from getting copied. Thus, before starting out, it is recommended that you check this guide on patent your app idea.
Choose the Right App Monetization Strategy
The best monetization method for your app depends on the kind of application you plan to build, its features, target audience, and competition. On the basis of these factors, choose a pricing model from free, paid, or freemium. Decide whether you are selling merchandise, digital products, or using advertising to generate revenue.
Create an MVP Version of an App
Once you have secured your app idea, it's time to create a Minimum Viable Product that can be tested on the market. It will help you validate all your assumptions with minimal investment. An MVP will also allow you to know more about your users. With the help of an MVP, you can determine which features can be added, improved, and removed to enhance your app experience.
You can also use an MVP to pitch your app idea to stakeholders and investors. This way, you can easily win their trust and can get the funding that you need for creating a full-fledged version of your app.
We have also written a detailed guide on creating an MVP version of your app idea.
Launch and Test
Once you have your app ready, it's time to make it accessible to your users. However, this doesn't indicate the end of the app development process. It actually never ends. Because if you're seeking to keep up with your users' expectations, you may need to constantly update your app with new features that are useful and exciting. When you're just starting out, you may consider taking feedback from your users. They can add significant value to your app.
Promote Your App
After you launch your app, you'll need to promote it in order to attract users and grow your user base.
Here are some ideas for promoting your app:
Use app store optimization to improve your app store listing by including relevant keywords, an eye-catching icon, and screenshots.
Use social media to promote downloads and positive reviews through regular posts, contests, and incentives.
Contact niche-specific influencers and ask them to promote your app to their followers.
To reach a larger audience, use paid advertising methods such as Facebook or Google ads.
Encourage user reviews by providing incentives or making the process simple and straightforward.
Track performance metrics like app downloads, app engagement ratio, and retention rates to adjust your promotion strategy.
Now that you know what to do with an app idea, it's time that we look through the steps to creating an app.
Steps to Create an App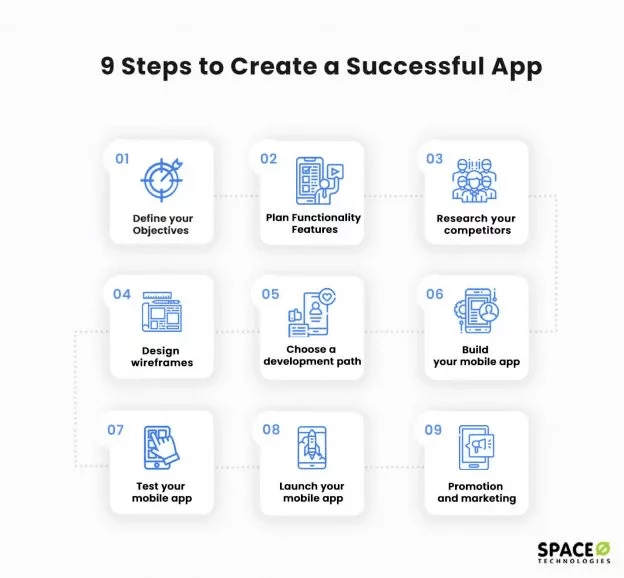 You're already half-way through your app idea. Now how to start your own app? To help you get started, we've compiled nine steps that every app development process may have in common. Let's go over them one by one.
Step 1: Define Your Goals – What is it that you want the app to achieve? You should list down your top 3 goals before getting started. It will help you plan your app development more effectively.
Step 2: Plan Functionality & Features – Once you're clear about what you want your app to achieve, it's time to plan your app's features and functionalities. Make a list of the most important features your app must-have.
Step 3: Competitor Analysis – Before starting the application development, it's important to understand your target market. Who are your competitors, how is their app, what features are they missing out on? This step will save you from several mistakes in the early stage.
Step 4: Designing Wireframes – Now that you're clear about your app idea, it'd be the perfect time to start building the app's wireframes.
Step 5: Choose a Development Path – Once you have the final wireframes by your side, it's time to decide which technology you'll be using for your app.
Step 6: Build Your Mobile App – It's action time. After deciding the development path, you're ready to start the actual work – coding.
Step 7: Test Your Mobile Application – Once your app is fully developed, testing it thoroughly is equally important. You don't want your end-users to experience bugs and laggy performance.
Step 8: Launch Your Mobile Application – After your mobile application passes the testing phase, it's ready to be launched and made publicly accessible. You may consider publishing it on platforms like Google Play Store or App Store.
Step 9: Promote Your Mobile Application – Marketing your app is as important as publishing it in the first place. You must continue putting in efforts to ensure your application reaches the right audience.
If you're looking for detailed steps for application development, here's our 9 steps to developing an app guide that will help you along the way.
Not Sure Where to Start?
Want to get a free consultation from an expert?
Frequently Asked Questions
How to develop an app idea?
The first step includes comprehensive research. Understand the target demographic market and user base. Look around. Are there any other similar apps available? If so, what features are missing in them? Ask a lot of questions. What problem will your app solve? What will be your business plan? This way, you will be able to come up with app ideas that will eventually turn into a billion-dollar enterprise.
How to sell your app idea?
A good idea can surely earn you a fortune. If you're seeking to sell your app idea, start with market research. Analyze your market and users. Once you have gathered enough knowledge about your market, it's time to create a solid plan for monetization and marketing strategy. Finally, when you have it all ready, you can search for investors, co-founders, or companies who'd be interested in buying your idea.
What to consider before starting an app business?
Creating an app from scratch is a huge decision. Here are a few things you should consider before starting app development:
Which platforms do you need that app for? (Google play store or Apple app store)
What are the purposes of your app?
What will be the total price of development? Will it yield significant ROI?
How strong is the mobile app market?
With over 2.9 million apps in the Google play store alone, the mobile app market is projected to reach $407.31 billion by 2026.
How can I legally protect an app idea?
There are several things you can do to protect your app idea legally. For instance, you can sign an NDA, patent your application, and trademark its name and logo.
Ready to Turn Your Idea into an App?
Transforming your good idea into a stable mobile application that delivers an exceptional user experience isn't an easy job. It takes a lot of careful considerations, meticulous calculations about the ROI, development cost, and features of the app.
If you still have a question like, "I have an app idea where do I start?", "I have an idea for an app now what?", or "I have an app idea what do I do next?", let us help you turn it into a clickable reality. Being one of the leading mobile app development agencies, we know what it takes to create an app that will turn users into its strongest advocates. Share with us your idea and our expert developers will be happy to guide you through the process.