The rise of on-demand delivery applications has changed the way people shop, eat and live their daily lives. On-demand apps like Uber, Doordash, Bolt, and Instacart are still growing. And the platform-to-consumer delivery segment revenue in the USA is expected to reach US $222 billion by 2023.
So, if you're looking to capitalize on this booming market, you might be wondering how to build an on-demand delivery app then you have come to the right place.
Being a leading on-demand app development company we know what tools and strategies are required to create such an app. In this post, we will walk you through the key steps involved in making a successful on-demand delivery app. From market research and feature planning to design and development, we will share with you insights shared by our app developers and consultants.
So let's get started with validating your app idea before marching forward into the app world.
How to Research and Validate Your On-demand Delivery App Idea
The reason behind the idea validation is your "on-demand delivery app for anything" should discover its target audience's needs and potential market more accurately, which saves time and money.
By adhering to these simple rules, you can get a rough vision of future app prospects and growth potential.
Verify the needs of the target audience

If you are planning to develop an on-demand delivery application, verify that your app satisfies the actual pain points of the users. Study the needs of your target audience and make them a core ingredient of your app offering.

You can use online surveys, share your idea as a query on social networking focus groups, use the forums. In short, users should clearly confirm they are ready to spend money on it. This will only happen when their real-time hustle is met by your app offerings.

Analyze your competition through app stores:

Keep a close eye on your competitors. App stores are a place that will give you new ideas, competitors' mistakes, customer feedback, ratings, and consistency of their technological evolution.

If you are going to develop an app for only one platform from iOS or Android, it does not mean that you will ignore the other. Spend some time on the other one as well; you never know which idea struck surfing in the app world.

Post your idea on Product Hunt:

Make a page of your mobile app idea to get feedback from an engaged community on Product Hunt. This website is known for its new technology products and is a great platform to assess the popularity of any startup idea.

To create a page, you will have to draft a product description, desktop icon, good visual content, make your personal account to answer all the queries and discussion questions.

MVP development:

Minimum Viable Product (MVP) is an app developed and launched with a limited set of functions. Track your audience's response to it and collect feedback from first users. Try to sell your app by developing a basic version on a minimal budget.

Nowadays, the main question is not how to do something but whether it should be done at all? Before investing big, make your ideal idea stronger by these validating steps.
Let's move on to our next stop.
Features that can leverage your idea and can make your app relatable.
Want to Create an On-Demand Delivery App?
Get a customized, secure and cost-effective on-demand solution tailored to your needs – talk to our consultant for free!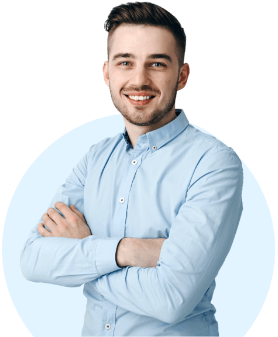 Important Features for the On-Demand Delivery App
In this outrageously growing on-demand economy, we have gathered some features for the on-demand driver's app, customer's app, and admin's web app in a generalized form that can be used in on-demand mobile apps development.

Customer's App Features
Registration- A simple and easy registration using a social media account or an email can easily help users manage their accounts. The phone number-based registration is a good option for an on-demand delivery courier app or delivery alcohol app. This can also maintain business data for on-demand delivery companies.
Real-time tracking- The GPS tracking solution feature builds trust among the users for the on-demand delivery app. This allows users to track the status of their orders and ensures fast and reliable service.
Payment gateway integration- This feature is a great convenience to the users of the on-demand delivery app. They can pay on the spot and can get an instant receipt for it. The payment gateway integration needs to be safe, reliable, and fast like PayPal & Stripe, so your users get various quick payment options. You should also consider offering multiple payment options, including COD, eWallets, net banking.
Reviews- The review and ratings are actual feedback on which an on-demand delivery service provider has to give more effort. Now, the users can share their on-demand delivery service experience and can rate the app as per the overall functionality of the app. It is sought of a report card for the entrepreneur.
Push notifications- The most important feature of an Uber for delivery is "push notifications". The push notifications spread awareness about promotional offers, the launching of new services, and the like alerts. It is a constant brand recall for users and smart feature utilization for on-demand delivery app startups.
Driver's Feature
Accept & reject requests- The drivers are the core resource when it comes to the delivery service app. Their service counts in the business goodwill. Thus, it is apt to give them authority to accept/reject requests within a given time period.
Service details- The app provides delivery drivers with customer contact, performance, service histories, earnings, and related statistics on their dashboards to make the delivery process easier.
Optional Availability- The service provider can choose their availability. They can get available to offer their on-demand delivery service at their own will. Thus, they earn as per their availability.
Earnings tracker The earnings tracker helps the driver in maintaining his finances and can plan his working day accordingly. A service provider can also integrate commission earnings as a sub-feature into the app for extra income.
Admin Features
Efficient user management- The admin can handle all the customer activity, right from payments, discounts, or any online query. Thus, it allows easy access to the administration, which can help maintain the company's goodwill.
Manual or automatic algorithm- The last-mile delivery software must have an efficient "matching algorithm." The automatic algorithm matches a suitable driver as per the customer's requests. The manual algorithm needs an admin who can analyze and select a suitable driver for a particular request sent by the customer.
Manage driver's ledger- The admin can manage commissions, incentives, earnings, and penalties. This track record feature makes smooth profit sharing, which results in efficient service and customer satisfaction.
Real-time analytics- Real-time analytics helps admin to view the insights of app-based services and their usage among the users. A company can easily make out the loopholes, as the analytics can show the exact area that needs to be improved.
These are some of the main features which an on-demand delivery app should necessarily integrate for effective functionality.
But the question is how to be sure that the integrated features will work for you and the users? Next up is the answer to it.
How to Identify the Features to Integrate into Your Application
Every on-demand delivery app has a specific purpose that it serves to the targeted niche. There are some questions that you should ask yourself while planning the features of an on-demand delivery solution.
Will these features make the user's life easy?
Are the features satisfying the main aim of the users of the app?
Will my application take more loading time if I integrate this particular feature?
Are these features in my budget?
Are the features matching the user perspective?
Put yourself into a consumer's shoes and meet his daily struggling points. Integrate those features which are easy to remember and solve their purpose in minimal taps. No one wants a cluttered and confusing navigation app.
We have curated 3 steps for you as "check-points" during your feature integration process.
1. Prepare a checklist- Jot down your ideas related to features and their functionalities. Approach an experienced mobile app and software development company and cross-verify your ideas.
This will eliminate the unnecessary ones.
2. Budget Planning- After the elimination, you will have important features to integrate into the app. Run a budget analysis to know whether it is a viable option or not.
If it sets in your budget, commence for integration, or you can search for alternative options to fit in your app's budget.
3. User acceptance test- Through this test, you will come to know the actual difficulties faced by the users while using your app.
Give your users a chance to interact with the app for a short period and take their feedback. This can actually improve the workings of your application and its features.
We are sure that if you follow these steps thoroughly, you will never invest in a wrong set of features that results in unsuccessful development. After evaluating the features that you want to integrate, you might have a question about its cost. Right?
Not to worry. We are here at your rescue.
How to Get Done With the Technical Part
After feature identification, you will have to decide on one or more platforms on which your application will work. Normally apps are deployed on both platforms to obtain wider options.
"Survival of the fittest." The saying fits in well when it comes to the competitive app world. Technical partners like us, who have a creative development team of over 200 iOS app developers and Android app developers, can create immense delivery business opportunities for you.
We have been in this app world for 11 years now and are striving to cross boundaries with more on-demand delivery apps. You have to just be clear about the features of your on-demand delivery app solution that you want to build.
Remaining all technicalities is the job of a mobile app development company.
How Much Does it Cost to Develop an On-Demand Delivery App?
The development cost is majorly based on which platform you are opting for and the hourly charges of the development process. For more clear ideas, we have prepared a formula that will give you a rough estimation for your app.
Suppose that the mobile app development company is charging $40 per hour.
Apply this simple formula.
Estimated Development Hours * Developer's Hourly Cost = Total Mobile App Development Cost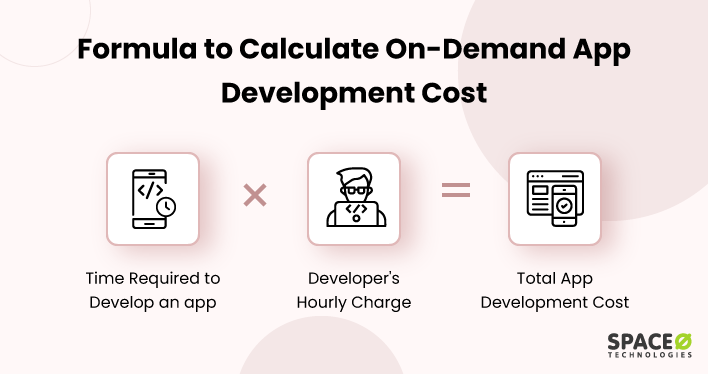 The basic version of the on-demand delivery app costs around $6000. Of course, if you add extra functions and features, the price changes according to it. Here's the complete breakdown.
Deliverables
Basic Features
Estimated Hours (iOS/Android)
User's Application
(iOS/Android)
1. Registration/ Login
15 Hrs
2. Push Notification
6 Hrs
3. Real-Time Tracking
18 Hrs
4. Payment Gateway Integration
10 Hrs
5. Search Filtration
8 Hrs
6. Delivery/ Pickup
20 Hrs
Subtotal
77 Hrs
Driver's Application
(iOS/Android)
1. Accept-Reject
10 Hrs
2. Earning Tracker
18 Hrs
3. Availability (Online/Offline)
6 Hrs
Subtotal
34 Hrs
Admin Web Services
1. Algorithm (Manual/Automatic)
40 Hrs
2. User Management
20 Hrs
3. Driver's Ledger
30 Hrs
4. Analytics
60 Hrs
Subtotal
150 Hrs
We hope that you are able to calculate and decide on the on-demand delivery app development cost of your delivery platform.
Now, moving ahead, let's have a look at the different businesses that require on-demand delivery apps to flourish in the market.
Which Businesses Need an On-Demand Delivery App?
Courier Service

Uber for a courier can help in peer-to-peer delivery service. It can help people to courier stuff from one location to another.

It saves a lot of time and effort. Thus, a mobile delivery app like Postmates can bring convenience to the users. Courier apps can be made for laundry delivery services (Rinse), beer delivery (DoorDash), grocery delivery (GrubHub).

Transport and Logistics Service

The ever-evolving transport industry has an immense opportunity for Uber alternatives. Therefore, developing efficient transport plans has become essential. Even transport apps such as Uber, Lyft, Hailo, Bla Bla Car have made their success marks by providing convenience at an affordable cost.

With the population explosion, the taxi and truck service segment is going to expand. Thus, you can go for developing Uber for the trucking or Uber clone app.

Food Delivery Service

Food delivery apps like Zomato or UberEats have changed the food delivery service segment. Online food delivery is encouraged by users, as after a long day at work, everyone likes ready-to-eat food.

Thus, the food segment is active and provides on-demand delivery app solutions. It has a lot of opportunities in the food industry.

Moving and Furniture Delivery Service

The shifting business can also use on-demand delivery apps. It can be the best delivery tracking app for users. The company can also easily manage its fleet management solutions to avail effective business and efficient task completion like Lugg or Dolly.

Healthcare Service

Nowadays, there are medicine delivery apps and healthcare apps that allow professional health care service at home. Users can track in real-time their ordered medicines or doctor's commute time.

Plant and Flower Delivery Services

Plant delivery startups and florists can use on-demand delivery apps to cater to their clients even on a last-minute notice. This will help clients to search for the products they want and pay online without having to make any physical contact.

If you are serious about creating an on-demand delivery app, you should consider these industry segments as they are the most profitable and successful to date.

Grocery Delivery Services

In an era where everyone is busy in their lives, often, people do not like to step out to the grocery store to shop for groceries. It involves spending a lot of time collecting the groceries and waiting in a long queue for the billing.

Source: Statista

Even if you look at the statistics, you will find that by 2022, 30.4 million consumers will use grocery apps in the USA. Therefore, you can use this opportunity to grow your business for grocery delivery services.
Now, let's check out how do on-demand delivery apps make money, which will help you in your revenue-generating model.
How to Monetize Your On-demand Delivery App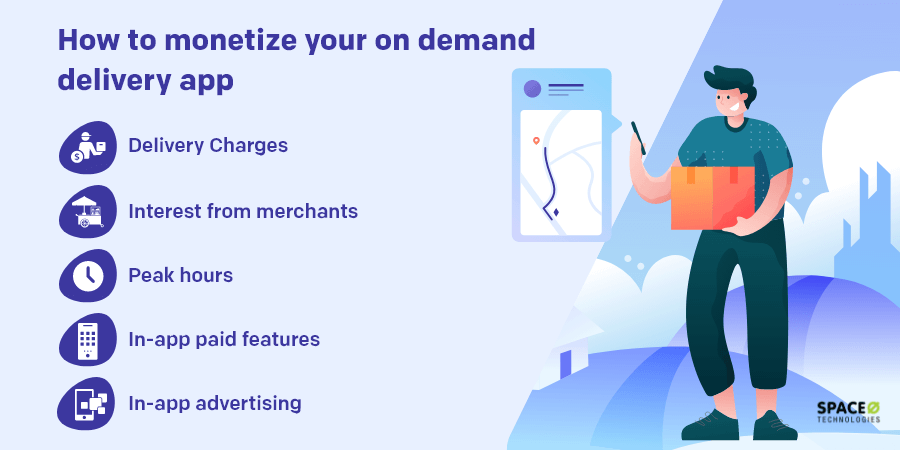 Here are some of the monetization ways for your on-demand delivery app solutions.
Delivery Charges
No restaurant wants to keep its users waiting long for food. Your delivery management app can be their logistics partner and avail revenue from the delivery fee.
Now, the fees can be kept hidden inclusive in the item, or you can go for a flat delivery fee charge. Such on-demand delivery apps can provide benefits to your on-demand delivery companies by delivering medicines, groceries, or food.
For instance, Postmates get more than 90% of the profits from delivery charges. They also have special discounts like $3 from $5 to engage more audience on their online platform.
Interest from merchants
You will tie up with a bunch of merchants for your home on-demand delivery application. Being their potential partners, you can convince restaurants to work on a percentage basis.
Your on-demand delivery service is adding up to their company's revenue, thus from the total bill certain percentage can become your source of income.
Peak hours
This monetization approach lets you play around with the delivery application. You can easily limit the menus and locations that can raise the prices for peak hours.
For instance, UberEats works with this food delivery business model for revenue generation. The users have to purchase at the given prices as they cannot bargain nor are willing to visit the pick-up place.
Remember, change the prices when there is the maximum demand in the market on your portal.
In-app paid features
Now, there are freemium models or paid features in the application that can be directly purchased by the users to avail of special benefits.
Those benefits can be free delivery services, combo packs, free servicing options, whatever is profitable to your business. Study the price structure to make it relevant for both parties.
In-app advertising
Apps like Seamless and Zomato have successfully generated revenue from the in-app advertising delivery application solutions. You, as an on-demand delivery app builder, can lure your merchants into marketing tactics.
Advertising is the pioneer of marketing, and an in-app ad will give them more exposure compared to their other competitors on the app.
They can be the first ones to address their targeted niche. Show them other benefits on how on-demand apps can change the face of business.
Want to Create an On-Demand Delivery App?
Get your free consultation now.
Now let's dive into the current delivery service apps that are booming in the on-demand app stream.
Which Are the Best On-Demand Delivery Apps Currently?
Apps
Features
App Link
Uber

Book rides 24/7
Track rides in real-time
Share ride details with friends and family
In-app payment



Drizly

Order alcohol anytime
Compare prices in different stores
In-app payment
Scan credit card to save



Postmates

Order food, groceries, alcohol, almost anything
Track order in real-time
Accepts all major cards
Subscription available



Soothe

Book or rebook a therapy
Choose from a range of massages
Book massage at home or at the workplace
Personalize each session



Wag!

Book a walker any time
Track walks using GPS
Receive live pee/poop notifications
Receive detailed report card



Uber

This ride-sharing economy has disrupted the transportation industry as much as Steve Jobs for the IT sector. An app like Uber has given a new approach to the logistics service and thus is a convenient form of commute for U.S. residents and tourists.

Source: Uber

Uber technologies also launched a food delivery app called UberEats for food delivery business which lets customers order food from nearby restaurants at competitive rates.

Pros
Cons

Variety of rides available
Offers to pool with other riders
24/7 available rides

Safety issues for riders and drivers
App freezes frequently
Surge pricing

Drizly

On-demand apps have opened doors for all kinds of "delivery at your doorstep" genres. The alcohol delivery app, Drizly, is the most popular application for any kind of booze order. Their Uber alcohol delivery completes orders from 1 to 1000s liquor bottles at a time.

Source: Drizly

Pros
Cons

Large collection of alcoholic beverages
Good customer support
Secure payments

High charges
Inventory issues
Credit acceptance issues

Postmates

This on-demand delivery application was firstly created with the idea of delivering different kinds of goods.

Source: Postmates

Eventually, as they saw the growing demand for the food delivery business, they switched to food delivery and have become an unbeatable on-demand food delivery app of the time.

Pros
Cons

Deliver nearly anything
Provides fast delivery
24/7 customer service

Not user friendly
Buggy app
Subscription-based

Soothe

An on-demand massage app, Soothe provides the right quality of relaxation at home, office, or hotel. Soothe massage has certified and licensed therapists.

Source: Soothe

The convenience of this platform is its policy of anywhere, any day, spa availability. The users check availability and real-time tracking of the therapist arriving at the location.

Pros
Cons

Experienced massage therapists
Quick booking
Alternate booking in case of cancellations

Limited area of service
Booking is not available sometimes
Expensive rates

Wag!

The dog walking app connects to perfect walkers and allows scheduling dog walks and daily appointments with all insured walkers. Payments are made automatically through online transactions.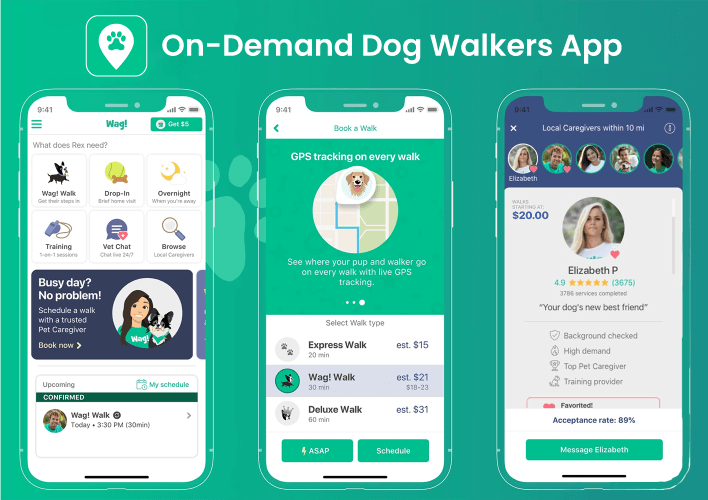 Source: Wag
Pros
Cons

Trained dog walkers
Easy booking
Online payment available

Issues in payment
Issues in customer support
Android application is buggy
Frequently Asked Questions
How skilled are your on-demand delivery app developers?
Our skilled team of developers has experience in developing over 40 on-demand applications. In fact, these apps have been covered by top websites like TechCrunch, BBC News, and Huffington Post. So, our developers have special expertise in developing on-demand applications for multiple categories.
Which are the best on-demand applications developed by you?
A few of our best on-demand applications are:
You can check out our portfolio for more.
Will you submit my on-demand application on the App Store and Play Store?
Yes, we will submit your application on the App Store and Play Store. We are well versed in these processes and will provide you with appropriate guidance throughout the process. We promise to ensure that the on-demand delivery appl reaches the App Store and Play Store in the shortest time possible.
Want to Make Your Own Delivery App for Your Business?
Now, after going through the on-demand delivery app business guide, we assume that you know how to make an on-demand app and are ready to launch. A mere idea is not what makes the on-demand delivery app solution successful; constant improvisation with current technological trends will let you stay a long time in this hyper-competitive market.
So, cross-verify your on-demand delivery app ideas with us as we are one of the leading mobile app development companies based in India, Canada, and the USA. We have already developed over 40 on-demand apps for different categories.
Have a look at Glovo, Ninja Delivery, and Lacy delivery apps to have a clear idea. For a more versatile look at our work, you can visit the "our work" section on our website.
In any case, if you have any queries related to on-demand delivery app development, development timeline of on-demand delivery apps, delivery app source code, on-demand delivery app design, get in touch with us through our contact us form.
One of our sales representatives will guide you through it. He will not only clear your doubts or queries but also help you to understand the development process. The consultation won't cost you any money.