This data might change your perception. The route optimization software market is expected to speed up by 11.4% CAGR during the forecast period (2018-2023) and will reach USD 5.07 billion by 2023. This data clearly shows that people have started to understand the importance of optimizing routes.
If you are handling an online delivery services business, then to grow your business, you must need route optimization software.
If you are in a hurry and want to pick the best route optimization software, then here are our quick recommendations for you:
Upper Route Planner

5.0
Add up to 500 stops for a single delivery route planning with a single click
Manage multiple routes to multiple drivers
Use import with excel feature to upload multiple routes in a single shot
Get the shortest route identified by the latest route optimization algorithms
Maintain signature, photos, notes throughout the delivery to avoid miscommunication
Make data-driven decisions by using easy-to-understand analytics features
WorkWave Route
Manager

4.3
Get access to driver's locations with real-time fleet visibility
Set rules and guidelines for your drivers for a better route planning experience
Provide real-time updates of the delivery to the customers
Pull data-driven reports quickly to make better business decisions
Mobile app for the drivers to see their planned routes and any updates
Team
RoadWarrior

4.5
Enter stops, create routes, or upload locations from spreadsheets
Assign routes to streamline the process for everyone
Monitor the progress of your business from a single dashboard
Drivers customize routes with preferences to increase the number of stops
Here are the top benefits of using a route optimization software like Upper Route Planner:
To ensure the drivers spend less time on the road
To reduce fuel costs and other vehicle maintenance charges
To increase the number of stops in a day
To save route planning time for multiple locations
There are around 182 route optimization software on the Capterra listing itself. So which one to select? Which one fits best for your business? That's confusing.
To make it easier, we have listed the top route planning solutions for you to choose.
We have filtered the best route optimization software on the basis of their features, ratings, and popularity.
Let's get started.
Introduction
Do you manage a field sales team, handle a fleet of delivery vehicles (package delivery, goods delivery, or food delivery service), or manage logistics for a company to collect and deliver items door to door? Are you in any way concerned about optimizing the transport of your business? Route planning is a sure-shot way of increasing the operational efficiency of your business.
The right and most efficient route planner with multiple stops or management software reduces the drive-time and increases productivity to a great extent. This is why it is becoming popular at a global level. According to Allied Market Research, the global delivery route optimization software market was valued at $4,325.40 million in 2020 and is projected to reach $16.3 Billion by 2030, growing at a CAGR of 14.2% from 2021 to 2030.
Now let's understand what exactly route optimization is and why there is a need for route optimization software for a delivery service business.
What is Route Optimization?
Route optimization is the process of determining the most efficient route for a set of locations. The process aims to minimize factors like travel time and cost while maximizing efficiency and service quality.
Route optimization solution is commonly used in logistics, transportation, and delivery services to enhance operational efficiency and reduce operational costs. Manually crunching the numbers is error-prone and can be counter-productive by taking too much time.
On the other hand, the software utilizes the power of digital technology, historical traffic data, weather conditions, and scenario modeling which results in better-planned routes. This allows you, your drivers, or other team members to identify the fastest and most economical route to an end destination even with multiple stop-points in between, finishing work orders on time.
We have mentioned essential route optimization factors below:
The route's number of turns for intersections
Turns to the left (crossing the line of traffic)
To deploy the best or nearest driver to the route
For the current time of day, there is traffic congestion.
The best approach (access) to a route halt
Now, we will discuss the top route optimization software along with its features. Let's check all the top 8 software of 2023 for optimizing routes.
Top 8 Route Optimization Software In 2023
Before moving ahead, please know that we have compared all the 8 software based on their Capterra ratings and features.
Logo
Features
Rating
Website

Best Route Optimization Software with Multiple Routes

Upper Route Planner

Multi-stop route planning for multiple drivers
One-click driver dispatch
Import addresses using Excel
Reports & Analytics


5.0
DynoRoute

Efficient Route Optimization
Advanced Algorithm
Seamless Integration with Navigation Apps
Flexible Pay-as-You-Go Pricing


4.8
Track-POD

Delivery Management
Proof of Delivery
Real Time Tracking on the Map
Instant Notification


4.6
Zeo Route Planner

Bulk Upload stops through excel
Live Location tracking
Reports and mile tracking
Custom messaging to customers


4.8
TourSolver

Mileage tracking
Routing
Dispatching
Employee management


4.6
WorkWave Route Manager

Manage schedules
Capture proof of delivery
Track locations via GPS
Driver mobile app


4.3
MyRouteOnline

Turn-by-turn driving directions
Export your routes to excel
Save and reload routes online
Print a large map


4.5
Team RoadWarrior

Live-driver tracking
Dispatch management
Territory management
Performance metrics


4.5
We have compared the top 8 route optimization software. But now we will discuss all the software in detail. It will help you know which software is highly profitable for your delivery service business. So let's get started to find.
Upper Route Planner

With an average 4.4 stars rating and 1.2K reviews on the Apple App Store, Upper Route Planner tops our list for being the best route optimization software. Check the following video to know how Upper Route Planner is a great help for a delivery service business.

Now, take a quick glance at the following image to know the top benefits of using the Upper Route Planner app.

Upper Route Planner

A Simple-to-use route planner that every one is talking about.

Save up to 95% of planning time
Save up to 40% of time on the road
Plan 500 stops at once

No credit card details required

You might be interested to know why we recommended Upper Route Planner. If so, then check this user rating that states how Upper Route Planner has been a great help. Like this, Upper has been a constant support for many clients.

Upper Route Planner is an intuitive route planning and optimization software with a clean and easy-to-use interface. It is designed using a human-centric design approach which aims at making route planning easier at each step of the process. It offers services to more than 10 industries, including food delivery, pharmacy delivery, courier delivery, retail delivery.

Also, if you are managing your HVAC business, consider choosing the best HVAC software. As it will help you to create detailed work orders and optimize scheduling.

Upper Route Planner is a web and mobile-based (Android and iPhone) solution.

Upper Route Planner aims to reduce time and costs incurred to fulfill delivery tasks by providing the most optimized route. Users can create multiple routes for multiple drivers simultaneously.

Some of the key features of the Upper Route Planner app are:

Import up to 500 addresses using Excel
Optimize routes to save up to 40% fuel costs
One-click driver dispatch
Set advanced parameters like time windows, driver breaks, and priorities
Generate proof of delivery, reports, and analytics
Easy to use, upload, optimize, dispatch routes in bulk
Schedule routes for months in advance
Sync across various devices – Mac, PC, Android, and iOS devices

Pros
Cons

Create time and cost-efficient routes
Mobile app for drivers to create routes on-the-fly
Allows you to create multiple routes for multiple drivers simultaneously
The human-centric design makes the app more intuitive
Proof of delivery, reports, and analytics
7-day free trial

Unable to add constraints on loads
No voice navigation available

DynoRoute

DynoRoute is a route optimization app that aims at optimizing delivery routes to save time and fuel. This app transforms the delivery experience by efficiently optimizing routes based on various factors such as distance, time, and constraints. The app has features that allow for the easy addition and customization of multiple stops along the delivery route. With the aim to save time and fuel, it provides a unique pay-as-you-go credit points system, ensuring users only pay for what they need.

Image Source: DynoRoute

DynoRoute seamlessly integrates with popular navigation apps like Apple Maps, making navigation straightforward. Moreover, DynoRoute provides comprehensive route reports in user-friendly formats such as CSV and XLS, aiding in the analysis, sharing, and tracking of deliveries. Customizable settings, dedicated support, and the advanced algorithm organize stops optimally, further enhancing the user experience, and making the app a comprehensive tool for individuals or businesses involved in delivery services.

Now, let's check the pros and cons of using DynoRoute:

Pros
Cons

The app's interface is designed to be user-friendly, catering to both tech-savvy and not-so-tech-savvy users.
Provides detailed route reports in user-friendly formats, aiding in analysis and tracking.
Users have access to dedicated support for resolving any issues or concerns.
The unique pay-as-you-go credit points system allows users to pay only for what they need, potentially saving money.
Users can tailor the app settings to their preferences, enhancing the user experience.

Some users might prefer a one-time payment or subscription model, finding the pay-as-you-go system not to their liking.
There's a noticeable lack of reviews which might indicate that the app is either new or not very popular, making it hard to gauge user satisfaction and reliability.

Track-POD

Track-POD is a ready-to-use route planning software with advanced Proof of Delivery features. It uses a proprietary route optimization algorithm built to optimize thousands of pickup and collection stops at once. All features in Track-POD come out of the box, which makes it easy to implement regardless of your business size.

Image Source: Track-POD

You can choose to optimize routes according to one of the three strategies: Time, Distance, or Expense. Track-POD also allows you to select which vehicle type you'd like to optimize for, and even lets you specify route rates for predictive analytics. In addition to robust route optimization features, you get a versatile delivery driver app for Android and iOS. From barcode scanning and safety checklists to cash on delivery (COD) and custom proof of delivery template – Track-POD gives you all the tools to succeed.

Now, let's check the pros and cons of using Track-POD:

Pros
Cons

Map-based route planning
Bulk edit routes and orders
Industrial-grade barcode scanning
Proof of delivery with photos, e-signatures, or PIN code
24 months of route analytics

Standard plan doesn't cover advanced route optimization
No live traffic data available

Zeo Route Planner

For businesses and individuals seeking a hassle-free way to enhance their fleet management and route planning, Zeo Route Planner is the answer. This user-friendly tool is like having a smart assistant for managing deliveries and routes. It effortlessly selects the shortest route saving time and money, ensuring your team takes the best routes for deliveries. With live location tracking for both- the manager and the customer, stay informed at all points.

Zeo Route Planner doesn't just save time but also cuts down on fuel costs, contributing to cost-effectiveness. Its mobile application provided to drivers seamlessly integrates with Google Maps, Waze, Apple Maps, Tom Tom Go to provide the drivers with the top navigation facilities to complete the route.

Image Source: zeo route planner

You can share live location with a customised message directly to customers and keep them in loop for their delivery. Zeo route planner provides an option to collect proof of delivery with an image, signature or note, keep a track of all your deliveries and their progress through a bird eyed view of all the routes.

It also provides the option to download reports of all the routes run, their delivery status and a detailed analysis to further improve operational efficiency. Businesses appreciate its simplicity – from easily planning routes to keeping customers satisfied. Zeo Route Planner is the go-to choice for businesses that want efficient, stress-free route optimization, making daily operations smoother and more cost-effective.

Pros
Cons

Quickly create routes with bulk upload option (through excel)
Easily share driver's live location with customers to track deliveries
Seamless integration with Zeo's driver app that can be used for navigation and order fulfilment by drivers
Get bird eye view of all drivers and their route progress live
Route Optimization API is also available along with technical support
Cost effective seat based subscription plans to suit specific business needs

No live traffic data available
Detailed vehicle specification options are limited

TourSolver

TourSolver is a cloud-based fleet management solution from the Geo concept. This fleet route planning software helps delivery businesses manage and optimize routes for supply chain deliveries, callouts, and collections. Mileage tracking, routing, dispatching, and employee management are among the key features of this 'multi-stop route planner'.

Image Source: TourSolver

This affordable route planner is designed for businesses of all sizes, small, mid, or large. TourSolver has built-in tools to handle client preferences, terminology, vehicle profiles, and more and allows users to meet enterprise needs through them. It enables organizations to plan a route for the vehicles and incorporate configurations according to delivery routes and descriptions. The most unique thing is that the route planning software comes with a simulator, which allows firms to assess time, mileage, and cost improvements resulting from optimized routes.

Not only this, but TourSolver also lets enterprises export agent itineraries and schedules in the form of Excel, iCalendar, and PDF and share them with team members via emails. In order to remotely manage business activities, it also offers a mobile application for Android devices. This route management software is available on a monthly subscription and support is provided by documentation and other online measures.

Pros
Cons

Optimize the route plan in an immediate and easy-to-use way
Saving in terms of logistic costs and reducing mileage
Large range of functionalities

Maybe a bit hard to configure
Only feasible for large organizations
Costly subscription

WorkWave Route Manager

WorkWave Route Manager is one of the best cloud-based route planning software that allows to plan routes for delivery persons and field service providers, track drivers, and stay connected in real-time. Route Manager enables any business to plan around service time windows and customer requests, manage schedules/routes as needed, confirm driver ETAs, and more.

Users can build optimized routes and utilize functionalities like drag-and-drop, best-fit for assigning last-minute orders, and alerts on violations. This strengthens customer service to another level.

Image Source: WorkWave Route Manager

To remotely manage the business, Route Manager allows delivery drivers to sync updates back to the office via the mobile app. They receive routes, capture proof of delivery at the last mile, and mark orders as rescheduled or skipped. In addition, planners can track delivery operators, delivery routes and maintain complete visibility when GPS tracking is activated.

The pricing of Route Manager starts from $49 per month per vehicle; they provide many features like route planning and optimization, time window planning, API and order management integration, driver app, and dispatch approved route plans.

Along with that, they offer compatible solutions for all business types. Also, if you have developed a mobile application for your business, you can integrate API to use WorkWave Route Manager as well.

Pros
Cons

API helps with easy integration
User-friendly ease of accessibility
Shows estimated delivery time
Able to put constraints on loads
Great technical support

The software has consistent clutches
Some locations take time to get added in mapping

MyRouteOnline

MyRouteOnline was founded in the United States of America in 2010. It has a paid subscription as well as has a version of this free routing software. You can also take a free trial before buying the paid version.

Image Source: MyRouteOnline

Using this route planning software, users can convert addresses from an Excel file into a route plan to be shared via mobile or GPS. They can create a single route or several routes at once with maximum duration, maximum stops like Google Maps, etc. Users may keep the original order, or if needed, they may also optimize their routes by the balances, fastest or shortest way. They have the option to use territories to balance their workload.

This best route mapping software provides you with a map like Google Maps with turn-by-turn driving directions. The route planning software also has features to export your routes to Excel, save and reload routes online, print a large map of your routes or territories.

Pros
Cons

Organizes multiple-stop trips
Aids navigation and gives clear directions
Supply effective route plans in the less time
User-friendly and quick response time

Reformatting is required in Excel sheets
No option to edit addresses

Team RoadWarrior

Team RoadWarrior fleet management system was founded in 2010, with headquarters in the United States. This routing software is for couriers, insurance agents, service providers, and small business owners.

Team RoadWarrior is the best multi-stop route planning and dispatching software for teams looking to optimize routes by cutting time on the road. They have a web app that the dispatchers access to create, optimize, and dispatch routes to delivery drivers.

Image Source: Team RoadWarrior

Moreover, dispatchers can then track progress and update delivery route plans throughout the day, as needed. They have route planning apps for drivers that they can download for free on Android and iOS mobile devices. They just need to log in with their team credentials and get it to transport planning without bulky hardware.

Pros
Cons

Available for iPhone, iPad, Android, Web, Cloud, and Saas platforms
Features like live-driver tracking, dispatch management, and territory management are availably
You can analyze performance metrics to make informed decisions

Cannot be installed on Mac or Windows
They do not provide in-person or webinar training to understand its working
Do not have the features of order-tracking and billing-invoice
Let's check out some of the top benefits of a route optimization platform for the delivery service business.
6 Benefits Of Using Route Planning Software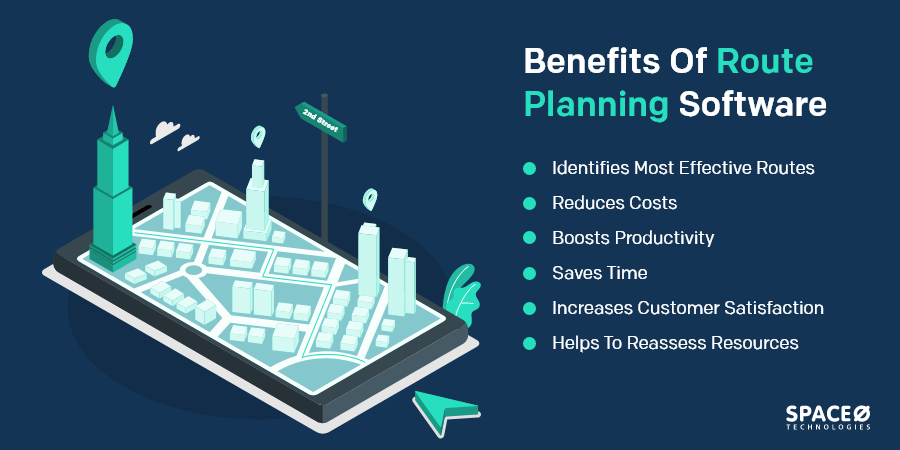 Identifies Most Effective Routes

The right software identifies the least time-consuming travel plans by considering external factors like traffic congestion, road construction, time of the day, and weather. It uses advanced algorithms to determine the most effective route for the user.

Reduces Costs

If used smartly, routing software helps reduce road time to a huge extent. This, in turn, cuts logistics costs exponentially. The optimized routs cut costs in two main ways:

Reducing Fuel Consumption: As the fleet spends less time on the road, fuel consumption is reported lower. Now, fuel costs account for more than 30% of overall expenses. This means lesser consumption leads to lesser charges.

Reducing Maintenance Costs: As vehicles do not spend too much time on the road, the normal wear and tear reduces. This leads to a reduction in maintenance costs.

Labor Reduction: The need for fewer vehicles means you will require fewer drivers. Additionally, your drives will complete the stops quicker, reducing labor costs.

Boosts Productivity

The software will do complex tasks for you. You won't be spending time planning routes. This saved time can be used to provide your services in a better way. Further, optimized routes mean more jobs can be fit in less time, getting more productive. This means they spend less time in the car and more time on valuable activities.

Saves Time

Route optimization leads to saving time and resources. It improves overall fleet productivity by enabling jobs to be completed more quickly and in a timely manner. Same-day deliveries become possible with the right use of technology.

Increases Customer Satisfaction

Well, if you are able to provide your services on-time, your customers are bound to be happier with you. Route planning software tools ensure that the right driver gets to the right customer at the right time without backtracking. Happy customers mean customer retention; there is no doubt in that.

Helps To Reassess Resources

It is quite possible that you're utilizing more resources than is actually required to make deliveries or provide services. Optimizing fleet operations helps reassess the number of vehicles in the fleet that is needed to do the job. You might get benefitted by reducing the number and, in turn, cutting back costs.

You now know why route optimization is important, but which route optimization app is good for your business? It's now time to check how to choose a route optimizer software.
How To Choose a Route Optimization Software
Here are a few factors that you must factor into in order to find the best route planning software.
Connectivity – It is advisable to select a routing software that can be accessed even remotely. Cloud-based applications, Android, iOS apps, can be accessed from anywhere. Desktop PC software cannot.
Integration – The purpose of the software is to save time. It would be pretty ironic if you have to upload Excel spreadsheets constantly. This is why look for a routing solution that can be integrated with your existing systems like CRM or SCM.
Flexibility – Multi-purpose route planning software cannot go wrong for you. If you want to manage territories, plan strategic movements, or perform business mapping, find a delivery logistics platform that provides more than one function.
Price – It must go with your budget. Sometimes, monthly subscribed plans can prove to be highly costly for you. You can just hire a leading mobile application development company that creates mobile apps and develops route management apps or on-demand delivery apps just for your own business if you want.
Data Points – Make sure that the software you choose takes various data points into consideration during delivery route planning. Multiple factors such as distance, weather, traffic conditions like in Google Maps, and historical data are extremely important.
Reviews – You should definitely check out the reviews of the business owners and their drivers as well. This will help you ensure that the software has a credible customer base.
Support – The issue with buying such software online is that their customer support team is not very helpful. They do not provide adequate support to the clients who do not live in the same city/ state/ or country as they are located. This is again why people sometimes go for custom software or use a mobile application that works anywhere.
Adaptability– It is essential for a route optimization tool to allow route planners and fleet managers to optimize their routes for various vehicles.
The ideal route planning software should allow users to visualize the optimized routes on a similar app with a different color combination. Hence, with a precise view of the routes, it will be easier for the route planners to reassign stops to increase overall efficiency.
Accuracy– A geocoder is included in almost all route optimization software on the market. Converting addresses into a specific location on a map with accurate information about latitude and longitude coordinates is a difficult task. The key to accurate geocoding is to understand confusing addresses and local contexts. Therefore, having an accurate database of different apartment locations and addresses will provide a significant advantage.
Historic Data Survey– It is essential for the route optimization program to look at past data at three different levels: riders, customers, and time of day. The past proof of a rider can tell you about his talents, competence, desired delivery time, and preferred working zone. A customer's previous data, on the other hand, can reveal his favorite time slots, availability, and any specific delivery instructions.
To find insight into the current traffic condition in a region and the working or closing hours of a specific facility, historical data will be useful.
Your route optimization program should be able to learn from previous routes and plan them accordingly.
Frequently Asked Questions
What is the best way to route multiple destinations?
The best way to plan a journey with multiple destinations or stoppage points is by using a route management app or software. All you need to do is add the addresses in the respective fields, and the route optimization algorithm will do its work. It will consider factors like traffic, road blockage, weather, etc., and provide the perfect route to follow.
Which are the best route planner apps?
A few of the best route planner apps are as follows:
Upper Route Planner
Route4me
Multi-Stop Route Planner
Roadtrippers
Waze
Google Maps
Mapquest
Can I create my own route on the route management app?
This depends on the type of app you are using. On Google Maps, you can choose to create your own way. However, it can be a little difficult to do so. Other apps might or might not allow creating your own route, but you may change the route as per your choice while driving, and the app will adjust the further directions based on that.
Which software is used for developing vehicle routes?
GIS Software is the best routing software used for acquiring information on transportation and traffic flow in a specific area. This will prevent vehicles from entering traffic areas and reroute them into other routes where traffic is less.
How to choose the best route optimization software
To choose the best route optimization software, consider your specific requirements, ease of use, features and functionality, integration with existing systems, scalability, pricing, customer support, user reviews, free trials or demos, and the provider's commitment to updates and improvements. Evaluating these factors will help you select the right solution for your needs and budget.
Which is the best route optimization software?
Upper Route Planner, Route4Me, and Tour Solver are among the top route optimization software options. Upper Route Planner is highly recommended due to its superior features such as efficient route planning and optimization, real-time tracking, proof of delivery, one-click dispatch, and report & analytics. These features make Upper Route Planner a standout choice among route optimization software options.
Ready to Build Your Own Route Optimization Software?
The use of route optimization software is the best way for any business to make on-time deliveries, provide punctual services, and cut costs. In addition, delivery fleet management systems can help in fleet tracking and make service calls on time, even in the case of rescheduling.
Most businesses are interested in using route planning systems like smartphone apps as they are easy to use and more than enough for small businesses. In fact, large businesses prefer to develop their own custom vehicle routing software, while small ones that only need to optimize routes go for apps.
Whether you want to go for software or an app for your business, or if you are a startup with an idea to develop an app to provide third-party services- we can be of great help. We have developed various apps in the travel and logistics category.
We are a web, Android, and iOS app and software development company with offices in India, the USA, and Canada. If you have any doubts or queries regarding delivery management software or route planning solutions, feel free to contact us. You may also hire dedicated developers from us for any sort of software, web, and app development.
All you need to do is fill up the contact us form given in the footer, and one of our sales representatives will get back to you at the earliest and discuss your requirements.