App Like Uber to Deliver Packages
Ninja Delivery is a widely popular on-demand delivery service application, where individuals and businesses can request for package delivery service like Uber. Using this best package delivery app, users just need to choose the type of delivery vehicle and can check the delivery estimation before placing a request.
The users can place a request for deliveries and track them in real-time. Developed by our on-demand app developers, this app is quite different than other delivery apps because it delivers almost everything like food, alcohol, documents, flowers, personal items, packages, and other stuff. The users may also track any package using the 'parcels tracking' feature. In fact, if the delivery drivers make a purchase for the users and get paid at the drop-off location.
Client's Vision
The client for this app was from California, United States. Since the beginning, he had a very clear vision in his mind. His main focus was to create an on-demand platform to help people seeking for the easiest solution for sending deliveries of all kinds of items to their desired destination location anywhere in the country. He wanted to make sure people don't need to go to the post office anymore, in fact, the post-office comes to them.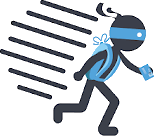 Proposed Solution
As soon as the client got in touch with us, we analyzed and comprehended information on how exactly he wanted his application to work. After a couple of discussions on subjects such as how much does it cost to build an on-demand app, how we will help in launching the application on the Apple App Store, and so on, we decided to move forward.
After clearing out the doubts and app requirements, our design team created app mock-ups, from the welcome screen to the delivery-successful screen, and shared it with the client. These design mockups helped us demonstrate how the app will work screen-by-screen to our client. After finalizing the user flow, we initiated the development process, keeping the client updated regularly on every milestone, where the client shared his feedback and gave confirmation to move onto the next development phase.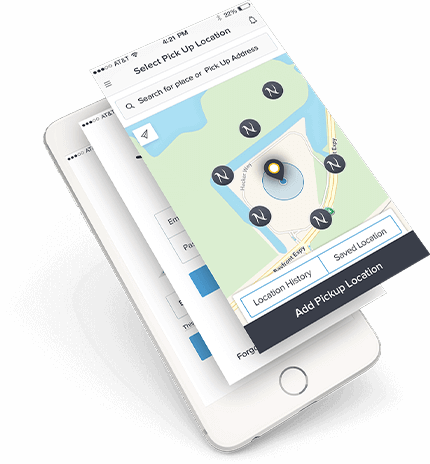 Top Features of Ninja Delivery App
Customer's App
1
Set-up Pick-up Location
Users just need to set a pick-up location from where they want to make a pick-up of the courier. They also need to enter the drop-off location to deliver the package at the desired location.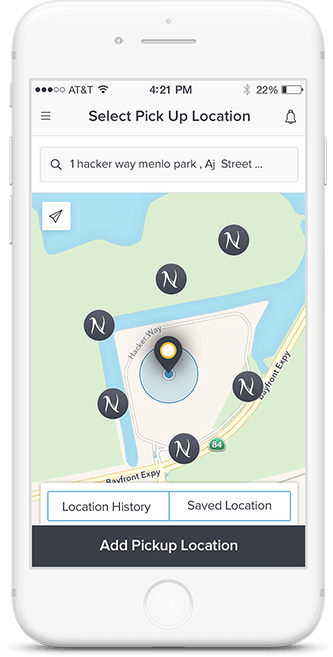 2
Get Price Estimate or Quote
Once customers add pick-up and drop-up location, they will get a price estimate as per the type of courier to be delivered. According to the parcel size and vehicle type, the estimation varies.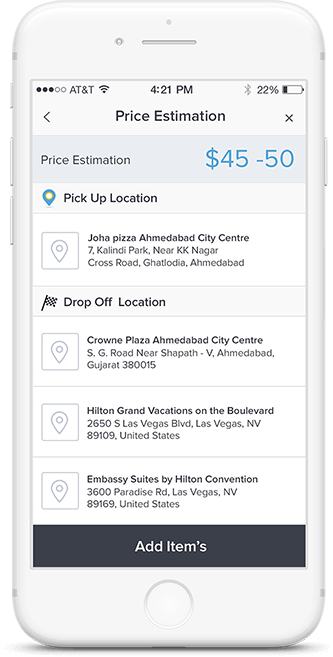 3
Live Tracking
Users are allowed to keep an eye on the request with a real-time package tracker feature in this package tracking app. They can track the delivery person and know about his whereabouts or real-time location on their mobile device.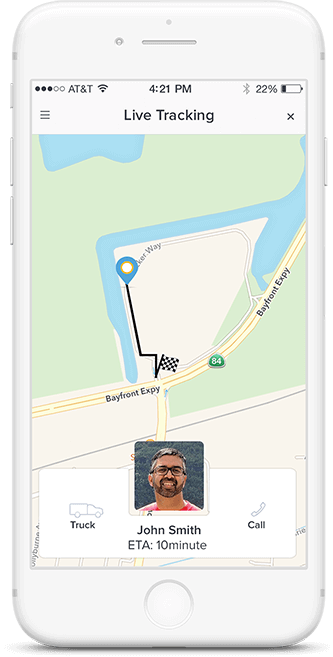 4
Schedule Pick-up
In fact, users of this parcel-delivery app can schedule their pick-up by entering just date, time, drop-off location, and vehicle type for the courier-delivery. They can schedule a pick-up request by two days advance.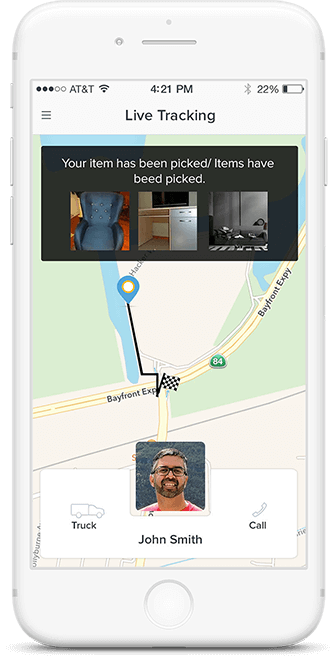 5
My Request
Under My Request feature, users can check out all the requests that he has made in the past. Along with complete detail like parcel type, pick-up & drop-off location, he can check all the past requests.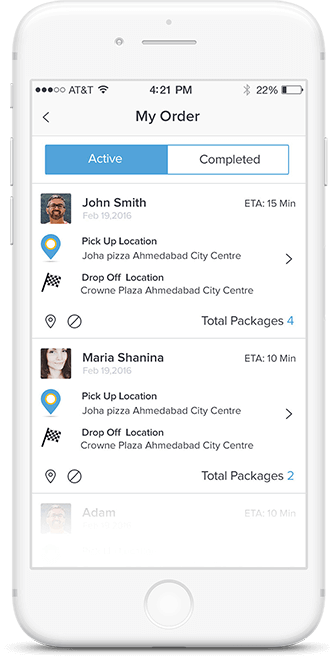 6
In-app Chat
The in-app chat feature allows users to communicate with the delivery driver regarding the shipping status. In case, if the user has any issue, they can communicate with him through the live chat option of this courier application.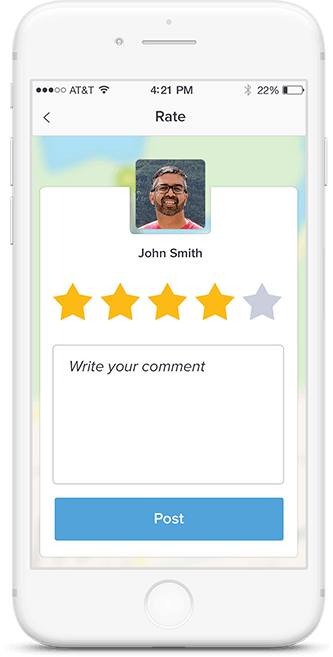 7
Call Driver with One Click
Apart from the in-app chat feature, users can easily make a call to the delivery driver directly from this on-demand courier-delivery application. They just need to click on the call button and can communicate with the driver.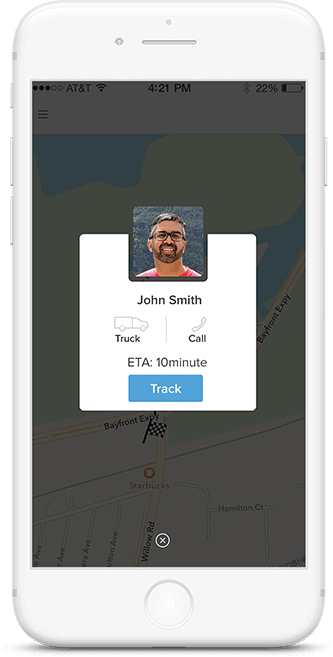 8
Notification & Real-time Alerts
Customers get real-time updates and notifications about pick-up order confirmation, tracking number, parcel delivered alert and other alerts and notifications, no matter what part of the country they're in.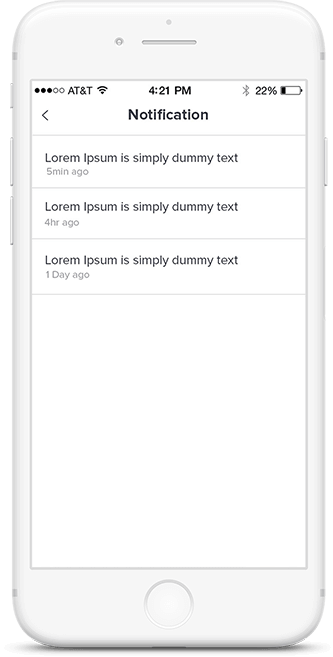 Delivery Driver's App
1
Get Job Request
The driver, after a thorough background check, will start getting job requests as soon as Ninja Inc. approves his profile as a driver. The driver can accept multiple requests from the same location.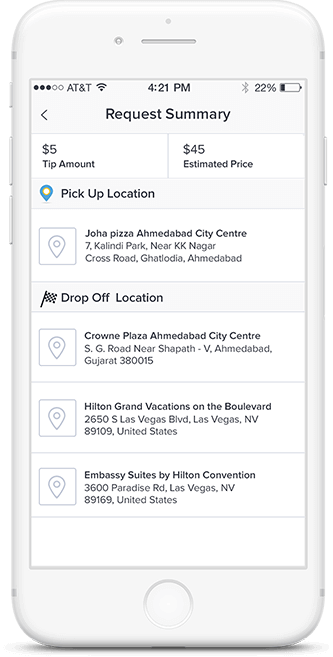 2
Pick-up Location Confirmation
As soon as the driver gets a new request from the customer and reaches on the pick-up location, he can confirm the pick-up location as yes and no as per his convenience.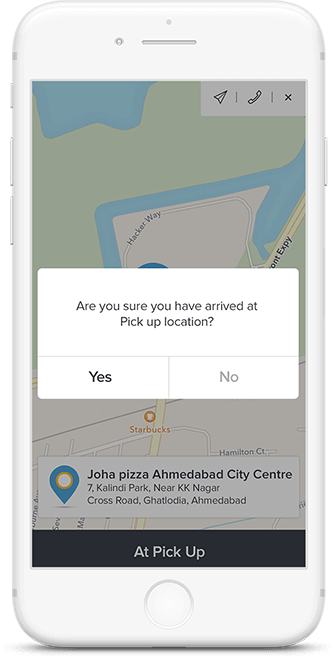 3
Job Request Details
Once the delivery driver gets the new pick-up request, he checks out the request details. The driver gets complete information like item name, description, quantity, weight, receipt name, address, contact number, and other details.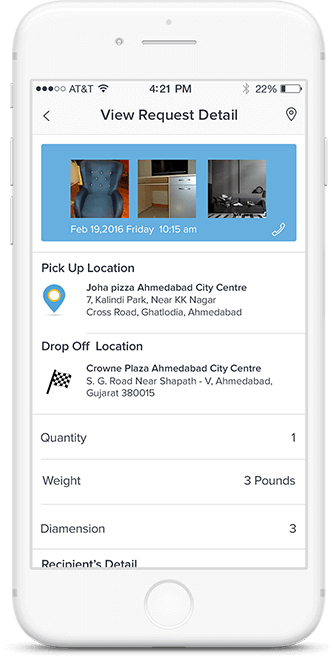 4
In-app Chat
The in-app chat feature in this Uber for courier application allows drivers to communicate with the customers, regarding their deliveries and goods. All this without sharing their email address for privacy.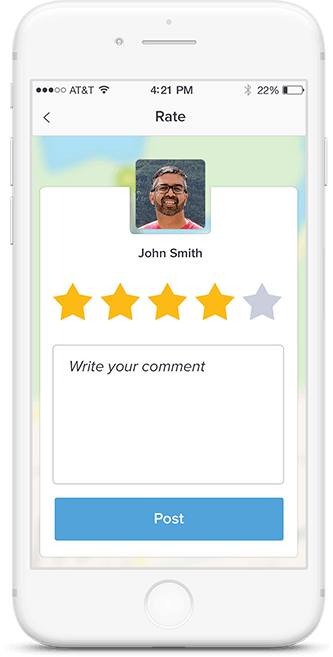 5
In-app Calling
Drivers can directly make a call to customers, asking for the pick-up or drop-off location in case if they have an issue. With just a single tap in the Uber for package delivery app, they can call and get in touch with customers.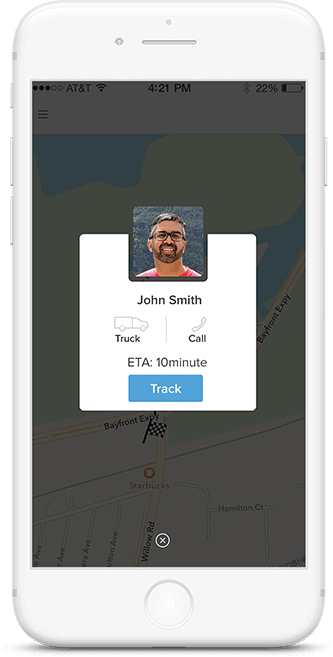 6
Notification & Alerts
The drivers of this Uber delivery app will get alerts and notifications about the new delivery-job request and other alerts related to the job request.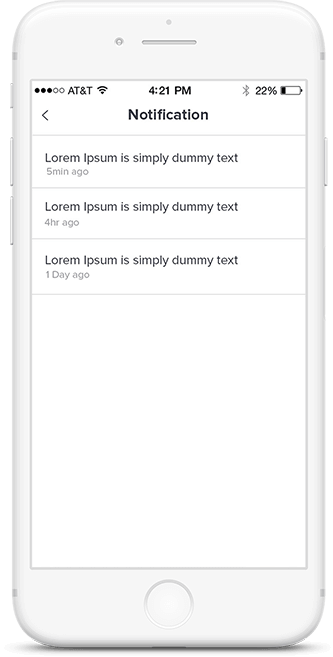 Do you want to develop a package-delivery application with features like real-time parcel monitor and in-app chatting? Or do you have another on-demand service idea? We can help you out!
Other Related Apps Developed By Us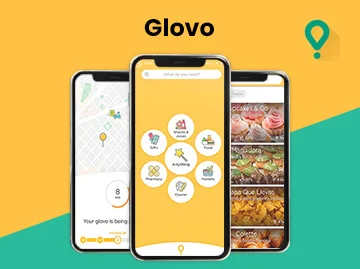 Covered by TechCrunch, Glovo is one of the best on-demand delivery apps, allowing users to pick up and delivers anything…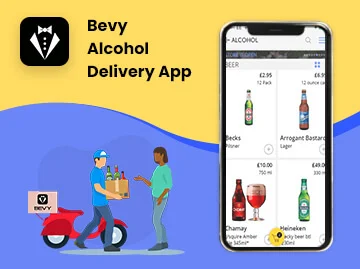 An on-demand alcohol delivery app, Bevy, supplies late night orders at local shop prices. The app delivers impulse goods, including…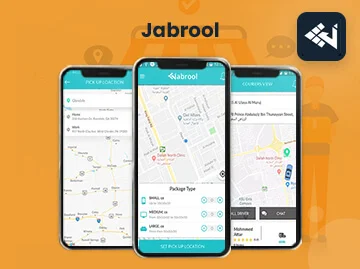 Jabrool is an on-demand package delivery apps solution that allows Saudi Arabia residents to get in touch with nearby package…
Appreciation from Clients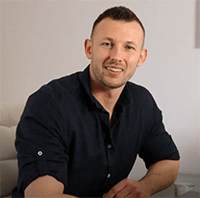 Steve
USA
I would like to thank the entire Space-O team for helping us with our photo editing app. We have been working with other developing teams before, and we were able to find Space-O. And all the other developers failed to deliver all great working apps for us. Space-O helped to design the app in a very user-friendly way. They helped us to navigate solutions for the app. And overall went above and beyond with our request.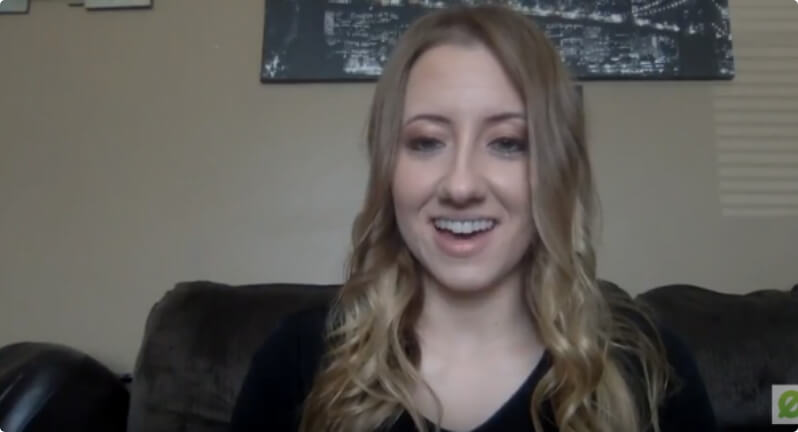 Olivia Grande
USA
This was the first app I've ever developed and they been extremely helpful every step of the way, answering questions, writing recommendations, and tips. If you're looking for a high-quality app, definitely go with Space-O technologies.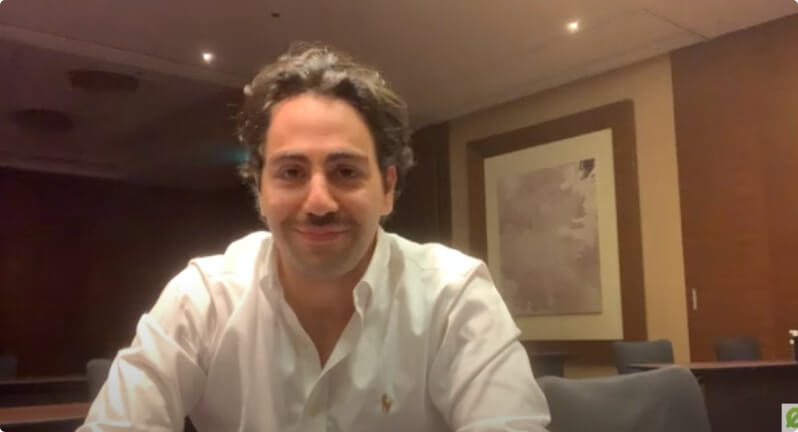 Kaveh
UK
When we started 2 years ago, the main struggle was to find the right developing team, because the problem was we were all quite demanding in terms of quality. And, this showed that we were able to develop some successful apps. But, this would not have been possible without Space-O.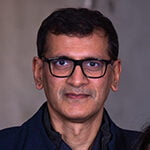 Aamir Jaffar
Kingdom of Saudi Arabia
I hired them for a BA assignment for a project. They did a fantastic job. Quite professional and also good at making the customer understand non technical aspects. Put their mind to think like the customer. A guy named Jaimin was assigned as the work lead and really appreciate his knowledge, understanding customer perspective on the assignment and come up with very valid suggestions. Recommended for mobile app development.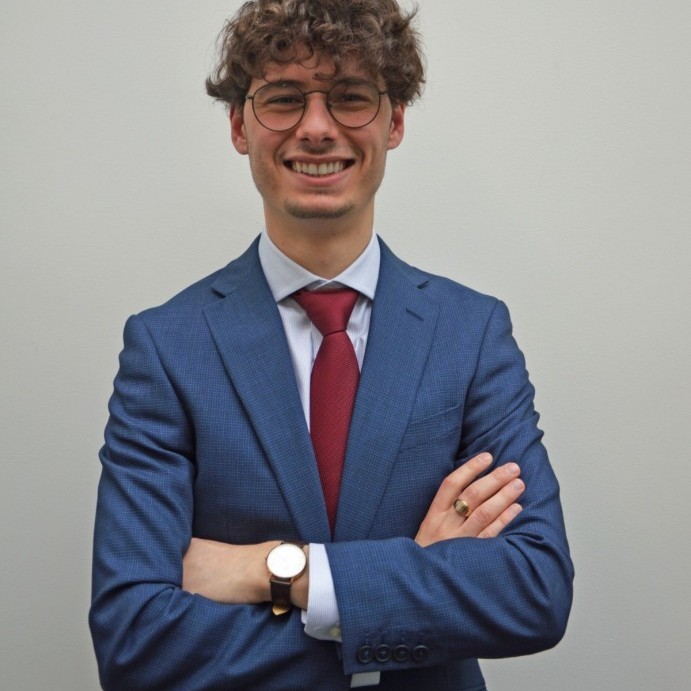 Riccardo Petrachi
United Kingdom
We searched online for app developers that had an extensive experience in mobile app development as well as a strong presence in the market. We chose Space-O specifically because of the up-close experience we had with another app they had developed and we wanted to achieve the same high level of standards, quality, and satisfaction. We were looking for brilliant experts and we found them.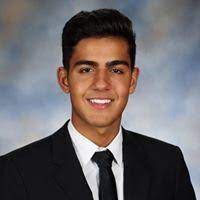 Ashton Asherian
USA
Space-O Technologies showed genuine interest in the project. The efficient team delivered quality results at a cost-effective price. We wanted to develop a minimum viable product that would be ready for scalability. It was a great experience working with them. We are so happy that we had the chance to meet Space-O. We love their work. Their project management and structure were amazing. The team loved what they were doing. There was passion behind every single piece of work.

Tom Asare
Ghana
The app was successfully launched and fulfilled original expectations. The Space-O Technologies team was communicative and effective in completing the project. The app is available in the Google Play store, and we're thrilled with the final product. They were a highly efficient team to work with. They were strong communicators—whenever I had an issue they were available. Additionally, they were timely in getting deliverables to us.

Nick Power
Australia
Eugene, Vlad, Jigar and their respective teams have been fantastic on all the various apps they have worked on and developed for us over the past 18 months. They are always proactive, responsive to questions and consistently provide top quality development and design work. The use of Skype, email and their own project management tool also makes it easy to keep track on how a project is progressing. I would highly recommend Space-O Technologies for any iOS development or design.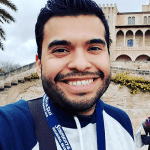 Mark
USA
I can't say enough about how great of a partner Space-O has been to work with over the past year. They were always pushing the project forward and ensuring quality checks at every turn, even pieces of my app that I should have caught before sending to development. Will definitely be referring any clients of mine to Space-O and will have them first on my list of partners to work with.