If you are an entrepreneur or startup with a wonderful app idea in mind, then this blog is for you. In this blog, we have mentioned a complete guide on how to patent an idea for app idea before you discuss it with someone. Check out this blog and know how to patent an app idea with a simple process.
Here is your answer to "Can I patent an idea for an app?"
Yes. You can patent your idea for an app.
Are you bothered that someone might take it away from you and use it before you could apply it?
Fortunately, intellectual property law – especially trademark, patent, and mobile app copyright or patent law – provides protection for app ideas. But, you might have a question about whether can you patent an app. There are lots of startups and entrepreneurs, who believe in getting patents for an app idea to exclude others from making, using, or selling it.
Patenting an app idea is important to protect from marketplace copycats, who might steal it. But make sure that your app idea must be new and novel to be subject to patent law. It should not be a clone of other apps.
But can you get a patent on an app? To understand how to patent an app idea, follow the 6 simple steps below.
How to Patent an App Idea in 6 Steps
Follow these six steps to patent your app idea.
Step 1: Choose the Type of Patent You Require
You need to determine the type of patent best suitable for your mobile application. There are three main types of patents you need to choose from:
Utility Patents: This type of patent covers the functional aspects of inventions or product discovery. Utility patents are granted for a period of 14-20 years. To obtain a patent for a mobile application, a utility patent is likely the best suitable type.
Design Patents: This patent covers the aesthetic aspects of any invention or any product. Design patents are granted for a period of 14-20 years.
Plant Patents: A plant patent is granted for asexually reproduced plants that are spread from cutting or other parts of the plant than the seeds. Plant patents are granted for a period of 20 years.
Step 2: Conduct a Deep Patent Search
Conduct thorough research on your app idea to find whether your app is already in the market and patented. Perform worldwide research to avoid any unanticipated infringement from other companies. Having no other similar application or patent will increase the chances of your own patent being granted easily.
Step 3: Prepare and File Your App Patent Application
Once you have confirmed that your app idea or not already patented, you can begin the process of the patent application. An application should have the below specifications.
Describe the invention of the app
App's working
Diagrams and drawings where appropriate
Design of the app
Ensure to provide detailed information in the application about your app to determine whether your app idea is novel and non-obvious.
Step 4: File Provisional or Non-provisional Patent
After you provide all the details of your invention in the application, it's time to file the app for a patent. To obtain the patent, file the application with the relevant government agencies, such as the United States Patent and Trademark Office (USPTO) in the United States. The process of an app patent might take a few years and rounds of examination.
There are different USPTO fee schedules for every patent. You can check the fee schedule that will be effective from January 1, 2023, at USPTO.gov.
Step 5: Timely Response to Any Office Actions
After the patent application payment is completed, the patent examiner gets to read your application. There might be chances that the examiner may issue an office action in writing requesting to communicate further on the application. This request may need more clarification or changes to the application you have submitted.
It is important to address the action request carefully and in a timely manner to avoid any delay in the process
Step 6: Maintenance Fee After Your App is Patented
If your patent application is approved, you will need regular maintenance to keep it in force. There are certain fees to be paid on a monthly or annual basis to ensure that your app patent remains active.
The process of obtaining a patent for your app might be complex and time-consuming. However, it is advisable to hire a patent attorney who can guide you through the entire patenting process.
Now that you are aware of the process to patent an app, let us run you through other essential questions that might click you about patenting your app.
Do You Have an Unique App Idea?
Need to validate your app idea or consult with an expert? Get a free consultation now!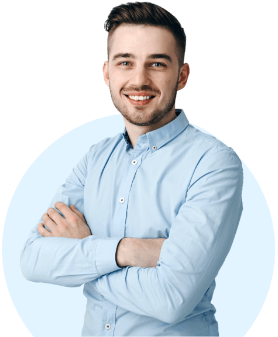 General Questions That You Might Have About Patenting an App Idea:
What Does Patent an App Idea Mean in Simple Language?

A patent is a form of intellectual property law and will prevent your ideas from being used without your consent. It endows you with the exclusive right to exclude others from developing or selling your idea. 

It will give you the assurance that no one will infringe on your idea and claim it as his or her. In the U.S., the United States Patent and Trademark Office (USPTO) officially issues patents, whereas Canadians apply for patents through the Canadian Intellectual Property Office.

Let's take the mobile app patent example of Apple Company that sought against Microsoft in the year 1994. The company claimed that Microsoft stole its idea of the graphical user interface (GUI) from the former's Lisa and Macintosh operating systems. However, Apple did not acquire a patent for its idea which led it to decide in favor of Microsoft. 

Can You Patent an Idea for an App?

If you want a short answer, then Yes! It is possible to patent a mobile application idea because it is one component with different methods of interaction. The code of the app can't be patented as the code itself comes under the category of law covered by copyrights.

So, it is possible to patent the method or process of the application that it follows to perform a particular action. For example, the app's process that runs on a smartphone or any other device connects to a remote server with data that either stores it or processes it to be used on a mobile phone. In short, the application is what that makes your device or smartphone function in a particular manner. 

Additionally, prior to filing an app pattern, it is essential for you to know that your app idea should come under a unique category. Obviously, your app idea should not be similar or align with any other app. A user with average skill and knowledge should not be able to replicate that same app idea. For example, Calculator, Chess are some of examples of common mobile app ideas.

What are The Requirements to Qualify for a Patent?

Generally, the eligibility is determined to patent a mobile app. Here are those 3 key points that qualify your application for a patent:

It has to be an "invention"

Generally, patents are used to protect inventions. A patent is given to the invention that is described as a solution to any problem, according to the World Intellectual Property Organization (WIPO). 

As we know that the app idea is not a physical object, so the process of the app is categorized as a mobile app invention. However, it is essential that just like any invention, the process must resolve any problem. 

An app idea must be new and unique

If your mobile app idea solves a problem of the users, it doesn't mean that it is eligible for the patent. It is a must that your app idea is new and non-obvious. In simple words, your app idea has not been disclosed earlier in a public format, including books, pending patent applications, articles, YouTube videos, and other sources. 

Moreover, it must be unique and doesn't already exist otherwise you can't patent it. For example, if you have developed a mobile app like Uber and solved the problem of thousands of people by allowing them to book a ride with just a few taps, you can't patent it as it is a clone of the Uber application.

It must be qualified as useful

Last but not least, your patent must be qualified as useful. However, it doesn't mean that your mobile app idea can't be under in entertaining category or anything like that.

It means that your application must work at least in theory. It is the restriction that prevents people from patenting such applications that are not as useful as they should be. So, it requires you to develop a concrete and detailed explanation of how your application works to claim ownership over it.

Is My App Idea Already Patented By Someone Else?

To check whether your app idea is already granted to someone else or not, start looking into the existing and any pending patent app ideas. The USPTO advice to perform an advanced search in order to find similar items using its Cooperative Patent Classification.

In the U.S., the USPTO provides a complete database, where it maintains all the published and pending patents, so it would be great if you check in this database whether your app idea is already patented by someone else or not.

If you find any difficulty in searching for existing published and pending patents, you can make use of a step-by-step video guide on how to conduct searches. In addition, you can refer to the World Intellectual Property Organizations IPC Catchword Index for international patents.

When Should I File for a Patent?

Today, mobile app patents idea is not granted to the person, who is first to invent it, but it is granted to the one, who is first to file a patent against it. It is one of the main reasons, why many entrepreneurs and startups prefer filing a provisional app before publicly disclosing important details.

You might find a lot of patent attorneys, who advise to patent a mobile app idea before discussing it with any potential investors. Even if you have signed a non-disclosure agreement, you can prepare yourself to file fast. 

What Information and Documents Do You Require to File a Patent?

You might have asked this question to yourself, how do I patent an app idea? After preparing the patent application, you need to file it with USPTO. Due to more paperwork, the process might become tedious over time. You can take help from a patent attorney if required. We have listed the essential documents you require to smoothen the process

Oath/Declaration
Specification
Entity Status Form
Information Disclosure Statement
Application Data Sheet (ADS)
Claims
(optional) Patent Cooperation Treaty (for International Filings)
Drawings
(optional) Application to Make Special
Fee Sheet
Cover Sheet

How Much Does It Cost to File for a Patent?

Generally, the app patent cost differs from the type of patent for which you apply. When it comes to provisional patents, it costs approximately $2000 to $5000. Once you filed a provisional application, you can develop and launch your application. A provisional patent lasts a year, and you can use this period to test your app's success.

Talking about the non-provisional patent, it generally costs between $10,000 and $15,000. Once you filed your patent, it will be examined by the USPTO. This examination takes between one and three years. The examiner will completely review your patent and start the patent search process to see if it is eligible. Before concluding this blog, here're different types of patent applications, so you can check this out and apply to patent your app idea.

As you have understood about the patent filing cost, it is time to know about different types of patent applications.
Different Types of Patent Applications
Provisional Application

Provisional Patent Application is the most common type of patenting an app idea. Generally, it is always the first approach that most of the app development companies use when beginning with the patent process. 

With the provisional application, you are allowed to file without even a formal patent claim, declaration, or any information disclosure statement. Here are some of the benefits of Provisional Application:

It grants 12 months to completely develop and refine the MVP.

Allows you to use the term "patent pending" on the product.

It is less expensive to prepare and file the application as compared to a non-provisional patent.

It allows to file International applications and claim priority within 12 months.

Non-Provisional Application

When it comes to talking about the non-provisional app for the patent, it can be filed without claiming any priority of application made in a convention country or without any reference to the app that is already in the process in the office is called non-provisional app.

It is a must that it accompanied by a complete specification and claims. A non-provisional patent application must contain information like a written description of the invention and at least one claim that legally defines the metes and bounds of the invention.

If you are confused about which one to choose, you need to ask yourself these questions.

How quickly do you want your patent granted?
For how long are you planning to delay patent examination costs?

An experienced software patent attorney can help you to answer all of your questions about how to patent app idea and help you determine whether patent protection is right for you or not. Even the attorney can help you with the patent application process. Getting protection on patent in novel and non-obvious inventions is essential for keeping others away from stealing your idea.

Want to Create a Successful App After Patent?
We design and develop custom mobile applications.
Frequently Asked Questions
How much does it cost to patent an app idea?
The estimated cost for patenting a mobile app can cost you between $2,000 to $15,000.
Provisional Patent Application: $2,000 – $5,000
Non-provisional Application: $10,000 – $15,000
How much time does it take to get the app idea patent?
The timeline to patent an app is around 1-3 years. The patent application starts with the examination process and is broken down into different factors, such as specification, claims, abstract, and drawings.
Can you patent an app idea?
Yes, patenting an app idea is possible if it meets certain requirements, such as being novel, non-obvious, and useful. You must consult with a patent attorney to determine if your app idea is eligible for a patent.
How long does it take to patent an app idea?
The app patent process can take anywhere from one to three years, but it can sometimes take longer.
Conclusion
So, you have just gone through the simple guide to how to patent mobile app ideas, and it includes a lot of work and procedures to follow. 
In case, if you have any query related to mobile app development, how to build an app, app idea to convert into app, Indian mobile app developers cost to develop an app, get in touch with us. Being a mobile app development company, we have already developed over 4400 apps of different categories. 
To get in touch with us, just fill our contact us form and one of our sales representatives will get back to you shortly. The consultation won't cost you any money.