"How hard is it to create an app that can compete with the world's leading apps or gain huge success?" Honestly, no one can measure the level of hardness in an SI unit. That's the fact. However, you can still overcome each and every hurdle which comes in your way to develop an app. Yes, you can substantially improve all the odds.
Therefore, we have come up with the best solutions to various challenges as well as the process of developing apps to make it easy for you. Even if you are not a technical person, get the best strategies to build your app!
Do you want to develop an app? But do you know that having a great idea for an app is not enough? Once you made up your mind to develop an app, you will come across various questions, such as:
Is it hard to make an app?
How hard is it to make an app?
How to create an app and make money?
Therefore, we have decided to write a blog on the same topic to find a suitable answer. Please bookmark this blog for your future reference to building an app. Get a complete guide on the app development process and various solutions to make it easy for a technical and a non-technical person. Let's take a look at the process.
The Process to Make an App
Many clients generally ask us, "how hard is it to make an Android and iOS app from scratch?".
Do You Find it Hard to Make an App?
Need professional guidance? Want to validate your app idea with a free consultation?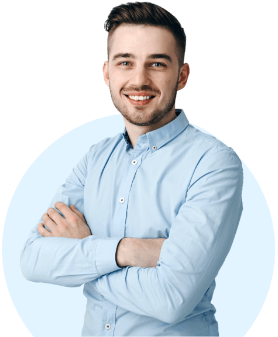 Inevitably, it has various steps to follow to make an app. Do you also want to know how to make an app from scratch with those simple steps? Being a leading app development company, we follow these 9 steps. Continue reading this section and explore all steps one-by-one to see how we follow the process to develop mobile apps.
Discuss Your Requirements

This is the first stage where we will have an important phone call to know your business requirements so that we can assist you and take your app development project forward.

Here are Our Expectations from Prospects:
Your app concept
Any reference of look-like apps to your idea
The type of application you want to develop, such as native, hybrid, web apps Your budget
Your budget
Your app delivery timeline
In 30-minute Free Consultation:
You can share queries related to your app idea
You can suggest the best technology to go-ahead
Project Insights and Estimation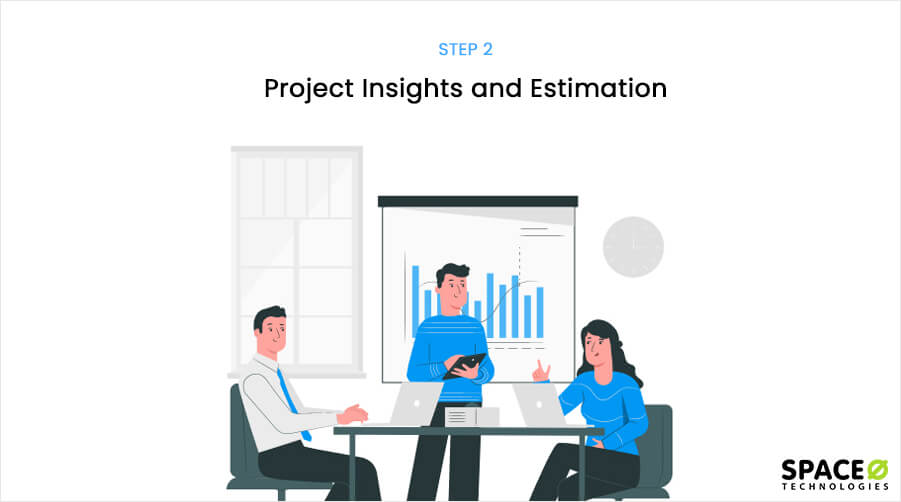 At this stage, we will help you with some of the best recommendations and guidance for your app development. We will have a QA involvement and test case availability to understand your business requirements better.
We will also decide the flow for your application development. Then QA starts with the test case creation to cover the maximum positive and negative test scenarios. By offering a test plan document, we can also give you a cost estimation for your app.
Signing NDA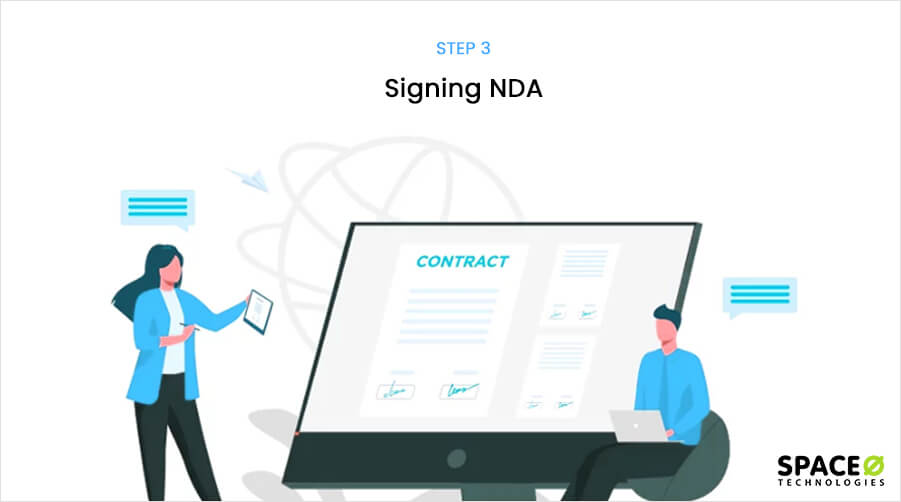 To make it official, we will start the development process by signing the NDA agreement to ensure that your idea is safe with us. Being a professional app development company, we provide services specified on-paper.
The Agreement Contains:
Project deliverables
Milestones
Legal clauses
Reference/Annexures
After this, we focus on your project requirements, define communication methods (Slack, Skype, Basecamp), schedule scrum meetings, share files, and expected delivery phases in set milestones.
App Wireframing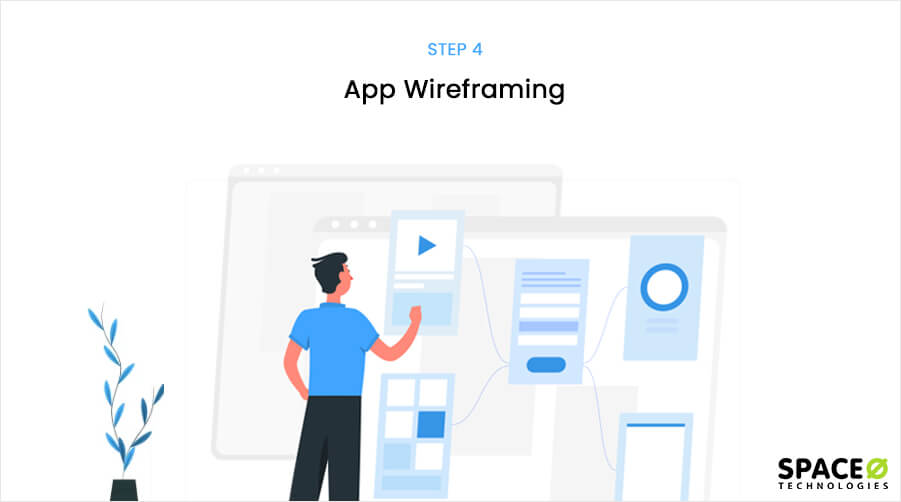 This stage is all about understanding the flow of the system and giving a rough idea of its function. It will also give you a precise estimation of the app delivery timeline.
Moreover, the designers get a gist of the system flow and use Balsamiq 4.6.5 and AdobeXD wireframe design tools to create flawless and accurate designs. To learn more you can refer our guide on mobile app wireframing.
UI/UX Design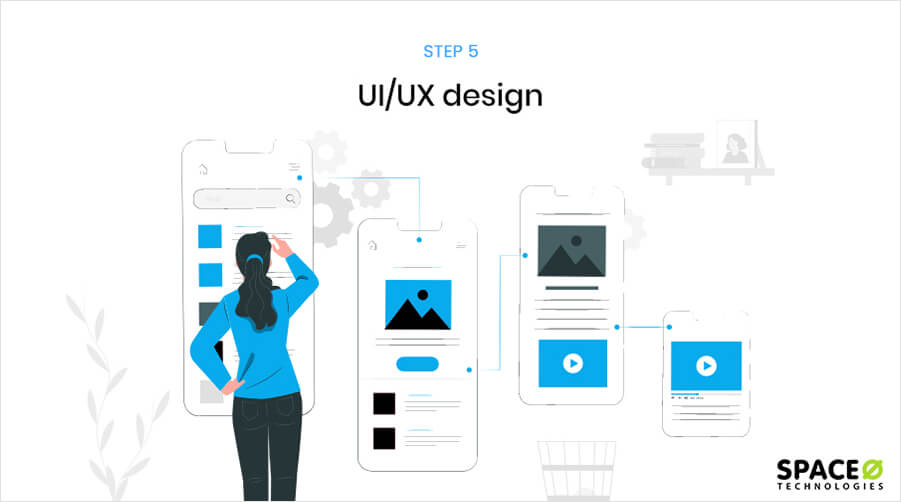 At this stage, we will send you a questionnaire to know your preferences. You can expect questions like:
Which color do you need for your app and for your target audience?
What are your basic preferences for color and fonts?
Which apps do you like?
Once you answer each question, our UI/UX designers will make sample screens using the best mobile app design tools, such as Adobe XD, Sketch, and Adobe Photoshop. We will send you 2 samples of each screen, including an app icon, splash screen (first screen), log in, sign-up form, and home page.
After your approval, we will focus on making a user-friendly product using Flinto or Invision. Without writing a single line of code, we will create an up-front design for the apps.
App Development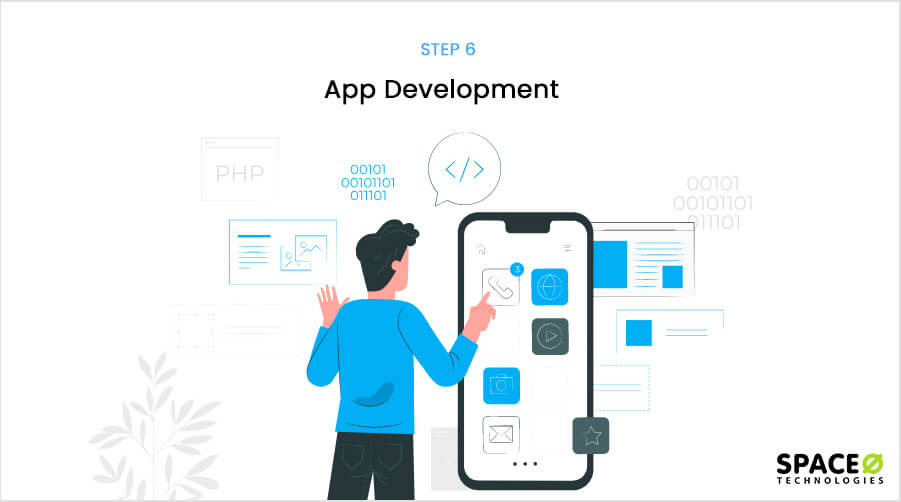 The project manager will make plans and assign tasks to the app developers for achieving the set milestones. We will also take you through the progress of mobile apps via project management tools like Basecamp and Trello.
Here are some of the main tools and technologies that we use:
| Technologies | Android App Development | iOS App Development | Backend Development |
| --- | --- | --- | --- |
| Programming Languages | Java, Kotlin | Swift, Objective C | PHP, RoR, GOLang, Node js, Angular Js, React Js, .Net |
| IDE | Android Studio | XCode | – |
| Database | SQLite, Realm | SQLite, Realm, CoreData | – |
| Tools | Android SDK, Android NDK | – | – |
Q/A Testing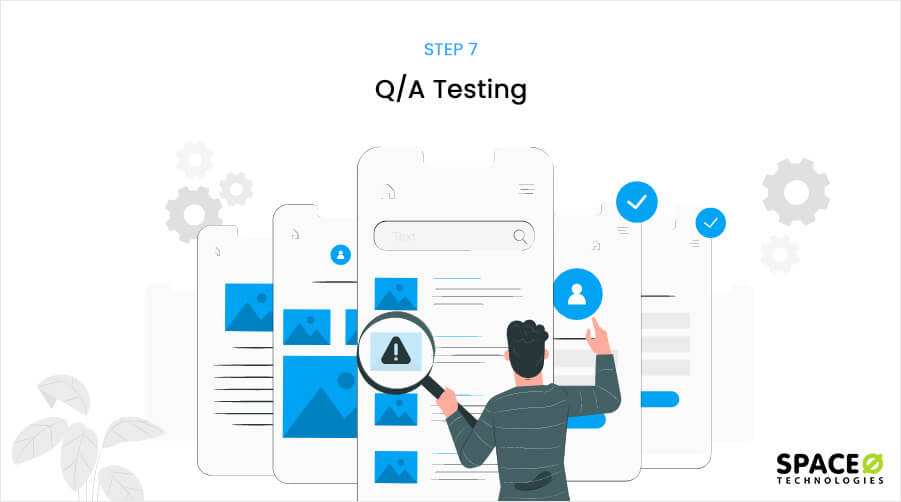 Our QA team runs various tests to make the app bug-free and secure. Moreover, mobile app testing will include the following process:
User Experience Testing
Functional Testing
Performance Testing
Security Testing
Device & Platform Testing
With more than 50 iOS & Android devices, we check, locate, and fix issues that arise while developing an app. Moreover, we perform the unit test first and then use a black-box testing method. Once the product is bug-free, we will send it to you and call it UTA (User Acceptance Testing).
Launch App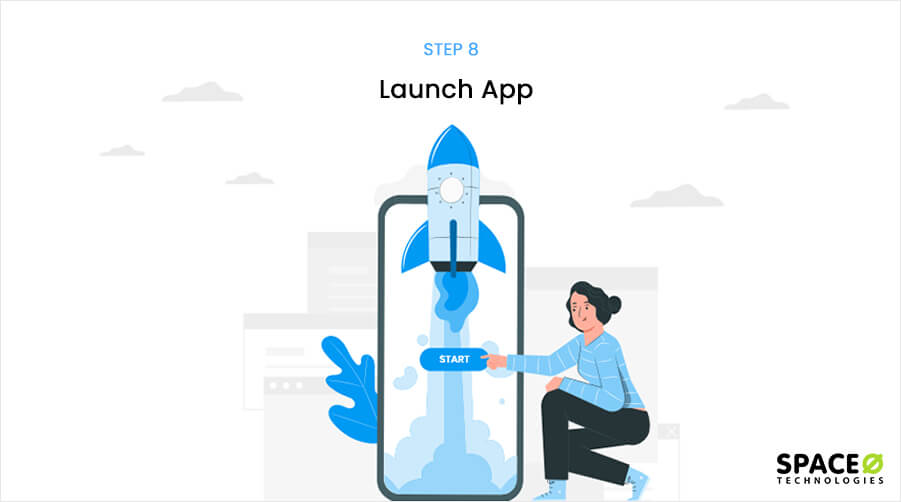 We have excellent expertise in this domain, where we help clients launch their apps on Apple App Store and Google Play Store, and for this, we do not charge any additional cost. However, launching an app would require developer account credentials to publish the apps on Apple App Store or Google Play Store. Moreover, you must include:
Title of the App
Description
Category
Keywords
Launch Icon
Screenshots
Post-production Support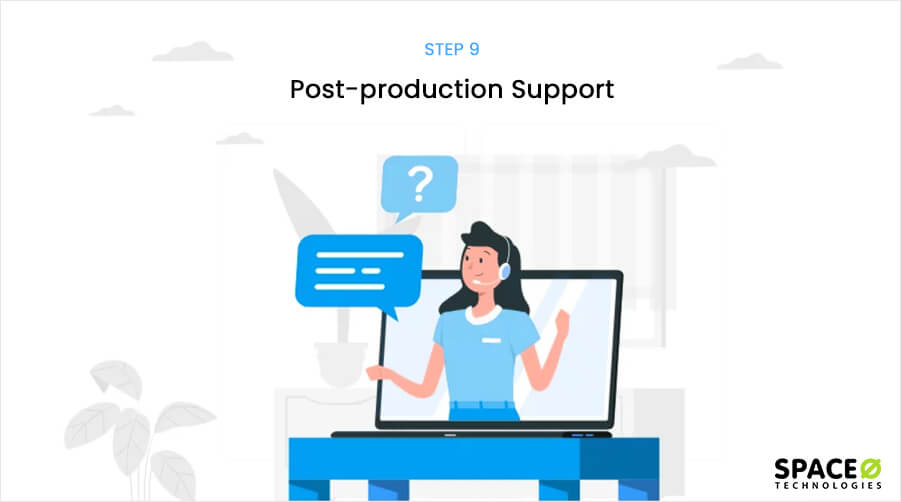 Once you release the first version of your app, check what you can improve. Also, in the future, your app will need technology updates, and therefore, this is the last step of the development process. At Space-O Technologies, we provide an "after launch service program" for the first three months as support.
In this period, if the app faces any issues or bugs, we will fix them for you. Once this period gets over, you also have an option to sign an annual maintenance contract so that your app always runs smoothly.
You know the process for making an app. But what about the challenges that are associated with the app-making process? Even when you do not know how to code, it can escalate more.
Don't you want to know these challenges beforehand to overcome them? Unlock their solutions in the next section. Keep continuing!
Want Professional Developers to Build Your App?
Book your free consultation today. Connect with our team of experts.
How Hard Is It to Make an App If You Don't Know How to Code?
It may be challenging for you to develop an app for your business if you do not know how to code them. But don't worry. We have mentioned some of the challenges with their solutions so that you can overcome them easily even if you do not know how to code them.
Where to Start From?
Being a non-programmer, you could be clueless about the development process of an app. You might not know how and where to start. For example, validating and evaluating user needs, defining the target, checking compatibility with different OS versions, and so on. To build an effective product, you need to consider various stages of the mobile app development process.
Solution: To overcome this challenge, you can follow the process that we have just shared in the above section. Moreover, having a great app concept and initial market research will help you a little bit if you are developing apps for the first time.
Which App Building Software and Technologies to Choose From?
With so many app-building software and technologies out there, finding the best app builder can be an intimidating process. Surely, you do not want to make any mistakes at this crucial stage. So, let's know how you can overcome this challenge, being a non-tech person.
Solution: The best way to find a tech stack or app builder is to consider the following influential factors:
Check the requirements, such as the type of app platform that you want to develop on and the go-to-market time
Compatible with the technology that you are already using
Ability to perform on multiple devices
The security level of the tech stack or app builder
Not to face such types of challenges, being an entrepreneur, you can choose to outsource app development to any professional development company or hire someone with the required skills. Let's talk about other challenges as well:
| Challenge | Solution |
| --- | --- |
| Native vs Cross-platform | With native, you can build apps for a specific platform, but cross-platform will help you to hit multiple platforms. But before choosing, consider reading this blog. |
| Making App Without Code | Various tools of no-code platforms will help you to build apps without writing a single line of code. It will provide drag and drop tools to build applications that automate workflows. To know more read our blog on low code app development platforms. |
| Choosing the Right App Development Company | You don't want to choose a random development company that could jeopardize the app's future. To hire the right company, you need to follow the mentioned steps in the following image. |
Here are the 11 points that you can consider while selecting a company to develop an app.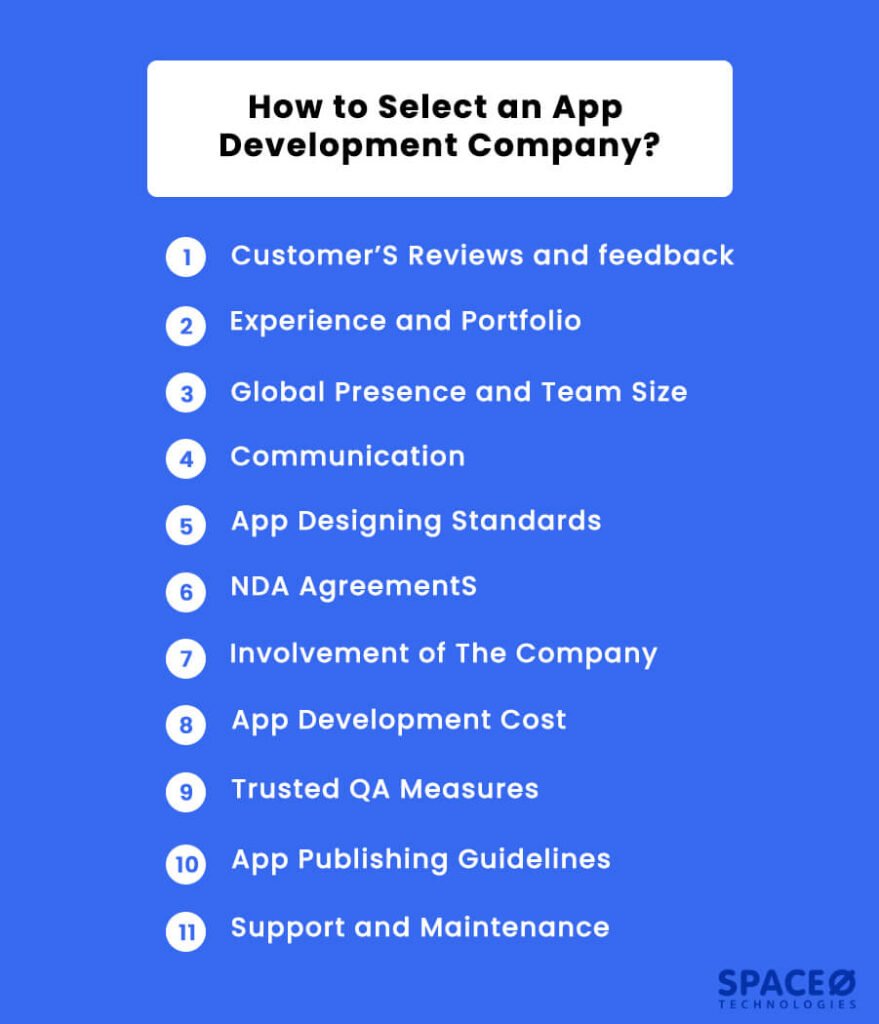 But what if you know how to code and still face some challenges? Yes, there are various challenges that you may still face, even if you know how to code. Let's see those challenges with their solutions.
How Hard Is It to Make an App If You Know How to Code?
Even if you know how to build an app for beginners, there are various challenges associated with the process. Coding is not the only solution that you need. Thus, let's have an in-depth perspective on the challenges and their solutions to make the development process smoother for you.
To Have an Emerging Idea for Your App

With millions of apps out there, the competition is getting more stringent day-by-day. However, app developers are always vigilant to make apps that stand out from the crowd to offer the best services that individuals need. No developer wants to build an app that no one needs, isn't that so?

Solution: Try to solve any specific problem that most people face, and provide a solution in terms of the app, just like an Uber app that solves the problem of people who want to travel from one place to another.

To Have Sufficient Funds

Having an amazing idea for the app is not enough, just like knowing to code. You are yet to transform your dream idea into reality. To win the next battle, you need fundings and a sustainable revenue model. So, how do you get the funds to develop your app?

Solution: There are a few approaches that you can consider to raise funds. Either you can go for angel investors, crowdfunding, such as Kickstarter and Patreon, and many other sources of investors for funding.

Making a Free App That Helps You Earn Money

In 2020, global mobile app revenues amounted to over USD 581.9 billion, and it is expected to reach USD 935 billion in the year 2023. Looking at the opportunity of the app economy booming, almost every owner of an app wants to earn revenue. Therefore, you need to identify the right way to earn revenue.

Solution: Here are some monetization strategies to earn from your free app.
Advertising
Subscriptions
In-app Purchases
Sponsorship
Events & Activities
However, there are other challenges as well that you may face while developing an app. We have mentioned those in the below table. Let's go through them to find their easy solutions.
| Challenge | Solution |
| --- | --- |
| The Requirement of Clean Architecture | You can choose one of the architectures, such as MVVM (Model-View-View-Model) and MVP (Model-View-Presenter). The great architecture will boost your performance as you have put all materials code in a suitable spot. |
| Extra Battery Consumption | Adjust the behavior of the app based on the nature of the device. For example, you can disable service notifications when the internet connection is weak or irregular. |
| Proper App Testing | To make sure the app runs smoothly, you ensure its proper testing at each app development process level. You can test your app with beta testers. |
We will now move to the next section, where we have discussed some of the most asked questions that our readers have in their minds. Let's get started with each question:
Frequently Asked Questions
How much time does it take to create an app from scratch?
The time for building an app ranges from 1 month to 9+ months. Building a basic app will take less time, while complex apps require a longer time. This entirely depends on the number and complexity of features, app design or user interface, development complications, use of third-party libraries, and so on. In fact, if you want to learn more about the timeline, check out this detailed guide on app development timeline.
How much does it cost to build an app?
The cost of developing an app depends on multiple factors, including app complexity, the app developer's location, and all the features you need for an app.
Usually, the app development cost can vary from $3000 – $300000. For a basic app with minimum screens (2-4), it could cost you around $3000-$5000. On the other hand, if it is a complex app (15-25 screens), it can cost you around $2,50,000 – $3,00,000.
Where can I find an app developer?
Conclusion
Now, it is your moment to turn your dream idea into reality. No matter if you are a technical person or not, with the mentioned solutions in this blog, you can start working on your app.
In case you need help from professionals to build your app or to know how long it takes to develop apps, then you can get in touch with us. You can contact us through our 'Contact Us' form.
We are a leading iOS app development company in India and have developed more than 4400 mobile apps. We do have an experienced app development team who know how to provide solutions to your complex business needs.