The global low-code development platform market is predicted to reach $65 billion in revenue by 2027, which is currently valued at $13 billion.
Low code app development is gaining popularity owing to the need to publish apps at the earliest.
With the low code development platforms, the development team can easily collaborate with others (sales, business analysts, and designers) to create applications of any complexity level. The low-maintenance and high-speed development appear to be potential benefits of using this platform.
Here is an image that explains what are the advantages and disadvantages of using low-code mobile app development.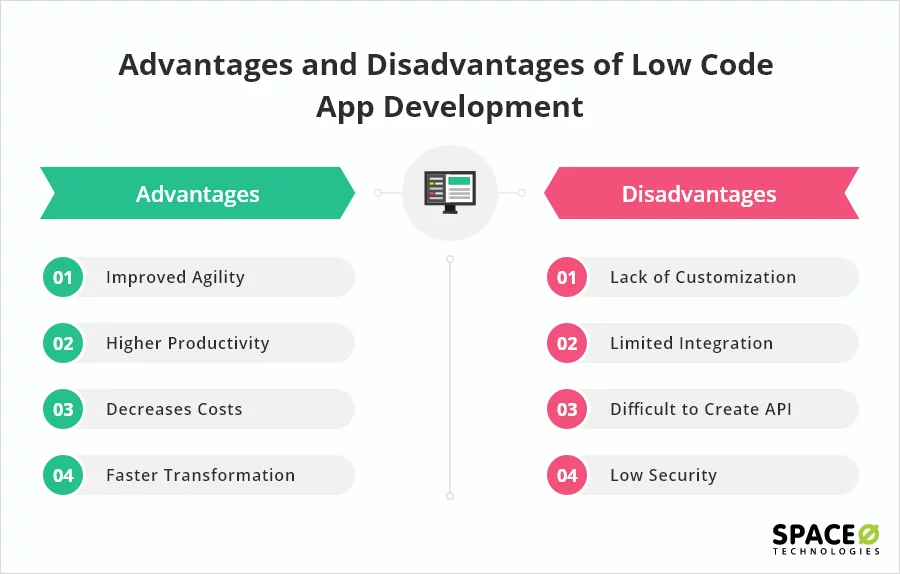 Being a top mobile app development company, our mobile app consultants have researched and suggested top low code mobile app development platforms you can use to develop powerful mobile apps. The blog includes tools, pricing, and plans.
Here is a Table of 8 Best Low-code Mobile App Development Tools
Prior to searching for the best low code app development tool, you should ask this question.
Here are the steps to create an app.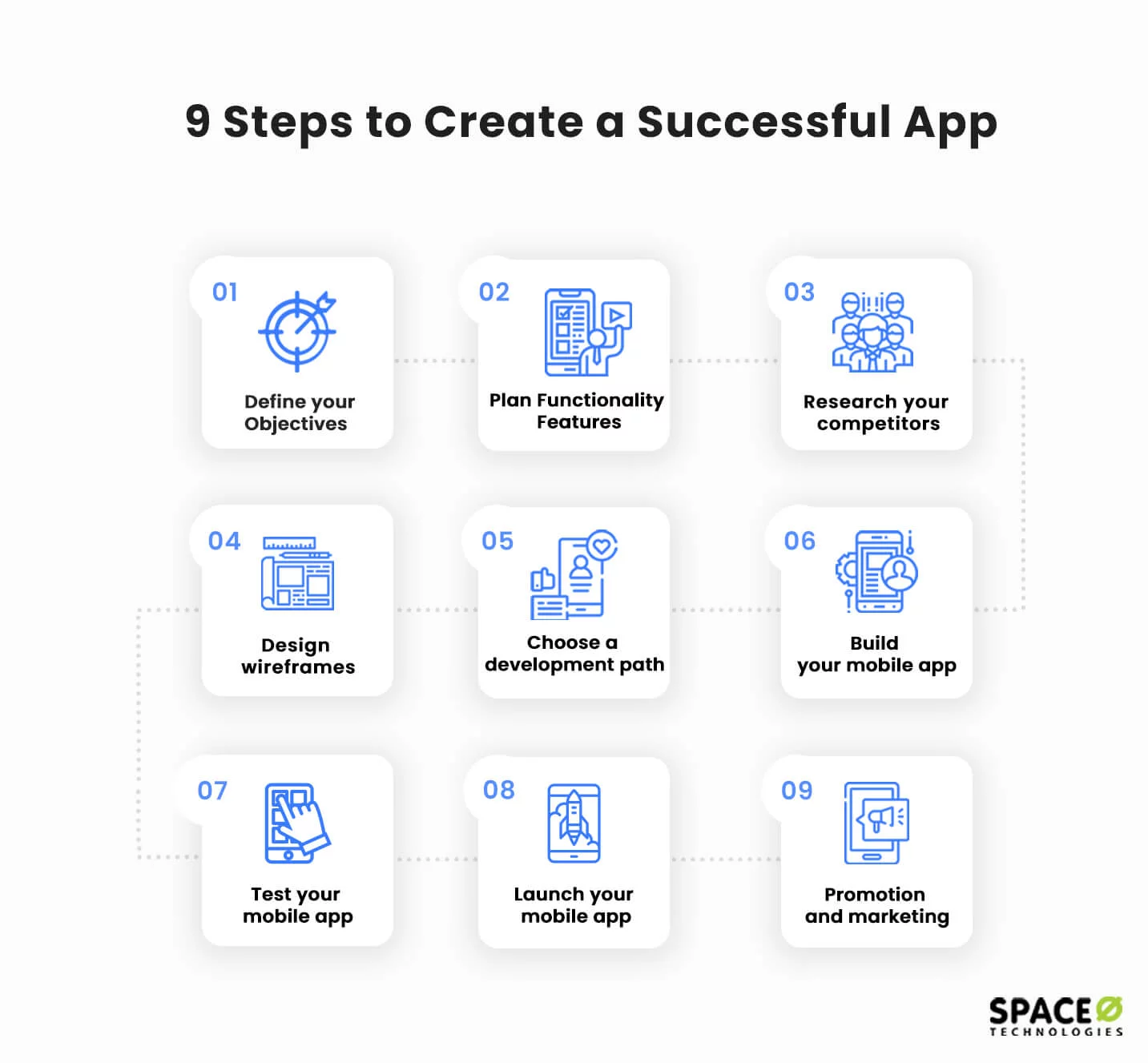 Once you get an answer to this question, move forward by finding the low-code mobile app development platforms to build your mobile app.
It is essential to know which one fits your requirements. Either low-code app development or native app development.
Here, we will take you through the top low-code platforms for app development that can help deliver solutions for both Android and iOS.
Tools
Description
Pricing
Rating (G2)
Back4App
An open-source, BaaS (Backend as a Service) tool that allows developers to create extensible solutions

Starter: Free
Basic: $25 per month
Standard: $50 per month

4.8

(12 Reviews)
Appian
This low code platform allows developers to create applications for all business sizes and types.
4.5

(221 Reviews)
Zoho Creator
This platform allows app users to develop custom applications using minimal to no coding knowledge

Professional: $25 per user per month
Ultimate: $400 per month

4.3

(130 Reviews)
OutSystems
It is a platform that offers developers to create progressive web apps & mobile apps for mobile devices across platforms instantly. You can also deploy reactive web apps with this tool

Enterprise: $4000 per month

4.6

(871 Reviews)
GeneXus
A smart low code platform that allows quick software application development by automatically generating the development and deployment environments

Startup: $100 per month
Software Companies: $250 per month
Enterprises: $900 per month

4.7

(103 Reviews)
BuildFire
A drag-n-drop interface builder that allows you to create mobile apps and deploy it across app stores quickly

Starter: $349 per month
Standard: $499 per month
Standard Plus: $699 per month

4.7

(161 Reviews)
Mendix
This low code platform offers impressive and smart app creations for all platforms and business sizes

Basic: $50
Standard: $800
Premium: Customized

4.4

(122 Reviews)
KissFlow
A dynamic app builder that combines low code and no code to help create experiential and scalable mobile apps

Small Business: $10 per user per month
Corporate: $20 per user per month
Enterprise: Custom

4.3

(500 Reviews)
To help you solve challenges in mobile app development and develop apps in a timely manner, we have listed the top low code app development platforms.
Let's take a look at the benefits and key features of all these 8 tools in detail.
Back4App – Best Low Code Platform

Back4App is one of the best low code mobile application development platforms.

When to use Back4App?

If you want to create a fully-managed and highly scalable backend use Back4App. The Backend-as-as-Service feature allows you to customize backends without needing maintenance. A single platform using which you can develop hosts, build your API, and deploy your applications.

As it is an open-source platform, you will find a raging community of developers backing your dreams. Even, to have one to one conversation, you can always hire dedicated developers take their help to understand the low code app creation process or ask them to enhance a particular feature. It is easier to integrate your application with GDPR, which makes the app more secure and safe. Apart from that, look at the following table to know the current users and top clients of Back4App.

| | |
| --- | --- |
| Currently Used by | 190k developers across 100+ countries |
| Top Clients | Vantage BP, Two4Tea, 1001 Dubai |

The Key Features of Back4App

Business users get to see all the data on a single dashboard. This board presents analytics, app, and push notifications and allows the developers to manage and monitor them easily.
REST API tools are present within this tool that allows users to build apps using REST API functions
You get all the tools to automate email marketing, especially sending welcome and verification emails.
The app-building platform comes with live queries allowing developers to create, store, and sync app queries in real-time. The low-code mobile application development platform will ensure you know when the updates are up and how to maintain them
It offers role-based access to different customers, thus making it easier for businesses to set up and run the applications.
You can scale up or down the hosting as the application needs to maintain and manage the incoming load.

Want to Build Custom Mobile App?

Contact us with your requirements. We are a leading mobile app development company that has developed over 4400 mobile apps.

Appian – Enhance Your Business Outcomes

Appian is the top low code app builder that automates several aspects of your workflow to enhance your business outcomes. App developers use this platform to ensure unified data that allows them to build, test and deploy apps from a single place.

You can create native apps for iOS and Android devices using this low or no code app development platform. It is also a DIY (Do It Yourself) app builder for hybrid mobile apps. You can easily create applications for multiple platforms using this single tool.

It enables business process management, easily incorporates Artificial Intelligence into your application, and orchestrates Robotic Process Automation for superior development. The following table consists of the information of companies who are using this app platform and the top clients they are connected with.

| | |
| --- | --- |
| Currently Used by | 3040 companies |
| Top Clients | A2A, Addiko Bank, AEGON |

The Key Features of Appian

The tool offers comprehensive drag-n-drop tools that allow developers to customize apps without much effort.
Developers can use automated test scripts to build their test cases and enhance the outcome of the application.
Allows developers to create apps successfully with impressive data integration capabilities that enhance the data availability and usage
As it is cloud-based software, it easily integrates with Google Cloud, Amazon AWS, and Microsoft Azure.

Zoho Creator – Top Notch Low Code Tool

Zoho Creator is one of the best low code development platforms that allow you to deliver apps across multiple platforms. With this cross-platform app builder, you can provide enterprise grade apps and customized apps for the Google Play store and Apple Store. They remove the need for traditional coding and automate the workflows to enhance experiences with application programming interfaces.

The pre-defined templates and inherent code allows you to get started quickly. They offer a mobile SDK and UI kit that helps app developers create the magic required to build reliable and robust applications with minimal coding.

It comes with an integration creator, multi-device app creator, and AI creator, allowing you to integrate the latest technologies easily.

Look at the following table to know the current users and top clients of Zoho Creator.

| | |
| --- | --- |
| Currently Used by | 6 million people |
| Top Clients | Amazon, Swiggy, Saint Gobain |

The Key Features of Zoho Creator

Incredible security within the application, which results in excellent up-time and availability for the applications
It offers a workflow builder that makes converting your processes into able workflows easy and helps with accelerating app development.
It provides multi-lingual support that allows you to ensure you can translate your app to multiple languages
Collaborative efforts are possible owing to the single dashboard sharing facility. As a result, different teams can work remotely towards a common goal.
The drag-n-drop interface allows you to build a user friendly interface for the app quickly.

OutSystems – For Rapid App Production

OutSystems allows developers to design, code and deploy their applications for rapid production and quick deployment. It ensures a simplified development process to enable faster access to the product for better business processes.

It is a full-stack low code development tool that offers one-click on-premise and cloud deployments. With this low code tool, you can accelerate digital transformation and customize the mobile app development to suit your end goals. It could be anything from enhancing experiences to automating business workflows.

The tool ensures mobile app modernization and enhances the app capabilities with best practice modules and high-speed development. Know about the current users and top clients of OutSystems by referring to the following table.

| | |
| --- | --- |
| Currently Used by | 676K+ |
| Top Clients | Allegro, Humana, Medtronic |

The Key Features of OutSystems

The in-built templates for specific use cases and application requirements allow developers to build mobile apps and deploy the prototypes in under 10 minutes, thus speeding up the processes.
Complete testing of the application using the integrated debugging engine that allows the release of bug-free and high-quality solutions
The low code tool is developed using the latest security processes and layers, thus ensuring complete app security.
Ensure access controls and manage the permissions for the app from within the platform.
Provides DevOps automation that accelerates the development and deployment of applications
The integrated feedback mechanism allows developers to build well-performing applications.

GeneXus – Develop Low Code AI Driven Business

Leaving out Artificial Intelligence is not possible in the current mobile apps. GeneXus is a low code platform that allows you to develop low code AI-driven business and commercial app solutions that can drive business transformation and enhance capabilities.

The tool automates the creation of app databases, frontend/backend for the application, and the server/client side services as per the needs expressed by the developer.

You can develop mobile and web apps using this platform. It is genuinely multi-platform in its capabilities and opportunities. Whether you want to build Windows apps or deploy G-suite business app solutions. Additionally, this platform helps with business logic and app delivery.

The tool allows you to incorporate customization features and write code that works best toward building a personalized and experiential app for your business. Let's check the current user and top clients of GeneXus.

| | |
| --- | --- |
| Currently Used by | 8k developers across 50 countries |
| Top Clients | Agesic, BanCo, Canon |

The Key Features of GeneXus

It is an AI-driven tool that allows you to create the development and deployment of software automatically based on your needs and end goals.
Model the code once and deploy it across the web and mobile platforms seamlessly without interrupting the experience
Supported by numerous databases and this tool offers the interoperability feature, extending app development's flexibility
It is a future-proof low-code development tool that automatically allows you to move between platforms and technologies. It also ensures that the systems evolve with time.

BuildFire – Create High Performing Apps

BuildFire helps create high-performing and reliable iOS and Android apps for your business. The developer SDK offers in-built functionality that provides app creation with custom functionality. You can use agile project management to deliver custom mobile apps by following mobile app development steps.

You can create a plethora of apps for varied use cases using this app builder. It is a functional 3-step mobile app builder that helps accelerate turnaround time and gives you the desired edge over the competition.

You don't write your own code with this platform; it allows you to create apps using the drag-n-drop feature. You have the opportunity to build applications from scratch; however, the pre-built templates ensure easy app creation with low code needs.

Look at the following table mentioning current users and top clients BuildFire.

| | |
| --- | --- |
| Currently Used by | 10 million users |
| Top Clients | PayPal, Pepsi, Cisco |

The Key Features of BuildFire

The in-built feature library allows you to customize the application to meet your unique needs
One-click reporting and analytics available that can help improve the app performance or usability
Fully-controlled debugging and deployment management for accelerated deployments
Under 10-minute prototype creation with in-built templates and extensive feature library

Mendix – Engaging App Development Tool

Mendix is a popular replacement for Google App Maker. It provides developers with a highly convenient and fully-developed environment to build customized and highly engaging apps. This is one of the rare mobile app development platforms which comes with multiple tools that make app development visually engaging and extend on-click deployment.

This platform can create native and hybrid apps for public and private clouds. You can also deploy the applications on-premise using this tool.

It is a visually-driven app modeling platform that offers impressive deployments and speedy deliveries. Let's walk you through the number of users and top clients Mendix has till now.

| | |
| --- | --- |
| Currently Used by | 250K+ developers and 2000K+ apps developed |
| Top Clients | Rabo Bank, Trane Technologies, KTC |

​​The Key Features of Mendix

Provides a common visual language and IDEs that allows developers to collaborate and design a unique graphical user interface for the mobile application
Intelligent automation that combines people, processes, and data to build applications
Allows integrating data from any system or source anytime as it offers an open and extensible platform.
Design unique applications with similar experiences across multiple touchpoints
Deploy scalable and flexible mobile applications on the cloud with a single click

KissFlow – Handle Multiple Development Jobs

KissFlow allows you to handle more development jobs on a single platform. The app development tool offers features that enhance the developer's efficiency and foster innovation.

You can use the pre-built templates or develop app features from scratch to meet your unique development goals. The tool extends a simplified process and helps build custom workflows that streamline business processes.

Look at the statistics and the top clients of KissFlow.

| | |
| --- | --- |
| Currently Used by | 10k+ customers across 160 countries |
| Top Clients | Pepsi, Flipkart, Tech Mahindra, Hubspot |

The Key Features of KissFlow

Smartboards that allow you to develop visual workflows for better visibility into your processes
Unify your teams and get everyone to work on the project for better advancement and extensive collaboration to accelerate development.
Inherent security features that enable data protection. The platform is abreast with the latest governance standards and data safety standards.
Easily add or edit the fields on your mobile app with the help of the drag-n-drop feature
Quick and easy digitization of forms and requests to enhance development
Introduce tasks and logic to your mobile app with minimal coding efforts using drag-n-drop builder.
We will now take you through the frequently asked questions about the low code mobile app development platforms. Have a look.
Want to Know the Cost of App Development?
Talk to us. Let's analyze your requirement and build a fully functional mobile app according to your business needs.
FAQs About Low Code Mobile App Development Platforms
What are the low code app development trends?
Check out the low code development trends to incorporate while building your mobile app solution.
| Low Code App Development Trends | Explanation |
| --- | --- |
| Growth of Citizen Development | People won't rely on internal IT teams or developers to release the prototypes or first look at the app |
| Accelerate Deployments | Developers and IT teams will use low code tools to accelerate the deployment and get the app to the market before competition |
| API Development | Low code development relies on APIs to incorporate functionality and add the necessary features to accelerate development. |
| App Modernization | A lot of businesses will look at low code platforms to modernize their legacy apps and improve their business processes. |
What is the importance of low code app development?
Low code app development brings major advantages to the business which are mentioned below.
Due to its extensibility, low code tools directly integrate with other vendors to turn APIs, web services, and command lines to turn reusable products.
The low code tools beat traditional methods by quickly allowing the product to assemble with the required process.
Use low code development tools to rapidly deploy new processes and apps.
Choose the Right Mobile App Development Platform
You cannot ignore the growing popularity of low code development tools in the present times. Given the need to accelerate development and speed up deployment, developers need to be efficient and productive. In this article, we discussed about the top 8 low code development platforms that can help with quick customizations, app creation, and cloud/on-premise deployments.
While the need for a developer is eliminated, you need a development company in some cases where you want to customize the application with your code. As a leading mobile app development company that is abreast with the latest technologies and tools, Space-O Technologies is well-versed with these low-code platforms. We have delivered successful applications using these tools.
If you are looking for a developer to assist with mobile app development, connect with our team by filling out the contact us form.