If you want to build an app for your enterprise but want to see how other enterprise applications are doing in the market for various categories, then you are on the right page.
But before moving ahead, it is essential that you know that the global revenue for enterprise software applications is about to reach USD 424 billion by 2025 from USD 273.4 billion in 2021.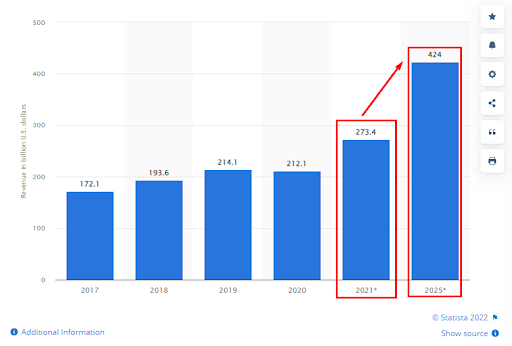 Source: Statista
As the graph shows that the revenue is going to increase exponentially, entrepreneurs are looking to invest more in building enterprise applications.
Therefore, being a leading enterprise app development company, we have written this article on enterprise application examples to inspire you and help you find out how other applications are doing.
8 Top Enterprise Application Examples
In this section, we are going to discuss the top trending enterprise software applications which are currently doing exceptionally well in the market. We have classified these applications based on the leading enterprise software categories, features, and ratings. Have a look at the table.
But, before that if you want to know if you want to know the meaning of enterprise application, check this blog on what is an enterprise application?
Application
Enterprise Category
Features
Rating (Capterra)
Dynamics 365
Enterprise Resource Planning

Insights on sales
Integrates with Microsoft products
Customer service dashboard
Complete visibility into operations

4.3

(4442 Reviews)
Dropbox
Cloud Computing

Cloud storage
File sharing
Content collaboration
Encryption security

4.5

(20200 Reviews)
BambooHR
Human Resources Management

Centralized employee database
Payroll management
Applicant tracking system
Attendance tracking
eSignature

4.6

(1906 Reviews)
Asana
Project Management

Reporting
Team management
Automate tedious tasks
Improved collaboration

4.5

(11593 Reviews)
HubSpot
Customer Relationship Management

Lead tracking and conversions
Analytical insights
Website integration
Nurture clients

4.5

(3506 Reviews)
inFlow
Inventory Management

Inventory level dashboards
Stock history reporting
Low stock notifications
Asset tracking
Inventory forecasting

4.6

(447 Reviews)
NetSuite
Supply Chain Management

Data import and export tools
Invoice customization
Payment processing
Output document generation
Purchase orders

4.1

(891 Reviews)
WordPress
Content Management

Post scheduling
Real-time editing
Template management
Auto update
Pre-built templates

4.6

(14065 Reviews)
Now we will going to discuss all these applications in detail and will find out how these applications become successful and achieve better ROI.
Have an Enterprise Application Development Idea?
Space-O develops mobile apps for major enterprises like Nike and McAfee.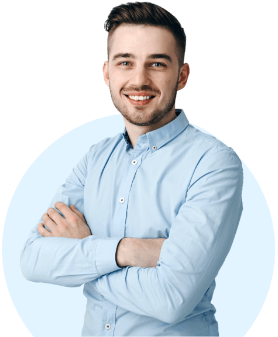 Dynamics 365- Cloud-based Business Application to Increase Productivity

Dynamics 365 is an enterprise resource planning business intelligence enterprise software. Dynamics 365 is built to help several entrepreneurs manage their businesses, keep track of their customer data, generate more leads, offer better services, and resolve issues as soon as possible.

How Does Having Dynamics 365 Mobile App Benefit Enterprises?

This enterprise resource planning tool is a ready solution that simplifies your distribution, warehouse, eCommerce, and other essential tasks, even when offline. This has attracted more entrepreneurs using this ERP mobile application.

Today in 2023, Dynamics 365 is used by many top enterprise companies, such as Nestle Waters, Office 1 Superstore, Danhson, and Osho chemical industries. This enterprise application of Dynamics 365 has allowed companies to better manage their resources effectively.

Dropbox – Secure Cloud Storage to Transfer Photo, Documents, & Files

Dropbox is a file hosting service that more than 700 million users use. It offers various services like cloud storage, file synchronization, and personal cloud. It lets you store all your files in one place, be it photo libraries, documents, or backups. Dropbox is a reliable cloud service provider as it is easy to use and highly secure.

How Does Having Dropbox Mobile App Benefit Enterprises?

Dropbox is a free application that anyone can use to simplify the moving process of projects from any location so that you can focus on what actually matters. Now, with a Dropbox app, enterprise companies can easily access work, collaborate with employees and clients, and take all the tasks from any location using a phone or tablet.

Even the mobile app for Dropbox allows you to access work while in an offline mode or where the internet connection is poor. Also, the Dropbox app has a scanning feature that helps you to scan receipts and other documents using your phone's camera with automatic photos and video backup.

BambooHR- All-in-one HR Platform to Improve Hiring Process

BambooHR is one of the best human resources management applications that was founded in 2008. It offers a modern approach to the business for hiring great talents without facing challenges. It also simplifies the onboarding process to help you elevate the employee experience. Want to know, how to create an app like BambooHR? Get in touch with the leading mobile app development company who have experience to build enterprise solutions.

How Does Having BambooHR Mobile App Benefit Enterprises?

BamboooHR app solution is built to provide convenience to the app users. It has opened several doors for employees and employers to official work instantly. This app is very convenient when it comes to leaving request approval, looking for coworkers' contact details, or planning career progression.

Apart from these benefits, BambooHR adds many advantages to simplify the whole HR process and give a better employee experience. This easy-to-use app keeps everyone on the same page while working in an organization.

"Tracking PTO via BambooHR's mobile app is a game changer." –

Says the HR Manager

of Huntington Steel and Supply

Asana – Work Management Platform to Organize & Track Tasks

Asana is a mobile project management platform that is exclusively built to help different teams of an organization track and manage their work efficiently. Asana makes it really easy, as you don't have to shuffle between multiple files, spreadsheets, and emails to track your work. In fact, you also get to know the deadlines easily so that you can be faster and more responsible. Want to know how to launch an app like Asana? Hire dedicated developers full-time and develop & deploy your app hassle-free.

How Does Having Asana Mobile App Benefit Enterprises?

Asana mobile app is built with the aim of reducing your workload by speaking less about the work and doing more work. As a result, the Asana app has made people 1.45 times more productive, as found in the survey taken of Asana premium customers.

The Asana app has various features which have made 74% of customers meet their deadlines. As teams can keep track of important notifications, capture, and access the information shared internally and make the meeting more productive with enhanced features.

HubSpot – Provides Tools & Resources to Grow Your Business

HubSpot is a customer relationship management (CRM) application that manages your inbound marketing, sales, and customer services and helps you create targeted marketing campaigns. In addition, this management tool simplifies and automates your marketing process with some easy-to-use features like live chat, meeting scheduling with potential clients, and email tracking.

According to a report by HubSpot, around 62% of marketers use some built-in CRM applications for marketing reporting. In addition, as the world moves towards digital marketing, more people are implementing custom CRM in their marketing divisions.

How Does Having HubSpot Mobile App Benefit Enterprises?

HubSpot mobile app creates the best customer experience with powerful features and tools. This has enhanced better collaboration between the teams, managing sales process, and outreach. In addition, with the mobile of HubSpot, you can take your work with you wherever you go. As a result, you can prioritize your work and stay focussed on the day ahead.

This app made it very easy for the customers to collaborate with the teams as you do not have to constantly check-ins because the mobile activity directly syncs with the HubSpot account.
"HubSpot has consistently grown its mobile CRM capabilities over the last 12 months." – Says Ben Lawlor, digital media specialist of Sponge-Jet.

inFlow – Inventory Management Software to Track Products Quickly

inFlow is a leading inventory management application that helps you track and manage your products quickly and accurately. So if someone has a wholesale, distribution, or eCommerce business, then it becomes really easy for them to track stocks from any location and help in managing purchases from a single mobile application.

How Does Having inFlow Mobile App Benefit Enterprises?

Currently, inFlow is used in more than 90 countries to manage inventories. inFlow mobile app adds an advantage to working and staying productive from any location. Keep track of your inventories and stock get updated in real-time whenever you work.

The main aim behind launching the inFlow mobile app was to allow enterprises to work faster and more accurately. You can perform every single task using this mobile application, which helps you to optimize the whole picking business processes. Also, mobile app work as a tool to scan barcodes for faster work and speed up the fulfillment process.

NetSuite- Business Management Solution That Automates Core Processes

NetSuite takes the overall responsibility of managing your supply chain and helps you oversee the flow of products from manufacturing to supplying to delivering to consumers' hands. In addition, NetSuite gives you the power to ensure that all the materials are stocked and accurately measured labor resources for work.

How Does Having NetSuite Mobile App Benefit Enterprises?

NetSuite application has been developed to bring enterprises closer to managing their supply chain in real-time. Mobile app posts real-time updates to transactions and other essential work records on your NetSuite account.

According to Oracle NetSuite, adapting to mobile scanning has increased supply chain efficiency as you are now able to automate several manual processes and have more control over how the processes are performed.

So, having this supply chain management application will help you enhance customer data accuracy and work efficiency with a scanning feature, visibility of real-time inventory, and get quality control over the supply chain process.

WordPress – Open Source CMS to Develop a Website

WordPress is free to use that allows you to host and build websites and manage your content online. It comes with a plugin architecture that makes it easy for you to customize any website that fits your business, blog, portfolio, and more. With a variety of designs, you can efficiently build your own website using WordPress and make hosting hassle-free and easy.

How Does Having WordPress Mobile App Benefit Enterprises?

WordPress mobile app gives you the power to publish content in your hands, no matter wherever you are. As WordPress believes that inspiration strikes anytime and anywhere, it gives you the benefit of having WordPress mobile to manage your content efficiently.

The mobile app version of WordPress adds a lot of benefits for managing your website's content, such as creating, editing, commenting, and publishing posts. Along with this, you can also handle your media and site's traffic and trends for marketing purposes.
In the above list Dynamics 365, Netsuite, Inflow, and BambooHR are specially designed to be able to be used on web as well as on mobile devices. Such apps enable businesses to manage their operations and resources on the go. Such enterprise mobility services are useful for businesses involved in managing business processes and data such as customer relationship management, human resources, financial management, and inventory management.
On the other hand, WordPress, Hubspot, Asana, and Dropbox are not specifically designed for mobile devices. They are primarily enterprise web-apps that offer functionalities such as website creation, marketing automation, project management, and cloud storage, respectively.
Want to Build an App for Your Enterprise?
Talk to us. We will help you validate your enterprise app idea and build a robust application that streamlines your business processes.
In fact, Space-O has experience developing enterprise applications for clients worldwide. From One8, which manages the logistics business processes, to H2GO, which offers on-demand delivery services, we have built applications for various industry verticals.
You might want to look into the portfolio of H2GO; check here.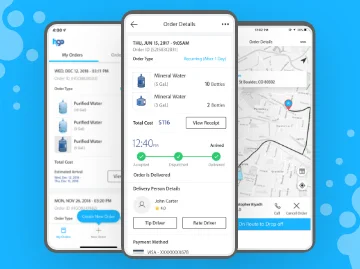 H2GO is a web and app-based on-demand water delivery system that provides filtered water to thousands of customers. The H2GO app, which has more than 1000 users, offers BPA-free and recyclable water bottles in addition to normal water delivery within 24 hours.
Looking for more answers on enterprise apps? Then check the following section, where we have mentioned top trends for enterprise applications, programming languages, and more.
FAQ About Enterprise Software Examples
What languages are used to build enterprise applications?
Choose Swift to develop iOS native app.
Choose Java and Kotlin to develop an Android app.
Choose Flutter or React Native to develop cross-platform app.
What are the top enterprise application trends?
Check the following trends which are ruling the enterprise application development market.
Cybersecurity mesh that helps you add extra layers of security to protect your intellectual property
Metaverse helps you with creating virtual spaces to promote your services and products
Leverage artificial intelligence and machine learning to make better data-driven decisions to enhance the customer experience
Is it possible to upgrade the existing app to an enterprise app?
Yes. It is possible to upgrade or migrate the legacy application to an enterprise app by integrating advanced features and new trending technologies. This is solely done to enhance the quality of your mobile application. If you want to know more about the upgradation services, you can contact our technical team that will help you with the upgradation process.
Build an Enterprise Application for Your Business
We hope that this blog will inspire you to build your own enterprise mobile app. You have gone through 8 leading mobile apps that are ruling different industries. As mobile apps will continue to help enterprise businesses, entrepreneurs will show more interest in building apps.
In case you need assistance in building your own enterprise app or want to hire our top full-stack app developers, get in touch with us through the 'Contact Us' form. Our technical representative will get back to you to discuss your enterprise app development requirements.