In 2021, global mobile app downloads reached 230 billion. Next year, there were 3.5 million apps on Google Play Store and 2.2 million on Apple Store in the year 2022. These are not mere numbers; they showcase the importance of apps in this digitally dominated world. Everything shows how useful and valuable apps are to the end users, from the usage to the time spent on the mobile app.
The time is suitable if you plan to build a mobile app. However, you should onboard the reputed application developer company, which can be your app development partner as well. They will validate the idea and offer the required expertise and resources.
This blog will discuss the prerequisites for the app development partnership. We will also examine the key factors to consider when choosing your partner.
How to Find the Right App Development Partner for Your Startup
Here is a detailed checklist you should follow to find a suitable mobile app development company for your business.
Search for an App Development Company Experienced in Building Mobile Apps

To find suitable app development partners, you should look for relevant experience. You can work with them if they have developed mobile apps for your niche.

For example, you are a retail store looking for an AI-based mobile app. If the software development company you are signing with has a similar experience or understanding of AI, you know they will do justice to the application.

Worked on the same app or a similar version. For example, if you have a taxi booking app development company and want to build a taxi booking solution then, they should have delivered an Uber clone or worked in the on-demand industry.
Ask the software developers how many projects they have handled so far
When looking for a reliable partner, check for experience in native and cross-platform development

Another thing you can do is find reliable mobile app development partners from websites like Upwork and Clutch.

Look for Company's Portfolio to Check their Quality of Work

Look for potential partners with a beautiful and promising portfolio. You want someone who can showcase their abilities with the actual work they have done.

Their work can be your biggest ally when looking for mobile app development partners. For example, you should check the mobile apps if they have delivered unique interfaces.

It will also help you understand what expertise the app developers hold.

They could be brilliant with frontend development
They could be an end-to-end software development partner
They may validate the app idea before translating your vision into a mobile application.

Communicate with the Team to Ensure They Meet the Deadline

When you are looking for application development, you want someone that understands quality and deadlines. Missing deadlines can delay your launch and put you in a tough spot.

Apart from this, you must have a clear understanding of your app development team structure. You shall conduct brainstorming sessions, hold strategy meetings and discuss a few things now and then with the partner company.

As a result, having a streamlined and working communication process is essential. Look for a team having the following abilities.

Set up many communication lines for different needs. For example, they should communicate important matters via email, including the NDA to protect an app idea.
Conduct brainstorming sessions via virtual meetings.
Use messengers or tools like Slack and Skype for real-time communication.

If they adopt and follow these communication processes, you can choose them for business partnerships.

Looking for an App Development Partner for Your Business?

Having developed more than 4400 mobile apps we can be the perfect app development partner to develop an app for your business.

Check Company's Digital Presence to Check their Reputation

It is important to check if the talented app development partners have good visibility online. It will help you know more about the following details.

What is their digital personality?
What do clients think about your potential software developer partner?
What kind of services does the development company offer?
What is their development process? Do they follow a strict methodology?

Examining their website and social media presence can tell you a lot about the app development firm. You will be able to gauge whether or not they understand the domain.

Understand Common Vision to Know the Future Plan of the Company

When you hire a reliable business partner, you want someone who will help with your future goals as well. It is crucial to have shared goals and vision to ensure smooth development.

Your potential partner must understand your vision. They should share your vision and dreams to translate it into mobile app or web development.

Asking questions like how they choose their app development projects and defining the strategic goals can help find developers with common interests.
Why is Mobile App Development Partnership Necessary?
You should partner with an app developer to convert your product idea into a mobile app for several reasons.
Help You Accelerate Market Entry by Outsourcing App Development

When you find an app partner for your business app development, you can launch your app faster. Consider the situation where you have expertise in iPhone app development. You want to build the solution for Android as well.

By outsourcing Android development, you will accelerate development. Eventually, the app for both platforms will be released simultaneously. You save time and get to the market before the competition.

Allow You to Select Better Technology

If you are one of the many local shops with no technical expertise, you should find partners that can translate your idea into a mobile application.

You can access the latest technology and software tools with a sound partner. They will align your technology needs to the strategic goals. For example, dating websites will need different technical expertise than eCommerce solutions.

Understand Your Market Better

If your partner is an expert mobile app development company, they can also conduct app market research. For example, you are a global business looking to develop an app for a broad target audience. In this case, extensive research would help understand the market better.

However, you neither have the resources nor the capability to conduct the research. That's where the right development partner can step in. By partnering with an expert company, you will view product development differently. It will be in sync with the audience's needs.

You can Build Mobile Apps for the Interconnected World

When you have partnered with a mobile app development company, you can build highly functional and accessible apps. They can leverage the latest technologies such as IoT, and AI to boost the development of a more connected world.

A solid partnership offers an incredible playground that enables you to enhance the platform's focus and improve app outcomes. Your apps are ready to compete with real-world solutions and be successful.

Focus on Important Tasks and Requirements

When you outsource partial business needs to the best development partner, you can focus on your business better. It allows you time to concentrate on the core requirements and boosts productivity.

For example, if you are a retailer, you cannot use your internal team to work on the mobile app. It can take their focus away from the internal business requirements.
Now that you know why you should partner with a mobile app development company let's discuss the prerequisites for choosing the right partner.
One of our clients was looking for an app development company to build a water delivery mobile app for his business. He contacted us and shared his requirements with our app development consultant. After analysing his requirement, our team helped him develop a fully functional mobile app. Know more about the app in the following section.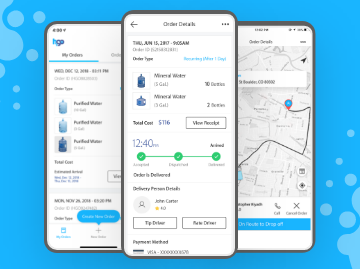 H2GO is a web- and app-based on-demand water delivery system that provides filtered water to thousands of customers. Acquiring more than 1000 clients, the H2GO app helps to order the cleanest water in a matter of minutes.
What are the Steps to Take Before Selecting the Right Mobile App Development Partner?
We all know how a wrongfully chosen partner can undoubtedly lead to increased costs and several headaches for the business. It can also lead to conflicts eventually. That's why you need someone who thinks in the same direction and understands your requirements. Consider the following factors before moving ahead with the partnership for a fruitful relationship.
Define Your Requirements Clearly Understand Your Goals Clearly

You need to determine the services related to mobile app development. For example, would you hire a full stack developer or front-end developer for your needs?

In app development from scratch, you need strategists and UX designers. Suppose you want to develop an app for multiple platforms, you might need experts in cross-platform development frameworks.

The requirements should be as follows.

Specific to the mobile app you wish to develop
Well documented for easy sharing

Determine the Work Scope to Make Sure Your Goals are Achievable

You may not want to outsource the entire project to a partner company. You may want to outsource UX design. If you take the native approach, you might want to outsource iOS app development.

Before finding a suitable app development firm, you should invest in determining the work aspects you wish to outsource. It will help you define the work scope better.

You will know which aspects you will be allotting the in-house team and the business operations you will be outsourcing.

Outsource Vision and Goals You Want to Achieve

What do you aim to achieve with outsourcing mobile app development? It would differ for the different business types.

If you are a retail store with no technology background, you want someone with a tech vision and experience who can translate your idea into a mobile app.
If you have fewer resources, you need someone who can partner with you and unburden your team. It could be an in-house app or client work.
If you want end-to-end solutions extending to maintenance, you should look for that in your partner company.

Identifying this can help you choose the right partner for your needs.

Evaluate the Tech Stack To Build Scalable Mobile App

By this time, you are sure which approach to take for mobile app development. Knowing the technology stack can help you find suitable development partners.

App Development Type
List of Tech Stack
Native App Development

iOS:

Android:

Java/Kotlin
Android Studio
IntelliJIDEA

Cross Platform Development

Flutter
Xamarian
Phonegap
Ionic
React Native
Flutter

Note: Each framework in cross-platform includes a unique tech stack.

Set the Budget to Know the Investment Amount

It is important to know the amount you can invest in mobile app development before choosing your partner. For example, if your entire budget for app development is X. You can spend only a portion of X on outsourcing if you plan to manage the rest in-house.

If you plan to outsource the entire development, you need to know if you have the cost backing. It will also help you know what engagement model, developer type, and development firm can support you.

Single Point of Contact to Ensure Consistent Communication

Project management is an essential aspect of outsourcing. Someone on your team should help you manage the partner programs and ensure smooth development.

Identifying the single point of contact and the right project management tools play a pivotal role in successful outsourcing. You should appoint this team before looking for potential app partners.
Having discussed the steps to help your company prepare for a development partnership, let's discuss the aspects to look for when selecting the development partner.
What Aspects to Look for App Development Partner?
Check the following table to understand the elements you should look for before partnering with the app development company.
Elements to Look for App Development Partner
Description
Technology Expertise
They should be adept with current technologies such as AI, ML, and IoT. Check their portfolio to know if they have developed real-world applications with these technologies
Domain Knowledge
They should be well-versed with the industry, the current trends, and the target audience. The developers should be able to define the requirements and plan the app in sync with the audience's usage.
Skills
Whether you are looking for a full-stack developer or a UI strategist, you should check their skills. Define the skills for the particular job and see if they have the expertise. For example, UX designers should be proficient with prototyping tools.
Experience
It should be defined in two ways:

The total number of years the developer has worked in this field
The niche experience: If they have developed apps for the particular industry

Reviews/Ratings
It is important to check standard sites for ratings and reviews by clients. Clutch is a popular site to check mobile app developer ratings.
Security Protocols
It is important to know how the development company will manage data security. You should look for protocols and methods they use.
Searching for an App Development Partner to Build Your App?
Share your mobile app requirement with our app development consultant and get a fully functional mobile app within your budget.
Let's answer frequently asked mobile app development partnerships questions.
FAQ About Mobile App Development Partnership
What is an application partner?
An application partner is a person or company that works with your team to help achieve your mobile/web app development goals. They help with their technical expertise and development experience to enter the market before the competition.
What are the top reasons to find a mobile app development partner?
The following are the top reasons to search for a mobile app development partner.
Mobile app development partners generally have cutting-edge technology and in-depth domain expertise.
They deliver solutions regardless of the required complexity.
You can receive post-deployment support such as fixing bugs. Even, though you don't need to worry about App Store and Play Store guidelines, your app development partner will take care of such tasks effortlessly.
Ready to Select the Best App Development Partner for Your Project?
In this article, we saw the factors you should consider when choosing developers for your mobile app development requirements. As a business, you should plan before you seek references or meetings with the app developers. Make sure to define the work scope, requirements, and budgets before you find app partners.
Space O Technologies is a leading mobile app development company. We partner with businesses to offer technical support and accelerate their app development goals.
Connect with our team if you are looking for a suitable app development partner.