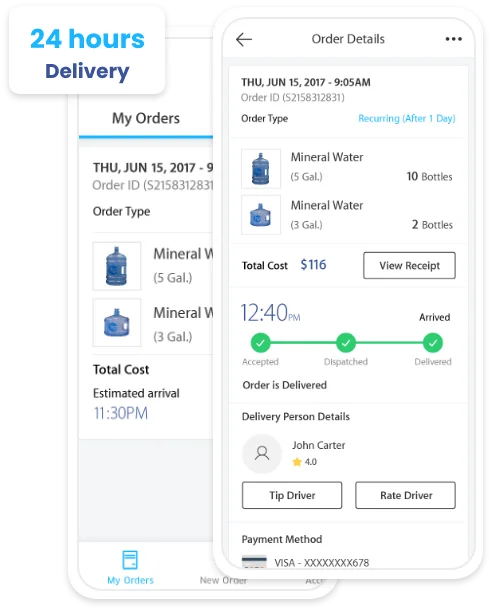 About the H2GO Water Delivery App
There are multiple water delivery systems in the market. But with the skills and experience of our development team, we have helped H2GO develop two complete water delivery apps in iOS and Android. Along with the mobile app, we have developed bottled water delivery software, which is currently available in Northern California. H2GO has enhanced its service and management using water delivery software solution to offer the cleanest water at a sustainable price.
H2GO has successfully taken its business online by offering the cleanest water to more than 1000 customers using our developed solutions. The water delivery service software is well built with all the necessary water delivery app features like 24 hours delivery, recurring order, and online payment feature. The customers can place orders at their convenience using the best water delivery services and get drinking water.
Colors and Typography

Key Features of H2GO
Customer App
01
New Order
By clicking on the new order, place orders. Add the delivery address, either your business or personal address, and you're ready to start placing new orders.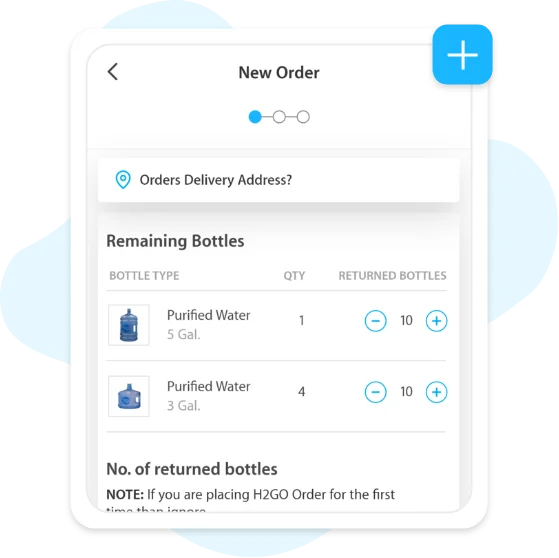 02
Place an Order for Bottles
Choose from a variety of bottle sizes (3 gallons, 5 gallons, and 8 gallons) and order multiple water bottles in a single order. Depending on your needs, increase or decrease the bottle orders.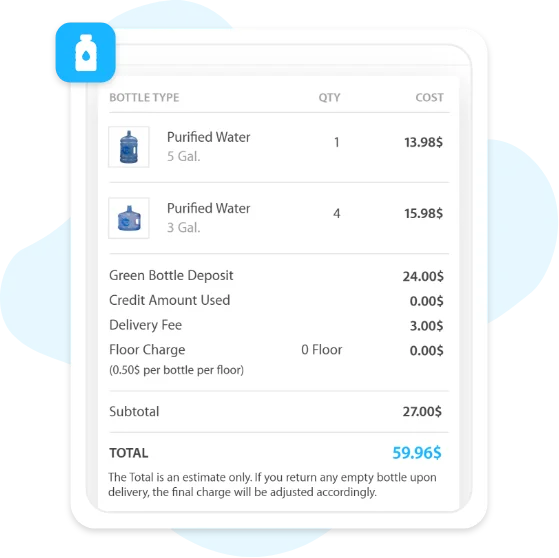 03
Bottle Returning Process
This feature is only available for existing users. Use this function if you've already ordered bottles and want to return them. Choose the number of bottles you want to return when ordering a new bottle.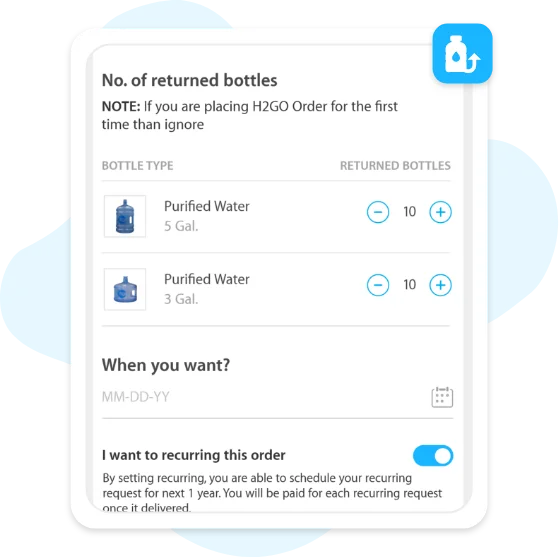 04
Recurring Order
If a consumer selects a weekly repeating order, the order will be fulfilled on a weekly basis. Each week, the cycle will repeat itself. If they choose every two weeks, the next order will arrive two weeks later.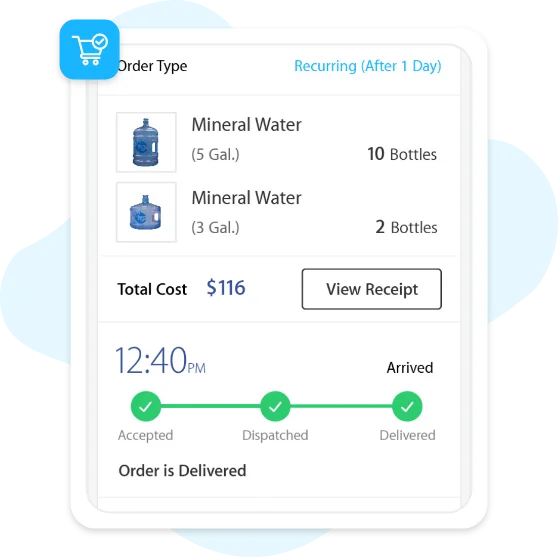 05
Add a Delivery Address
Add the address to which you'd like your water bottles to be delivered. Business deliveries are made between 10 AM and 5 PM (PST), whereas home deliveries are made between 10 AM and 8 PM (PST).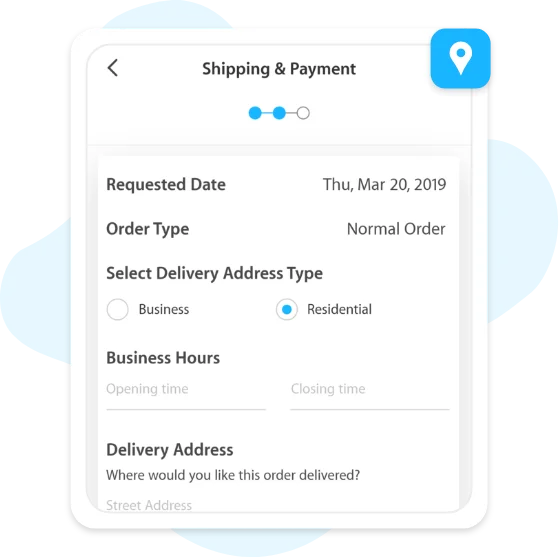 06
Choose the Delivery Date
Choose a delivery date if you want water to be delivered to your home or office. It can take up to 24 hours for a single order of water to arrive. So, choose a delivery date that works for you.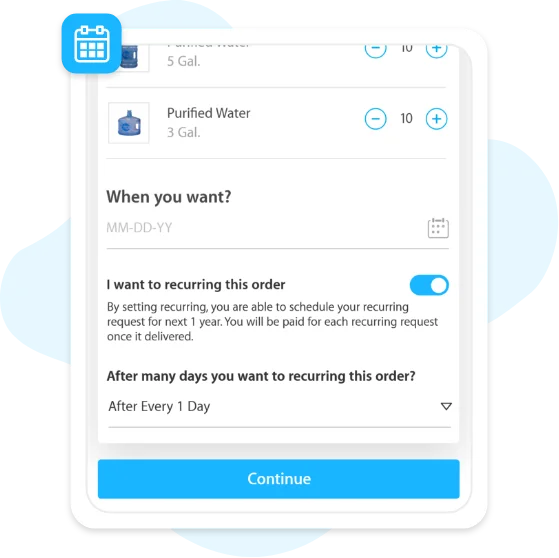 07
Access to Elevator
The elevator access feature tells the driver how many floors must be climbed in order to complete your request. The charge may apply in case of the unavailability of elevator access.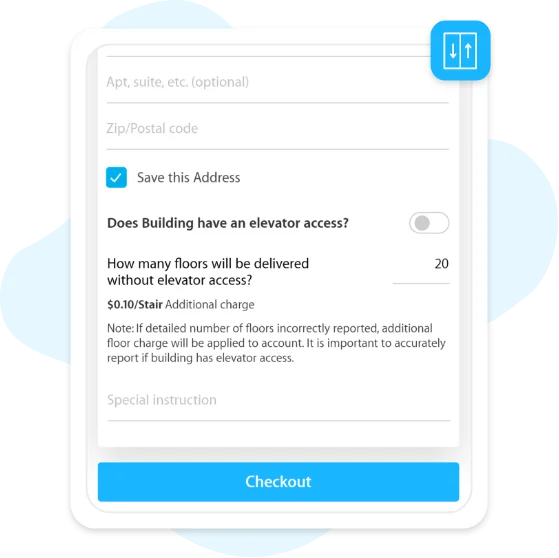 08
Track Order
After receiving your order confirmation, use your app to track the status of your water delivery. Accepted, dispatched, partially delivered, and delivered are the four steps of the water delivery order.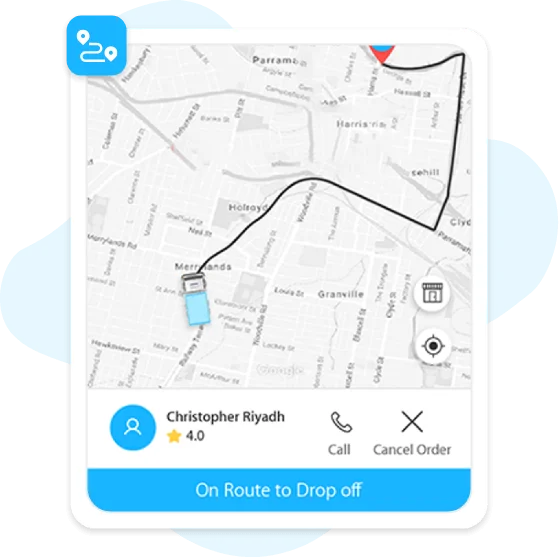 09
Payment Methods
By selecting the New Card button, you can add new payment methods. To buy water bottles, use valid credit card information.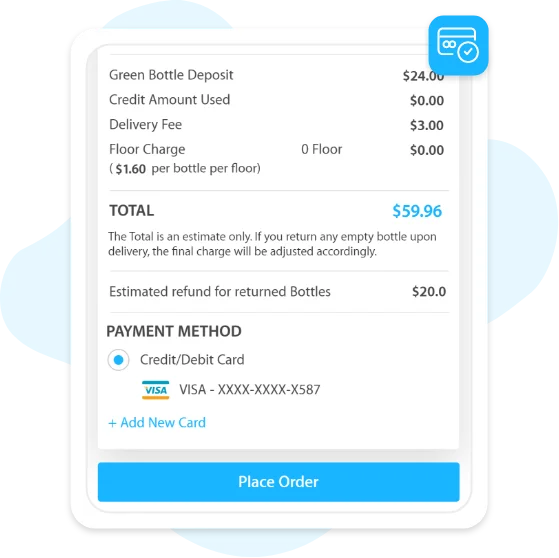 Driver App
01
Today's Order
The request for a bottle will be sent to your smartphone. Before the delivery, check the name, email, mobile number, city, and delivery address and accept the delivery.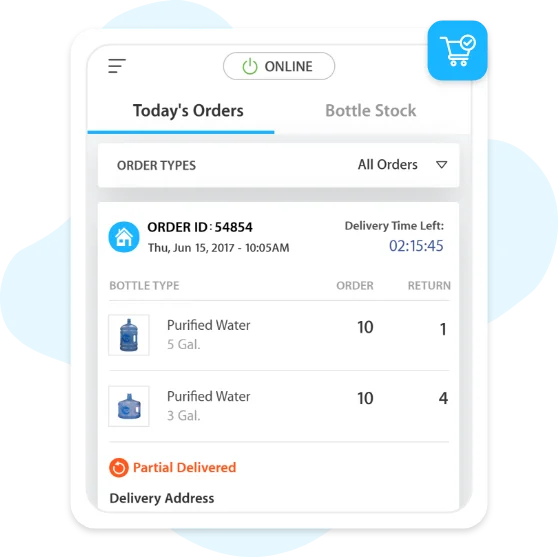 02
Call the Customers
Call the customer to double-check the address or get more information. The call masking feature is in place to keep client contact information safe and secure.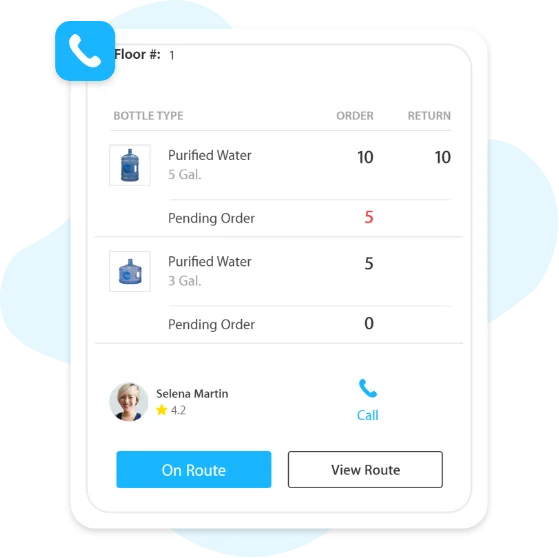 03
On Route
Show the consumers' exact delivery location. Allows you to track down even unknown areas without wasting a lot of time.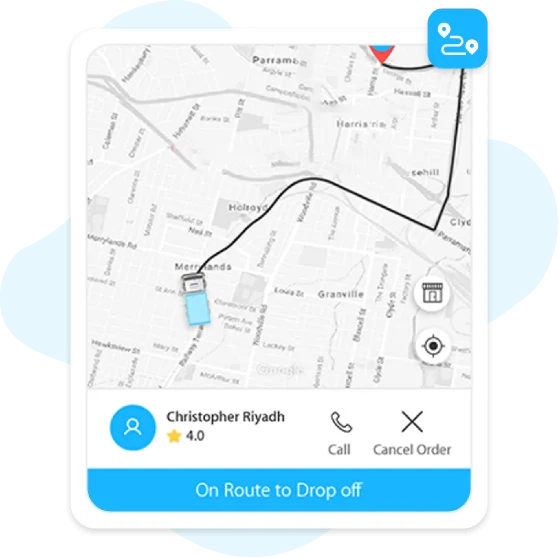 04
Bottle Stock
Check the overall bottle stock, the present required bottles, and the required bottles for the next day. There's also a list of empty bottles and a list of new bottles to deliver to consumers.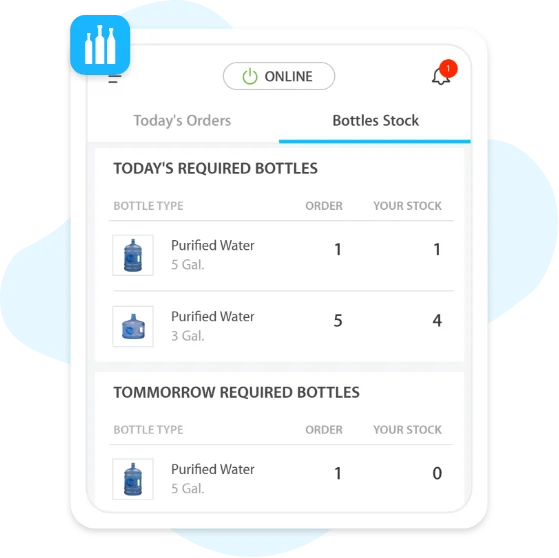 05
Notification
Get the notification of new order requests, and canceled requests. It will be easier to manage and keep track of the status of orders.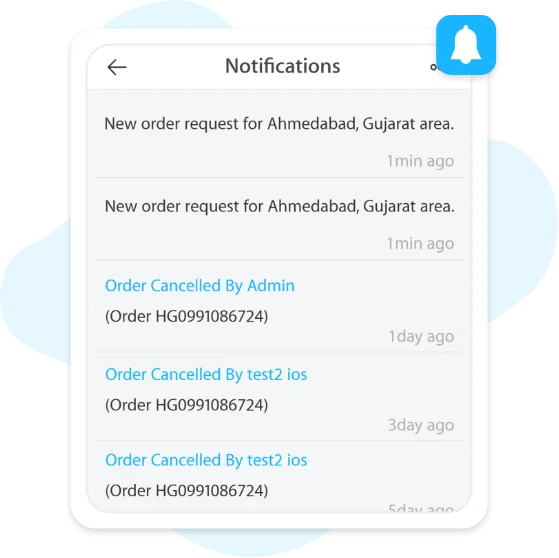 06
Order Popup
Whenever a new order is placed, get an alert message in your water delivery driver app. Accept or reject an order by tapping on the notification screen. The order is assigned to another driver if it is rejected.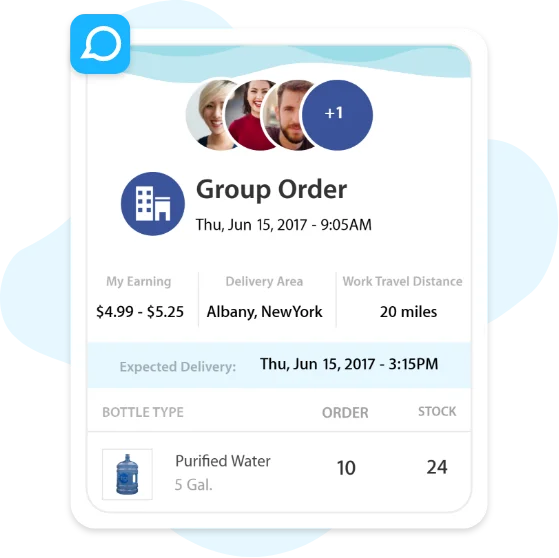 07
My Orders
Directly from the dashboard, monitor the status of active orders. Check active, delivered, and canceled orders from this feature of the H2GO app.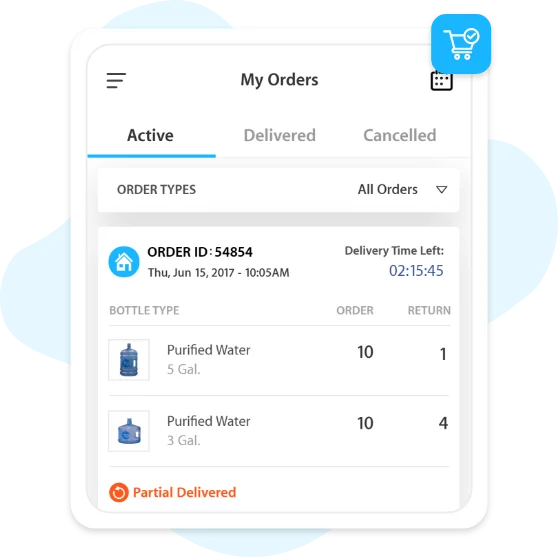 08
Scan the QR Code
To scan the filled bottles, hit the "Scan the QR Button" after confirming the delivery. Manually scan the new and empty bottles by uploading the bottle image and selecting a specific QR code.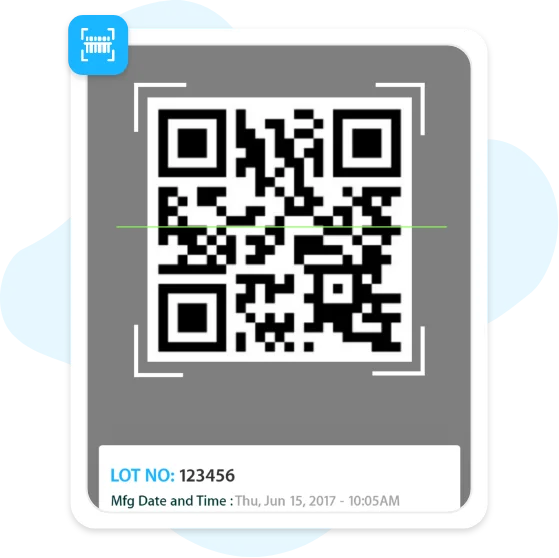 09
Scan Damaged/Found/Lost Bottles
In case of finding a lost or damaged water bottle, scan the QR code to keep track of the lost/damaged bottles.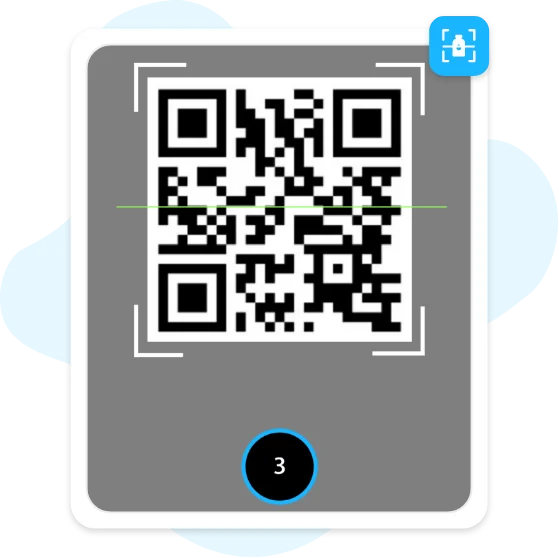 Laundry Owner App
01
User Map
Simply input the zip code of an area to access the various locations. Recognize the various sorts of locations, such as residential, commercial, storage, and plant.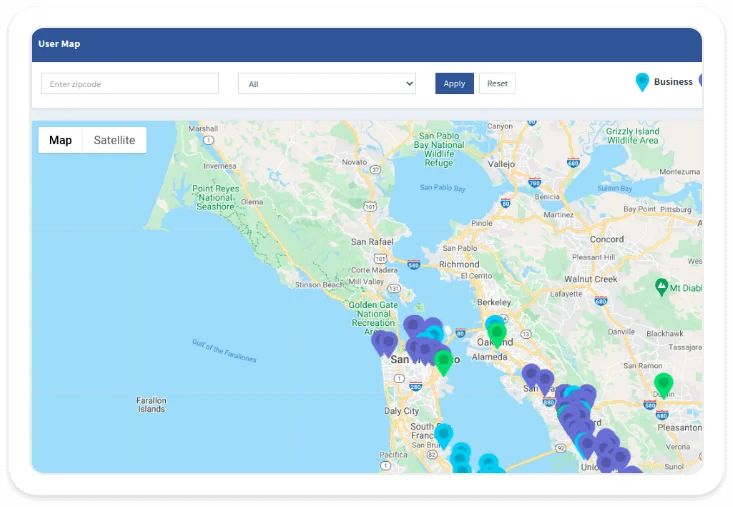 02
Add Stocks
Create and change the status of existing stocks (water bottles) from the panel. Change the bottle price, deposit fee, bottle code, and bottle image with ease.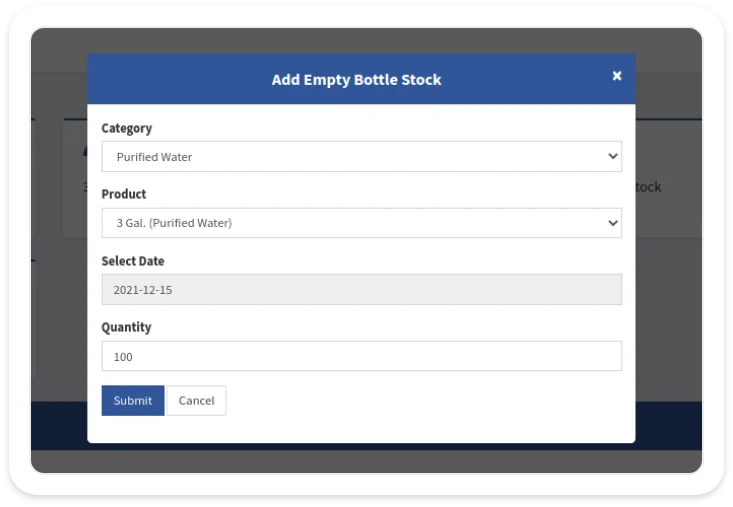 03
Client Management
Manage information about clients such as their name, email, verification code, cell phone number, special discount, and status. Remove consumers from the list as well.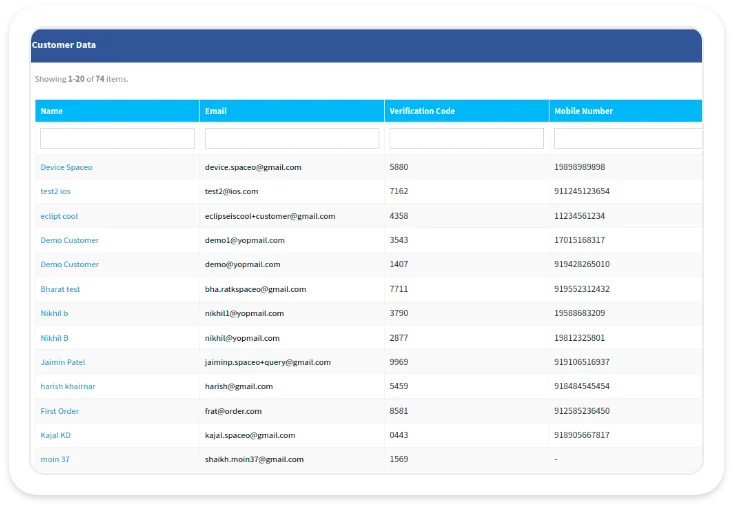 04
Drivers Management
Keep track of the driver's contact information and update it as needed. Cancel or assign the driver's delivery schedule, as well as change the working status of the driver.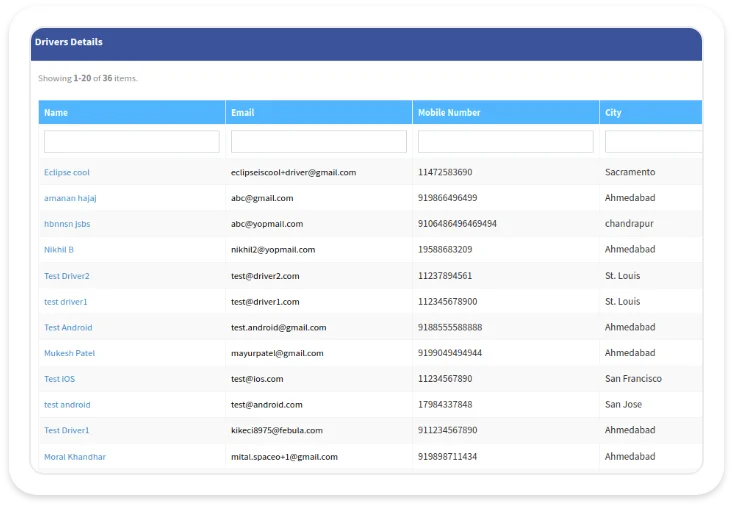 05
Download the QR Code
Keep track of bottles that have been delivered and those that are yet to be delivered. Streamline the water delivery procedure by seeing and downloading QR codes for various bottles.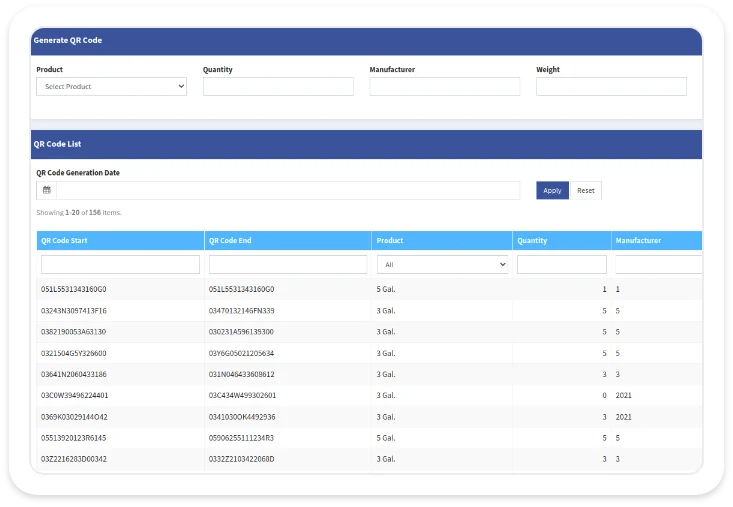 06
Track Bottles
If a bottle goes missing, use the scanned QR code from the bottle history to inspect or trace it. Check the product's lifecycle by clicking the track button.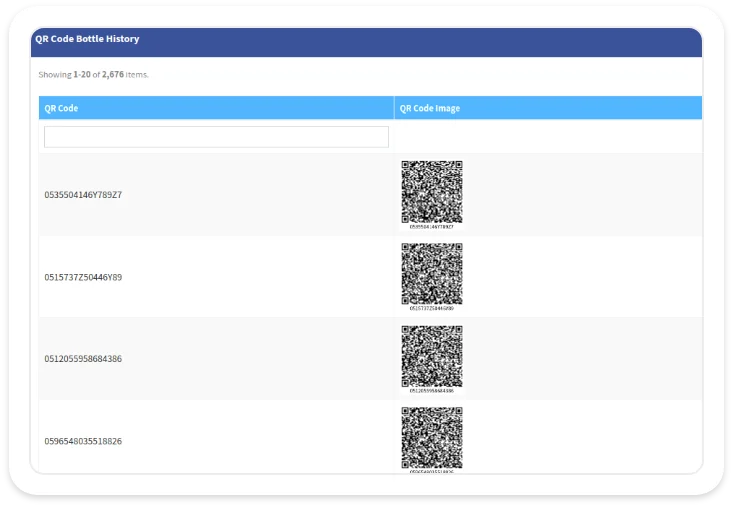 07
Admin Stock
Check for water bottle availability and filter the data to ensure that the date, product, and amount are correct. To add stock, click the add button and fill in the details.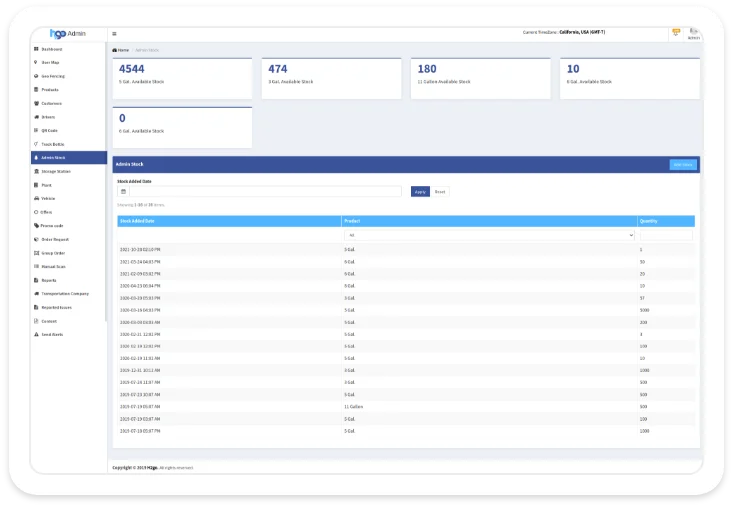 08
Order Request
The order request panel allows you to keep track of all pending orders, accepted orders, on-route orders, and arrived orders. This feature allows you to keep track of all orders and user information, as well as shipping and billing information.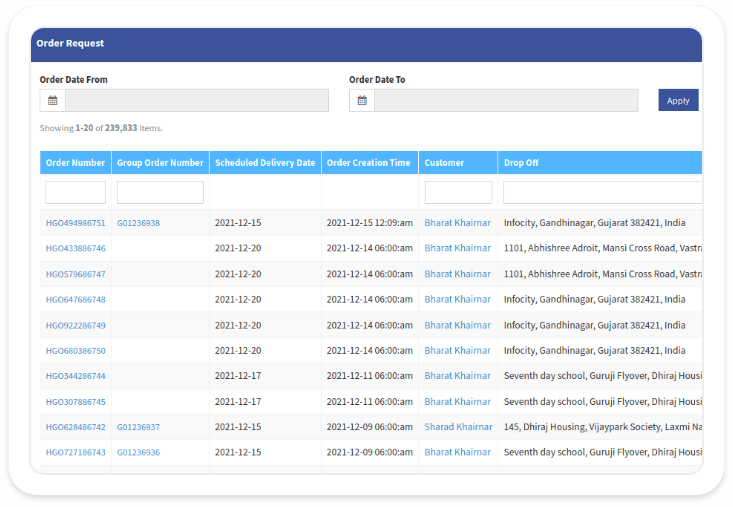 09
Group Order
Assigns the delivery to the driver based on his or her proximity to the delivery site. Using group orders has the advantage of allowing drivers to finish maximum orders in the shortest period of time.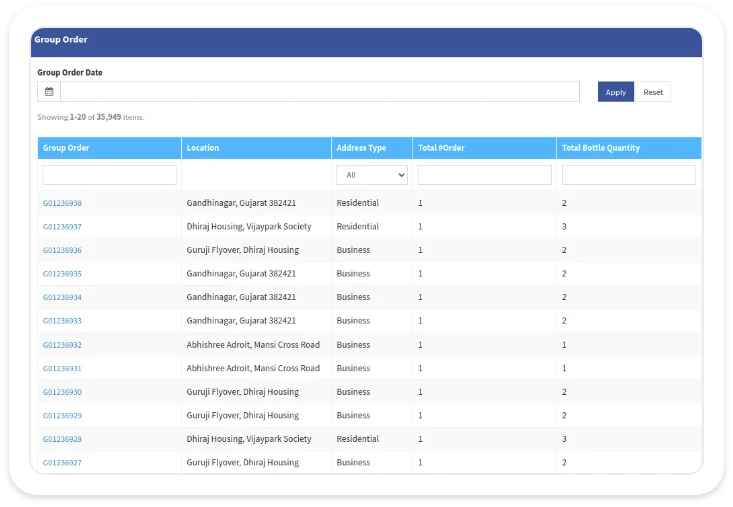 10
Admin Earning Reports
It's simple to figure out how much money the company makes from each order. Check the plant bottles and the driver's commission on each delivered bottle.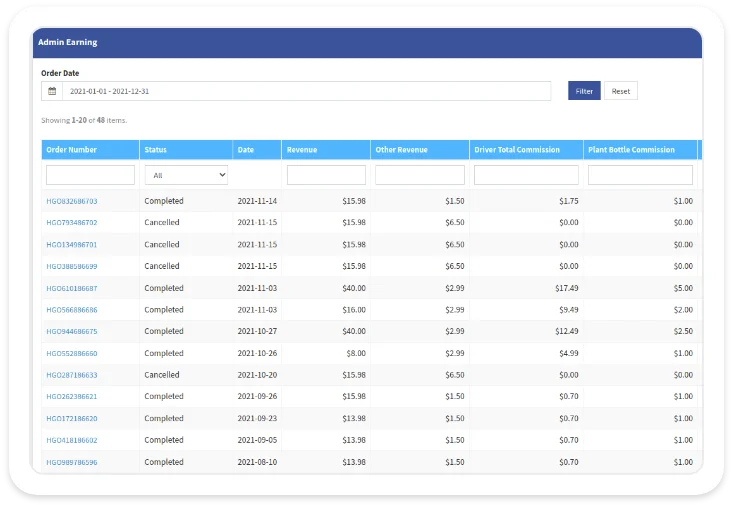 Want to develop on-demand web and mobile app solutions for your business?
Reach us with your water delivery app development or other app ideas. We offer free consultation and a quote on developing an on-demand solution.
Other Related Apps Developed by Us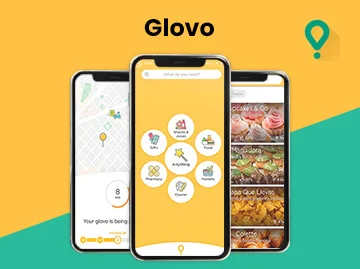 Having a $1.2 billion valuation, Glovo is the most downloaded on-demand delivery app with over 50 million downloads.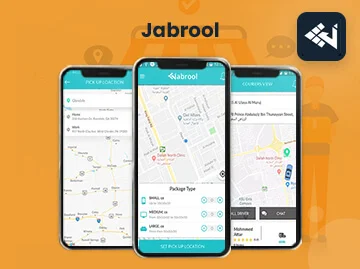 Jabrool is an Uber package-delivery app solution that connects delivery drivers and parcel senders in real-time across Saudi Arabia…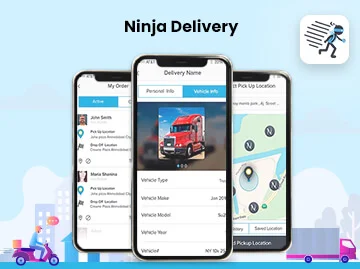 Ninja Delivery is an on-demand application for package delivery services, where users can request package delivery services like Uber…
Appreciation from Clients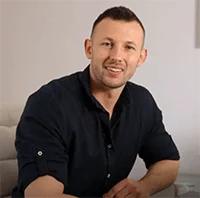 Steve
USA
I would like to thank the entire Space-O team for helping us with our photo editing app. We have been working with other developing teams before, and we were able to find Space-O. And all the other developers failed to deliver all great working apps for us. Space-O helped to design the app in a very user-friendly way. They helped us to navigate solutions for the app. And overall went above and beyond with our request.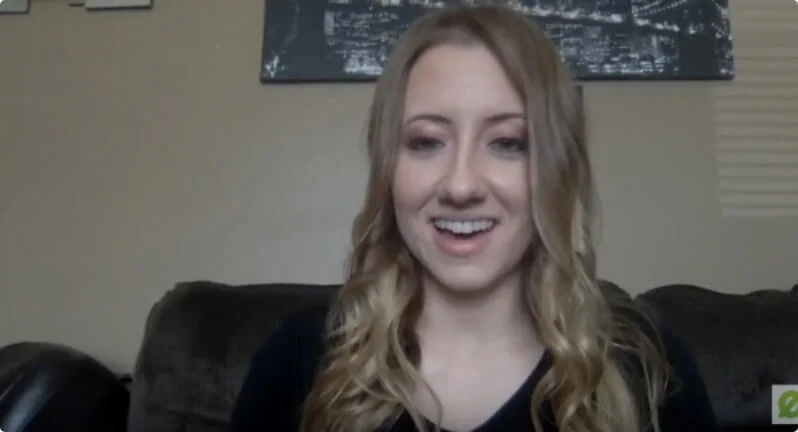 Olivia Grande
USA
This was the first app I've ever developed and they been extremely helpful every step of the way, answering questions, writing recommendations, and tips. If you're looking for a high-quality app, definitely go with Space-O technologies.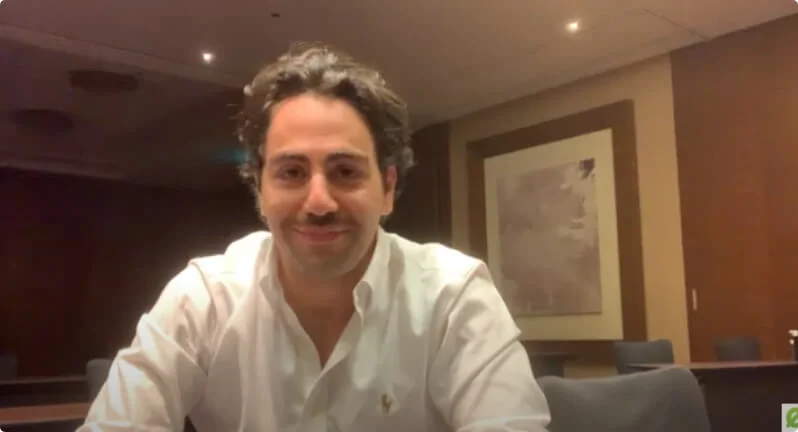 Kaveh
UK
When we started 2 years ago, the main struggle was to find the right developing team, because the problem was we were all quite demanding in terms of quality. And, this showed that we were able to develop some successful apps. But, this would not have been possible without Space-O.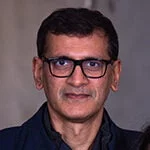 Aamir Jaffar
Kingdom of Saudi Arabia
I hired them for a BA assignment for a project. They did a fantastic job. Quite professional and also good at making the customer understand non technical aspects. Put their mind to think like the customer. A guy named Jaimin was assigned as the work lead and really appreciate his knowledge, understanding customer perspective on the assignment and come up with very valid suggestions. Recommended for mobile app development.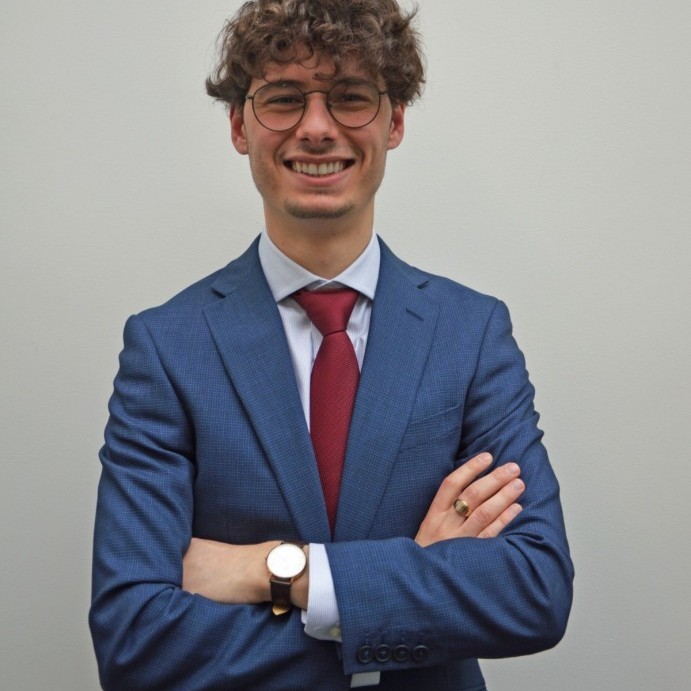 Riccardo Petrachi
United Kingdom
We searched online for app developers that had an extensive experience in mobile app development as well as a strong presence in the market. We chose Space-O specifically because of the up-close experience we had with another app they had developed and we wanted to achieve the same high level of standards, quality, and satisfaction. We were looking for brilliant experts and we found them.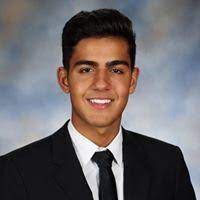 Ashton Asherian
USA
Space-O Technologies showed genuine interest in the project. The efficient team delivered quality results at a cost-effective price. We wanted to develop a minimum viable product that would be ready for scalability. It was a great experience working with them. We are so happy that we had the chance to meet Space-O. We love their work. Their project management and structure were amazing. The team loved what they were doing. There was passion behind every single piece of work.

Tom Asare
Ghana
The app was successfully launched and fulfilled original expectations. The Space-O Technologies team was communicative and effective in completing the project. The app is available in the Google Play store, and we're thrilled with the final product. They were a highly efficient team to work with. They were strong communicators—whenever I had an issue they were available. Additionally, they were timely in getting deliverables to us.

Nick Power
Australia
Eugene, Vlad, Jigar and their respective teams have been fantastic on all the various apps they have worked on and developed for us over the past 18 months. They are always proactive, responsive to questions and consistently provide top quality development and design work. The use of Skype, email and their own project management tool also makes it easy to keep track on how a project is progressing. I would highly recommend Space-O Technologies for any iOS development or design.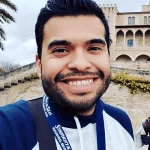 Mark
USA
I can't say enough about how great of a partner Space-O has been to work with over the past year. They were always pushing the project forward and ensuring quality checks at every turn, even pieces of my app that I should have caught before sending to development. Will definitely be referring any clients of mine to Space-O and will have them first on my list of partners to work with.