World's First Smart NFC Jewelry App Solution
Memento Locket App is the most advanced smart NFC (near field communication) jewelry app to celebrate life's precious moments. Space-O is proud to design and develop the Momento locket app using the latest NFC technology. This Momento NFC jewelry app is an art more than technology developed by our professional mobile app developers. Have an NFC app idea for your business?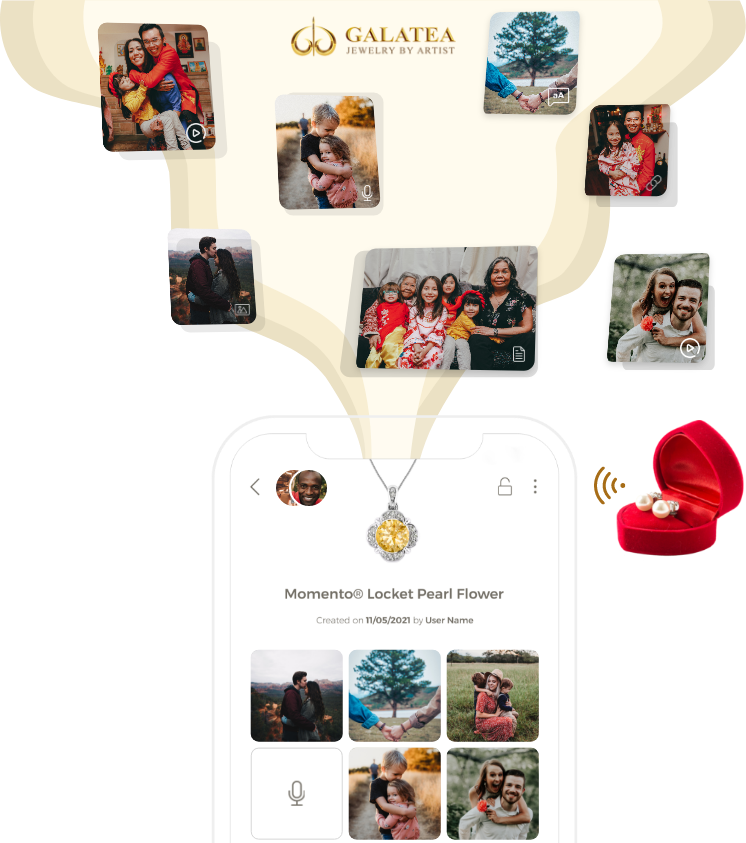 Platforms
iOS, Android, Web
Services Provided
Design, Development
Abstract of Momento Locket App
Momento is the smart readable, and writable NFC jewelry app designed to be utilized with Momento jewelry. Our client is an artist and creator (based in the USA) and paints which becomes an inspiration for new pieces of jewelry. Therefore, he shared his idea about developing the Momento locket app. This interactive mobile app permits you to transfer precious memories through NFC digital lockets. Record, store, and play memories by tapping the Momento app on a phone.
This fine jewelry allows for the storage of up to 3 GB of precious memories. Treasure forever more than 3,000 pictures and hours of videos of your most precious memories using this amazing app. Add audio, text, link, and document, and import Google Photos to store them in the NFC chip. Apart from that, scan gems, check the list of your purchased gems, and check pending and public files as well.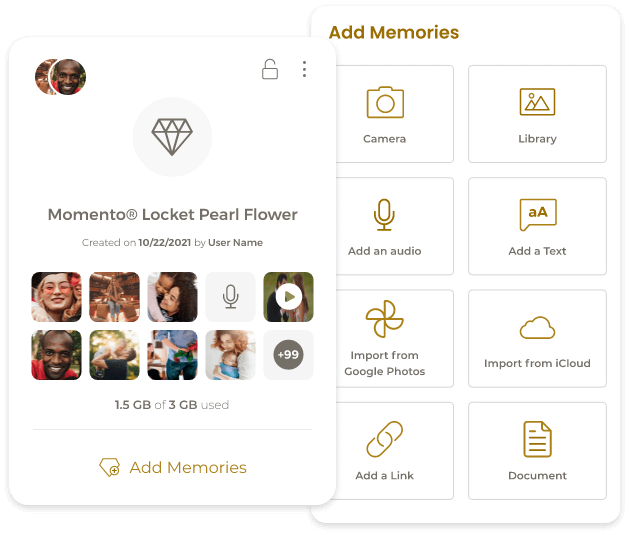 About Our Client and App Requirements
Our client is based in the USA and is an NFC enthusiast. He is an artist and has a deep interest in merging jewelry and technology together. He started his venture 20 years ago and named it Galatea. His focus was to craft jewelry that holds innermost thoughts, and dreams. That's when he crafted a piece of art and named it "Momento collection."
He was sure about his idea and performed enough research to turn his idea into a live app. Initially, the client implemented a rough idea into paper and discussed it with our team. His aim to store memories in jewelry was unique and required extra attention to detail.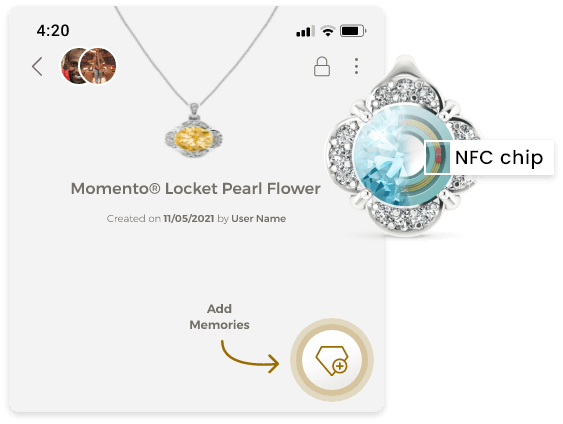 Solution We Offered to the Client
The client was clear about his requirement, he wanted to develop an NFC jewelry app even for non-tech users. Hence, developing a simple locket app with complete functionality was a challenge. After understanding the client's requirements, our Business Analyst team prepared a WBS document. This document helped the client to understand the structural view of his website and mobile app.
Subsequent to this, our development team researched and implemented the best solution according to the client's expectations. As there was no website present to showcase the Momento locket apps, we built an eCommerce website for our client. Once logged in, users can manage accounts, gems, and pending orders and order a locket from there.
Using the simple and featureful mobile app, users get the option to store and manage their precious memories and gems. Even, this app has been able to secure more than 1000 downloads and growing rapidly. To make it secure we implemented a lock gem feature to ensure your data safety. Also, they can check the pending and public memories as well.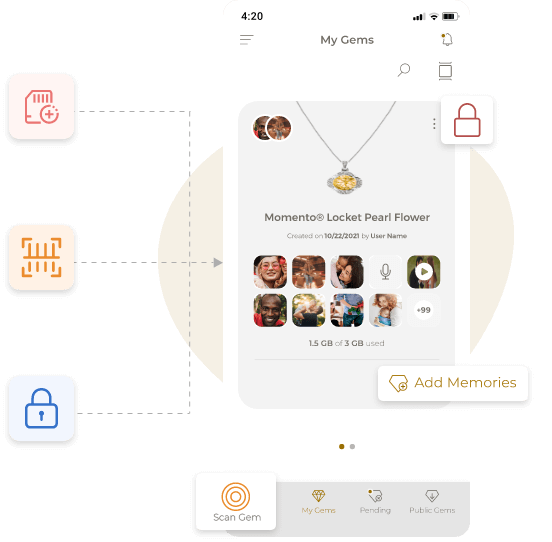 Challenges We Faced
Our team has an in-depth understanding of the NFC. As we have already built NFC-based mobile apps for our clients across the globe. However, we did face 2 challenges while developing the mobile app.
The first challenge was to make the NFC scanning work. As the syncing between the locket and mobile app was not properly aligned. Later, we fixed that issue with the help of our senior back-end development team.
Second, we were facing an NFC ownership issue as well, where it was challenging for us to track the ownership of a real user once the authority is passed to a different user. Our development team invested 2 days and solved the issue. Now, the app seamlessly recognizes all the users.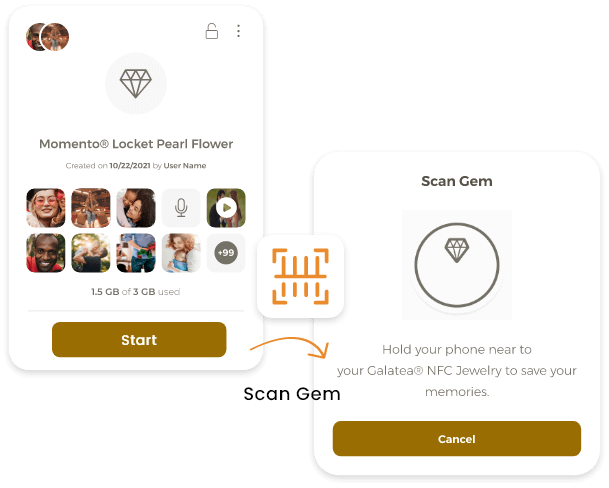 Key Features of Momento Locket App

Scan Gem
To access the gem you require to first scan by pressing the Scan Gem button. Once pressed, the phone will scan the availability of the NFC jewelry then it will permit you to add memories to it.

Share My Gem
Share My Gem feature allows another user to access all your memories and edit them without having the physical gem. To access the memories the user needs to accept the invitation.

Format Tag
Using a format tag, permanently delete the data from the NFC chip. To store the new data, it is required to wipe out all the data first.

Link Gems
In the Link Gems feature, link your memories to another gem and copy your memories to the linked gem. Any changes performed will update all the linked gems.

Add Memories
Just open your Momento app and tap on the Add Memories button to insert precious memories. Add photos, record audio, add a text, import from Google Photos, and add docs using the app.

Pending Files
Pending files are some of your memories that were not added to your gem. Select the memories to add to your locket. Add pending files into a locket whenever you want.

Public Gems
By entering into the Public Gem, it will show the scanned and discarded memories. Canceled and discarded will be automatically added here. Get the option to add, delete, or share all those memories.

Notifications
Get the access notifications while sharing, linking, locking, and scanning gem. Even while transferring the ownership you will be notified whether you accept the ownership or not.

Lock Gem
In case your gem is lost, you can lock the gem. Using this users can't scan or transfer memories to other users. Only those users can access the gem that has been given permission.

Ownership
After transferring the ownership to another user, the user will receive the notification to either accept or reject the ownership. While accepting the ownership, it is essential to have the jewelry to obtain the ownership.

Customers Management
The admin manages the customers. The admin has the option to View, Reactivate/ Deactivate, and Search customers by user name. Check details such as customer id, name, address, mobile number, and country.

Order Management
System Admin views the pending, active, and completed orders. They manage the order status and the tracking link for the view purpose of users. Also, the website purchase order will be automatically added to the dashboard.

Products
Directly from the dashboard add or remove the products. Admin has the right to add or remove the products available for purchase. The product management can be directly handled from the dashboard.

Promo code
Admin can add promo code from the panel. Also, the admin has the authority to View, Add, and Delete the promo code. To search the promo code, Search By – Promo Name. Set active and inactive promo codes.

Buy Jewelry
Add the jewelry by logging into the dashboard. Add or remove the gem quantity according to your requirement. Click on Proceed to Checkout to navigate to the Checkout page.

Checkout
After successfully adding the jewelry to the cart, fill out the billing and shipping details, add the promo code if you have any then Click on the continue to payment button.

Payment Option
Verify the list of purchased jewelry and the total amount. Select the Add a new shipping address or set the same address, click on Pay Now button to process the payment from your end.
Looking to Build a Custom Jewelry App Solution?
Do you want to develop a custom jewelry app solution? Want to know how much it costs? Talk to our experienced app development consultants.
Final Results

1000+ Downloads and Counting
Momento Locket App is successfully downloaded by 1000+ users till date. Just by installing the Momento app users can add memories, manage their existing gems, lock gems, and share and access memories for free.

Became Easier to Share Precious Memories
Gifting the physical jewelry is nice, what if you can store memory in it that? Just by simply touching your jewelry to your phone, you can add precious memories from photos, videos, and recordings in a few minutes. Even transfer those memories to the jewelry of your choice as well.

Batteryless Solution
The NFC chip is battery-less and capable to store up to 3 GB of data. Just by tapping the jewelry on the phone, the app will directly receive all the data without a charging requirement.
Appreciation from Clients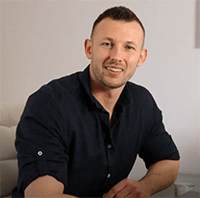 Steve
USA
I would like to thank the entire Space-O team for helping us with our photo editing app. We have been working with other developing teams before, and we were able to find Space-O. And all the other developers failed to deliver all great working apps for us. Space-O helped to design the app in a very user-friendly way. They helped us to navigate solutions for the app. And overall went above and beyond with our request.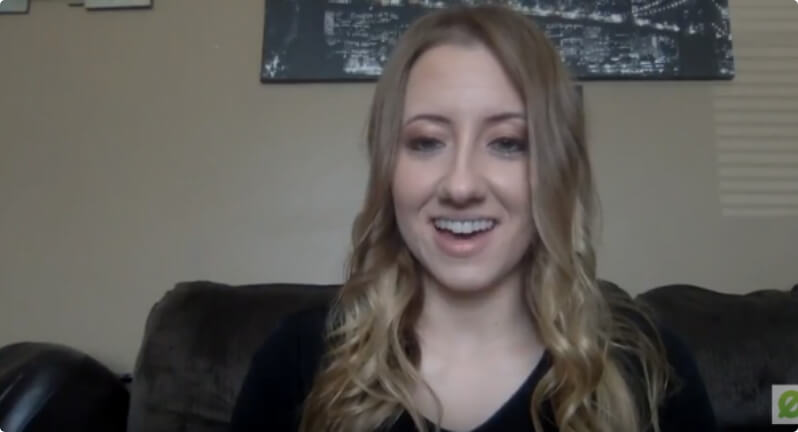 Olivia Grande
USA
This was the first app I've ever developed and they been extremely helpful every step of the way, answering questions, writing recommendations, and tips. If you're looking for a high-quality app, definitely go with Space-O technologies.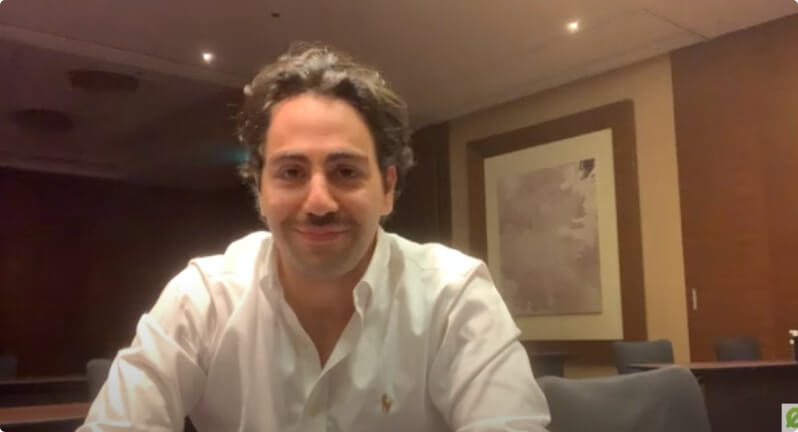 Kaveh
UK
When we started 2 years ago, the main struggle was to find the right developing team, because the problem was we were all quite demanding in terms of quality. And, this showed that we were able to develop some successful apps. But, this would not have been possible without Space-O.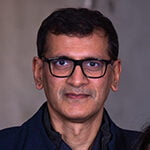 Aamir Jaffar
Kingdom of Saudi Arabia
I hired them for a BA assignment for a project. They did a fantastic job. Quite professional and also good at making the customer understand non technical aspects. Put their mind to think like the customer. A guy named Jaimin was assigned as the work lead and really appreciate his knowledge, understanding customer perspective on the assignment and come up with very valid suggestions. Recommended for mobile app development.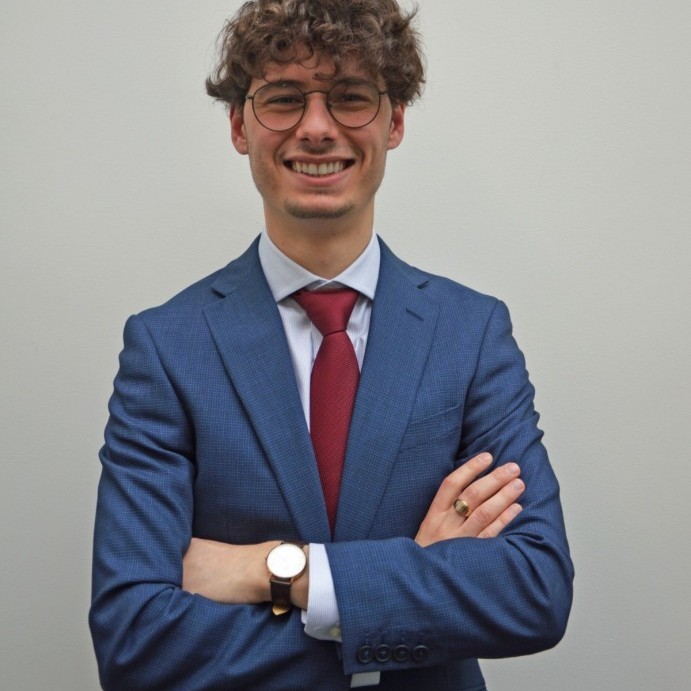 Riccardo Petrachi
United Kingdom
We searched online for app developers that had an extensive experience in mobile app development as well as a strong presence in the market. We chose Space-O specifically because of the up-close experience we had with another app they had developed and we wanted to achieve the same high level of standards, quality, and satisfaction. We were looking for brilliant experts and we found them.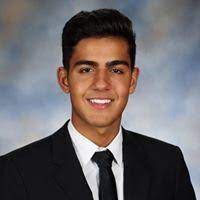 Ashton Asherian
USA
Space-O Technologies showed genuine interest in the project. The efficient team delivered quality results at a cost-effective price. We wanted to develop a minimum viable product that would be ready for scalability. It was a great experience working with them. We are so happy that we had the chance to meet Space-O. We love their work. Their project management and structure were amazing. The team loved what they were doing. There was passion behind every single piece of work.

Tom Asare
Ghana
The app was successfully launched and fulfilled original expectations. The Space-O Technologies team was communicative and effective in completing the project. The app is available in the Google Play store, and we're thrilled with the final product. They were a highly efficient team to work with. They were strong communicators—whenever I had an issue they were available. Additionally, they were timely in getting deliverables to us.

Nick Power
Australia
Eugene, Vlad, Jigar and their respective teams have been fantastic on all the various apps they have worked on and developed for us over the past 18 months. They are always proactive, responsive to questions and consistently provide top quality development and design work. The use of Skype, email and their own project management tool also makes it easy to keep track on how a project is progressing. I would highly recommend Space-O Technologies for any iOS development or design.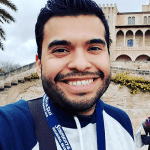 Mark
USA
I can't say enough about how great of a partner Space-O has been to work with over the past year. They were always pushing the project forward and ensuring quality checks at every turn, even pieces of my app that I should have caught before sending to development. Will definitely be referring any clients of mine to Space-O and will have them first on my list of partners to work with.