Finding a parking space is one of the most annoying and time-consuming tasks.
This is even worse when you need parking at the last moment. But this problem has a solution now – a parking finder app.
According to a report by Market Research Future, the global parking management market is expected to grow at a 12% of CAGR between 2017 and 2023 and reach approximately USD 7 Billion by 2023.
Being one of the best mobile app development companies, we are enthusiastic about apps and mobile technology, so we love to read about new apps.
As of the year 2022, the Rover (a P2P marketplace for parking) has raised total funding of around $360.9 million.
If you're an entrepreneur and planning to develop a parking spot finder app or IoT-based parking management system, read this blog and find 4 expert tips to expand your business and recommended parking app features from our expert.
Is Parking Finder App in Trend?
We all have had that conversation at some point in time where we either say or hear, "Sorry, I can't come to that place. It's very difficult to find a parking space there".
This is where parking apps come into the role. These apps perform the cumbersome task of finding nearby empty parking spaces and app users just need to reach there and park their vehicles.
Parking spot finder apps earn by charging a nominal fee from the user for finding the empty space and a commission from parking owners.
With an increase in the number of vehicles on the road, we observed an increase in demand for parking apps that you can see in the graph from Google Trends.

Image Source: Google Trends
Looking at this increasing demand for the best parking apps, we had a quick discussion with our technical expert, who has successfully built more than 50 parking apps.
While discussing, he shared some important pointers that you should keep in mind while planning to build an app for parking.
How to Create a Parking Finder App in 6 Steps
If you have a parking mobile app development idea and planning to turn it into a live app, here are the 6 steps for you to follow.
Carry out in-depth market research
Focus on parking app design
List the essential taxi booking features
Start small, expand gradually
Develop Information-rich App
Regularly update your parking finder app
To understand each step in detail, refer to the following section.
Carry Out In-depth Market Research

Before making any new business decision, the first step is to do thorough market research. The same goes for a mobile park app.

You need to find out heavy traffic or busy places where people are facing trouble in finding parking locations. Places like malls, cinema halls, local markets, stadiums, and other such places do face such issues.

After surveying, you will find out which locations need a car parking app and which don't, as they are pretty unoccupied most of the time during the day. The best parking apps are those that show only empty parking spaces and hide used parking spaces. It would be pretty useless to have a mobile app for car parking that shows an idle parking space.

This is why market research is a must before diving into app development.

Focus on Parking App Design

The main purpose of a mobile parking app is to make it hassle-free for users to find a parking space. If the app design is complicated to use, it sort of loses its purpose. The parking app UI and UX design should be easy on the eyes. The utility of the parking space finder app should be understood clearly. An app with an enhanced user experience will retain the users into using it every time they are in need. The app should work with a minimum number of simple steps.

Searching for a parking slot in nearby and distant places should be done with just a few taps. Basically, the app should be like a smart parking solution for users. So, consider this tip while developing your own parking finder app.

List the Essential Parking Finder App Features

Integrating the perfect features is essential to launching a parking app. You can launch a parking finder app using the basic features listed below.

| Top Features | Explanation |
| --- | --- |
| Current Location | Using GPS tracking, you can easily find the location of the taxi as well as know the distance of the parking lot as well. |
| Different Payment Options | Credit cards, debit cards, and PayPal should work flawlessly in the application. |
| Parking History | This feature is useful for drivers where they can check their favorite spots and payments received from different spots. |
| Push Notifications | It is one of the important features which helps to drive user engagement. Using this feature, it is possible to send offers, discounts, and app updates. |
| Heat Map | The application shows the busiest route in real-time so that drivers can make decisions accordingly. |

Once you define the features, the next step is to initiate the mobile parking app development.

Start Small, Expand Gradually

Do not go for the big fish if your bait is small. In the parking business, you start small and then grow slowly. Begin by partnering with people who can lend their individual garages and lots when they're vacant. Pavemint is one such Airbnb for parking that partners with individuals. This way, people earn a passive income, and app users get a place to park.

You should also interact with parking providers in the city and inform them about your street parking app idea. Partner with as many parking spots in the city as possible and then gradually move to other cities.

When you have collaborated with most of the city parking providers, the parking spots app will be able to display more options to the users.

Develop Information-rich App

Parking mobile apps shouldn't just provide information regarding parking spots and locations and empty slots; they should inform about other related services also.

A regular on-street parking spot locator app shows details like photos, regular parking fees, and hours unless it is a free parking availability app. In fact, you could also provide information like nearby restaurants, stores, gas stations, and car washing services.

Certain AI-based Uber parking apps also inform the users about the cheapest time to park or if there will be an increase in parking spot charges at other times of the day.

Information like whether the parking slot requires you to park yourself or has valet parking is also mentioned. You can also check out our blog on building IoT-based parking management systems that help people save time through their on-demand services.

Regularly Update Your Parking Finder App

Regularly maintaining and updating an app is certainly a hard task. However, there are numerous benefits of updating apps, and it will surely reward you with great benefits by increasing user retention. By regularly updating the app and fixing bugs, your app performance will stay intact and help you to build a loyal user base.

By following these 6 steps properly, our app developers have built an Uber package delivery app for one of our clients who was from Saudi Arabia. The app Jabrool helps to connect delivery drivers and parcel senders in real-time. Refer to the following section to check the complete information.

For a customer in Saudi Arabia, we created Jabrool, an Uber-like package delivery app. It's a complete package that includes a customer and delivery driver application. This solution was created primarily to assist customers who need to make an urgent or same-day delivery to anyone in the country.

You have learned the steps to build the parking app. Next, you will learn profile-wise parking app development for drivers, parking owners, and car parking app managers. We will discuss each profile functionality in detail.

What are the Parking Functionalities for Drivers?

The following table includes the parking functionality and explanation for drivers.
Functionality
Explanation
2 Factor Authentication
As of March 2022, only 26% of the companies utilize two-factor authentication in the USA. That means the majority of the companies are yet to recognize the benefit of this security feature. Google, LastPass provides 2FA.
Location
To let drivers find their car, find vacant spots, and check parking lot distance, geolocation helps. Even it helps to calculate the user location and check GPS stability as well.
Process of Searching
This feature is essential for searching nearby spaces in a specific area.
Time Range
Calculating the parking time and payment required to pay for the parking helps users to give clarity.
Booking
Advanced booking options will provide assurance to users and avoid the chances of cancellation at the last moment. This option will surely save the day of users.
Payment Methods
Credit, debit cards, and online transactions should be supported by the app. Even integrating mobile wallets will benefit the user as well.
According to the report from WorldPlayGlobal, 49% prefer using digital/mobile wallets as of 2021, and the usage will increase to 53% by 2025.
What are the Parking Functionalities for Parking Owners?
Check the functionalities and explanations of parking owners.
| Functionality | Explanation |
| --- | --- |
| Sign-in | Login using a mobile number or email to ensure data protection. |
| User Management | Edit and track the number of users, check their transaction details, and order services. |
| Parking Lot Management | Parking lot owners efficiently manage parking lots and keep track of spaces. Even keep track of spaces. Add or remove the spaces according to your requirement. |
| Price Management | Owners of parking garages should be able to control and set prices according to their needs. |
| Reviews/Rating | Customers' feedback will help business owners understand their pain areas and motivate them to improve their services. |
What are the Parking Functionalities for Car Parking App Managers?
The following table shows the functionalities and explanations of car parking app managers.
| Functionality | Explanation |
| --- | --- |
| Content Management | Create, store, and modify in-app content from the panel. |
| Payment Module | Managers require tools to conduct invoicing, billing, transactions, and referrals for both driver and parking owner app versions. |
| Booking Module | Check, and manage bookings, set incoming offers, and bonuses for parking owners and drivers. |
| Push Notifications | Send notifications to parking owners and drivers using push notification tools. |
Want to Validate Your Parking Finder App Idea?
Contact us. Talk to our experienced app developers who have built more than 4400 mobile applications.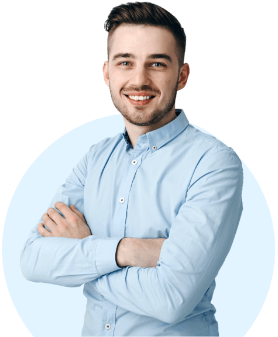 You have learned about the functionalities of the car parking finder app. Next, check the development cost of the car parking finder app.
How Much Does It Cost to Develop a Parking Finder App?
It takes between $10,000 to $1,00,000 to build a parking finder app.
The development cost depends upon the app features, complexity, version of OS, and geolocation. The following table contains all the factors which affect the development cost of the parking finder app.
List of Factors
Explanation
Custom Features
The parking app includes basic level features in the app. However, if you include custom features, the app development cost will increase.
OS Version
The development cost of iOS and Android will vary too. For example, iOS development has a shorter learning curve and takes less time to master compared to Android. Therefore, the cost calculation will be applied accordingly.
Geo-location of Developers
The location of developers plays a vital role in determining the cost of app development.

Asian Developers – $30/hour to $50/hour
U.S Developers – $100/hour to $200/hour
European Developers – £80/hour to £120/hour

Project Timeline
If you expect a lesser app development time, the cost will increase. For example, if you want to build a custom taxi app solution in 60 days, which originally takes 90 days to develop, the cost will increase.
3rd Party Integration
Social media API, parking API, and database API are paid and cost you while developing a new mobile app.
Want to Know the Exact Parking Finder App Development Cost?
Talk to our app development consultant, discuss your requirements with them and get a free quote for your parking finder app.
You have learned about the taxi app development cost and related factors. Next, check the reasons why parking owners require a parking finder app.
Why Do Parking Owners Need a Parking Finder App?
Check the following section and know the reason behind parking owners needing a parking finder app.
Real-Time Data and Insights of Parking Lots

One of the greatest reasons to adopt the parking management system is to track the real-time data and the insights of parking car lots. Over time, smart parking solutions can produce real-time data, which uncovers correlations and the insights of users and car parking lots.

To make adjustments and improvements to parking solutions, these trends will surely offer great advantages. By adopting a parking management system, parking owners can lessen their work to a greater extent, which they could not do ever before.

The best thing about the smart parking management system is that it is easy, convenient, and economical for parking owners to get real-time data and insights about the lots. Moreover, the software helps parking owners in handling all these things at their fingertips.

Decreased Management Cost

With innovative parking solutions, you as a parking owner can monitor the whole parking procedure through automation. And it provides less manual activity, which saves on labor costs and resource exhaustion.

Moreover, as we have already mentioned that the smart parking system includes the use of low-cost sensors, real-time data, and a parking management app that allows users to monitor available and unavailable parking spots that decrease the number of laborers at the parking lots.

However, the main goal is to simply automate and decrease time spent manually searching for the optimal parking space or lot.

So, as a parking owner, you do not need to hire staff. Through this smart parking management software, you can decrease the management cost, or we can say that you can cut the staff cost. This is one of the greatest reasons why you, as a parking owner, need to take a plunge to start with parking management solutions.

Generate Automatic Reports

After analyzing the real-time data of vehicle parking lots, being a parking owner, you can comprise the data in terms of the report, which is automatically generated by the parking management system. Also, you don't need to spend a lot of time making the report from a plethora of data.

With the parking management system, you will be able to generate the report on a daily, weekly, monthly, or yearly basis. It makes lessens your work, and you can make the most of your parking business by implementing parking lot management software.

Moreover, smart parking management solutions enhance the customer experience and revenue generation.
With this, you as a parking owner can get visible and measurable improvements to the service you provide in your parking area.
It also makes day-to-day management easier, including payment and space management.
It is also based on comprehensive data gathered and analyzed by smart parking management software.
It also helps you to improve your parking service year-to-year.

The parking management system is an intelligent system that is used for optimizing parking programs by parking owners plus delivers convenient solutions for drivers. However, the parking management system includes ticket dispensers either at the entry or exit gate, a decentralized payment collection system, and an exit ticket reader.

These were a few tips that could do wonders for your parking spot finder app. Now let us talk about top parking app features startups you should consider before developing their own app.
7 Must-Have Features in Your Parking Finder App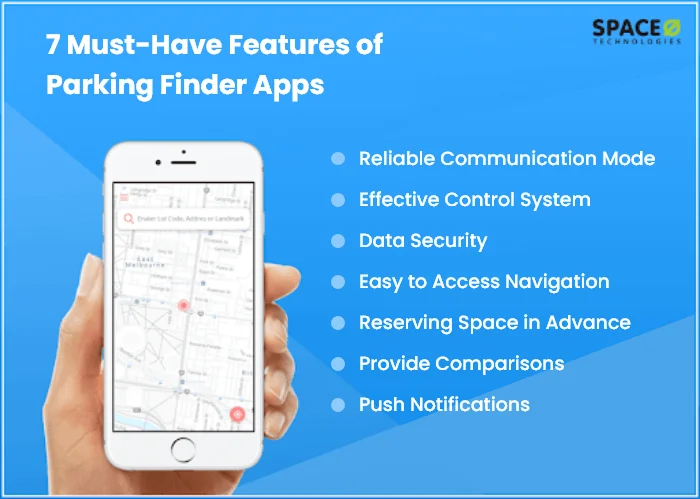 Here are the 7 features you should include when you are ready for car parking app development.
Reliable Communication Mode

Integrating proper communication mode is essential and one of the basic features to include while building a parking finder app. Every smart parking management system requires a reliable and safe mode of communication. This helps to solve the problems of the driver while finding the parking space. The app must have two attributes for the driver's safety:

Technical support
Notifications via messaging

Effective Control System

The control system feature provides the drivers with information like 'where to park' and other notifications. The control system also provides up-to-date info regarding price, payment methods, and car parking processes. This feature is a must in your parking spot finder app.

Data Security

Most apps like these utilize user data. So, security must be the top priority of any app that wishes to be the best parking app. User data should be protected from unauthorized third-party usage and data leakage. This way, the app retains the trust of the users.

Easy to Access Navigation

Parking spot finder apps have a GPS tracking system that assists the user in easily finding a parking space. This navigation system should be uncomplicated and user-friendly. In fact, they have a street parking map to make it as simple as possible.

While making an app for a car or bike parking, all these features can't be missed. Yet, there are some features that will make your app even more appealing. Let us read about a few of them.

Reserving Parking Space in Advance or Recurring Reservations

This is a feature of a few parking apps like the ParkMe app. With this feature, a user can book or reserve a parking space ahead of the time when he actually needs it. This will reduce the last-minute rush for the user, and the owner will have booking benefits.

Provide Comparisons (Distance and Price)

Suppose a user needs a parking space in a certain area. If your app provides a comparison list of parking spaces available in that area with their price and distance from the user, he will easily be able to choose the space that is near to him and fits his budget.

Push Notifications

Nowadays, all apps have this functionality. After a user searches for a parking space, he should get notified when and where there is a parking slot empty. The app sends alerts when the parking time is about to expire to save the user from additional charges.
Before you start developing your app, you should see who your competitors are and learn from them.
Best Car Parking Apps Available in the Market
The following contains the best parking apps, features, Play Store, and App Store links. Have a check.
Want to Build the Best Parking Finder App for Your Business?
Want to validate your car parking app idea? Discuss your unique idea with our professional app consultant now.
The next section contains detailed information about each car parking app. Have a check.
ParkMobile

Having a vision of making parking easier, ParkMobile has become one of the well-known parking solutions in the U.S. with the mission to power mobility. Using ParkMobile, you pay and park easily using your mobile.

The app has successfully garnered more than 30 million users. Get the facility to arrange garage and stadium parking ahead of time. ParkMobile is offered in St. Louis, Minneapolis, Pittsburgh, Philadelphia, Washington, DC, San Francisco, Atlanta, Chicago, Miami, New Orleans, and Dallas.

Top Features of the ParkMobile

Multiple payment methods are available, including ApplePay, Google Pay, PayPal, and most major credit cards
Save your preferred parking spots for next time
Store up to five cars in your account
Customizable notifications delivered through email, SMS, and/or app
Turn-by-turn directions to the parking garage where you secured your spot
The parking availability feature reveals streets in your region with open parking spots

Best Parking – Find Parking

Best Parking is a product of the Arrive company, a leading provider of solutions for the last mile of mobility. They provide their services to big brands like Ticketmaster, Honda, and GasBuddy for finding friction-free parking. They claim that over 40 million people have used their web, app, voice, and API-based solutions to find and book parking.

Best Parking is a parking finder app that helps you find parking in many major cities like New York City (Manhattan), San Francisco, Chicago, Boston, Los Angeles, Seattle, Atlanta, and Toronto.

Top Features of the Best Parking

Search for "parking near to me" and find parking spaces at your budget pricing
Find and reserve parking space and pay online
Compare each price and save money
Link your favorite navigation app with Best Parking and get turn-by-turn directions to the destination

SpotHero – Booking Parking in US Cities

The company started out in Chicago, Illinois, and is now serving over 300 cities across the United States of America. It was founded in 2011 by Mark Lawrence and Jeremy Smith. It began as a peer-to-peer parking marketplace, which allowed people to rent out their own private parking spots; now, they have expanded and partnered with parking companies and garages.

SpotHero is a digital parking reservation service. The drivers can use this parking finder app to help them connect with the nearest parking. The drivers can look for a location to park in their cities and can also reserve in advance. They can pay via credit card within the app itself. They run a website, app as well as a parking developer platform.

Top Features of the SpotHero

Search for one or more parking lots by simply entering a location, time, and date
Book parking in advance by making prepaid payments
Turn-by-turn navigation to the location
Mobile pass parking with QR code for quick service

ParkWhiz- Find and Book Parking Anywhere

ParkWhiz is a parking finder app also owned by Arrive's parent company that runs BestParking. ParkWhiz was founded in 2006 by Aashish Dalal and Jon Thornton. They have a network with around 4,000 parking facilities in over 50 major cities and 35 states in the USA.

It is one of a kind find parking finder app with a range of features. The app is free to download and has over 1000k downloads and a 4.6-star rating on Google Playstore. It is available on Apple App Store too.

Top Features of the ParkWhiz

Check daily the rates for lots and street parking or even airport parking
Use the parking timer to avoid overstaying, overpaying, or getting a ticket, and get alerts in advance
Get real-time information on selected parking spots and street parking

Parkopedia- Stress-free Parking

Parkopedia parking finder app, with over 1 million users worldwide, is among the top apps. It is not only a parking finder app, but it is also a provider of on-street and off-street parking data. It provides all sorts of digital parking services.

Parkopedia was founded in 2003 by Eugene Tsyrklevich because he thought of the time when he couldn't find parking in San Francisco. Now, Parkopedia has spread across 90 countries and covers over 15,000 cities, including China, Australia, New Zealand, and South American countries.

Find one or more parking spaces using the current location or by entering an address
Get turn by turn directions straight to the assigned entrance or space
The premium upgrade allows you to see parking space availability in real-time
You may also find opening hours, up-to-date prices, payment methods, and a lot more on the app
The parking finder app also has a filter feature that helps you quickly narrow down parking choices. Filters include street parking only, free, airports, credit cards accepted, covered, etc.
Have questions about the parking finder app? Check the next section to get all the answers.
FAQ About Parking Finder App
How do parking finder apps make money?
The way that these apps make money is by taking a commission on transactions. They use this revenue model for marketing your facility to an online and mobile audience. Every time a customer makes a payment, the parking finder app gets some portion of the payment as a transaction fee.
How does the parking finder mobile app work?
First, the driver or car owner needs to enter the vehicle plate number. Then he needs to look for parking spaces in the area that he wants and put the time and date; then, he books a spot. When he reaches the parking lot, the app will guide him to the assigned parking space to park the vehicle. The parking fee can be paid through the app itself or can be paid on the spot.
Let's Create Your Parking Finder App
In this guide, you have learned about detailed steps for developing a parking finder mobile app. Also, you have learned about the functionalities of drivers, parking owners, and car parking app managers, which can be integrated into the app.
Also, the cost of app development, reasons, and features have been discussed in this blog to guide you on the right track. Being a prominent mobile app development company, we have experience developing over 4400+ mobile apps with unique features.
Get your app developed using cutting-edge technology with enhanced workflow to achieve exceptional results.