Ever since smartphones have been introduced, the world's two most popular mobile OS (Android and iOS) now have a catalog of millions of apps launched for every task you can imagine.
However, as you know that building a mobile app is not a one-time process. Because of ever-changing technology and audience needs, updating apps regularly has become essential to ensure that the apps remain relevant and successful for a long time.
In a survey conducted by Sensor Tower, the frequency of popular apps to release an update varies between every 3 days to 45 days.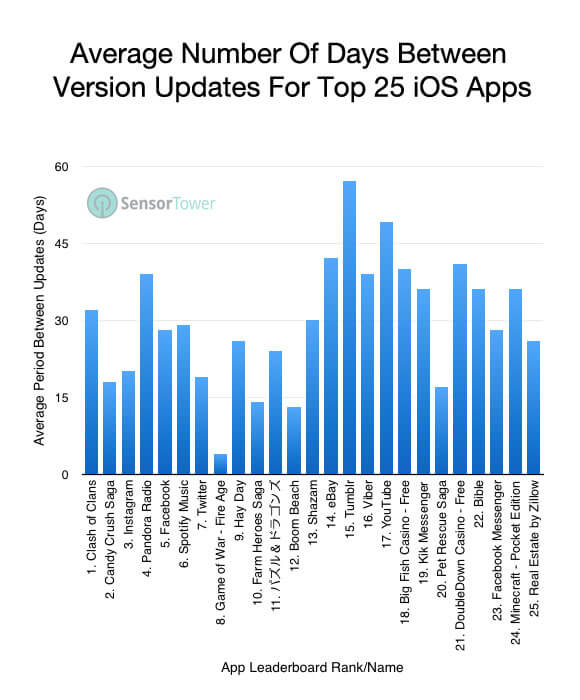 Now, that's a big range. This often confuses the first-timers in scheduling their app updates. That being said, it's also important to learn about the need for app updates.
Introduction
Everybody might think, why do apps update so frequently? But app updates are one of the greatest marketing tools businesses and app developers have.
Nowadays, almost every consumer-facing business has invested in mobile app development. This has made the market quite competitive, and businesses struggle more than ever to stay on top.
But if you check, you will get to know that many people uninstall apps for the following reasons.
App not in use
Limited access or storage
Excessive advertising
Excessive notifications
Confusion
Technical issues
In fact, a third of app users stop using or uninstall apps because of losing interest. Here giving out incentives can work in their favor. Of those who are not using apps, 30% would use an app again if you offer them a discount and 24% would use an app again if you offer bonus content.
Moreover, with regular app updates, businesses can get more mindshare relative to other competitor apps. Releasing regular updates keeps the app on the top of the mind of users as it shows up in the notification bar as well as on the App Store.
Furthermore, updating applications also helps to build a loyal user base, as the updates include bug fixes, design improvements, and features that users requested.
Now you know why apps update so often, let's move on to find out the benefits of updating mobile apps.
Need Guidance to Update Your Existing App?
Want to discuss it with an expert? Want to get a free consultation?
Benefits of Updating Applications
You might have this about why should we update apps? or is it good to update apps?
Whether you add features or fix bugs and improve app performance, updating your app frequently can benefit you in the following ways.
App Performance Improvements & Bug Fixes

This is an expected and unavoidable reason to update your app. The app owner or business can keep a weekly update cycle to be aware and expect the app to be updated on every bug found and performance issue. Check out 15 mobile app KPIs to accurately measure your app's performance.

Enhances The App User Experience

Apps can receive a redesigned UI or design overhaul when the developer discovers a better way of interacting with the app that ultimately leads to increased engagement and ease of use.

These design changes can be due to the change in language updates or new widget releases by the App Store.

Helps to Maintain a Loyal User Base

Many times, users suggest a great feature or useful tweak for the app, and implementing them can also lead to increased engagement by the users.

Additionally, implementing those suggestions also gives users the assurance that the business or app owner is responsive and values its user feedback.

You might wonder, what is the importance of updating apps? Updating apps not only makes an app better but also guarantees the loyalty of the users. In fact, happy users might recommend your app to the people in their circle or on the public forums on the internet. Ultimately, all these efforts lead to increased app downloads and higher rankings in the App Store.

Promotes The App in a Gentle Way

As you know, users now have a wide range of choices. There are now several apps for the same task, and most users generally install more than 1 app and then determine which suits best according to their requirements.

But if you're updating the app regularly, the user gets a notification, which catches their attention. In some cases, many users install the app but stop using the app after a while.

So, by sending regular app updates, you can make them realize that they have the app still on their device, and it's how updating applications can be a good way for promotion.
Want to Update Your App?
Want a free consultation to discuss your requirements with an expert?
In case you still have queries, read our next FAQ section. We have answered some of the most asked questions that generally readers have in their minds.
Frequently Asked Questions
What is the difference between minor and major app updates?
Mobile app development is a continuous process. This means you'll have to improve one piece of your app at a time. But, you will also have to account for external changes that constrain another adjustment.
These adjustments can vary based on the issue of the day. Sometimes, after publishing your app on the App Store, you may discover minor issues or reports by your app users that need to be fixed. Now, these types of bugs require only a minor update, and they are more likely to occur frequently.
A major update, on the other hand, can significantly change the functionality of your app. Such major changes are required when the OS releases changes in its operating system.
For example, when Android and Apple both released mobile payment options in 2014, all e-commerce and finance app startups received the update, which enabled them to take advantage of its features.
What is the ideal schedule to update apps?
Depending on how you develop your mobile app, you should schedule your app updates. For instance, your first version may have only core functionality, but a plan to expand features over time can work towards your mobile app's desired goal.
As a matter of fact, studies have proved that updating applications frequently generally ranks higher and gets a higher ranking in the app store than those receiving very little or no updates.
Now, your app update schedule might differ based on variables, but accounting for frequent app updates can help you lead to success in user satisfaction and adoption.
What are other benefits of updating an app?
Security enhancements
Compliant with new app stores policies
A wide variety of default features provided with Mobile OS update
Does updating apps take more space?
You might have noticed that most application space grows larger after updating it. However, if you uninstall the older version of the app and then reinstall the newer version the chances are your app will only take up the space app similar to the original app. If you update your app from time to time without uninstalling the older version, chances are your phone storage will fill up fast.
Want to Improve Your App Experience?
Now that you know everything about the importance of updating applications regularly, it's time for you to specify your app update cycle. Regardless of how you've planned on updating your app, you will need the guidance of a reliable app development agency to accommodate your needs.
As one of the best mobile app development companies, we, Space-O Technologies, regularly help our customers keep their apps updated and bug-free on the Google Play Store and App Store.
We help to determine the necessary app updates needed through usability tests and reports. Because, despite the kind of mobile app you own, your app needs to be loved by your users in order to get it on top and make it successful among your competitors.
For help, you can get in touch with us through Contact Us form. One of our sales representatives will get back to you as soon as possible.