This blog contains information for real-estate startups, who want to create house rental apps like Keyo. Herein, we've rounded up the top 5 nitty-gritty features of the Keyo app. Let's have a look!
No matter where we go, we all want a place, where we can always come back. And, there is nothing more pleasing and heartwarming than this.
Undoubtedly, finding out a home for rent is a huge headache. However, house-hunting still remains a big deal for a majority of home seekers. Nevertheless, there's an app – Keyo that claims to fix all these issues and provides solutions for these problems. The app shows available apartments to home seekers after logging into it. Furthermore, Keyo has signed up to 4,300 units in 60 buildings in Brooklyn, New York till now.
Keyo
Keyo, the apartment finder app, simplified the process of renting the apartments along with simplifying the paperwork formalities like application submission. Additionally, Keyo tenants allow to pay rent through the app, and they also receive perks like credit card boost, monthly giveaways, and access to local events after on-time payment of rent.
The Keyo app is designed to simplify the lives of people, who want to rent an apartment. For landlords, the app has different ways, allowing them to have control of their properties as it helps them to find out the quality and financially stable tenants for their housings for up to 40% less than a broker's fee. In a nutshell, we can say that the Keyo app provides a one-stop solution for both home finders and landlords with a set of handy features.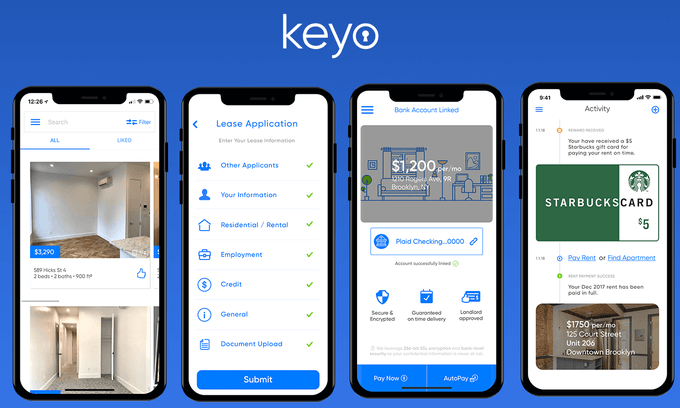 So, being a real-estate startup, if you want to provide the optimal solution to home seekers in terms of the mobile app, herein, we've curated the top five unique features that you can consider before developing an on-demand house rental app.
Consider 5 Unique Features That Real Estate Startups Need to Check Out Before Developing On-Demand House Rental Apps
Online Rent Auto-Pay

With this feature, users or tenants can securely pay the rent online without a hassle. This feature of the house renting app offers an easy way for app users in order to connect their bank accounts for ACH (Automated Clearing House) payments. In short, this feature can lessen your worries like remembering to send the checks monthly. You can consider this attribute to stand apart from other house rental apps.

Image Source: Keyo

In-app Maintenance Requests

Coming to the next feature, it allows users to get on-demand maintenance services like plumber, electrician or any other maintenance service provider just using the house rental app. So, users do not need to contact any other maintenance service providers. In short, it can save huge time.

Users can request easily through the app rather than nagging the landlord or request people many times through phone calls. By providing this handy feature, you can save time and money for your app users. Thus, we can say that this feature is worth including, and you as a real estate startup can consider it before creating a successful app like Keyo.

Rewards and Offers

Before developing a house finder app like Keyo, there is another vital feature, which is worth considering. It offers a number of rewards and offers like users can get discounts from the nearby gyms, dry cleaners and get vouchers from coffee shops like Starbucks. For attracting more users, this type of feature is highly recommended for real estate startups as you can encourage them to use the app for finding out the right house to live in by providing the extra perks. This is also an easy way to make your users delight.

Image Source: Keyo

Simplifies the Paperwork

One of the unique features, which startups need to consider is simplifying the paperwork that is generally a big deal for most of us when it comes to finding out an apartment.

As nobody likes to do a plethora of formalities like filling up the forms before renting an apartment. However, with a few clicks, users or tenants can resolve the paperwork like submission of applications, credit checks, background checks, digital contract signing, and lease management free of cost instead of spending a fortune on it.

Image Source: Keyo

Bottom Line: For the tenants' perspective, it can be an affordable feature to consider. So, don't miss out to include while developing the best renting app like Keyo.

Allows Users to Browse, View and Rent Apartments Without Brokers

Undoubtedly, the concept of the Keyo app has modernized housing. There is one of the vital features, which lets users seamlessly browse, explore and rent the apartments according to their preferences. While developing house rental app, the best thing about this feature is that it simply cuts the broker's requirements. However, this hassle-free attribute is worth considering.

Image Source: Keyo

If you have decided to create one of the most promising house rental apps, then you can consider all these handy features that we've explained above. Indeed, all these features are in demand for home seekers. As we can say that providing such features to find out a new house is not going to be a nightmare for your app users.
What's Next?
In dense urban areas, people seek an easy way, which could ease their problems, when it comes to renting a house in a new place. Instead of hassling a time with real estate brokers, you can provide your app users away as they can get a better way to get complete control of their properties. Whether obtaining information about renting an apartment nearby or finding out the quick maintenance services, all these have never been easier before.
Keyo provides its users with every feature as it could be. For building one of the best-renting apps, it is highly recommended that real estate startups need to provide such handy features, which could solve real-life problems as Keyo does.
Do you have an app idea for real estate? Do you think your app idea can help people to resolve their house-hunting hurdles? If it is so, we propose you discuss it with us. Our dedicated mobile app developers have already developed more than 40 on-demand solutions. You can get in touch with us through the below-given form to work with us. We being a reliable app development service provider we can help you with the optimal solution.