Trust us. The number of users in the ride-hailing and taxi market is increasing as we speak. There were 1356 million users in 2017, the number is set to reach 1588 million in 2024. The taxi cab business is making huge profits given this exponentially growing demand.
The main motto of any business is "Make huge profit with less investment." The taxi business has proven to be the most efficient business module in this booming taxi business-oriented world. In fact, we have developed over 50 taxi apps for various taxi startups around the world. Herein, we have stated 5 simple ways to grow your taxi business with the help of our experience with our clients.
Everyone in this mundane commuting world prefers reaching locations on time. Some have the liberty of traveling in their own cars and vehicles, and some don't. For those "n" number of people, a taxi booking app like Uber has created transport opportunities.
There are many Uber clone scripts in the app market like Lyft and Hailo. Such taxi booking apps have managed to have a user-friendly taxi app. The simplest way on how to increase the taxi business plan is a ride-sharing app.
Still not believing the fact that you can earn revenue through a taxi booking app development? Examine the stated statistics below.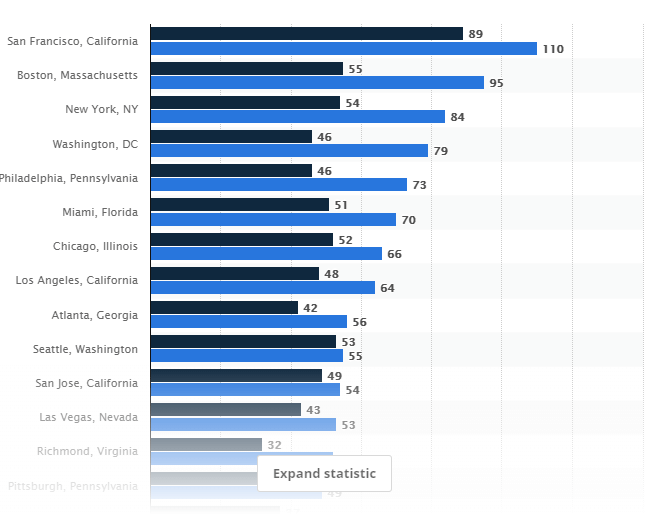 The statistics state average monthly spending on ride-sharing services in major cities in the United States as of 2018. Statista.com has generated this report. It is also stated that New Yorkers on average are spending $84 every month on their preferred taxi booking app.
Do You Have a Taxi Business That You Want to Grow With an App?
Need to validate your app idea or consult with an expert? Get a free consultation now!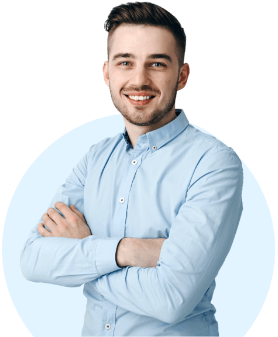 You can increase the taxi business by efficient Uber-like app development. And also to stay ahead of your rivals you need to adapt and improvise with the changing app market trends. Don't worry! You can grow your business in these simple ways with sustainable startup costs.
5 Simple Ways To Grow Taxi Business With The Help Of Taxi Booking App
Cars a Top Priority

Taxi business requirements, to a startup, may seem a little pricey. But it is a one-time investment and is financially rewarded in the future. With a few cars and trucks as well as drivers. Generally, a small taxi cab business or online car sales or auction sites that focus on cab or vehicle on sales. While selecting a car, some aspects like cleanliness, insurance, safety measures, and sufficient trunk room for the client's luggage have to be taken care of.

Such a business can bring you some other cab business ideas like carpooling, surge pricing, biding, and ride-sharing. These creative ideas for the taxi businesses can help you in retaining and satisfying your customer base.

Get Customized Taxi Booking App

Everyone literally lives on mobile phones now, a mobile app for taxi booking can actually help grow your taxi business. An efficient app with minimalistic features and a user-friendly experience can create a brand for your taxi business. The app gives liberty to access 24/7 and keeps a count of the number of rides in a day.

Wondering how to start a taxi service or how to make an app like Uber? Approach the most promising taxi booking app development company for an authentic Uber clone taxi app solution. An app can provide you with:

Real-time analytics for complete and canceled trips individually or also has a whole.
Passengers can schedule, reschedule, or cancel their ride. The business does not make a loss from such cancellations or reschedules.
Drivers can check customer details (area, location, and user details) before accepting or rejecting a request.
Users and drivers can see riding and payment history.
To ensure that your drivers meet certain standards, provide an easy sign-up process that includes background checks and vehicle inspections
Passengers can rate and review drivers based on their performance, and drivers can do the same. This can assist your taxi app in providing a more trustworthy and positive customer experience.
For convenience and security, provide a variety of payment options such as cash, credit card, and in-app payments.
Integrate live chat or phone support to quickly and efficiently handle customer queries and complaints.

Such an effortless app can help you in starting an online cab business and grow it eventually. It is like insurance which gives a good return on investment. Nowadays you will not need skilled people to strengthen your business. Now, you only need to have great software that can take care of both driver and customer needs.

For example:

Grab, for example, has a user-friendly app that includes real-time analytics, GPS tracking, in-app payments, and customer support. In addition to a simple sign-up process for drivers that includes background checks and vehicle inspections. By providing these features, Grab has grown to become one of the leading taxi companies in Southeast Asia, with over 100 million app downloads.

Tracking Driver Performance Through an Integrated Driver App

For a successful taxi business, choose drivers with Commercial Driver's licenses and excellent records. The treatment given by your driver will, in turn, enhance goodwill for the business. To keep track of your driver's activities and customer database, the best method is to implement a driver app that can be integrated with the business's management system.

This app can provide real-time updates on the driver's activities, such as pick-ups and drop-offs, as well as any customer feedback. With this information, the business can ensure that its drivers are providing quality service and meeting the standards expected by the company.

Enhancing Customer Loyalty

Customer satisfaction is the key to successful business growth. Not only is it important to get customers, but it is also important to retain these customers. You need to give them reasons to choose your taxi service every time over others. How do you do that? Discounts! Now, of course, you don't want to make losses, so discounts should be strategically planned like credit card points.

Most services provide the first one or two rides free but after that, they charge regular fares. To attract more passengers, you can give special discounts to regular passengers, which will compel them to choose your services. Providing services to senior citizens and students at cheaper rates will draw them towards your services. You can also add insurance at minimal rates to attract them.

Let's assume, an existing taxi app user invites a new user and obtains a discount of some amount on his next ride. A user can also have the benefit of ride-sharing features in an app that can instantly get them to pay half of the budget through sharing a ride.

Thus, this will help engage more customers and improve your taxi business. You can also take special requests like wheelchair accessible or other equipment with the cab. Customers and drivers both are two sides of the same coin. It is essential to maintain a balance in providing services and features in a mobile app that benefits both parties.

Diversify Your Taxi Business by Serving Multiple Audiences

You can diversify your taxi business by providing different services and tailoring your offerings to the specific needs of different groups. This can benefit a broader range of customers while also increasing overall revenue. Here are some taxi app ideas to get you started:

Provide specialized services such as women-friendly taxis, healthcare taxi services, environmentally friendly taxis, and so on.
Introduce carpooling services to reduce transportation costs while also protecting the environment.
Consider adding bike, taxi, and luxury vehicle rentals to meet specific customer needs.
Offer chauffeur services for people who prefer a more upscale, personalized experience.

By taking this approach, you can expand your reach and enter new and growing markets.

For example:

Uber's offerings have expanded to include multiple audience segments, such as the low-cost UberPOOL for carpooling, UberX for daily rides, Uber Eats for food delivery, and Uber Health for medical transportation. This has allowed them to increase their market share and revenue streams.

Are you still in the early phases and wondering how to start your own transportation business? The next section will help you out in finding out what do you need to start your own transportation business.
How to Start a Transportation Business
If you are still in search of how to grow a taxi or cab business, know that the best part of starting a taxi or cab business is that you can start it with even just one taxi. You can expand as you grow. All you need to do is make sure you follow these 5 simple steps to launch a taxi cab company or taxi services.
Choose a Vehicle

What do you need to start a taxi business? A fleet. The first step to starting a taxi service is finding the best vehicle for your use. A vehicle that fits the requirement of your business needs. Whether it is a spacious van or a small taxi. If you already have a fleet, you can skip this step.

Come Up With a Business Plan

A business plan includes everything, from your budget to how you are planning to earn revenue from the taxi services. You need to answer the question- How is a taxi business profitable? You should plan out your expenses and allocate resources for each and every aspect. You also need to come up with a paying system for the drivers and a plan to get customers.

You can develop an app like Uber for your taxi service or run a website to create a digital presence. This will help the customers finding local taxis when they think "I need a taxi cab".

Get Funding

The next step is to get the required funds for the taxicab company. Finance is an area where you might need some outside help. You need to find people that will finance your business.

Wondering "Can I run a taxi business from home?" because of a lack of funds? then the answer is yes. Initially, you should start small by working from your home or garage. Slowly you can gather funds or find investors and expand your business.

Documentation

You need a business license to run the business. If you are starting up a transport business with taxis or cabs then there is a contract carriages permit that you need to get. You need to renew the license or permit every few years. Another thing you need to do is get the vehicles insured. You can not only get vehicle insurance but also get the passengers' insurance on every ride. This investment in insurance sure goes a long way.

Promote Your Business

The last step is to advertise and promote the business you have put so much hard work into building in. You can promote your business on various platforms like social media platforms, create a website, ask the influencers to promote, advertise on commercial breaks, newspapers, and so on. You need to cover every area of promotion.
Want to Develop a Custom Taxi Booking App?
Contact us with your taxi app development requirement. Discuss your idea with our app development consultant.
Let's take a look at some of the most commonly asked questions
Frequently Asked Questions
How much does it cost to start a taxi service?
Launching a taxi company can range from anywhere around $30,000 along with a taxi reservation app to over $100,000. The cost depends on various factors including the type and number of vehicles, the country or city you're living in, your business model, insurance, the type of app, and its features.
How much does it cost to develop an app like Uber?
Developing taxi reservation apps can cost around $15,000 but if you want to develop an app exactly like Uber along with all of the features and functionalities, it costs around $20,000 to $25,000.

Who are Uber's competitors?
Some of the apps that are Uber alternatives or competitors are Lyft, Careen, Didi, Kapten, and Easy Taxi.
How to start a taxi business?
Follow this process before you think to start an online cab business.
Create a business plan
Choose your taxi business structure
Determine your taxi business costs
Name for your taxi business
Register your taxi business and open financial accounts
Purchase vehicles and equipment for your taxi company
Market your taxi business
Conclusion
Develop an easy taxi or cab business module in the form of a mobile app for booking a taxi. And get your game on point with these simpler ways to grow your taxi business. Being a taxi businessman or startup, you can develop your own taxi app solution to connect your drivers and riders in real-time.
So, if you have got an answer on how to run a successful taxi or cab business and want to discuss the taxi booking app idea, get in touch with us. We are a leading firm in developing custom apps like Uber. So far, we have developed over 54 taxi apps like Uber viz. 2Placez and Baloora. with unique features and functionalities like GPS real-time tracking, cross-platform ability, multi-lingual support, and payment gateway integration.

We developed a school-bus tracking app. We integrated features like:
Real-time tracking of buses for parents and school admins
Alerts are sent to parents in case of emergencies
In-app payment gateway integration
In case, if you still have any queries or confusion regarding Uber app development cost, how to make money with an Uber-like app idea, how to start a taxi business with one car, successful taxi business model, or are looking to develop Android or iOS app for your taxi business, then get in touch with us through our contact us form. One of our sales representatives will contact you with an apt solution for your business. The consultation is absolutely free.