What is App Development Software?
App development software refers to tools or platforms used to create, design, and manage mobile applications. Examples include Xamarin, React Native, and Flutter, which streamline app development for Android and iOS by providing pre-built components, reusable code, and other resources.
These types of software are specially designed to develop apps quickly and easily. They can be helpful right from wireframing to launching the app on various platforms.
Now, you must be wondering how to use such platforms, right? Continue reading to know how.
How Does App Building Platform Work?
Almost all app builders work in three basic steps, which are as follows.
1. Select a Template
The first step is to select the layout template as per your needs and requirements. This depends on the type of app that you want to create. User will get templates for different categories such as restaurant, bookshop, and eCommerce.
2. Configure Features
Based on the template you have selected, pick the niche-specific features that you want to include in the mobile app, and configure them according to your preferences of data and content.
3. Publish the App
Finally, the app builders will assist the user to publish the mobile app on your desired platform such as App Store and Google Play for iOS and Android phones respectively.
Want to Make Your Own App?
We have developed over 3500 mobile apps and uploaded them on App Store and Play Store.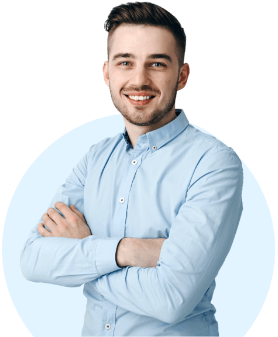 Now that we know the basics, let's get started with the best mobile app building platforms.
Best App Development Software
We as a leading mobile app development company in the USA have listed the best application development softwares that are selected on the basis of their features, ratings, and reviews. Let's get a quick comparison of the best app development software.
App Development Software
Software Name
Clutch Review
Key Features

Appy Pie
4.6
571 Reviews

Unlimited App Editing
Drag and Drop Editor
API, GPS, & Push Notifications
Earn Money Through Advertisement

Swing2App
4.8
5 Reviews

Publish Directly from the Platform
AWS-based Infra System
Intuitive Dashboard & Push Notifications
Multiple Templates
App Analytics, AdMob, Barcode Scanner

AppMachine
4.5
4 Reviews

Website to App Converter
Pre-programed Blocks
No-code App Development
Well Documented with Webinars
24*7 Live Customer Service

Appery.io
4.2
3 Reviews

Cross-platform Functionality
Pre-designed Modules
Ready-to-use Plugins
Automatic REST API Generation
Source Control, Collaboration Tools, Debugging

Appsheet
4.8
493 Reviews

App Lifecycle Management
Automatic Notifications
Signature Capture
Security Filters On App Tables
Multiple Data Sources

AppsBuilder
3.8
6 Reviews

Prototyping
Visual Interface
Design Templates
Testing Management

Felgo
4.3
4 Reviews

Code Refactoring
QT Based IED
3D Objects Supported
200+ APIs
Works with Java & C++

Good Barber
3.9
12 Reviews

Access Controls/Permissions
Drag and Drop Functionality
Accessible To Everyone
No-code
Multiple Languages Supported

Swiftic
3
11 Reviews

7 Distinct Templates
Premium UX/Navigation Styles
In-app Loyalty Features
30-day Money Back

Zoho Creator
4.3
121 Reviews

NOSQL
Mobile Access
Data Replication
Backup and Recovery
Data Migration

Appian
4.5
95 Reviews

Cross-platform Compatibility
Data Extraction
Real-Time Analytics
HIPAA Compliance
Geolocation

Shoutem
3.5
6 Reviews

Shopify Integration
WordPress Integration
Unlimited Push Notifications
Powerful Analytics Module
White-label Reseller Program

Quixyi
4.9
31 Reviews

Audit Trails
IP Filtering
Custom Password Policies
Multi-step Authentication
40 Form Field Controls
Now that we are acquainted with all the software, let's have a closer look at each of them.
Do You Have a Mobile App Idea in Mind?
We design and develop custom mobile applications.
Appy Pie

Appy Pie is an app development platform perfect for any sort of app. It can easily create an app for companies of a wide spectrum. Whether it is a small, medium, or large scale business, this is an appropriate one for all of them.

Appy Pie AppMakr has various design templates to choose from. These app templates are pre-designed for all sorts of niches, such as restaurant apps, eCommerce & mCommerce apps, church apps, and radio apps to name just a few. A user can design their custom features like chatbots and real-time chat platforms which are game-changers in the customer experience of businesses.

It works seamlessly with Windows, Mac, and Linux.

| | |
| --- | --- |
| Platform | Web-based, Android |
| Free Trial/version | Yes |
| Customer Service | Email, Phone, Live chat |
| Languages Supported | English, German, Arabic, Spanish, French, Italian, Portuguese |

Swing2App

If you are looking to publish a mobile app for your startup, this is the best option for you. Swing2App is a no-code mobile app building platform. It allows permission to develop apps with no programming knowledge at all.

This is the best app building software for converting an existing website into a mobile application. Therefore, users now do not have to start from scratch and can save a lot of time.

It will be best for your customers as well because they do not have to get used to a new user interface. They get the same user experience as they have on the website.

Moreover, this app building platform provides the user with an intuitive dashboard to manage applications, especially e-commerce apps. And once you are done developing, you can publish it on both Google Play Store and App Store directly for Android and iOS phones with Swing2App.

| | |
| --- | --- |
| Platform | Web-based, Android, iOS |
| Free Trial/version | Free version, Free Commercial Version |
| Customer Service | Online |
| Languages Supported | English |

AppMachine

If you want to create an app in just a few hours, the AppMachine is the apt choice for you. This application builder can assist any beginner to create a successful mobile app for various companies. And not only beginners, but many professionals use this tool to deliver high-end mobile apps.

The AppMachine makes mobile app development a piece of cake with its building blocks. These blocks are pre-programmed sections ready to be modified and customized.

With its live preview, all the changes that the developer makes are visible in real-time. It allows the developers to make the right decisions and develop without coding skills.

| | |
| --- | --- |
| Platform | iOS, Android |
| Free Trial/version | Yes |
| Customer Service | 24*7 Live |
| Languages Supported | English, Spanish, Portuguese, Dutch |

Appery.io

Appery.io is an easy-to-use app building platform for small to large-scale projects. This is one of the best mobile app makers for all the major platforms, including web-based, SaaS, cloud, iOS, and Android.

This low-code app builder platform can create a feature-rich mobile app within a short time. This app maker comes with a cloud-based back end database and is built with Iconic4 and JavaScript. This makes integration with various apps and technology systems smooth and seamless using APIs.

With features like data modeling, compatibility testing, and reporting, Appery.io ensures the company to grow rapidly and boost revenues.

| | |
| --- | --- |
| Platform | Web-Based, Cloud, SaaS, Android, iOS |
| Free Trial/version | Yes |
| Customer Service | Online, Business Hours |
| Languages Supported | English |

Appsheet

Appsheet is an app builder that is perfect for small scale projects. It is known for creating niche-specific apps and personal apps. It allows the free development of one-user apps. It is one of the simplest app development platforms.

This no-code app development platform has the trust of over 200,000 developers all over the globe including some giants such as ESPN, Pepsi, and Husqvarna.

Appsheet allows you to create apps of your preferences by 4 simple methods:

1. By connecting your data source;
2. By copying a sample app;
3. Using add-on for Excel, Forms, or Google Sheets; and
4. Starting with the SPEC. It is a natural language detective programming tool in-built in Appsheet.

| | |
| --- | --- |
| Platform | Web-based, Android, iOS |
| Free Trial/version | Yes |
| Customer Service | Online |
| Languages Supported | English |

AppsBuilder

AppsBuilder is one of the best do-it-yourself app building platforms. This application building platform is easy-to-use and intuitive. A user will never need to look at even a single line of coding.

This mobile app development software for beginners is an apt solution for creating enterprise apps to integrate blogs, websites, and social media platforms. Not only does it assist in developing the apps but it is a great tool to publish them too.

It can publish apps on Google Play, App Stores, and also on Chrome web store with the mobile site HTML5 version.

| | |
| --- | --- |
| Platform | Chrome web store, iOS, Android |
| Free Trial/version | No |
| Customer Service | Business Hours, Online |
| Languages Supported | English, German, Spanish, Portuguese, Dutch, Italian, French |

Felgo

Flego has ranked #1 when it comes to time-saving, easy-to-use, and customer care. Felgo is an app-building platform known for its flexibility and simplicity. It can be used to develop the best mobile apps and games. It can launch mobile apps on Embedded, Desktop, iOS, and Android.

The key highlight of this mobile app building platform is that with its huge library of more than 200 APIs, it can reduce the code up to 90%.

This is the perfect framework to develop apps for businesses and top-notch games. The ability to integrate 3D objects gives it an extra edge.

Since its native IDE is based on QT, it works seamlessly with JS and C++. Moreover, it also comes with high-end features, such as AR (Augmented Reality), virtual reality, and machine learning platform for all QT supported platforms.

| | |
| --- | --- |
| Platform | Embedded, Android, iOS |
| Free Trial/version | Yes |
| Customer Service | 24*7 Live, Online, Business Hours |
| Languages Supported | English |

GoodBarber

GoodBarber is one of the best app-making software. This do-it-yourself mobile app building platform helps you to build progressive web apps and native apps.

This is the best option for all the non-coders. It will never ask you to look at even a single line of code.

This code-free app building platform is accessible or allows permission to everyone. And because of that, GoodBarber is used by over 30,000 apps.

It is regularly updated with the latest technologies and making constant progress by eliminating issues with every update.

A user can create an engaging mobile app for all businesses, such as agencies, churches, non-profits, small & medium-sized enterprises, and personal projects.

| | |
| --- | --- |
| Platform | iOS, Android |
| Free Trial/version | Yes |
| Customer Service | Business Hours, Online |
| Languages Supported | English, Arabic, Catalan, German, French, Italian, Portuguese, Spanish, Turkish |

Swiftic

Swiftic is an app making solution for small businesses. It has a minimalist and simple user interface that anyone can use.

To make an app with this app builder, all you have to do is give a name to the app, select the type of themes, such as a shop, services, and restaurants, select theme, and color scheme, add features and you are good to go.

Worry not, to make unique apps, it allows you to have custom color schemes and backgrounds. On top of that, it has a range of loyalty features, such as coupons, scratch cards, loyalty cards, and a frequent buyer club.

And for simplifying the software development process, the stimulator is always there on the screen to test the changes.

Swiftic has one of the best UX/navigation styles.

| | |
| --- | --- |
| Platform | Cloud, SaaS, Web-based, Android, iOS |
| Free Trial/version | No |
| Customer Service | 24*7 (Live Rep) Online |
| Languages Supported | Almost Every Major Language |

Zoho Creator

Zoho Creator is a low-code cloud-based app development solution, lets you develop any style and size of apps. It is a multi-platform app developing tool that assists you to create a new native/hybrid/web application without knowing any coding skills.

This platform is best used for business users in the task-automation industry. It can entirely customize apps to do tasks like logistics, data entry, order management, and inventory management.

One of the key features of this mobile app building platform is that you can also integrate business data from other apps. This increases the usability and gives you a solution to the problems you did not have.

Whatever design that you are planning for your mobile app, it can easily achieve that with the easy drag and drop interface.

| | |
| --- | --- |
| Platform | Web-Based, Cloud, SaaS, iPhone, iPad, Android |
| Free Trial/version | Yes |
| Customer Service | 24*7 (Live Rep), Business Hours, Online |
| Languages Supported | English, Spanish, Chinese (Traditional), Japanese, French, Portuguese |

Appian

Appian is a mobile app building platform for beginners. It allows you to create business applications with the advanced visual editor, even if it is for a small, medium, or large scale project. It can easily generate appropriate native apps for every niche.

If you are planning on making an app for your company or even if you are a professional app developer, you should check out its features. You would appreciate the time and effort saved in the app-building process.

All you have to do is name it, customize it, and share it.

| | |
| --- | --- |
| Platform | Web-based, Android, iOS |
| Free Trial/version | Yes |
| Customer Service | 24*7 Live, Business Hours, Online, Phone |
| Languages Supported | English, French, German, Italian |

Shoutem

Shoutem is one of the best app builders, or we can say app creators that allows you to create mobile apps in a few hours.

If you have a clear idea about what you want, this can assist you with the drag and drop interface to make mobile applications of your imagination.

And if you are not sure about the design, it lets you pick any of the templates and array of features from the in-built library.

This low-code development platform for mobile apps comes with features like CMS with analytics, multiple monetization options, automated app publishing, and even a white-label reseller program.

| | |
| --- | --- |
| Platform | Android, iOS |
| Free Trial/version | Yes |
| Customer Service | 24*7 (Live Rep), Business Hours |
| Languages Supported | English |

Quixy

Having trouble in building apps for a business niche? No worries, Quixy has got it for you already. This Android, iOS, and web applications building platform comes with various pre-designed niche-specific templates for CRM, HRMS, and Project Management apps.

If that is not enough for you, its visual app editor provides a real-time stimulator. The drag and drop functionality makes the web app development ten times quicker.

Other features like regulatory compliance, scalable global infrastructure, and enterprise-grade security make it the best.

Moreover, it can be installed on iOS, Windows, and Linux as well.

| | |
| --- | --- |
| Platform | Web-based, iOS, Android |
| Free Trial/version | Yes |
| Customer Service | Business Hours, Online |
| Languages Supported | English |
Create Your Own App
Want to validate your app ideas? Want to get a free consultation from an expert?
How to Select App Development Software?
We know, selecting one mobile app building platform from such a horde is a tough task. From functionality to practicality, literally, everything depends on the mobile app builder that you pick.
Therefore, we extend tips from our experts to simplify this decision for you.
While picking the best mobile app development platform, you need to keep a few things in mind which are:
App Data Privacy and Security

It will not be wrong to say that the internet has got as many hackers as it has developers. Thus, when it comes to mobile app-making software, the first thing you should focus on is the extent of privacy and security that the app maker software provides.

Push Notifications

Push notifications can bring a drastic boost in the efficiency of your mobile app. Thus, ensure that the app builder features push notifications and provides updates in real-time.

Reseller Options

If you own a product-based company, do not forget to check the reseller options prior to committing to the app development software.

Not every app building platform integrates the reselling possibilities. This can make your part as a mobile app creator a lot easier.

Customer Loyalty Programs

Discounts, loyalty points, and coupons play a crucial part in the success of any mobile app. The loyalty program feature can not be neglected by an app creator.

This not only ensures the user engagement processing but also can provide you with the customers' behavior patterns.

Analytics and Reports

Accurate analytics and reports can change the scale of the growth of businesses. Thus consider it a non-negotiable feature while selecting a mobile app builder software.

This not only provides you with detailed insight into the customer behavior data but helps you in updating the pricing plans as well.

Customer Support

No matter how good are the app builders, if you do not possess coding skills, you will need technical support at some point.

And that is when customer care quality comes in. For smooth processing, ensure to go through the user feedback before committing.
Frequently Asked Questions
What is the best App Building Platform?
The best app building platform depends on your specific needs. However, here are some of the best app creation software:
Appy Pie
Appsheet
Zoho Creator
Appian
How do you start your own app?
Here are the simple steps to start your own app:
Sketch an idea
Create prototypes
Develop the app
Test it thoroughly
Launch the app
Conclusion
Hope, we have helped you choose the app builder that you can use to develop your application with a range of features and functionalities. And if you want your app to be developed by professionals, contact us. We have a team of over 200 top mobile app and web developers ready to bring your imagination into reality.
In case, if you want to know the exact cost to develop an app, feel free to reach us. We would be more than happy to guide you further.