Loop: Social Networking and Event Planning App
"Loop: Party with friends" is an event planning app, developed by Space-O Technologies. It is all-in-one party-hosting platform, allowing users to create and discover nearby events and have fun. Have an idea for social networking app? Get your free quote now. Fill out the form on the right side.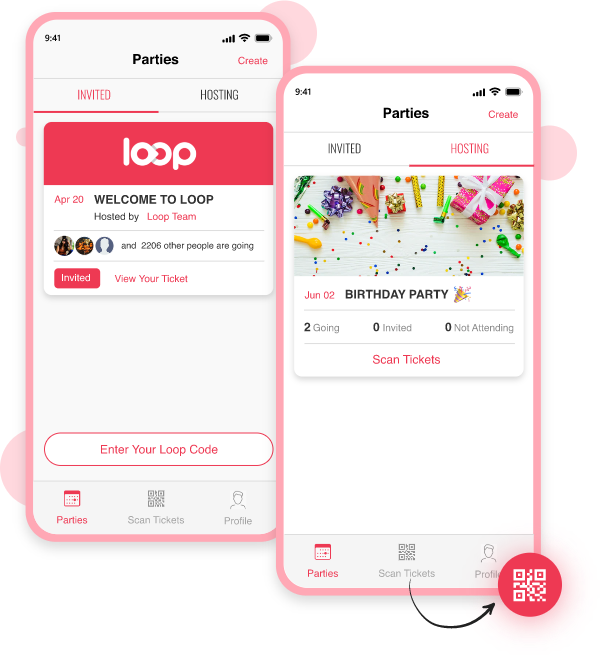 logo concept

People

Location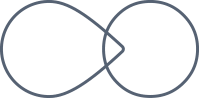 loop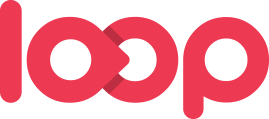 ABSTRACT
Loop: Party with friends is an event planning application that allows users to create an event and discover nearby events and parties to have fun with their friends. This party planning application is available for both party organizers and users, who love to attend parties and events. Using this app, the organizer just needs to create an event right on their app, keeping it private and public as per their choice.
Apart from this, the app has made it easy to discover nearby public parties and events by different categories, enabling interested people to buy a ticket directly from the app and avoid long lines. Using Loop, the users will spend more time enjoying the party and less time bothering about long lines, crashers, and bad guards at the entry door. Now, you might be thinking how our client got this interesting app idea. Here's the answer!
FONT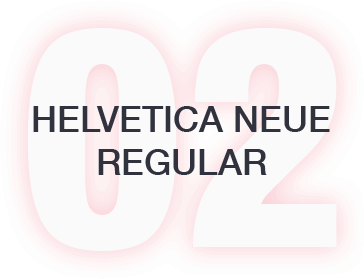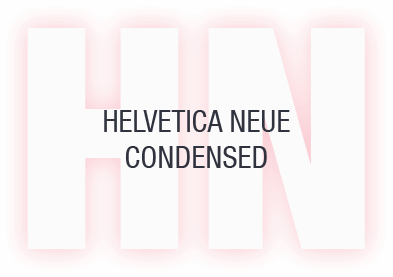 App Idea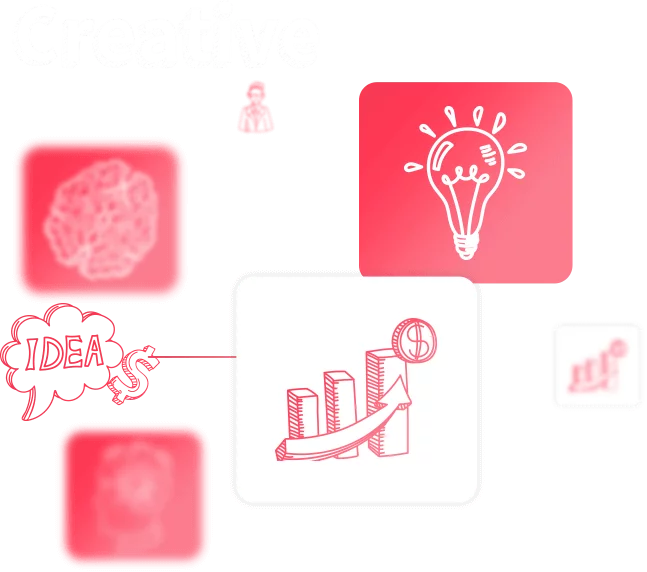 Based in California, USA, our client along with his two friends used to attend different parties and events, where they were facing problems like long lines, inefficient door payment system, crashers, and difficulty in buying tickets.
Being college students, they have interest in attending different events and host parties for their friends, but hosting a party or any event without any event planner is not an easy task. Understanding these problems, our client along with his two friends decided to develop an event planning app for all the people, who organize events and throw parties.
These three friends wanted to solve these problems, allowing people to organize a party or event without any hassle and invite their friends. But why they chose us to develop their application? Let's know this why!
THE RIGHT CHOICE
After deciding to make the application, our client started looking for the iPhone app development company, and he preferred to search it in the Google. Then, he instantly found us in the search results because we were ranking on the first page of Google SERP.
After visiting our website and reviewing our portfolios like My Circle App and DJ Event Booking App, he contacted us with his requirements. One of our business representatives understood his requirements and problems that he wanted to resolve through the iPhone application.
Our client was very clear about his concept, so our business representative instantly understood the concept. Our client didn't give a second thought to hire us for his project as he knew we had already developed over 50 social networking apps.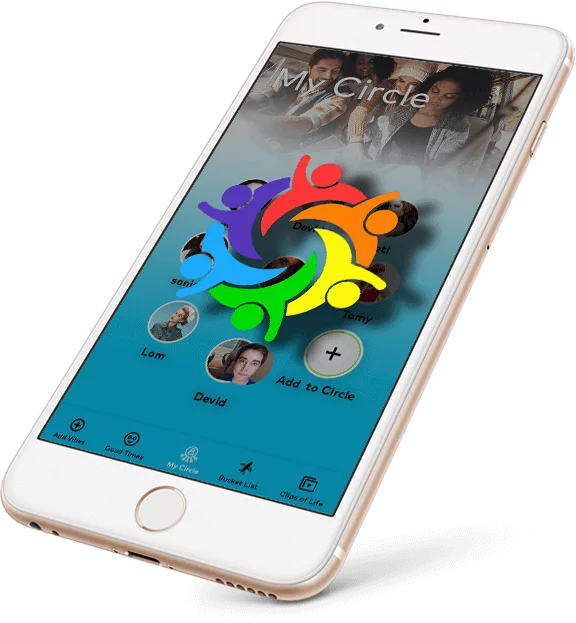 REQUIREMENTS
Our client wanted to develop an iPhone event planning application, allowing party organizers to host parties or events and invite friends directly from the app. He wanted to make one such app that helps people to host all types of parties from birthdays to anniversary to the graduation ceremony.
Along with the party throwers, he also wanted to help those people, who have interest in attending different events and parties by enabling them to discover nearby events by categories.
In a nutshell, he wanted to make all-in-one party hosting platform for both party throwers and users, who are interested in attending different events. Let's know what we proposed him as a solution.
APP FEATURES
After thoroughly understanding our client's requirements, our sales representative made a proposal for his requirements, proposing him a solution in terms of an application named Loop: Party with friends. Our proposed iPhone application helps users to throw a party or organize any event without taking any stress.
Using Loop application, users do not need to stand in the long lines to buy tickets and then enter into the party. Directly from the app, users buy tickets and get exact date, time, and location information. They just need to get scanned it under a second at the entrance of the party and spend more time inside and less time trying to get in.
This party planning app is a right choice for anyone, who is looking to organize party, whether it is a birthday or anniversary. With just a few simple taps, create an event with required information and invite friends. Let's check out the core features of this event listing app:
Invited
Under the Invited section, get a complete list of all the invited parties and events. Check every single party and event with its date, time, location information, and a list of all the people, who are going to attend the party or event. Users respond to these parties as per their convenience like interested, going, and can't go.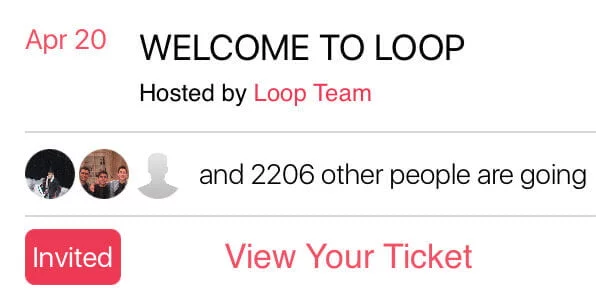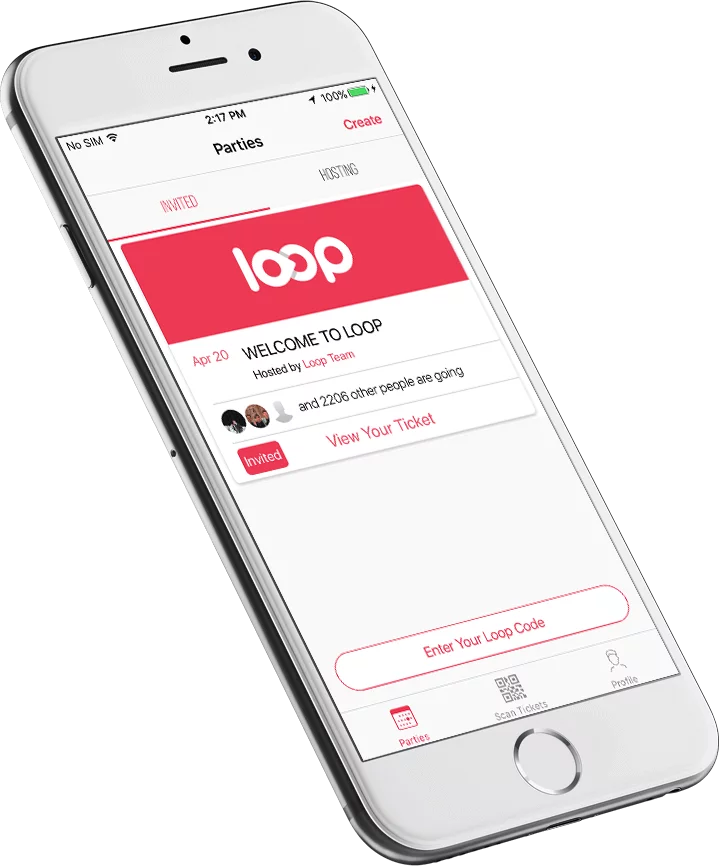 VIEW YOUR TICKET
Once users respond to the party invitation, they get the ticket of the party directly in their application. The ticket shows the date, time, and location of the party. They just need to get scanned the ticket under a second at the entrance of the party.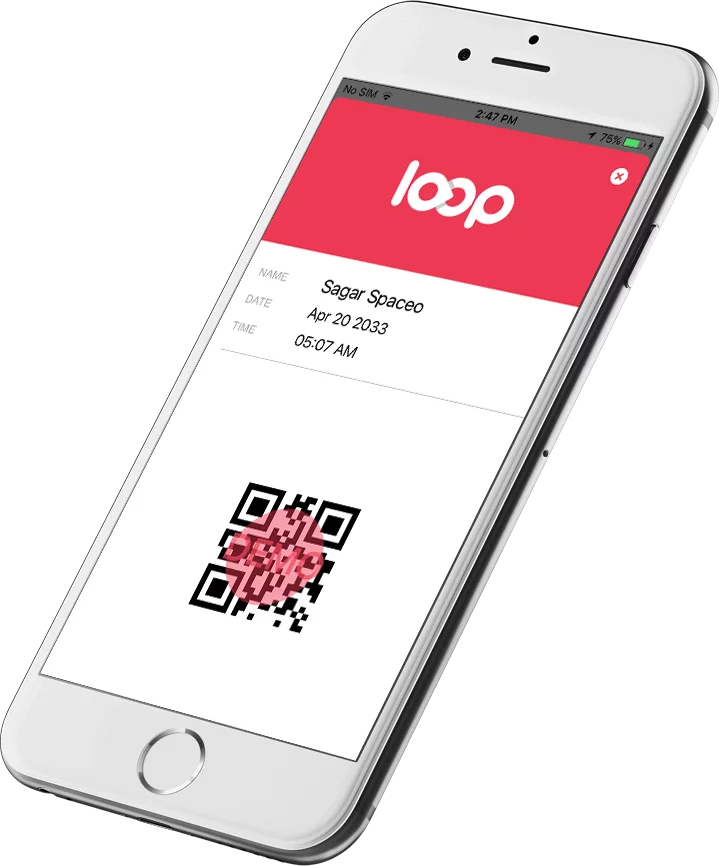 HOSTING
Under this section, the list of all the parties and events appear that created by the organizers. Check the past and current events along with the complete information like date, time, location, and list of guests that attended the event.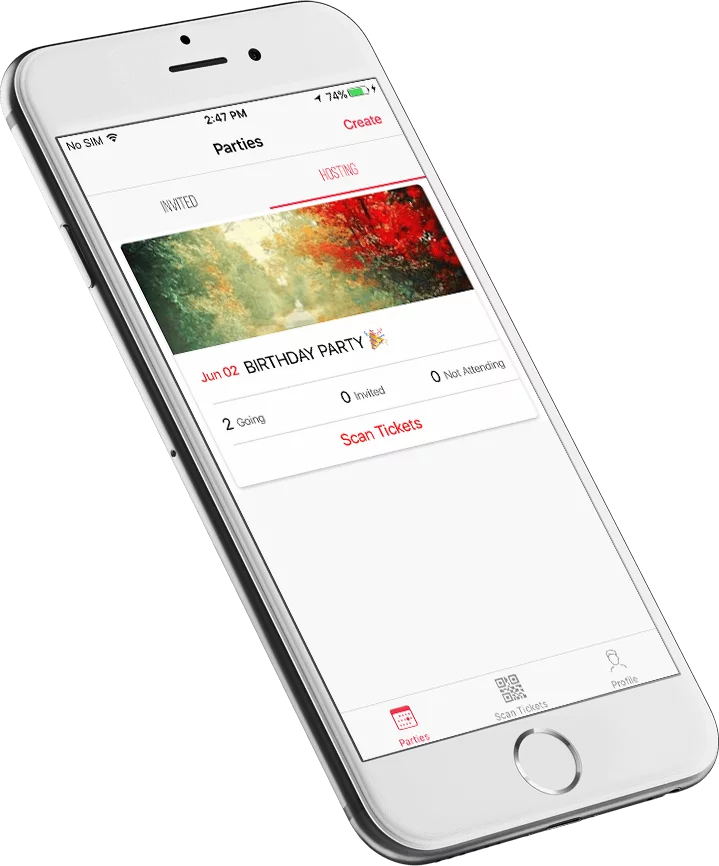 CREATE EVENT OR PARTY
Want to organize a birthday party or any other event? Create an event, including information like name, photos, date, time, location, describe party, free or paid tickets option, co-hosted by, guests can invite friends or not option. After filling complete information, party organizer just needs to click on "I agree to Loop's terms and conditions."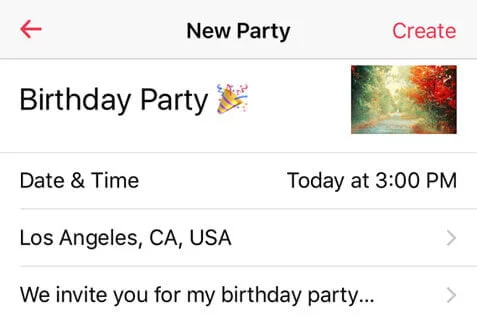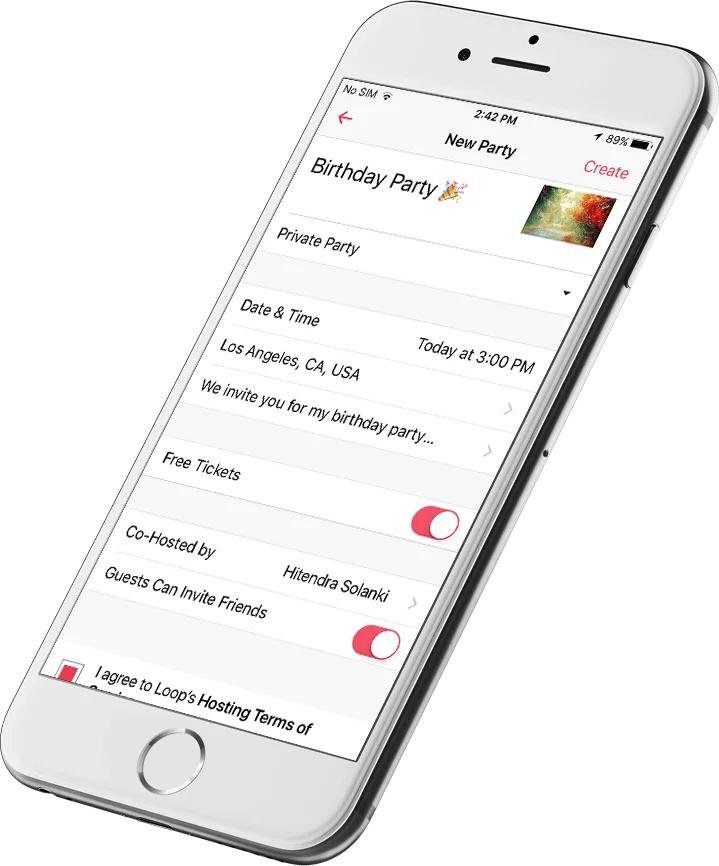 INVITE FRIENDS
Once the event is created, invite all the friends using the Invite Guest feature. Those friends, who are already using this application, will get the notification about the party. Other people, who have not downloaded the app, will get a text message about the party invitation. They need to download the app, sign-up, show interest as responding to the invitation. The new users will get the event listed in the invited section.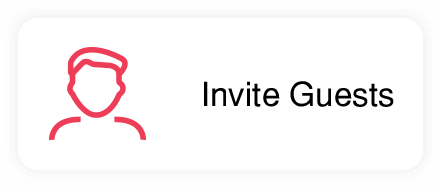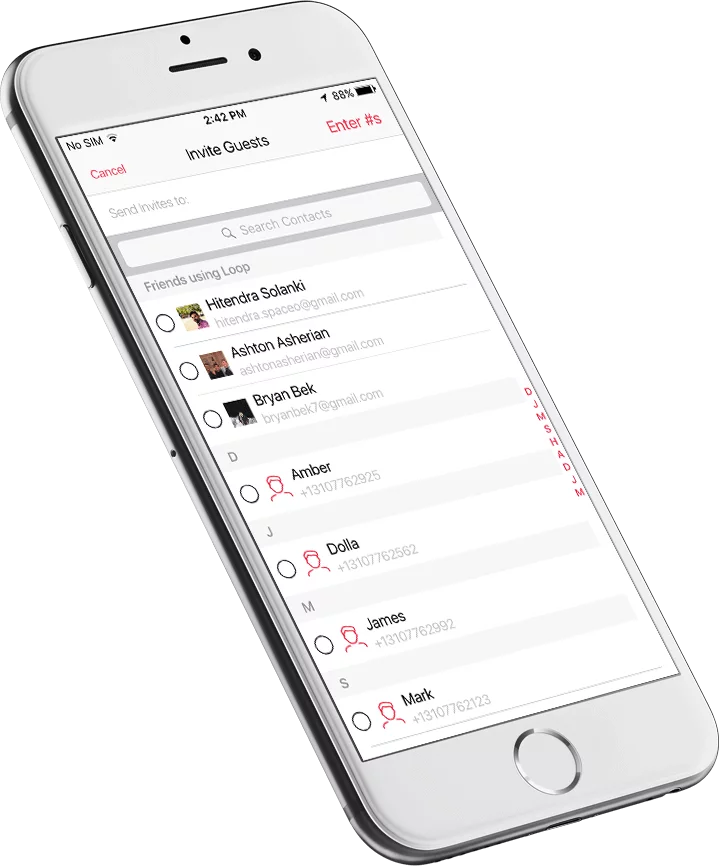 SCAN
Scan allows party organizers to scan the ticket of the guests at the doorstep. They just need to click on the scan and verify the ticket.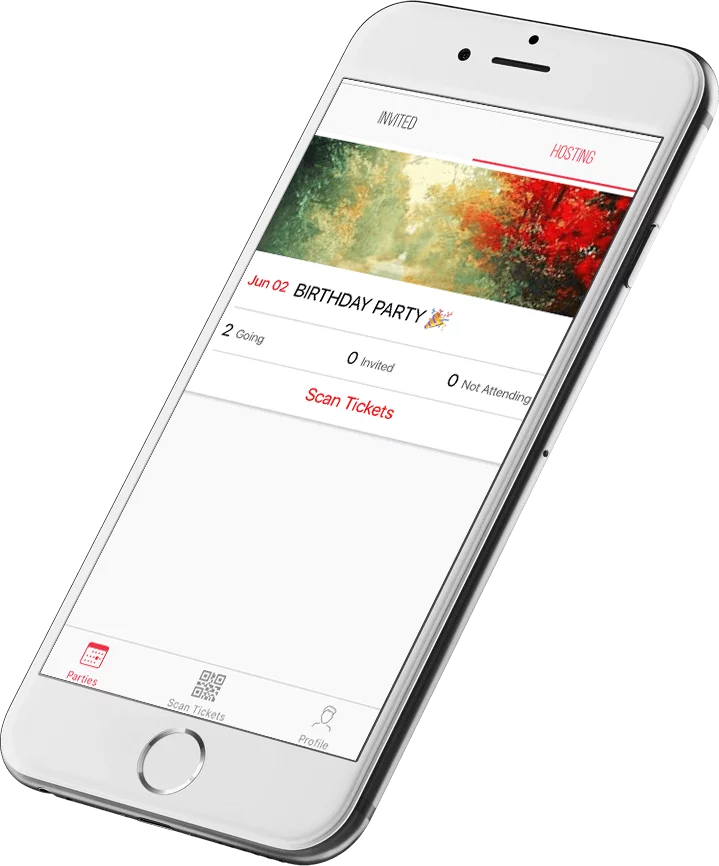 PUBLIC & PRIVATE EVENT OR PARTY
Party thrower or event organizer creates both public and private event as per their convenience. If they want to create a private event, it will only appear to those people, who are invited, while the public event will appear to all the users.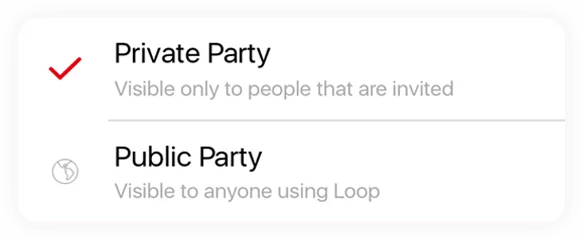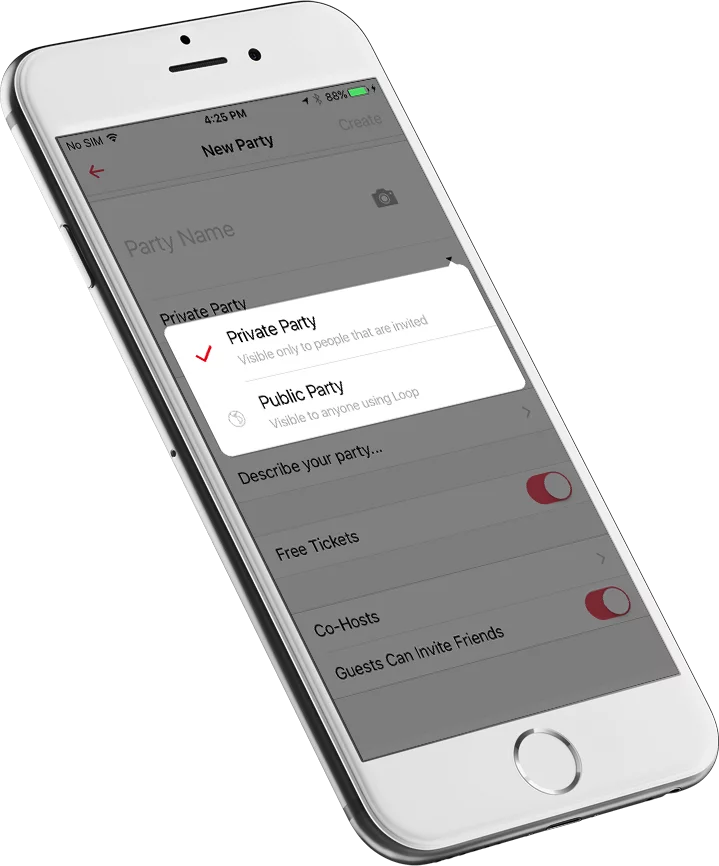 PROFILE
Maintain a complete profile information, including Name, Gender, DOB (Date of Birth), Country, Profile Picture, Change Password, Invite Friends to Download the app, and Logout.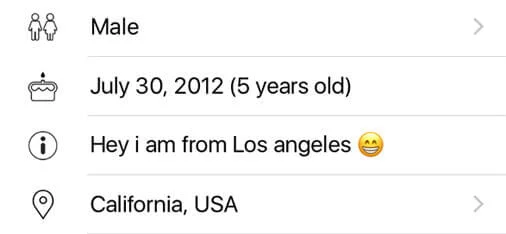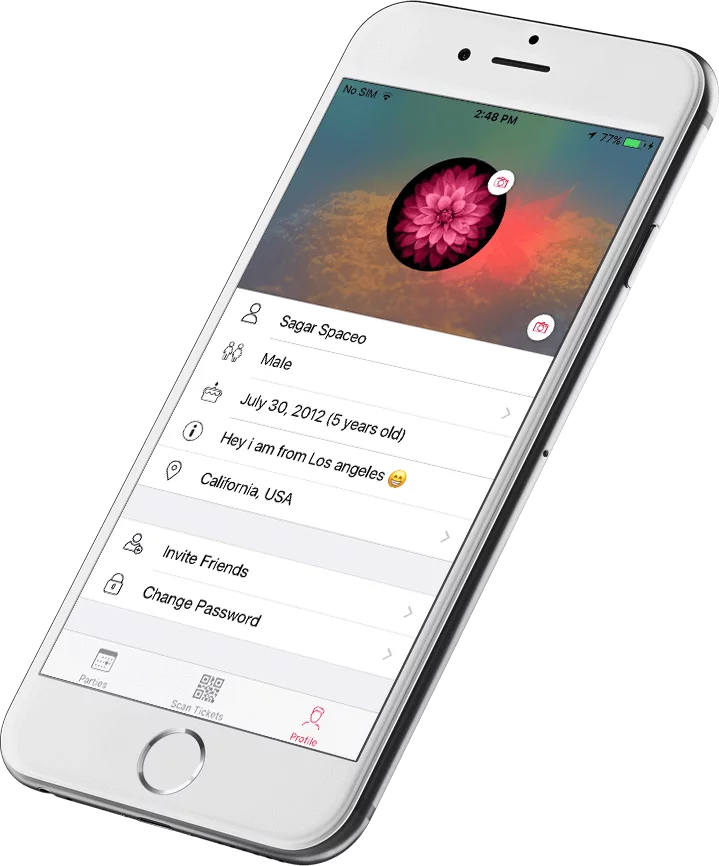 Discover Nearby Events
Want to attend the happening party or nearby event? Discover nearby events allow users to explore nearby events and parties by different categories. Interested users are allowed to show interest in the event, buy tickets, and add themselves on the guest-list.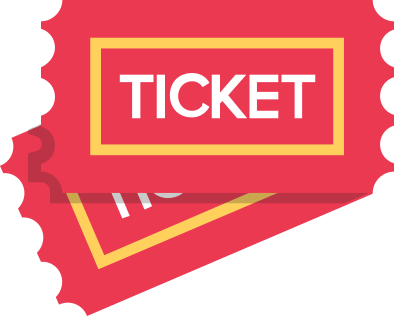 Want to build your own Social Networking App?
Get your free consultation now.
CUSTOM iOS APP DEVELOPMENT
As our client wanted to develop this application only on iOS platform within six weeks, we assigned our Sr. iOS app developer, who has 4+ years of experience in the iOS app development industry.
First of all, he spent some of his time researching and understanding client's requirements and also communicated with the client through the call. After researching and analyzing, he started developing this event planning application. Throughout the development process, he did not face any challenge as he has already developed such party organizing and event planning apps for iPhone.
The deadline for the project was six-weeks. However, our assigned iOS programmer, who has expertise in developing social networking apps, developed this app within five-weeks only by working on Weekends too. Yes, you read it right within five weeks, he completed the development part of the application. Here are some of the technologies and third-party libraries that used by our iPhone developer to develop this app.
Technologies That Used by Our iOS Developer

Swift 4

XCode 9.1
Third-party Libraries/SDK
HSSearchable to search events from listing
Alamofire and SwiftyJSON for web services integration and data parsing
SnapKit for programmatic layout design
Kingfisher for asynchronously loading images from server
Google Places and google maps to search places and show map in application
Fabric and Crashlytics for the crash reporting and application analytics
libPhoneNumber-iOS for the mobile number formatting
TESTIMONIAL

Space-O was a true pleasure to work with. Our daily checkins, our weekly builds, and the relationship we built are all key characteristics of Space-O that we love. Working with Nimish, NP, Dharit, and everyone else involved made it possible for us to work so efficiently and get so much done in such a short amount of time. We are grateful for everything Space-O has helped us accomplish.
Ashton Asherian USA