Key Takeaway

The key difference between a web portal and a website is that a web portal integrates various services, tools, and content from different sources into a single platform, while a website primarily focuses on providing information or content about a specific topic, organization, or individual.
Are you confused about whether to develop a web portal or a website? Or do you want to know the difference between a web portal and a website? – Read this blog to find the core differences.
In this blog, you will find answers to all your questions through a comprehensive comparison between a web portal vs website. Moreover, this blog makes your decision-making easier by providing insights into when it's suitable to choose a web portal or a website.
So, let's begin our blog with the definition of a website and web portal.
What is a Web Portal?
A web portal is a platform that serves as a single point of access to a wide variety of information, services, and resources from different sources. It is designed to provide users with a consolidated and organized gateway to interact with various online features and functionalities.
However, if you are planning to develop a web portal and are not sure where to start, then you must check this blog about creating a web portal. The blog covers 7 simple steps to develop a web portal that helps you overcome your challenges to build a web portal.
Moreover, web portals are often called horizontal enterprise portals that are used to offer users personalized content, tools, and services based on their preferences, roles, or interests.
Examples of web portals are CNN and SharePoint. However, if you want to know more examples, then you can check our blog on different examples of web portals. The blog covers 15 different examples of web portals from various industries with their features.
Now let's understand the basic definition of a website.
What is a Website?
A website is a collection of interlinked web pages hosted on a single domain name on the World Wide Web with a unique URL (uniform resource locator) that is accessible through a browser. It's a web address where individuals, businesses, and organizations share information, interact with visitors, and provide various types of content, services, and functionalities on a group of web pages.
Examples of websites are Amazon, The Weather Channel, and YouTube.
So, after knowing the definition of a web portal and website, let's move on to the next section that differentiates websites and web portals.
7 Key Differences Between Web Portal and Website
There are several differences between a website and a web portal. However, we discuss the 7 key differences that help you understand the concept of both platforms.
Sr. No
Aspects
Web Portal
Website
1
Purpose
The purpose of a web portal is to provide a single point of access to various resources, services, and information from different sources.
The purpose of a website is to provide a digital platform for sharing content, information, or services with an online audience.
2
User Authentication
Web portal content provides authorized access only and has strong user authentication mechanisms to control access data to different services. Moreover, web portals ensure that users are granted appropriate permissions based on their roles within the portal. For example your bank portal login.
Websites incorporate user authentication for features like memberships or commenting, but the authentication complexity is generally lower than in portals. Websites are more often publicly accessible without user authentication. For example Wikipedia.
3
Integration Capabilities
Portals bring together information and tools from different sources, making them work together seamlessly. For instance, portals show your emails, news, and calendars in one place.
Websites include tools or services from third-party, but the connection and integration are usually simpler and don't involve complex data sharing.
4
Development Complexity
Portals tend to be more complex to develop due to the need for integrating diverse functionalities, databases, and user authentication systems.
Websites are generally simpler to create as they focus on specific content or services without the need for extensive integration.
5
Examples

Examples of web portals are:

Yahoo
MSN
iGoogle
Stanford University

Examples of websites are:

Wikipedia
Huffpost
The Weather Channel
Pinterest

6
Content Variety
Web portals serve as multifaceted platforms, encompassing news, email, and forums.
Websites generally focus on specific types of content or information, such as blogs, eCommerce websites, informational content and portfolios.
7
User Interaction
Portals facilitate interactive features like user authentication, personalized content, and role-based access, allowing users to customize their experience.
Websites also offer interactivity through forms, comments, and user accounts, but the level of customization and interaction is usually limited compared to portals.
So, the above table has provided all the essential information about both websites and web portals. The following section helps you choose the right platform for your business knowing your specific needs and requirements. Let's explore.
Are You Planning to Develop a Website or a Web Portal?
Discuss your idea with us. Together we can implement your plan and develop a website or web portal that is customized to your business needs.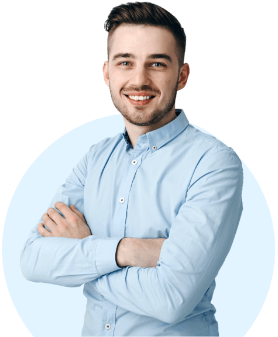 How to Choose the Right Platform Between a Web Portal and a Website
Examine the following considerations for a website or web portal development.
Develop a Website if
You want to share content or information with a broad audience, showcase your products or services, or communicate your business's mission.
Your objective is to draw in new customers/audiences, increase traffic, and enhance brand awareness through the utilization of horizontal web portals.
You are seeking a web system that functions independently from your business operations and doesn't need to be integrated into your existing business and digital infrastructure (like ERP, CRM, HRMS, online payments, and asset management system).
You want a unified web interface to provide optimal viewing and interactive experience to your users.
You are constrained by limited resources and a tight timeframe for the development, management, and support of your web system.
Develop a Web Portal if
You need to bring together various business applications and services into a single cohesive environment. This involves developing interconnected web pages to establish streamlined workflows that can be effectively managed online.
You want to create a user-centric portal like an organized online hub for quick finding and people access what they need based on permissions.
Your goal is to offer tailored or personalized database content, services, products, or tools to a particular group of people or multiple groups.
You require a place with two-way communication and work together with the people you want to reach.
Your objective is to make the experience better for your customers, clients, and employees, and to build ongoing connections with them.
So, after learning about the different factors to consider while developing a web portal or a website, let's proceed to our next section. The following section talks about the key benefits of web portals and websites.
5 Key Benefits of Developing a Web Portal for Your Business
Here are the 5 key benefits of developing a web portal.
Provides Centralized Access to Several Services

Web portals provide users with a centralized hub where users access a wide array of services, tools, and resources. This integrated approach ensures convenience and efficiency, allowing users to fulfill various needs from a single entry point.

Offers Integrated Services

Web portals streamline user transitions between different functionalities without the need to navigate through multiple platforms. This interconnectedness within a feature-rich web portal enhances user experience and boosts productivity.

Enhances Communication with Users

With features like discussion boards, messaging systems, and collaborative tools, portals facilitate efficient interactions among users. This becomes especially important in vertical enterprise portals, customer portals, and e-commerce websites, where effective communication is integral to successful collaboration and seamless customer experiences.

Tailor-made Content Delivery

Through personalized databases and user-centric strategies, web portals ensure that users receive content tailored to their specific preferences and needs. This approach proves beneficial in delivering specialized expertise and information, especially in vertical web portals such as college portals, and tender and bidding portals, which cater to niche audiences.

Streamlines Business Workflows and User Experience

By centralizing resources and services, portals simplify processes, reduce redundancy, and ultimately enhance efficiency and user experience. This streamlined approach benefits both businesses and users, as tasks can be completed more seamlessly.
However, if you want to understand web portals and their benefits in detail you can check the article about the definition of a web portal. This post provides brief information about web portals with their types and benefits.
However, after understanding the advantages of web portals, let's proceed to the next section which discusses the benefits of developing a dynamic and interactive website.
Want to Hire a Web Developer?
Get in touch with our experienced web developers who have experience developing user centric portals in industries like healthcare, travel, and education.
4 Key Benefits of Developing a Website for Your Business
Here are the 4 key advantages of developing a website.
Reaches a Wider Audience

With the capability to reach a global audience, websites transcend geographical boundaries. Moreover, websites serve as virtual storefronts, enabling businesses to showcase their offerings to a diverse range of potential customers and attract significant web traffic.

Showcases Products and Services

Your website acts as a digital storefront where you can showcase your products or services in detail to your target audience. High-quality images, videos, and descriptions help customers within your target audience understand what you offer, leading to informed purchasing decisions.

Offers Cost-effective Marketing

Websites act as cost-effective marketing tools, allowing businesses to promote their products and services without the significant costs associated with traditional advertising methods. This holds for both static websites and interactive websites with engaging features.

Enhances Customer Engagement

Interactive features on websites facilitate meaningful customer interactions. Whether it's through feedback forms, chatbots, or interactive elements, websites encourage engagement, fostering connections with users.
Thus, knowing the benefits of web portals and websites let us discuss the faqs that help you answer your question and clear your doubts regarding web portals vs websites.
Frequently Asked Questions About Web Portal vs Website
How are web portals and websites different?
A web portal is a broader concept and has a custom workflow that offers a diverse range of services and content from various sources on a single platform. A website, on the other hand, is a more specific online presence that typically focuses on providing information about a particular topic, business, or individual.
What is a static website?
A static website is a platform that displays fixed content to visitors. Unlike a dynamic website that generates content on the fly based on user interactions or real-time data, static websites present the same information to all users without customization.
Is user authentication necessary for accessing data on a website?
It depends on the type of website you are accessing. Here are examples of websites that can help you answer your question:
Public websites: These sites offer content meant for general public access and typically don't require authentication. Examples include news sites or informational web pages.
Content websites: Sites that host publicly available content, such as blog posts, news articles, and general information, usually allow users to access this content without logging in. However, some features like commenting or downloading might require authentication.
Restricted access websites: These sites are designed for specific groups, such as members of an organization, subscribers, or employees of a company. Authentication is necessary to ensure that only authorized individuals can access the content or services.
Which are the main types of portals?
Portals can be categorized into two main types: Horizontal portals and vertical portals.
Horizontal portals resemble public websites, aiming to provide a wide range of services that cater to various user needs. Eg: news portal, finance portal.
In contrast, vertical portals operate with a user-centric approach, offering organization-specific information tailored to the needs of their users. Eg: travel portals, education portals.
Still Confused Between Web Portals and Websites?
Let us help you with the solution. As a leading web development company we understand the challenges you face to choose the right platform between a website and a web portal. Hence our expertise in developing web apps in various fields including eHealth portals, e-commerce websites, and technology companies can help you choose the right platform for your businesses. Get in touch with us to build the right web solution for your business. Book a free consultation and validate your web idea for free.