If you are an owner of a construction industry, you will always want to improve your processes, reduce costs, and enhance safety on job sites.
With the rise of artificial intelligence and machine learning, OpenAI is offering new solutions that are revolutionizing the way construction projects are executed. By incorporating OpenAI's AI technologies into your business strategy, you can:
Reduce manual errors and labor costs by automating repetitive tasks
Monitor and analyze site conditions in real-time
Improve project planning with advanced analytics
To provide you with in-depth information, we have written a blog describing the unique use cases of using OpenAI in the construction industry. Since we are an OpenAI app development service provider, we know how much OpenAI is helpful in the construction industry.
Let's get started with a brief description of how the construction industry is revolutionizing.
Introduction About Construction Industry
The construction industry requires technologies to improve efficiency, reduce costs, and increase the accuracy and quality of the finished product. And when we talk about the US market, then the construction industry has a high demand for technologies.
According to Global Data, the construction industry is expected to grow at an average annual growth rate of 3.7% from 2023 to 2026.
One reason is the large and diverse construction market in the US, which includes a wide range of projects such as high-rise buildings, infrastructure, and residential developments. Technologies can help this industry to automate many construction tasks and reduce the need for manual labor, which can help to reduce costs.
Let's check how OpenAI can help the construction industry automate the overall process and optimize the construction supply chain.
Introduction to OpenAI
OpenAI is an artificial intelligence research laboratory that aims to develop and promote friendly AI in a way that benefits all businesses. OpenAI plays a significant role in the construction industry with its AI-based solutions to improve the efficiency, safety, and sustainability of construction projects.
OpenAI provides a AI models and public APIs that can help you build construction software, including:
GPT-3: The largest language model developed by OpenAI, GPT-3 can be used for a variety of construction-related tasks, including project planning, site management, and report writing.
DALL-E: A creative AI model that can generate images from textual descriptions, DALL-E can be used to generate architectural and engineering drawings, 3D visualizations, and other visual aids for construction projects.
OpenAI APIs: These APIs provide access to a suite of AI models that can be used for a variety of construction-related tasks, such as sentiment analysis, text summarization, and question answering.
By incorporating these AI models and public APIs into your construction software, you can improve efficiency, reduce costs, and enhance the overall quality of your construction projects.
Whether you're looking to automate repetitive tasks, generate high-quality visual aids, or provide your users with advanced analytics and insights, OpenAI has the tools you need to build the construction software of the future.
Want to Build a Construction Solution Using OpenAI?
Our technical consultants will help you validate your mobile app idea and define a perfect roadmap strategy for your app.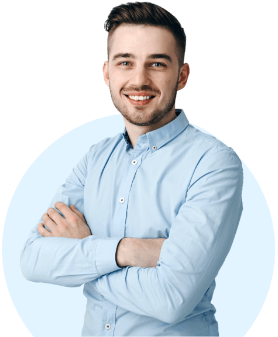 Moving forward, you will learn how OpenAI can revolutionize the entire construction industry and how it can help people to optimize the work process efficiently.
5 Unique Use Cases of OpenAI in the Construction Industry
Here are 5 unique use case of using OpenAI technologies in the construction industry.
Automating the Entire Construction Documentation Process

Challenge: When it comes to the construction industry, many organizations face a lot of challenges in terms of inconsistencies in the documentation because of hefty data. There are also high chances of making errors when there is entire manual work involved, and it can lead to slowing down the whole documentation process.

Solution: OpenAI has a lot of tools, such as NLP and ML, which can be applied to automate the construction documentation process. This includes efficiently generating reports and analyzing construction documents, summaries, and project updates. OpenAI overall enhances the entire construction documentation process with advanced computer vision and image analysis technology.

Finding Quick and Precise Estimated Costs for Different Tasks

Challenge: There is always an issue with the construction industry when it comes to identifying the estimated costs for different tasks because every task requires a different amount of manpower, resources, and time. If you do not calculate properly, there is a high chance of getting inaccurate cost estimates and making a decision that is not data-driven.

Solution: Language model of OpenAI, such as GPT-3, helps to find cost estimates by analyzing data on past projects. These outputs can be based on patterns and information learned from the vast amounts of text data. And, this will help you improve budgeting and resource allocation and also make better decisions.

Automating the Entire Site Layout Design and Planning Process

Challenge: Construction projects are highly complex and involve a high number of variables in terms of resources, availability, and budget. In short, it becomes really challenging to manually design and plan the whole process. It is time-consuming to design the entire site layout as well. Also, automation of the design and planning process can be expensive and require significant training to implement effectively.

Solution: To resolve this challenge on a vast level, OpenAI helps generate and optimize site layouts. The language model can be used to process and analyze large amounts of construction data, such as building codes and zoning regulations. It also uses factors like topography and stakeholder needs to ensure compliance in the design and planning process.

Ensuring the Safety of the Workforce & Compliance Monitoring on Construction Sites

Challenge: As we all know, construction areas are dangerous compared to other sites, making it challenging to ensure the safety of the workforce. In addition, there is a lack of compliance monitoring because of numerous safety regulations and standards in the construction industry. Also, it becomes difficult for the site engineers to identify patterns that can lead to accidents and injuries on the construction sites.

Solution: Leveraging GPT-3, you can generate safety reports based on patterns and information learned from the vast amounts of text data. This way, you can identify trends and potential hazards and make recommendations for improving safety protocols. GPT-3 is also able to provide safety training to employees through virtual assistants or chatbots and monitor compliance with safety regulations.

You can also learn more about usability and capabilities of such chatbots by reading our post on developing discord bots using OpenAI API.

Utilizing OpenAI to Monitor Progress of Construction Projects in Real-time

Challenge: Suppose data is being generated from a large number of sources and in different formats. In that case, it can become challenging for any industry to collect accurate and real-time information from the sites. Also, monitoring progress in real-time often requires integrating data from multiple sources and systems, which can be challenging and time-consuming.

Solution: However, such challenges can be overcome to achieve improved project visibility and management with the help of OpenAI. Different types of OpenAI models can help you automate the collection of data and track it in real-time efficiently. With OpenAI, you can improve data accuracy and measure the progress of the project. Also, this will lead you to make better decisions about the projects based on insightful data.
Want to Hire Developers to Integrate OpenAI Models in Your Construction Project?
Being a leading mobile app development company in the USA, we have experienced developing mobile apps, software, and web solutions for various industries, including construction and real estate.
Want to know more about the use cases of OpenAI for business data analysis in the construction industry? Want to know how you can leverage OpenAI to improve automation, optimize the construction supply chain, and more? Check the following FAQ section, where we have answered all these questions.
Frequently Asked Questions About Using OpenAI in the Construction Industry
Can OpenAI be integrated into existing construction software to improve automation and efficiency?
Yes, OpenAI can be integrated into existing construction software if you are looking to improve automation and efficiency. As OpenAI comes with a range of services, such as machine learning models, natural language processing, and computer vision, you can automate repetitive tasks, provide better insights into projects, and optimize decision-making. Moreover, you can automate scheduling, resource allocation, and cost estimation as well.
Can OpenAI be used to optimize the construction supply chain through real-time data analysis?
Yes. If you are looking to optimize the construction supply chain using OpenAI, then it is possible through real-data analysis. In this optimization process, you will be able to source materials, schedule deliveries, and coordinate with suppliers and contractors.
Analyze real-time data in order to find bottlenecks, predict delays, and optimize resource allocation. Additionally, OpenAI will also enhance the overall communication and coordination of the supply chain.
Is it possible to use OpenAI to analyze large amounts of construction data for better decision-making?
Yes, this is possible with OpenAI. You get various language models, such as GPT-3, that you can use to process and analyze large amounts of text-based data. So, if you are in the construction industry, then you can easily get construction reports, contracts, and project plans using OpenAI. Additionally, OpenAI's DALL-E and DALL-E 2 are used to generate images and other visual data.
Let's Develop Your Construction App Solution Using OpenAI
OpenAI comes with a huge opportunity in the construction industry. As you have learned how OpenAI automates the overall construction process, finds the estimated cost for different construction tasks, and improves decision-making through the analysis of large amounts of data, it has great potential to revolutionize the way the construction industry operates.
In case you are looking to integrate the features of OpenAI in your construction app and need assistance or guidance, please get in touch with us. Our senior technical consultants are well-versed in the models of OpenAI and know how they function. We will help you devise a perfect strategy so that you can integrate OpenAI models efficiently without disturbing other functionalities of the app.