Would you be surprised if we told you that the online food-delivery business is set to supersize to a hefty $200 billion by 2025? With the Corona pandemic taking its full form, this amount might even increase.
This is because of the online food-deliveries that are much in demand due to social distancing. To grow your business in this sector you need to technologically equipped. This is why we curated 5 reasons why a food delivery business needs a customized mobile application. Let's check them out!
Businesses have been going through rapid changes due to the emergence of technology. Well, another reason could be a fast increasing mobile penetration and ease of use that has pushed the businesses to put mobile applications at the top of their priority list. All top of it, food ordering businesses and food delivery businesses do need mobile apps, this is because the market of on-demand food delivery is thriving. Before moving ahead, it would be better to check quickly the statistics of the market size of the food delivery business.
The Market Size of Online Food-delivery Business
According to a report by Statista:
Revenue in the Online Food-Delivery segment amounts to USD 312,153 million in 2022.
Revenue is expected to show an annual growth rate of 7.5%, resulting in a market volume of USD 182,327 million by 2024.
The market's largest segment is Platform-to-Consumer Delivery with a market volume of USD 169,193 million in 2022.
Talking about the latest and best food delivery app, Careem NOW is Careem's expansion into the food-delivery market as the company is expanding its platform beyond ride-hailing to payments, delivery, and mass transportation, the company said in the statement. Careem launched Careem NOW to expand into the food-delivery app market as the company expands its platform beyond ride-hailing.
Another most popular food-delivery app, Uber Eats, has secured the third position in the list of the top food and drink Apps in Canada for 2018 by downloads.
Get the best business startup consulting services to know you can execute your plan into action and take your food business online. Moreover, a startup consulting firm can improve the chances of your business success.
Now, let us check out those core reasons why a food-delivery business needs a customized mobile application.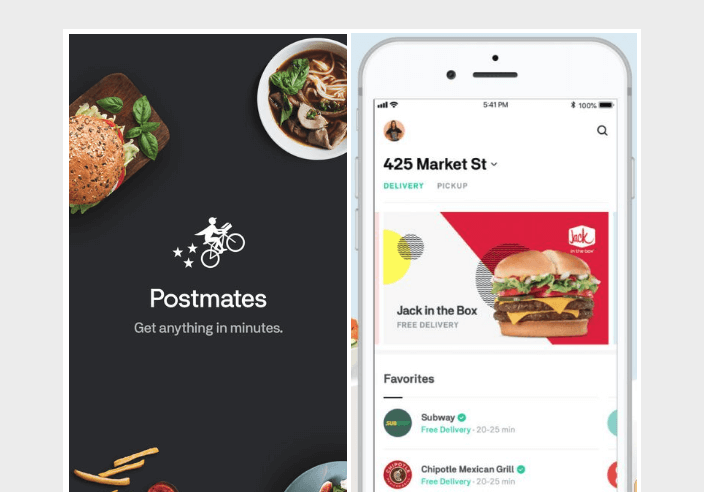 Source- Postmates
Want to Create a Food Delivery App?
We have designed and developed custom food delivery solutions like Uber EATS, Grubhub, and DoorDash.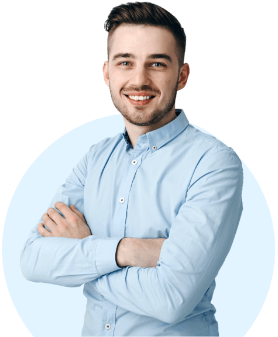 5 Core Reasons Why a Food-delivery Business Needs a Customized Mobile Application
You might have been wondering how to start a food delivery business. Building an online food delivery business model is not enough, you will also require to build a mobile application to scale your business. But, why build a mobile app prior to starting a food delivery business? Here are the 5 top reasons to check.
Increased demand for delivery amid COVID-19 pandemic

We all know that with COVID-19 becoming increasingly widespread, the lives of people around the world have changed. Most countries have announced shutdowns, and life, as we know it, has changed completely.

Almost everything is closed except for essential services. Whether it is grocery delivery or food delivery services, every essential business is growing. Many startup businesses have started to invest in 10-minute delivery apps, such as Dija and Weezy apps. The aim of these objectives of food delivery services are to deliver quality food in less time. These apps promise you to deliver your groceries within 10 minutes.

The target market also used to be busy people who needed a restaurant delivery service because they didn't have time. Now, the target market is everyone. Most people now require home deliveries.

With people practicing social distancing, self-quarantine, and staying indoors to stop the spread of the virus, food-delivery startups are in demand more than ever. They cater to more orders than ever. Food delivery companies can actually help people stay indoors and fight this pandemic.

If you already have a meal delivery business or restaurant, this may be a good time to build a food delivery app like Uber Eats or GrubHub. The best part is, you don't need to come out of your house to get it developed. You may get it outsourced from an app development company.

The food-delivery arena has the potential to flourish in the future

Change is a decent and obvious thing in the world of technology. So, we can expect changes in the food delivery market for a better future. According to the report from McKinsey & Company, "The worldwide market for food delivery was valued at €83 billion in 2016". In the current times, the food delivery market has already matured in most of the countries with an overall growth rate of approximately 3.5% for the next five years.

Till now, the most common objectives of food delivery app is to place an order online and from the restaurant. As of now, the tendency of people is no more to wait for food in restaurants. However, people do find it more convenient to get food at their doorsteps after a few minutes of placing the order through the app for food delivery.

Undoubtedly, the food delivery market is in the midst of dramatic changes. This is what you can see as the exponential growth in the on-demand food delivery market. And, this market has the potential for robust growth.

If you own a food delivery business, then a food delivery app can be a miracle for your business. So, it is high time to develop a food home delivery app for your business.

Increases convenience & transparency for both app users & merchants

The online food-delivery has already seen much growth in the past few years, however, this market has already matured due to the overall level of funding and technology penetration. However, things are not ended here. There is another key catalyst is to increase convenience and transparency for both the ends i.e. customers as well as merchants.

Image Source: media2.fdncms

The on-demand solutions for the food delivery app provide convenience and transparency for both app users and merchants. If you are planning to develop an on-demand food delivery app, it is important to create a customized mobile application because this market has been flourishing for the last few years.

Increase returning visitors

To get extraordinary results from your business, it is important to get a customized mobile application for your on-demand food delivery business. Being an owner of the food delivery business, if you want to retain your customers for a long time, then you need to focus on developing an app along with unique features and functionalities.

To drive more and more customers to your business, you can't forget to take care of basic features during food delivery app development in order to enhance returning visitors.

Image Source: Uber Eats

If you want to flourish your business, then you can't settle down without a customized app for your food delivery business. All you just need to hire a trusted iOS app development company, which has experience in developing on-demand food delivery apps.

Easily target the right audience & remain connected with them

An app for food delivery can do a lot for your business. From enticing your app users to order their first food order to make use of coupon offers. Customers usually find it interesting and place orders. So, to get extraordinary results, it is important to consider a customized app to easily target the right audience.

Reach the target market and it would bring many benefits to your business. In order to drive the target market, it is important to consider a mobile application that can reach the millions of people who actually need the restaurant services or delivery service. The mobile application can help you to achieve it without hassles.

Moreover, you will be able to remain connected with your users. Customer satisfaction in your target market is a priority. Plus, by providing constant discounts and offers can help users to retain for a long time. Thus, if you have ever thought of developing on-demand food-delivery apps like Postmates, Uber Eats, GrubHub, or Deliveroo, one thing we just want to say that a customized mobile can do wonders in your business.

As we all know that this is a crucial period especially for food startups and business owners. People are extremely worried about their health and they need assurance that the restaurant meal they get delivered is safe to consume. This is why we have come up with certain ways that will help you provide a safe restaurant delivery service.
Get Cost and Timeline for Food Delivery App
If you want to start your food delivery business, and want to create a custom food solution, let's talk.
How to Manage Food Deliveries Amid COVID-19 Pandemic
Provide healthy food options

The best way to fight against the Coronavirus is to boost your immunity. A lot of people have turned toward healthy diets for the same. Eating healthy meals like vegetable salads, fruits, food made in olive oil, is known to help increase immunity. If you provide healthy options in your menus, people will prefer your service over others.

Offer digital payments

Exchanging cash might also lead to transmitting germs. This is why you should integrate a feature of an in-app payment gateway like an e-wallet or credit card. People can pay for the food online and don't have to contact the delivery driver. This also saves any issues in refunds or disputes about money exchange.

Contactless deliveries and takeaways

You do not want the delivery personnel or the customers to contract the disease from each other. This is why it is only normal that you cut any sort of contact between them. They don't have to exchange the food package from each other. The customer can either pick it up from a restaurant counter instead of hand to hand exchange or the delivery person can keep the parcel outside the door of the customer.

Sanitization

There are different ways of how you can maintain sanitization.

Your delivery personnel, while delivering food, must wear hand gloves and a mask that covers his nose and mouth completely to ensure the safety of your employee and the client.

The driver's health is as important as the customer's and this is why you should provide them with extra pairs of gloves for the customers who have opted for cash payment.

If you are planning on developing a food-delivery app, you must check out your competition. You can learn a lot from your competitors like your target audience, their qualities, their drawbacks, and their marketing strategies. For instance, if they promote themselves on social media actively, even you should so as your audience spends a lot of time on social media.
Best Food-delivery Apps
While developing a food delivery solution, make sure to research how each app development process works and add all the required features. Here are some of the most popular food-delivery apps from which you can get a clue for your own food apps.
Name Of The App
Features
Play Store Link
App Store Link
DoorDash

Ordering food anytime
Check order status
Real-time order tracking
Scheduled deliveries
Online payment


4.7
2.99M Review

4.8
14.8M Review
GrubHub

Ordering food anytime
Locals deals & offers
Real-time order tracking
Online payment


4.3
722K Review

4.7
3.7M Review
Uber Eats

Order with a tap
Find restaurants
Real-time tracking
Online payment


3.7
4.81M Review

4.8
6.3M Review
Postmates

Order from restaurants and retail business
Get updates on delivery-status
Choose from delivery or pick-up
Get a subscription


4.2
213K Review

4.8
1.9M Review
DoorDash

This is an on-demand restaurant app that delivers breakfast, lunch, and dinner from online user's preferred restaurants. They also have an alcohol-delivery service facility from restaurants, stores, breweries.

Advantages of Using DoorDash
Limitations of Using DoorDash

No-contact deliveries

User-friendly

Free delivery available

Lacks proper customer support

App crashes frequently

Long loading time

GrubHub

This Uber for delivery is considered to be the most seamless restaurant delivery service. It allows users to search for their desired cuisines or browse through the list of local restaurants which are nearby through its "food near me" functionality.

As you are planning for a food apps development, you can implement a feature "favorite list" where users can personalize their search and can find or reorder the items just in a tap, rather than roaming through the menu.

Advantages of Using GrubHub
Limitations of Using GrubHub

No hidden fees
App provides a vast selection of restaurants
24/7 customer support

Not user-friendly
Order cancelations not handled properly
App freezes frequently

Uber Eats

This app provides users with an easy payment gateway and simple ordering functionality. Thus while you plan your on-demand delivery app, make sure you cross-check your app's check-out features.

Advantages of Using Uber Eats
Limitations of Using Uber Eats

Available in a lot of areas
On-time delivery
Exclusive offers and deals

Issues in tracker
Not user-friendly
Payment issues

Postmates

Postmates was initially an on-demand food app that has now branched out to other areas like grocery and alcohol. It was launched in 2011 and became the pioneering company that made online food delivery a daily luxury. This original app was launched in 2014 and didn't fail to abide by the company's reputation.

In January 2019, TechCrunch reported that this app for ordering food raised $100 million investment bringing its valuation to $1.85 billion. This app stands among the likes of Uber Eats, Zomato, DoorDash, and gives them a tough competition.

Advantages of Using Postmates
Limitations of Using Postmates

4,200+ cities and counting in the U.S.
Free delivery on all orders over $12 with an Unlimited Membership
They have a lot of variety and options

There are some issues in the UX
Paid subscription
Lack of good customer support
Frequently Asked Questions
How do food ordering apps make money?
A food ordering app primarily makes money through the following monetization strategies:
Commissions: These apps charge their restaurants and partners on every meal order. They have a predetermined commission cut for every amount. this business model is fairly common.
Delivery-fee: Most food ordering apps levy a delivery-fee from their customers. Some part of this delivery fee goes to the app revenue while most of it is for the delivery personnel.
Paid listings: Restaurants pay money to get listed on the apps. This is a part of their marketing strategy that gets them the needed visibility and customers.
Sponsored ads: As your app becomes popular, you may also get running ads from networks like Google Adwords and Facebook Ads that bring revenue. restaurants also do this as a part of their marketing strategy.
They can choose either one business model or use a combination of different business models.
How do food-delivery apps work?
Food-delivery apps allow customers to order from a nearby restaurant at their convenience. The customers can get their order delivered, they can pick it up themselves or they can dine in. The restaurants receive the order on the restaurant app and prepare the meal. The delivery guy picks the order from the restaurant and drops it at the dropping location.
How much does it cost to make an online food delivery app?
The meal delivery app cost depends upon functionalities and features that you want to integrate into your online food app. The time consumed to integrate features in your app also depends on the complexity of the features. The hourly rate of the developer is obviously a factor that needs to be taken into account, all this combined decides the cost of the development process. With the help of this simple formula you can calculate the cost:
Development time X Cost per hour = Total app development cost.
Do you provide support after the app has been deployed?
Yes, we do. Our sole purpose is to help our client get the best product that he had in his vision. This is why we provide 90 days of free-of-cost technical support after the app has been launched. If there is are any issues that you face while using the app or need any changes, we discuss your requirements and take further steps to resolve them.
Create Your Own Food Delivery App
By just keeping these reasons in your mind, you can also achieve your goals in the on-demand food-delivery business. A customized food delivery app development can help you to achieve objectives and will help your food delivery startup to grow in such an already flourished niche.
If there is a business idea that popped up in your mind, then you can cross-verify it with us as we are a custom mobile app development agency. And, we've already developed over 50 on-demand delivery mobile applications. For instance, the very famous London-based on-demand alcohol and good delivery app, Bevy, is developed by us. This app has been covered by TechCrunch and The Huffington Post.
Apart from this, we have also developed an on-demand delivery app called Jabrool. This app has made it easy to deliver items in just one day for the people living in Saudi Arabia.
In case, if you have feedback or ideas or queries on building a startup ecosystem, how much does it cost to create on-demand food delivery apps like Postmates, Uber Eats, and GrubHub or on-demand food and alcohol delivery app development, app estimation template, then you can get in touch with us through our contact us form. One of our food delivery app development expert will get back to you as soon as possible. The consultation is absolutely free of cost.