The business of delivering food from diverse restaurants to homes or offices is undergoing dramatic growth across America, Asia, and the Middle East. With a rapid rise in the on-demand food delivery app niche, there are new Internet platforms, which are attracting considerable investments and high-value investments. Talking about the Indian food delivery startup, "Swiggy has secured $100M in its latest round of funding", as per the TechCrunch report. Furthermore, according to the report by AngelList, GrubHub and Just Eat Takeaway merged in a $7.3 billion deal in June 2020.
Additionally, as per a report from TechCrunch, "The on-demand delivery app, Postmates has secured $300M in Series E round of funding valued at $1.2 billion." The round was led by Tiger Global Management. Postmates has already launched its food delivery service in 134 additional US cities.
Two Tiers of Online Food Delivery
When it comes to talking online platforms, there are two types in the niche of on-demand food delivery i.e.
1. Type: Aggregators
2. Type: New Delivery platform with logistic support
The very first type is – aggregators, which has been emerged a few years ago.
The second one is "new delivery" players that are appeared in the year 2013. However, both types allow customers to compare menus, place orders, and post reviews from a range of restaurants by accessing only a single food delivery app.
On the other hand, "aggregators", which is part of the traditional delivery category. In simple terms, it takes orders from customers and routes them to restaurants, in which they handle deliveries themselves. In contrast, the providers under the label of new delivery build their own logistics networks and offering delivery for restaurants, which don't have their own drivers.
Let's elaborate on these two terms – Aggregators and New delivery.
Aggregators

When it comes to food delivery, aggregators are built on the traditional model. Simply, it offers access to multiple restaurants via a single online portal.

How Does It Work?

It simply works by logging into the app or website, and users can quickly compare menus, prices, and reviews of other users. However, the category 'aggregators' collects only a fixed margin of orders paid by the restaurants only. Plus, restaurants handle the actual delivery by themselves. And, there are no additional charges to user/consumer.

New Delivery

Alike aggregators, the second type – New Delivery allows users or consumers to compare offerings, plus order meals from a group of restaurants via a mobile app or website. In this category, the providers also offer logistics for the restaurants. In addition, it allows providers to open a new segment of the restaurant market to home delivery.

Moving ahead and let's have a look at the most common yet essential features, which any on-demand food delivery app possesses.
Must-have Features of Successful On-demand Food Delivery App
To create an app like GrubHub, Swiggy, or Postmate, there are some significant features to make your app stand out. With the experience of developing 20+ startup apps in the same niche, we've compiled a list of essential features along with the technologies in the niche of on-demand delivery solutions. Have a look!
Search and Menus

The first and foremost thing, for any on-demand food delivery startup, it is essential to take the first step to collect and display the right data only. In this way, you can provide your users with the right information about particular restaurants and cuisines.

Now, the question is – how can you provide all the necessary information about the localized restaurants, addresses, and menus? So, your users can easily place the order within the local food delivery app. Fortunately, for all startups and entrepreneurs, who are looking for food ordering and delivery solutions, there are GrubHub's API and Foursquare's API.

Technologies We Use:

GrubHub's API
FourSquare's API

GrubHub's semi-public API is used to get back the entire information related to the menu of the restaurants from the databases, and it can be 10,000+ restaurants. On the other side, FourSquare's API connects customers with restaurant listings. However, this technology – FourSquare is used by Postmates food delivery app.

Secure Payment Integration

Another must-have feature is 'in-app payments'. You must notice that it is pretty hard to find an app that does not have an in-app payment option.

Technologies We Use:

For developing an on-demand app with secure payment integration, our mobile app developers use:

Stripe
Braintree
PayPal
Square's API

Food for Thought: To provide a seamless user experience, it is highly recommended that you must provide different payment options.

Accurate Time of Food Delivery

It would be great if you can provide your users with an accurate time of food delivery. Because nobody would like to wait. Therefore, to cut this, our restaurant mobile app developers make use of 'machine learning algorithm. Machine learning algorithm includes many factors such as delivery location, order volume, and availability of drivers.

GPS Tracking

Planning to build an online food delivery system, it is pivotal to aware of the integration of GPS tracking. From determining user's location to check driver's real-time location, we have mentioned technologies for GPS tracking that we used while creating on-demand food delivery app:

To determine the app user's location:

Core Location Framework (for iOS)
Google's Places API (for Android)

For providing driving directions:

MapKit (for iOS)
Google Maps API (for Android)

Ratings and Reviews

The concept of feedback plays an important role when it comes to providing excellent customer services as well as growing your business after knowing your customers' genuine feedback.

However, behind the app under the tag of food ordering and delivery solution, there are many factors as It includes restaurants and delivery persons. Therefore, you would not let your service down due to some issues like the bad taste or late delivery of food because of freelance delivery drivers.

That's why, it is important to provide your app users with the feature, which is usually named as 'ratings and reviews. In addition to this, you can also provide your users to rate individual chefs and their dishes within the app.
The Shape of Current On-Demand Food Delivery Market
Across the globe, the revenue of food delivery is expected to reach $96,864.4 million U.S. dollars in 2024 according to a Statista report.
However, there's another report, "The market's largest segment is the segment "online takeaway" with a volume of US$110,004M in 2018".
The market for on-demand grocery and food delivery has already matured enough. However, for upcoming years, the data is also worth mentioning here. Let's have a look!
Expected Revenue of On-Demand Food Delivery Market: According to the latest data from Statista, it's predicted an annual growth rate (CAGR 2018-22) of 17.77%, resulting in a market volume of US$110,044M in 2018.
Talking about the three on-demand food delivery apps or giant startups i.e. GrubHub, Swiggy, and Postmates, then its Google Trends reflects like this: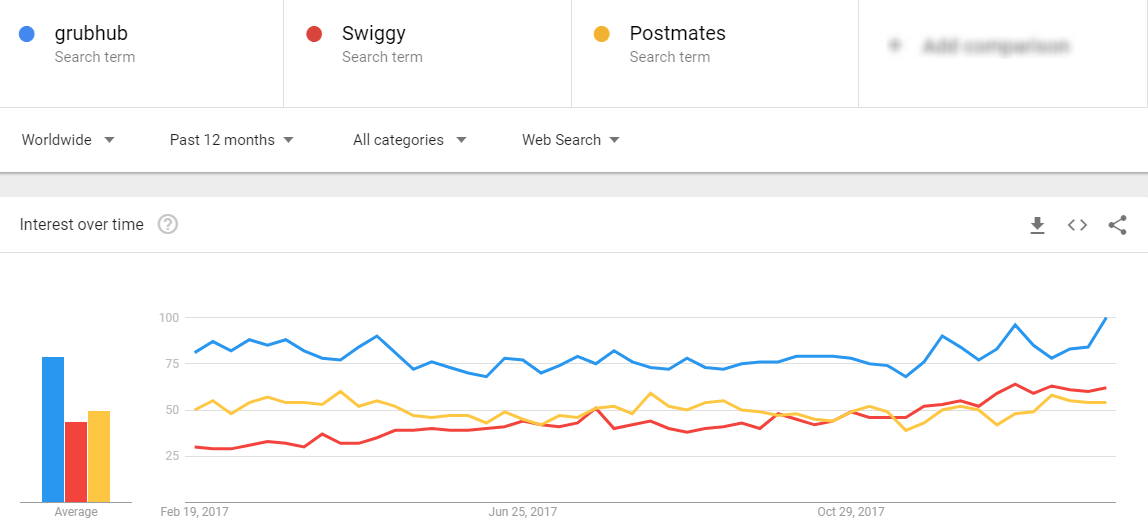 The above-given data from Google Trends shows that it is quite hard to beat these on-demand food delivery startups as they are strong competitors. Moreover, these platforms have been growing rapidly. It would be worthy to look upon the individual growth of particular platforms – GrubHub, Postmates, and Swiggy.
Expected Revenue of On-Demand Grocery Delivery Market: According to the latest data from Statista, DoorDash was the most downloaded application in the USA with 39 million downloads. Whereas, UberEats downloads were 20 million.
The retail e-commerce revenue of food and beverage is exceeded $15 billion in 2020 and is assumed to break the $20 billion threshold by 2023.
GrubHub: In the below-given image, you can see the average order volume of GrubHub.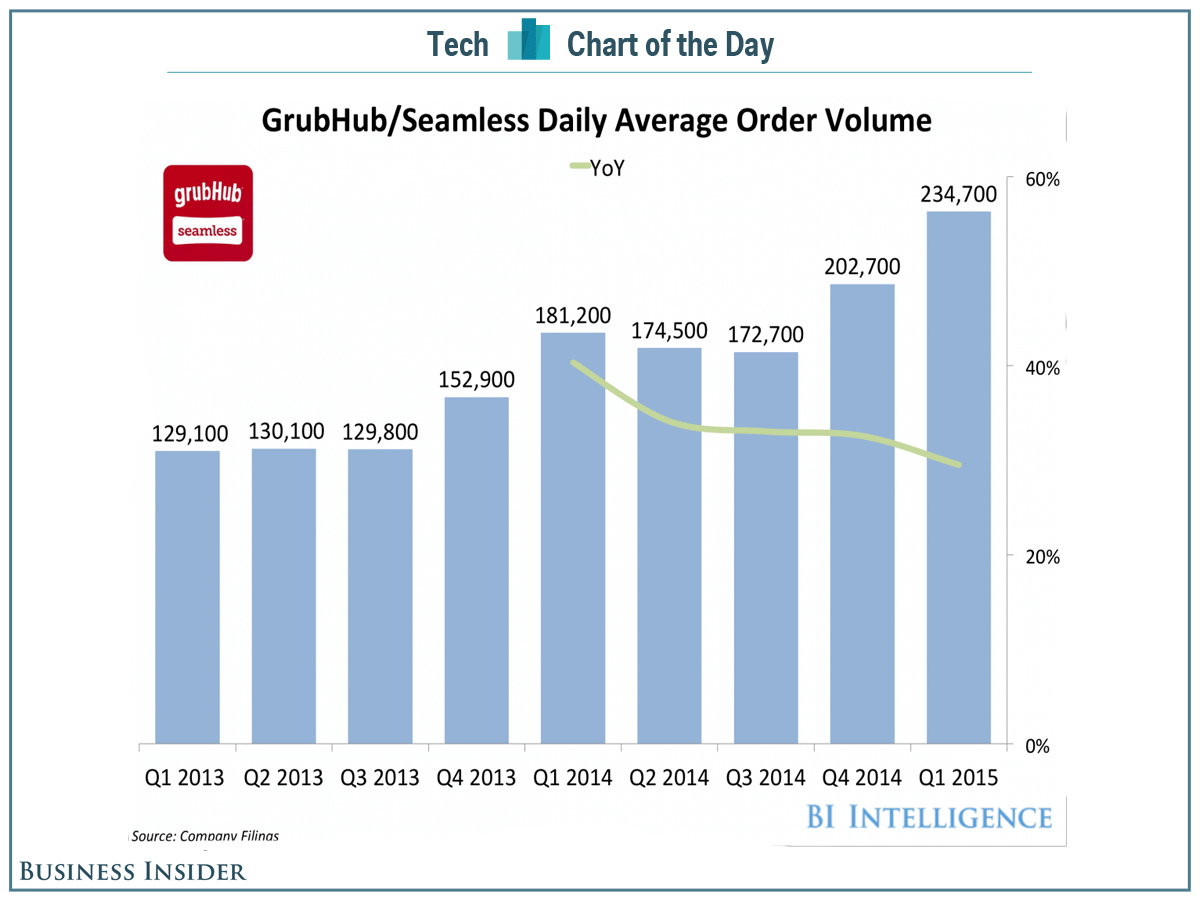 Postmates: As per the below image of Postmates growth, you can see how sharply deliveries has grown.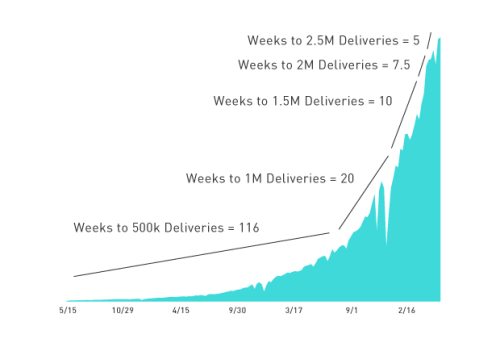 Image Source: venturecapnews
Swiggy: According to the latest report of Swiggy app, the growth in daily transaction is growing upward.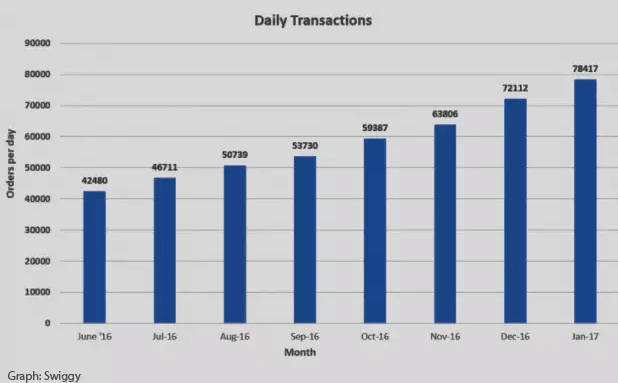 After going through the overall data of on-demand food delivery providers, you must have got the idea, it's not easily going to end the era.
Frequently Asked Questions
How much does it cost to build an app like GrubHub?
The app development cost depends upon the functionalities and the resources require to build the entire application. The cost of developing an application like UberEats or GrubHub may take around $15,000 (the price increases if you expect advanced functionalities that require more time to complete the project.)
How do I start On-Demand Grocery Delivery App?
Pandemic has changed the way we used to see the grocery business. The delivery startups like Glovo or Deliveroo have delivered groceries and meals to millions. Due to the broken business model of online supermarkets, it is necessary to opt for something better, that is when the on-demand grocery delivery comes in.
Prior to starting the app development of the on-demand grocery app, it is essential to understand the features of the on-demand grocery delivery app.
The features of buyers
Email and social media registration
User profile
Product catalog
Product search
Product categories
Items list
Completed and ongoing orders
Shopping cart
Payment gateway
GPS tracking
Notifications on the order status
Features for shoppers
Registration via a website
User profile
List of fulfilled and current orders
Order description
Barcode scanning
Change order status
Calling feature to contact buyer directly from app
Built-in map to show directions
Features for admin panel
Administrator login
List of users
Review user profile
User Management
Shoppers list
Buyers list
Manage category list
Order list
Payment and transactions
These are all the necessary features, you can implement while building an on-demand grocery app.
Wrapping It Up
So, the aforementioned features are essentials for creating a Swiggy food delivery app. Using our best mobile app development services, we provide all learning, skills, and technologies to our app developers. These technologies and skills are being used by our mobile app developers to create on-demand food delivery apps like GrubHub and Postmates. Moreover, it will also ensure our future customers that their project is in safe hands.
Still, if you have any questions like:
How much does it cost to create an app like Swiggy, GrubHub, or Postmates
How should I validate my on-demand food delivery app idea?
What's the importance of creating an MVP (Minimum Viable Product) of food delivery/ordering app?
How long does it take to make an app like Postmates?
How to make money with an app idea?
All you just need to drop your query into the below-given form. And, we'll get back to you as soon as possible with the optimal solutions. The consultation is absolutely free of cost.