"This blog is for those startups and entrepreneurs, who want to develop an UberEats like app. It contains how the UberEats app has mobilized the food industry with Uber eats features. Let's have a look at it"
For being a trendsetter, you need to follow the latest trends which can optimize your business. One such thing that contributes to business development is app development. Building an app has become a key to winning a higher number of customers.
Today, Android and iOS are commonly used platforms to develop mobile apps and develop your brand proposition. Food delivery apps are creating buzz by spawning every industry with their user-engaging features. A significant impact is seen in the food industry. When it comes to the food industry, the UberEats app is worth mentioning.
Uber launched UberEats app, which gave a push to the industry while widening its scope as compared to traditional on-site order. You get innumerable options on a single click and get your food from almost any restaurant.
Beginning with 1000 restaurants in four cities, now UberEats has partnered with more than 40000 restaurants in all the major cities across the world. Its advanced features allow you to track, where your order has reached and how much time it will take for delivery.
Both Android and iOS users can use this app as it is available on the app store and Play store respectively. Its technology-driven features have gained it about 5 million downloads globally. As per Sensortower, UberEats is in top ten positions in the Food and Drink category app worldwide. People are now spending more on Uber Eats than on any other on-demand food delivery service in nine of the 22 most-populous U.S. cities.
If you are interested in on-demand Uber app development then this post is for you. Here you will learn how UberEats app is pushing the boundaries of the online food world with its advanced features.
Let's Get Started With Top Features of UberEats
You might have a question about what makes uber eats unique? To answer your questions we have listed out top features of uber eats. Please feel free to check the list.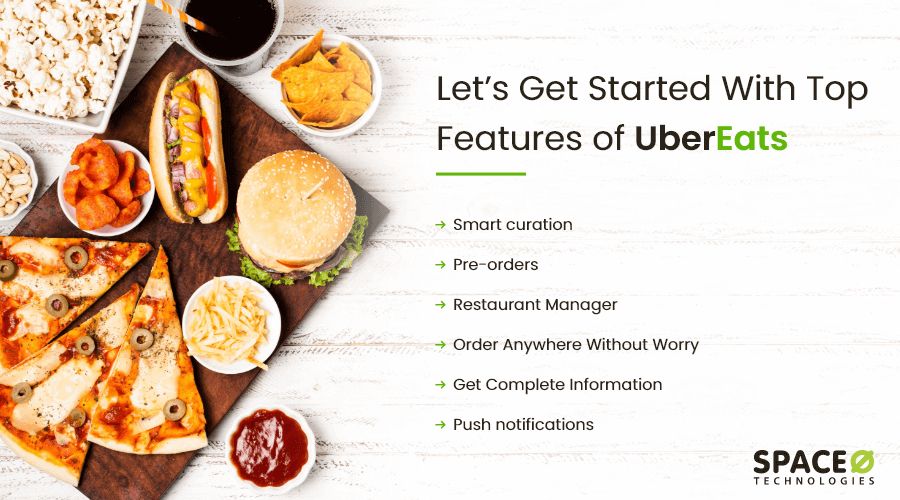 Smart curation

Everyone knows that AI is driving mobile apps personalization. UberEats has the front row seat in this innovation. With UberEats app, foodies can watch out for photos of a meal before they order.

Moreover, its suggestion carousels recommend a number of nearby restaurants to your location you can order food from. Taking advantage of machine learning, UberEats enables taste preferences by suggesting cuisines according to past histories and existing contextual information. Therefore, users get customized choices of food from different restaurants at the push of a button.

Pre-orders

If you run out of your time and want to get food on time, go for Uber Eats. It allows you pre-book order about an hour and even a week in advance. Moreover, you can track your order throughout the process of delivery to ensure that you receive it at your desired location.

Restaurant Manager

When a restaurant gets online ordering in bulk, This is one of the notable uber eats app features that helps you deliver as per the order on time and hassle-free. Uber has rolled out a new analytics app, restaurant manager, which helps make data-driven decisions. With this tool, UberEats partners get access to data and insights with which you can finetune your food quality and delivery strategy and optimize user satisfaction.

Order Anywhere Without Worry

When ordering food, a general concern that users have is if their location is eligible for delivery. This is especially true for places like hospitals and parks. Uber has taken care of it, as UberEats app delivers at places like hospitals, parks, homes, offices, etc. Moreover, you can even specify the way you would want food delivery.

Get Complete Information

UberEats app is all about easy exploring. Developers have designed its infrastructure in a user-friendly way. For example, if a user looks for gluten-free options, then he/she gets the results according to the search. You even get complete information about a dish which includes ingredients, average preparation time, etc.

Push notifications

The sixth feature that you can consider while developing a food delivery app like FoodPanda and UberEats is pushing notification that is considered as the most important to make your app. If you use it in the right manner, the feature can make your food delivery business app apart from other apps.

Through this feature, you can send alerts to your users related to order, delivery, offers, and discount codes. Moreover, it would be better to ask your customers about the notifications like in which way they want alerts like SMS, Email, and Push Notification.
Conclusion
Developing an app like UberEats requires reliable tech team and developers. Having a unique idea requires an engaging interface with a great UI design. If you're looking for more inspiration check out our post on Uber like app ideas. We have also highlighted some useful Uber app features that you can consider including in your food delivery app. There are many other examples of food delivery business apps like GrubHub, Eat24, Caviar, DoorDash, Postmates, and Amazon Prime, but the success that UberEats has achieved in the short term is truly commendable. It has three simple steps – browses, order, track, and you are ready to go.
With hundreds of restaurants available at your disposal, you just need to open your app and search for your favorite cuisine. After placing your order, you will see your address, estimated delivery time and price. If everything sounds good to you, you can tap to place your order. UberEats has a robust tracking system that allows you to track your order till its delivery. Follow your order in the app. First, you'll see the restaurant accept and start preparing.
As for the order delivery part you can go through our post on the core features of Uber driver app. As this might help you better understand the functionality to add in your food delivery app.
UberEats app, the best food delivery service, has mobilized the food industry by giving it new dimensions just with a mobile app for food delivery. If you are in the developing phase, make sure your app has a great user interface, easy navigation and other uber eats features mentioned above.
In case, if you have any query related to food delivery apps like UberEats or food delivery app development or food delivery app development cost, then you can consult a food delivery app development company who provide app-based food service solutions.
Consulting our business representative and discussing uber like app idea is free, it won't cost you a single penny. Our representative will figure out how a mobile app can help your business to grow at a faster pace and suggest you the right solution. Just fill out our contact us form and we will contact you with an optimal solution.