No doubt, you have built a great app.
But how to measure mobile app performance and conversion rate?
Are you really getting the most out of your app?
What does the customer acquisition cost?
What are the most important KPIs for mobile apps?
If all such questions related to mobile app performance are looming in your mind, then you need to read this blog.
While the number of mobile app downloads across the globe is increasing rapidly, it is the right time to build a strategy and develop your own app. Also, being an appreneur, you should focus on managing the quality of the application as well.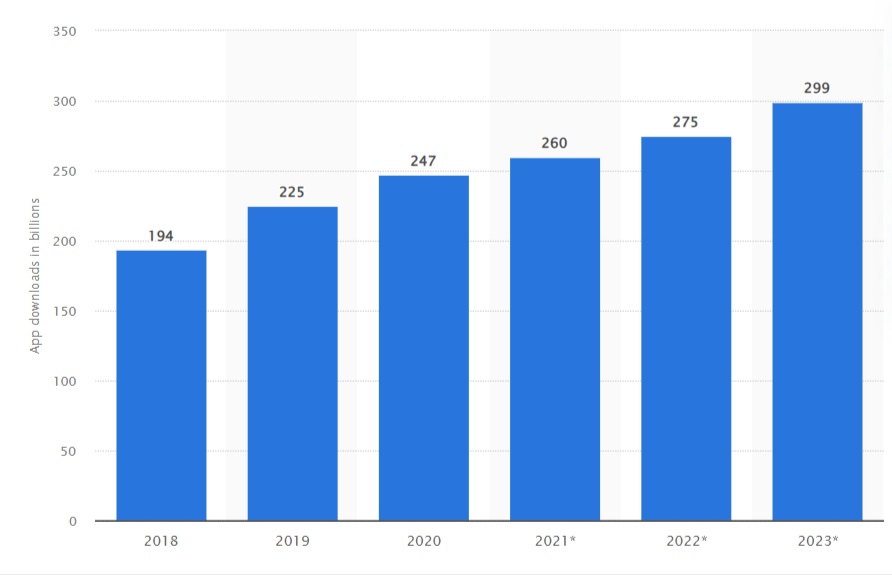 Source – Statista
Additionally, you need to track mobile app KPIs and performance metrics to manage your app well.
As a leading mobile app development company, we crafted this guide after speaking to our senior and experienced mobile app developers.
Our team of developers have helped us with the top 15 top mobile app marketing KPIs. Utilising these important mobile app KPIs is the major key to success in today's competitive world.
What are Mobile App KPIs and How Do Mobile KPIs Function?
To put it simply, mobile app KPIs (key performance indicators) measure the performance of mobile apps. KPIs let you evaluate your user acquisition, monetization, or other performance objectives. After applying the mobile app development process, it becomes crucial for you to monitor the app performance as well.
As you get reports regularly on the performance of the app, it becomes easy to make essential decisions for your app.
Let's discuss one example to understand better how mobile app KPIs function.
Suppose you have set goals for your app and a few expectations. But how will you track the growth of your app against the target?
You probably want to know how much it facilitates purchases or the report on getting information on direct customer traffic, which includes:
Total number of users
Total daily users
Users per hour
Users per device type
Users per browser type
Percentage unique users
Users by location
In such scenarios, KPI measurement tools help you understand how well your app is performing by monitoring specific behaviours. Also, you will get to know in-depth details related to the mobile app metrics to track, identify and resolve performance issues early on.
In short, KPIs let you track and find the performance-related information in each report to enhance your mobile app performance metrics.
So far, you have understood how KPIs function. Now, we will discuss why it becomes essential for an app owner to implement KPIs.
After applying measurable KPIs, our team of mobile app developers built TOR mobile app for our client. Initially, it was challenging for our client to open restricted social media websites and informative site outside his country, after developing this app, it has become easier for him to access internet across the globe without facing any restrictions. Check the following table to know more about this mobile app.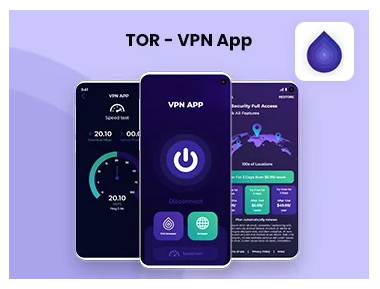 Our team built a TOR VPN app which allows internet speed testing as well. This app is downloaded by 100k+ app users within a year and rated 4.3 stars.
Importance of Mobile App Development KPIs
App KPIs are an effective way to track the progress of your app on a regular basis so that you can take measures accordingly. KPIs help you meet your app objectives throughout its lifetime.
Let's take an example to understand the usage of KPIs in a better way.
You have recently build an app. You are getting good impressions, and users are installing the application. However, after a few months, you noticed that your monthly active users are dropping significantly. So to avoid such circumstances, you need to constantly track the performance of your app.
Here are the top reasons for which you need to use app KPIs.
Determine Quality Performance: KPIs will help you to know whether your app is performing according to your expectations or not.
Provide a Health Check: KPIs will give you a realistic approach to handling the risks that are associated with an app.
Make Adjustments: KPIs help you give an insight into what is working in your favor and what is not so that you can make informed decisions efficiently.
Do you want to upgrade your existing app?
Talk to us – Experienced in integrating custom APIs and advanced features into mobile apps.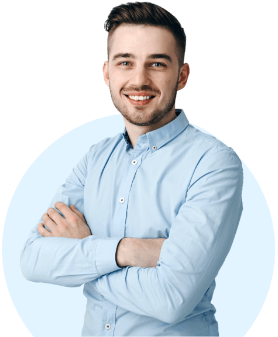 Now you know how KPIs help to enhance your app's performance through proper evaluation and tracking. So in the next section, we will discuss the top KPIs you can use for your app.
15 KPIs to Measure the Success Of Your Mobile Application
There are several KPIs that help you accurately measure an app's performance. Usually, mobile marketers spend a lot of time coming up with new app ideas to make money from apps.
To generate revenue from app, it is crucial to monetize through in- app advertising, in-app purchases, and subscriptions. Even understand how do free apps make money to generate considerable revenue from free apps as well.
Next essential step is to focus on retaining customers and boosting sales. Being the top app development consulting company, we will answer your question regarding how to successfully develop and market your app too.
Next, we have compiled top 15 key metrics for mobile apps and best strategies based on various categories.
We have bifurcated these 15 KPIs on the basis of app stages. So, you will learn:
4 KPIs to Track the General Performance of Your Application
3 KPIs to Track How Users Are Interacting With Your Application
5 KPIs to Track How Much Revenue You are Making Out of Your Application
3 KPIs for App Store Optimization (ASO)
Let's start with the KPIs to track the general performance.
4 KPIs to Track the General Performance of Your Application
The following KPIs will help you track the general performance of your app. However, these KPIs are the most essential when it comes to evaluating performance.
User Growth Rate

This mobile app KPI will help you find at what rate your user base is growing.

Formula to evaluate the rate of user growth:
((Present Users – Past Users) / (Past Users)) X 100

Installs/Uninstalls

You always need to track who has downloaded or uninstalled your app because it closes the user life cycle loop. This will give you insights into what is working in your favor and what else you can do to retain your old users.

Registration

Deciding whether or not to register is another factor that decides the app's success. Also, if they register on your app, you can use their contact information to market future upgrades. And if you find that people are not taking an interest in registering themselves after downloading it, then review your entire onboarding flow to understand user behavior.

Subscription

Track the number of subscribers and unsubscribers if you are offering new content or updates to evaluate how well your app is performing and the behavior of your active users.
3 KPIs to Track How Users Are Interacting With Your Application
The following KPIs will help you find how, when, and where your mobile users interact with your app.
User Retention Rate

Retaining customers indicates that your app is valuable for the active users and positively impacts business revenue. Your customer retention rate shows you how many repeat customers you have.

With this formula, you can find the retention rate for your app.

((CE – CN) / CS)) X 100
CE = Customers at the end of the period
CN = New customers acquired during the period
CS = Customers present at the start of the period

Sessions

Sessions in an app are generally referred to as the number of times a user opens your app to use it. This is an indicator of stickiness, where a user continuously creates sessions.

Stickiness = Daily Active Users / Monthly Active Users

Churn Rate

It is the rate when active users unsubscribe or uninstall the app.

Here is the formula you can use to find the churn rate.

Churn Rate: Customers who left / (Customers at the beginning of the period + New customers acquired during the period) X 100
5 KPIs to Track How Much Revenue You are Making Out of Your Application
To determine whether you are generating enough revenue or not, you need the following KPIs.
Average Revenue Per User

To maintain a successful app, you need to find how much value or money has been generated per user via in-app purchases, subscriptions, downloads, advertisements, and clicks.

Use the below formula to calculate the average revenue.

Average revenue per user = Lifetime revenue / Number of users

Customer Acquisition Cost (CAC)

All the money you have spent on mobile app user acquisition strategies falls under CAC. It could involve advertisements and offers.

Here is the simple formula that you can use to determine customer acquisition costs.

CAC = Cost of acquiring a new customer / Number of new customers

Return on Investment (ROI)

ROI is calculated by subtracting all the money you have invested in your app from the money you have gained, divided by the investment cost.

Use the following formula to calculate the ROI of your app.

ROI = (Gain from Investment – Cost of Investment) / Cost of Investment

Cost Per Install (CPI)

You need to keep track of CPI to ensure that you are running a successful ad campaign and getting the most number of installs through ads.

Use the following formula to ensure you are getting more installs than you are investing for a fair deal.

CPI: Ad Spend / Number of Installs You Get Directly From Marketing Campaign

Customer Lifetime Value (CLV)

It is important to measure user lifetime value to ensure your app is performing well. A successful app has more CLV to CAC ratio as the profit contribution per customer is high than you invested in customer acquisition.

Use the following formula to find the average customer lifetime value.

CLV: (Annual profit contribution per customer X Average number of years that they remain a customer) – The initial cost of customer acquisition
3 KPIs for App Store Optimization (ASO)
Make your app visible on the app stores to ensure the target audience installs your app. For this, you might need to do promotions as well as pay for marketing your app. Also, If you are publishing Android app, know how to publish an Android app on Google Play Store. While publishing the app, make sure to keep check of these 3 ASO KPIs.
Keywords

Keywords or phrases help your users to discover your app on app stores. This increases the probability for users to install your application.

So to track rankings of the keywords, you can use various ASO tools.

App Store Category Ranking

You must keep on monitoring the ranking of your app on the app stores to find how they affect the app's performance. The better the ranking is, the better your app will perform.

Reviews & Ratings

Keep on tracking how many negative and positive ratings you are receiving. Learn from the critics to ensure you provide the best services to your customers.

On the other hand, positive reviews will help you enhance the performance of your app and even provide you idea about retention rate. Reviews will also give you valuable insight into what people are actually looking for from your app.

We have bifurcated all the mobile app performance KPIs into different categories for your easy scanning. Now, you can choose one of these KPIs based on your custom requirements and track how well your app is performing.
Want to Know the Cost of Mobile App Development?
Contact us with your custom requirements. Our technical professional will consult you in optimizing your idea and share custom quote based on your requirements.
We also answered some of the most asked questions related to mobile KPIs, how to measure app performance, formula to measure retention rate, and the difference between the metrics and KPIs of mobile apps.
Let's discuss all the questions in detail.
FAQs About Mobile App KPIs
How to measure a mobile app's performance with KPI?
Here are some of the best practices that you can follow to measure KPIs for your mobile app.
| Practices to Measure App KPIs | Description |
| --- | --- |
| Define How KPIs Will be Used | Find out what you actually want to achieve and how you will use KPIs. Through this, define KPIs that are relevant to tracking your app's performance. |
| Integrate With Strategic Goals | Ensure the KPIs are related to your specific app function, like user acquisition costs and tracking average revenue. |
| Plan Efficient KPIs | Make sure your KPIs are specific, measurable, achievable, and realistic. |
| Make Informed Decisions | Talk to your team and ensure everyone is aware of the KPIs so that you can make informed decisions in the right direction. |
| Plan to Iterate | Ensure you have a different strategy if there is a change in the behavior of your active users, as the existing strategy might not work later. |
| Avoid KPI Overload | Business intelligence tools, such as Tableau and Grow have given access to several types of data visualization to make it easy for you to track the behavior of the mobile app active users and retention rate. Therefore, ensure you only focus on the most impactful measures. |
What is the difference between mobile app metrics and KPIs?
The following table shows the key difference between mobile app analytics metrics and KPIs.
| Mobile App Metrics | Mobile App KPIs |
| --- | --- |
| Metrics measure the overall health of an app. | Mobile app KPIs measure mobile app performance toward specific business goals. |
| It measures the success of everyday business activities. | It helps you make the most of your strategic business outcomes. |
| Examples: Monthly store visits or app downloads | Example: Targeted new customers per month |
Which are the best app KPI monitoring tools?
Here is a list of the best KPI monitoring tools.
Sisense: It is an end-to-end business intelligence and data analytics software to help you track data.
Tableau: It is a cost-effective platform that helps you with data literacy to explore all sorts of data. It also offers a mobile app for iOS and Android platforms to monitor KPIs efficiently.
Grow: It is a cloud-based business intelligence data solution that is designed to help your businesses grow.
Measure Your App's Performance With KPIs
Through this blog, you get to learn various types of KPIs that will help you monitor and track the performance of your app. If you have an existing app and want to track its performance, these key performance indicators will help you do it efficiently.
In case you haven't developed an app yet and want to build an app that shows great performance and is user-friendly, contact us with your requirements. We have experience developing more than 4400 Android as well as iOS applications for clients across the world.
Get in touch with us through the 'Contact Us' page directly. Our consultant will get back to you to discuss your requirements and offer you a custom quote for your project.