In this digital era, emoji has become a better way of expressing emotions rather than words. People use more than 5 billion emojis every day on Facebook and Facebook messenger.
No doubt, this year, according to Statista, the global emoji count is bound to increase to 3,353, which will help people in conveying emotions through emoji. With the increasing use of emoji and emoji apps, many budding startups and entrepreneurs have started to show a keen interest in emoji applications.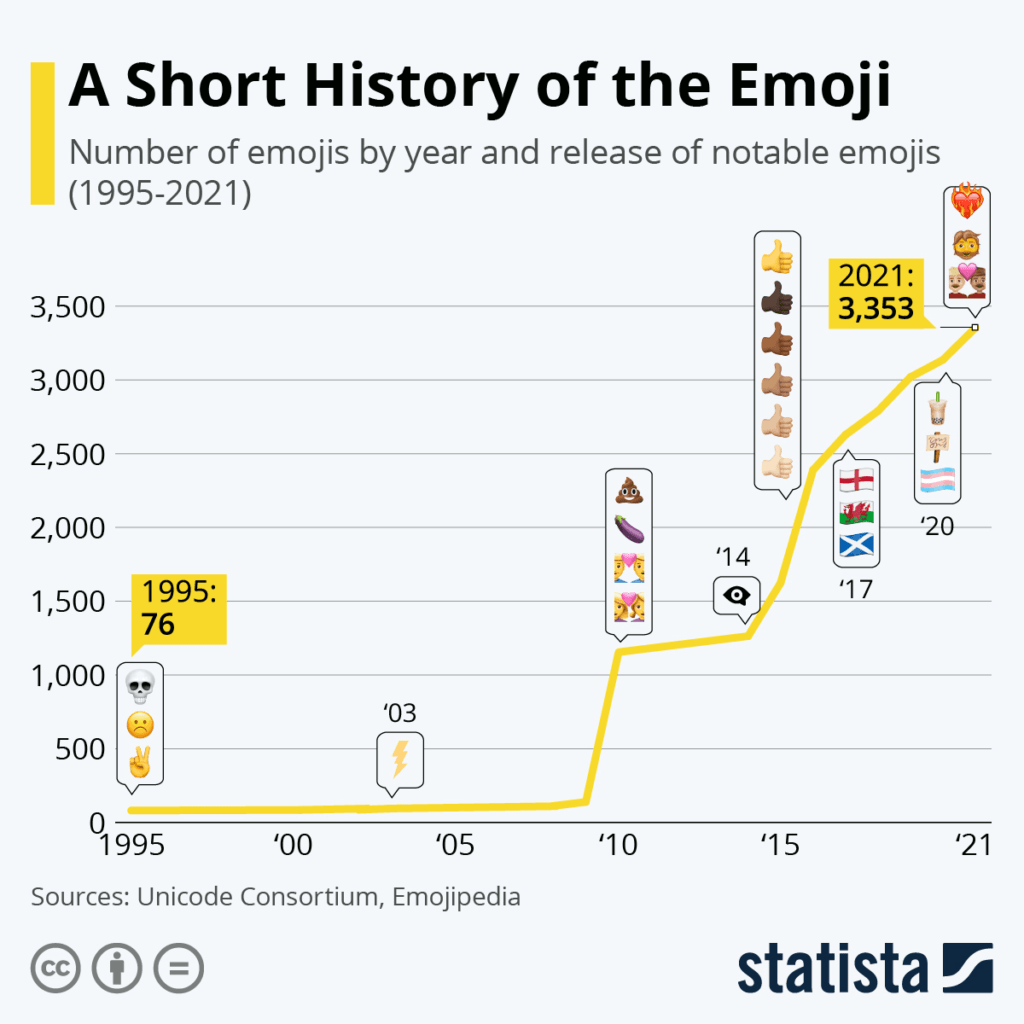 Being an entrepreneur, you must have thought that how hard it
is to create an app? If you want to know this answer and build an emoji app, then this blog is for you.
From this blog, you will learn how to create an emoji app, how much an emoji app will cost you, how to sell emoji app and how to earn passive income out of it. So, let's get started to find out everything in detail.
Why Create an Emoji App?
Creating an emoji app for your business will help you increase brand value, offer unique services to your customers, and customize the advertising or other ways of monetizing the app.
In other words, emojis are turning from just an entertainment tool to an effective business tool. This can be confirmed by brands like Domino's and Starbucks that have used emojis to increase sales. Let's understand this with an example.
In 2015, Domino's joined the emoji bandwagon, letting the customers order pizza through emoji. Isn't it super cool? This means you do not even have to type your pizza choices. Domino's has taken this advantage to keep an emotional connection with its users.
Check this tweet.
🍕🍕🍕🍕🍕🍕🍕🍕🍕🍕🍕🍕🍕🍕🍕🍕🍕🍕🍕🍕🍕🍕🍕🍕🍕🍕🍕🍕🍕🍕🍕🍕🍕🍕🍕🍕🍕🍕🍕🍕🍕🍕🍕🍕🍕🍕🍕🍕🍕🍕🍕🍕🍕🍕🍕🍕🍕🍕🍕🍕🍕🍕🍕🍕🍕🍕🍕🍕🍕🍕🍕🍕🍕🍕🍕🍕🍕🍕🍕🍕🍕🍕🍕🍕🍕🍕🍕🍕🍕🍕🍕🍕🍕🍕🍕🍕🍕🍕🍕🍕🍕🍕🍕🍕🍕🍕🍕🍕🍕🍕🍕🍕🍕🍕🍕🍕🍕🍕🍕🍕🍕🍕🍕🍕🍕🍕🍕🍕🍕🍕🍕🍕🍕🍕🍕🍕🍕🍕🍕🍕

— Domino's Pizza (@dominos) May 12, 2015
Also, Starbucks has unveiled an official emoji keyboard with 28 Starbucks-specific icons for all the coffee lovers that they can share with their friends.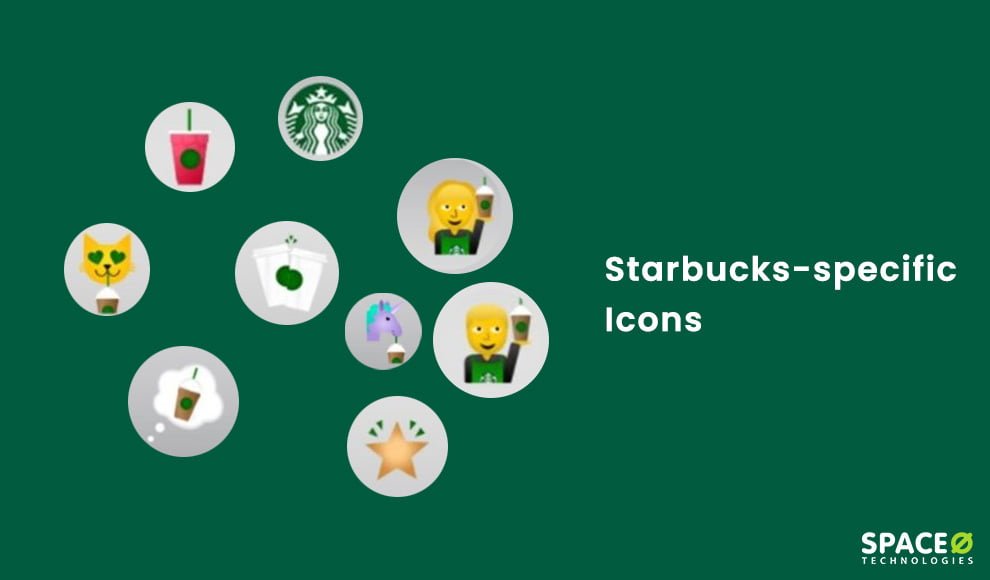 Like these two, many other businesses have jumped on the emoji bandwagon. In fact, celebrities like Kim Kardashian have also created their own emoji sets for fans to use emojis while texting and on social media. So, if you also want to build a messenger app, such as Snapchat, you can think of adding unique features and create emoji keyboards.
Want to know how to make an emoji app? To answer your question about how to create emoji app, we have mentioned 4 simple steps to make your own emoji application for Android and iOS.
How to Make Your Own Emoji App for Android and iOS?
Being an entrepreneur, if you want to know how to make an emoji keyboard app, then this section will answer your question. We have listed 4 simple steps that will help you create your own emoji application. Let's go through all the steps one-by-one: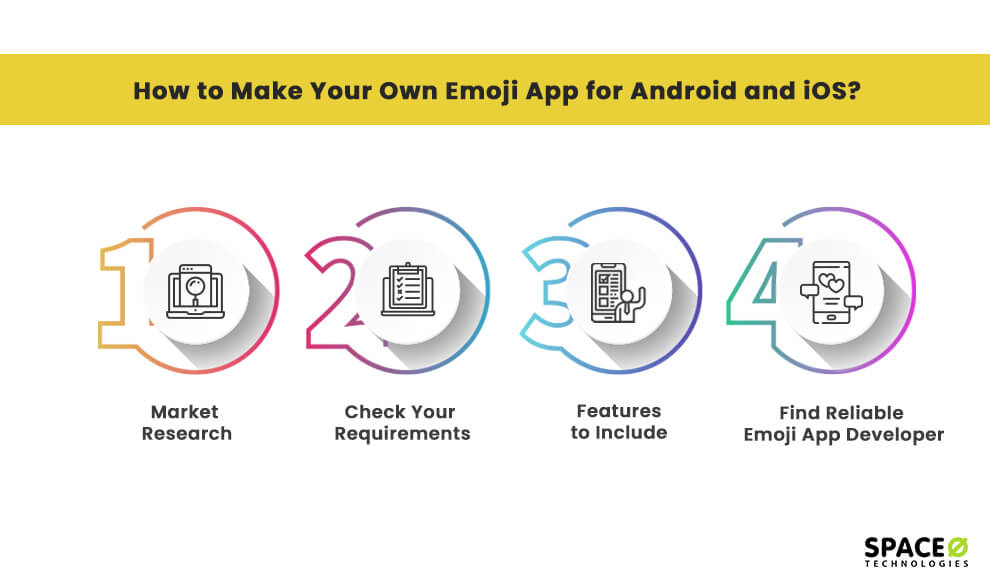 Market Research
Having emoji keyboard app idea is not enough to make an app. You first need to identify your targeted audience. Your targeted audience is:
People who want to express their emotions more conveniently.
Shy people who do not talk much and feel comfortable with sharing emojis instead of writing.
Fans of celebrities who love to see emoji sets of their favorite sportsmen and TV presenters.
People who love to send greeting emojis. For example, people send an emoji or sticker of well-wishings on different occasions and festivals.
Startup companies that buy sets of bright emoticons and emojis (for example, many fast food companies would be interested in sets of stickers that represent food items).
Also, find your existing competitors to understand your potential customers' needs and where your competitors lack in offering the services to customers.
The best way to identify your competitors' flaws is to install apps and use the apps for a specific period. Check performance, speed, design, colors, and fonts to know how you can improve your app's features. Also, check how you can go beyond them in terms of service.
You can check the feedback and rating section of Google Play Store and Apple App Store as generally people express likes and dislikes in this section. In fact, app users share detailed feedback about the performance of the app and their expectations with the app. So, once you take your first step successfully, move ahead to the next step.
Check Your Requirements
The main thing is to analyze your requirements like the type of app you want, the number of screens you want to include, any specific design (UI/UX) you want in your app, or specific features and functionalities that you want to include.
Check on your requirements and create a document of it so that it becomes easy to share the document with anyone. Apart from this, here are sub-points in case you need help to identify your requirements:
The app type, such as native, hybrid, and web
The platform to build your apps, such as iOS and Android
Any specific requirements on design and size for the emoji
Make your requirement clear in case you want to build an MVP
Features to Include
We have checked the requirements, but at this step, you will need to ensure the features that you want to include in your app. To find out the essential features, check the comment section of the top emoji applications in Google Play Store and Apple Play Store.
In the comment section, users share their feedback, share expectations, and particular features they are looking for. Along with it, create a poll of features and ask your target audience to share their preferences.
In case, if you are not sure which features to include in your emoji app, then here is a list of emoji app features:
Animated emoticons
3D emojis
Personalized forecasting to offer
Best themes
Connectivity to the cloud
Easy input of emoticons
Gesture typing
Find Reliable Emoji App Developer
Finally, you have decided to work on your emoji app idea; it is time to find a professional emoji app development company.
To find a professional developer, you can visit Clutch, Upwork, and GoodFirms that list experienced developers and app development companies.
Check top developers on these websites along with the total work experience and portfolio. Make a list of the best developers to choose from as per your project requirements.
After knowing the steps, now, you must want to know how much it would cost you to make an emoji app. Let's check various factors that can influence the app development cost in the next section.
Cost of Emoji App Development
Based on Emoji App Development Stages
We have shared the estimated cost based on the different app development stages of an emoji app. Check those stages of an emoji app development in the given table to know how much it costs to build an emoji app.
| Stage | Timeline | Estimated Cost |
| --- | --- | --- |
| Planning and Prototyping | 70 – 100 hours | $3,500 – $5,000 |
| Designing and Coding | 680 – 750 hours | $34,000 – $37,500 |
| App Testing | 80 – 110 hours | $4,000 – $5,500 |
We have also mentioned the app development cost based on the complexity of the app. Generally, the cost of emoji app development will range from $25000 to $35000 if we calculate it with a $35 per hour rate of the app development.
Cost Based on the App Complexity
Here's the approximate cost based on the complexity of the app. The features and functionalities increase the complexity of the app. Hence, it automatically increases the app development cost.
Type
Features
Estimated Cost
Simple App

Emoji keyboard
Sticker, GIF, fonts, and themes
Customized keyboard
General settings

$10,000 – $25,000
Complex App

Emoji keyboard
Personalized forecasting
Gesture typing
Auto-correction feature
Multilingual Keyboard
Emoji prediction with a dictionary
Built-in translator
Emoji words or emoji text

$100,000 – $500,000
Cost of App Developers Based on Different Locations
However, the location of the app developers also influences the app development cost. We have shared four different locations of the app developers with their per-hour cost. Let's quickly find out how much developers charge from different locations.
| Location | Per Hour Cost |
| --- | --- |
| The USA & Canada | $100 – $250 per hour |
| Western Europe | $80 – $150 per hour |
| Eastern Europe | $25 – $100 per hour |
| India | $20 – $50 per hour |
To check more in detail for app development costs by different regions, refer to the following image.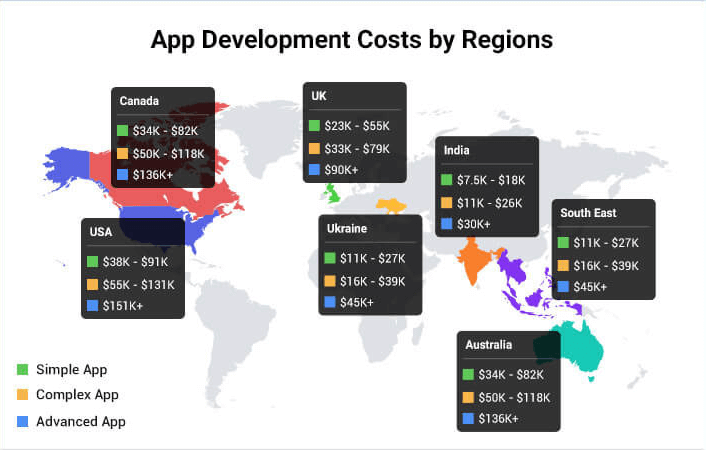 Here is a simple formula that you can use to estimate the development cost for an emoji app. Multiply app development time to the per hour cost of the app developers and get your final app development cost.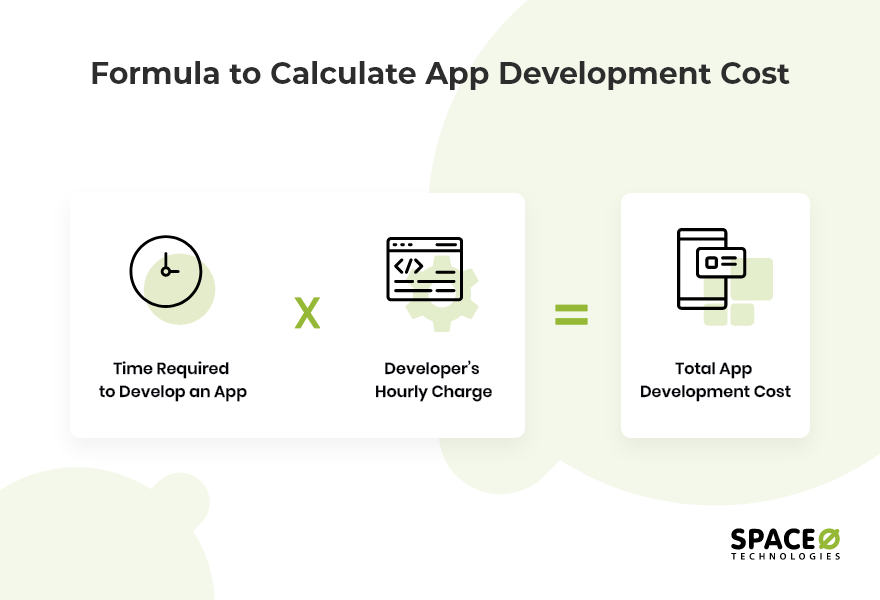 This was all about the emoji app development cost. And now we will discuss the top features of the best emoji app and other information. Let's dig in to find everything in detail.
Want to Create an Emoji App?
Looking to create an Emoji App? Get in touch with our experienced app developers for a free consultation.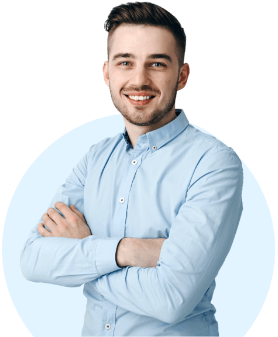 Best Emoji Keyboard Apps
Here are the best examples of custom emoji makers and emoji picture apps. You can check their features, reviews, and the number of downloads to evaluate the best emoji keyboard apps.
You can install these emoji keyboard apps for a free trial and see what you liked about these apps and what features are missing from them. Check how well you can plan to develop emoji keyboard apps incorporate emoji keyboard apps features in your app and attract more users. The below table contains the popular emoji keyboard apps which will help you to download entertaining emoticons on the go.
App
Features
Reviews
(Play Store)
Number of Downloads (Play Store)
Download
Emoji Keyboard – Cute Emoticons, GIF, Stickers

More than 3000 emojis (Unicode character), stickers, GIF, fonts, and stylish themes
Customized keyboard and photo board
Swipe to type messages single-handedly
Multilingual Keyboard supports 150+ languages

4.5 Ratings
2,026,034
REVIEWS
100 M+
Android
Facemoji Emoji Keyboard: DIY, Emoji, Keyboard Theme

More than 3600 categories of emojis, stickers, GIF, fonts, and stylish themes
Type faster with smooth gesture typing
Decorate your profile name or signature with emoticons
Bilingual keyboard supports 100+ languages and a built-in translator
Type on message, email, and notes

4.7 Ratings
755,251
REVIEWS
50 M+
Android – iOS
Kika Keyboard

Innovative emoji prediction with emoji library
Set keyboard background with pictures from gallery or camera
Slide your finger key to key swiftly for fast typing
Easy to type on messaging apps and chat applications

4.6 Ratings
252,832
REVIEWS
10 M+
Android – iOS
Keyboard – Emoji, Emoticons

Set gesture typing & auto-correction
Highly secure and do not collect any personal info from keyboards
QWERTY, QWERTZ, and AZERTY keyboard
Over 30 dictionaries for different languages
1000+ keyboard themes in emoji key-board for galaxy

4.3 Ratings
365,575
REVIEWS
10 M+
Android
Big Emoji

Easy to select one or several emoticons
Can send emojis to different social media platforms, such as WhatsApp, Facebook
Send emojis across all the devices (iOS and Android)
Can change background colors by swiping fingers

4.5 Ratings
27,984
REVIEWS
1 M+
Android
Are you planning to develop emoji keyboard apps? Let's discuss the best examples of emoji keyboard apps and find out the most asked questions.
Have an Emoji App Idea?
Want to validate your app idea. Want to get a free consultation from an expert?
Frequently Asked Questions
How much time does it take to develop an emoji keyboard app?
It takes around 2 to 6 months to build an emoji keyboard app. This timeline varies depending upon the various features and functionalities you want in your app.
How to make your emoji app unique?
To make your app unique, you can add features that attract more users and increase your brand value. Here is the list of the features to make your emoji app unique.
3D emojis
Animated emoticons
Gesture and voice typing
Customized emoji library
Search emoji in offline mode
Shareable emoji
Personalized forecasting
Best user interface
Face recreation in sticker
How to earn money out of emoji apps?
You can add the following features to your emoji app to earn money:
In-app purchases
Premium subscription
Sponsor ads
Or, you can sell the following things to earn money through your emoji app:
Emoticon fonts
Emoji app
Stickers and emoji sets
Which emoji app is the best for iOS?
Here are the two best emoji apps for iOS that you can check and take the benefit of a free trial (if available).
Which emoji app is the best for Android?
Here are the two best emoji apps for Android that you can check and take the benefit of a free trial (if available).
Create Your Own Emoji App
We have covered the emoji app development steps, the cost to build an emoji app, the best examples, and the most asked questions in this blog. We hope going through all the details step-by-step has helped you to make the right decision.
Still, confused and couldn't make a plan on how do you make an emoji app? Consult our experienced developers. To discuss your app idea with us, just fill our contact us form and one of our sales executives will get back to you shortly.
You can discuss your app idea and requirements regarding how to make an emoji app and our expert will suggest the best possible solution on the basis of years of experience in the mobile app industry.
Not only this, we have a team of experienced developers, who have already developed many social networking apps like