Typography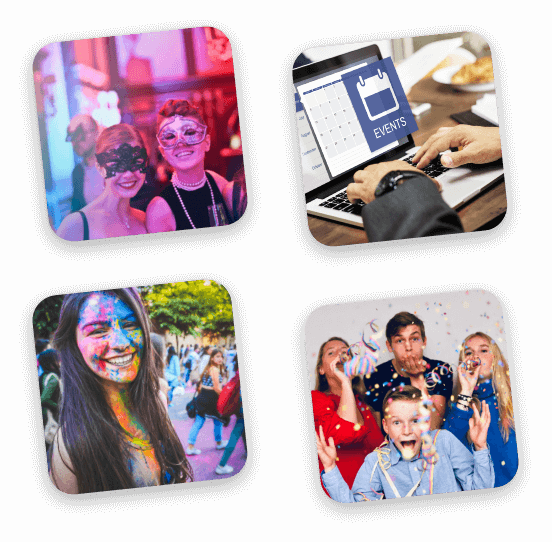 About Veebo- An App to Create & Manage Events
Veebo is an easy to use events app(keeping social distancing in mind) you can use to create as well as manage events. Whether it's a 'board games night' or full-fledged birthday parties, you can manage everything with Veebo.
Veebo is available on both- the Play Store as well as the App Store. Our developers have developed a virtual party planner app with many interesting features. You can create events with over 16 categories and also design custom invitations or upload an e-vite from your phone. There is an option to create instant virtual video parties for small as well as large gatherings. You can also manage and communicate with guests as well as vendors from over 13 categories like caterers or decorators that you need for the event.
Our client is from the USA and came up with this idea with his friends. The idea was to create one solution that lets the users create and manage virtual events, real-life events, guests, hire vendors, and communicate with them.
Features of
Veebo- Virtual Party App
User App
01
Onboarding
After installing the app, you can play around within the app and understand the features of it. If you want to create events, parties, or invitations, you need to sign up. In order to signup, you can either use a verified email id or choose to sign up using social media accounts like your Facebook profile.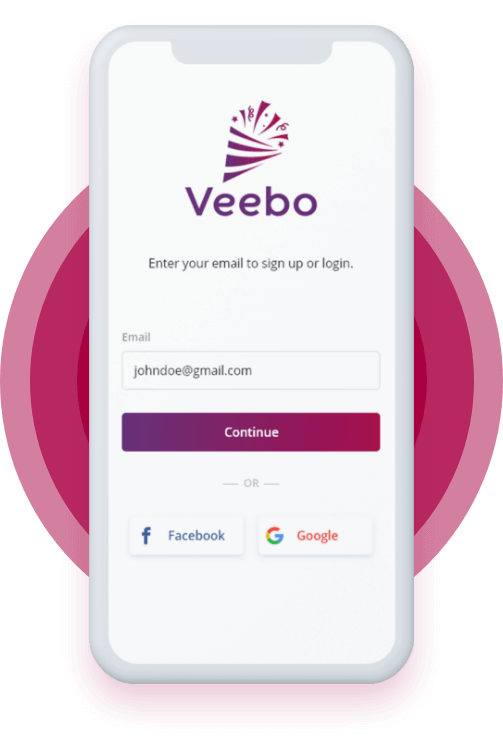 02
Create Event
You can create an event using this app. You get to choose from over 14 event types like Baby Shower, Birthday, Funeral, Graduation Party, and Seasonal Events. You just need to give a title, start date, start time, and details to create an event. You can also select if it is going to be a virtual event or not.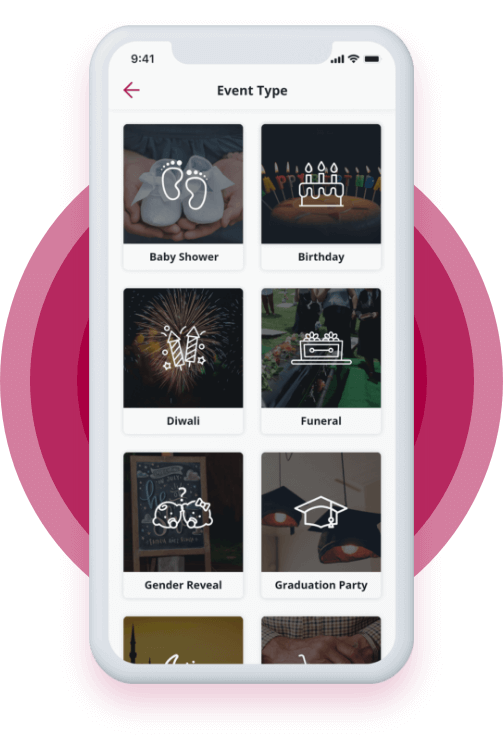 03
Custom Invitation
You can create a custom invitation. You select from over 14 event types and enter event details. You can upload a reference from your phone or select from the available templates to create a new invite. After that, you can adjust the details and even add photos and text to create an invitation to your choice.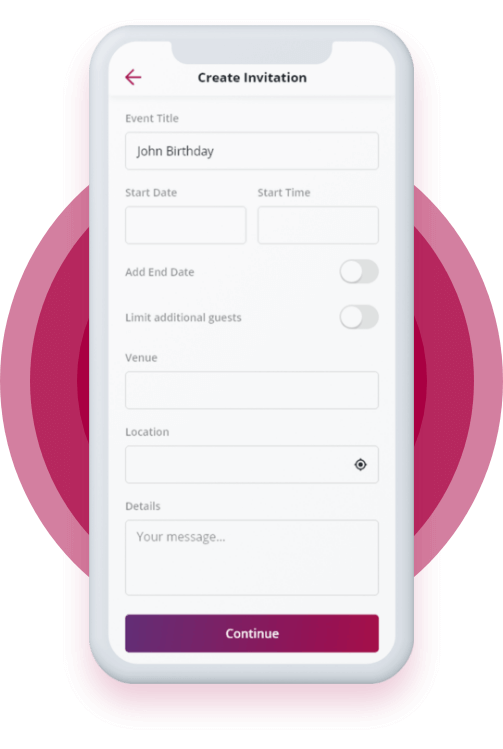 04
Add Guests
After creating an event and customized invitation, you make a guest list and send out invitations to friends and family members. You can select guests from your phone contacts by giving access to this online party app. You can also add guests to the guest list by name, email address, and cell phone numbers.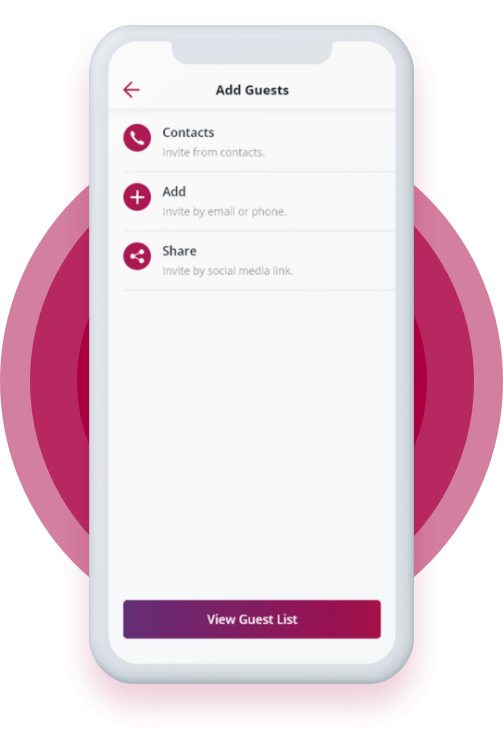 05
Instant Party
You can create instant parties via video chat. You just need to add name and select from two views: The split view for small groups or speaker view for large gatherings. The host can invite other guests via contacts or email addresses or can even transfer the party to the browser by just entering a code.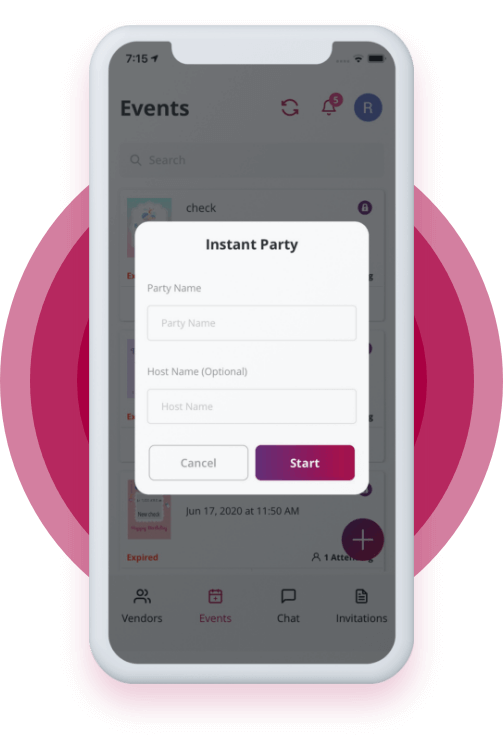 06
Event List
The event list is shown on the home screen of this party and video conferencing app. A list of all the created events is displayed along with details. You can click on it and see the 'guest list'. You can also view the guest's response to the invitation like Yes, No, Maybe, Pending response so hosts can keep a track.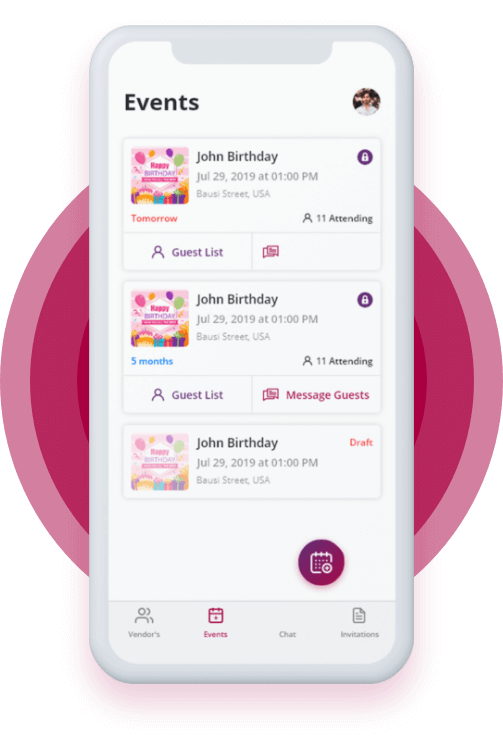 07
RSVP on Invitations
After the host sends out invitations to other people, they have the option to respond to the invite or RSVP to it. The host sends an invite via email or phone number. The users get an email or text message and then they can respond to it. They can choose from three responses: Yes, No, Maybe or not respond at all.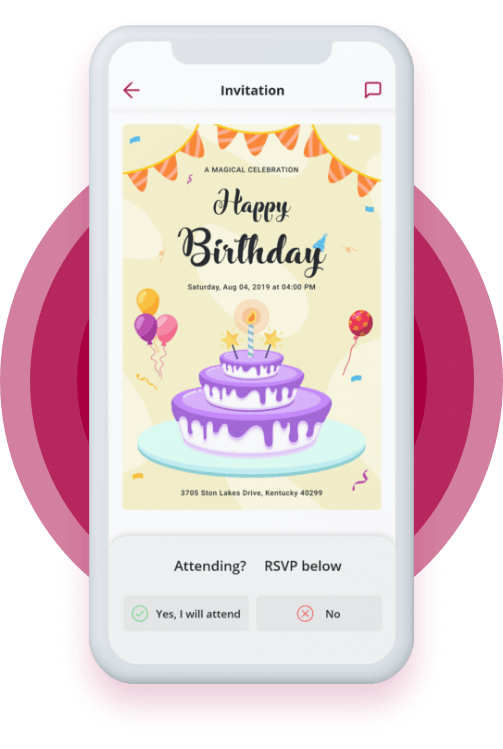 08
Vendors
This is not only the best video party app but it is also an event management app. You can easily look for and hire vendors based on 13 categories like bakers, caterers, cleaners, decorators, entertainment, equipment, entertainment, or photographers. You can request a quote and hire the best vendor for the event.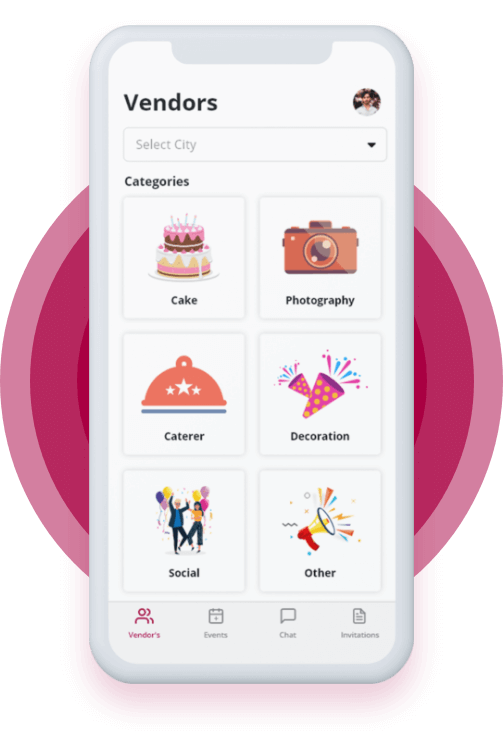 09
In-app Chat
The unique feature of this party planner app is that just like Google Hangouts, you can send other users messages via the app. The in-app chat feature lets the host talk to the people on the guestlist individually to discuss anything about the event or chat with vendors about any issues or doubts regarding event preparation.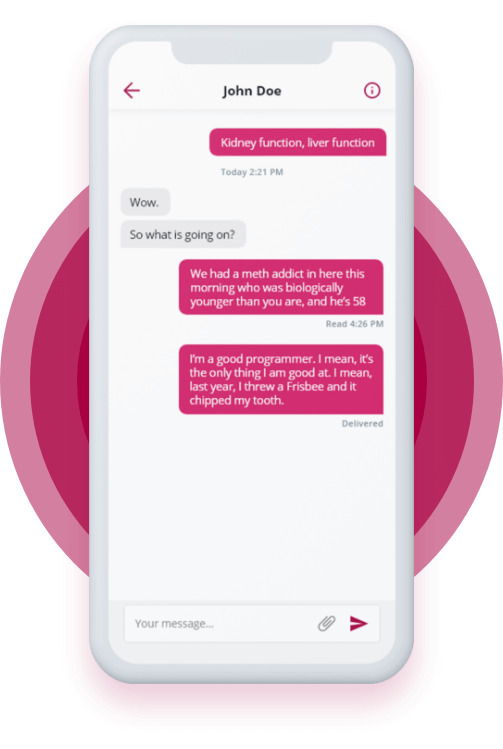 10
User Profile
You can make changes in your user profiles very easily. All you need to do is enter your first and last name, email address, upload a profile picture and verify your mobile number. You can also protect the profile by adding a password. You can also change the old password to a new one if needed.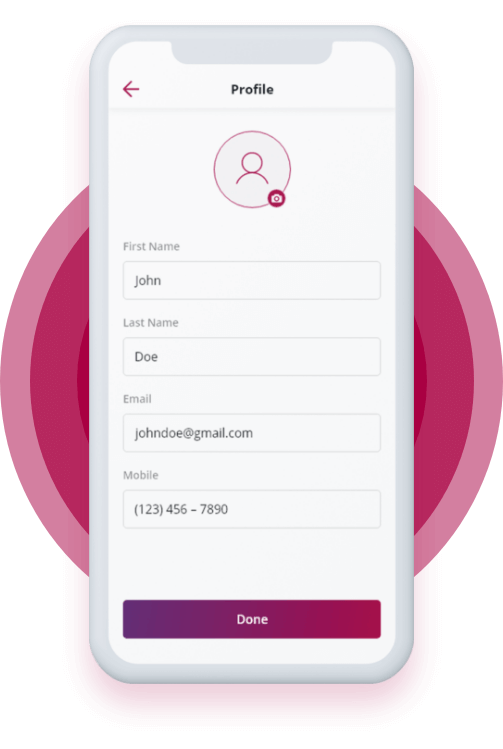 11
Touch ID unlock
Keeping security as a priority, we developed the feature of touch ID unlock. Using this feature, You can use your fingerprint as a password. In order to open the app, you need to put your finger on the sensor of your phone and it will unlock. This keeps the app and all its data completely secure from intruders.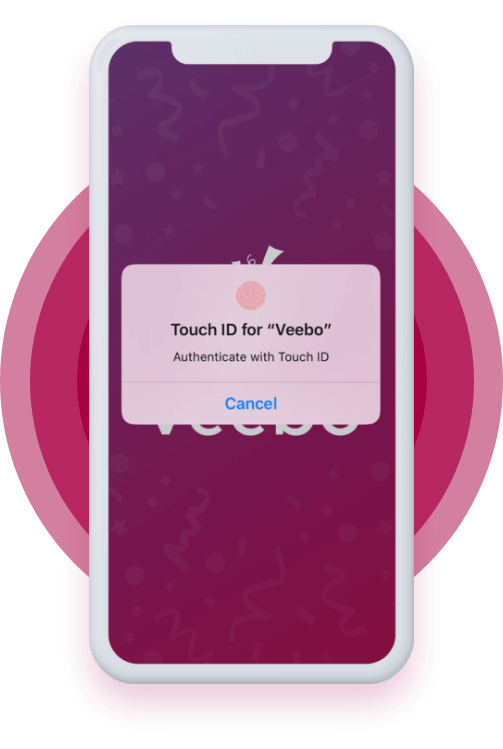 12
Archive
This is a unique feature of this virtual party app. You can store the events and details even after the event has started and finished. When you archive an event, all the event details are saved with it. Further, you can also archive the guest list so you can invite the same guests for future events if needed.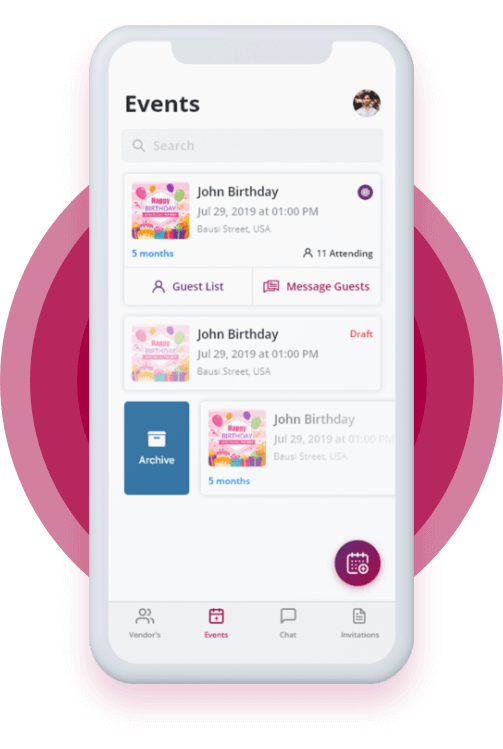 Vendor Website
01
Create a Profile
The first step that the vendors need to follow is creating a vendor profile. Vendors create a profile by entering their company name, website, email address, password, phone number, and location. Then they need to add the type of services they provide and describe their services. After that, the admin approves the vendor's profile after verifying details.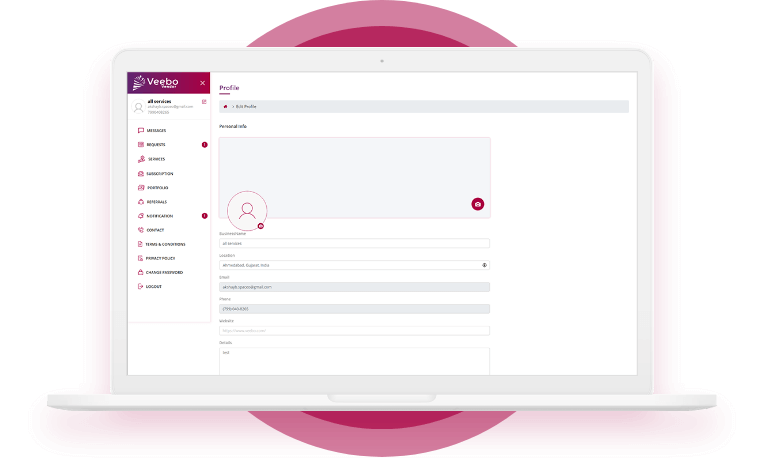 02
In-app Chat
When a user sends the vendor a message, the vendor receives a notification and a message request. If the vendor wants to accept any message request, he needs to spend his credits. After accepting the request, the vendor and user can chat and discuss all the details of the events like the budget, services required, date and time of the event, and so on.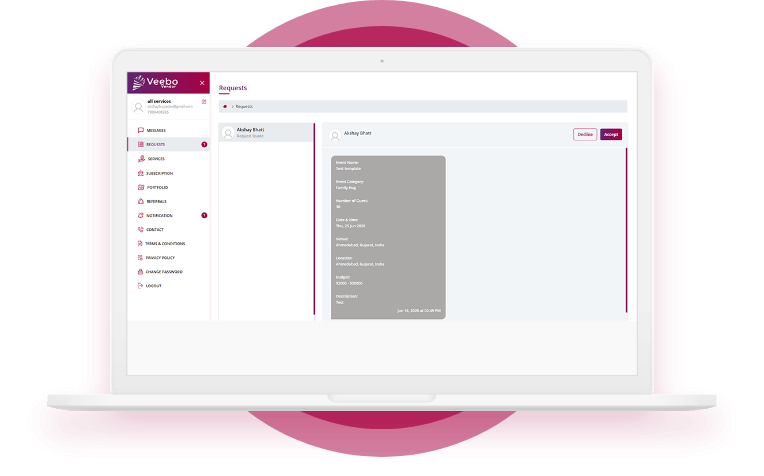 03
Portfolio
The vendors also have an option to create a portfolio of their previous work. This helps the users to choose a vendor by inspecting the previous work while the vendors can get new customers by showing off their work. The vendors can add images of the events for which they provided their services and add a description of their job and even add customer's feedback.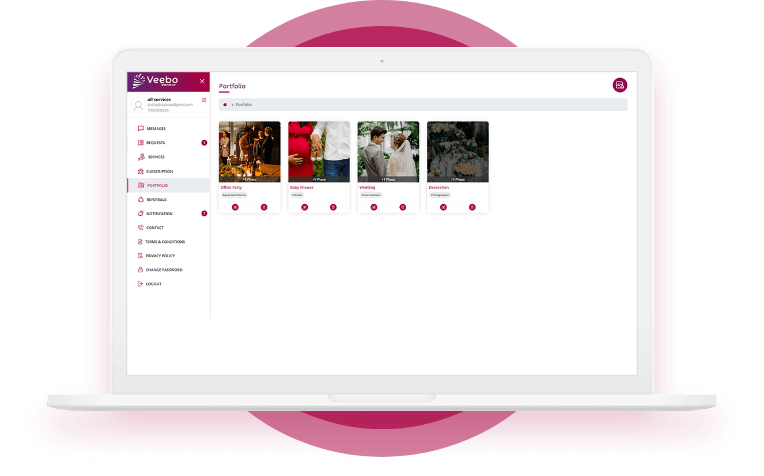 Admin Panel
01
Dashboard
The admin panel has access to all operational aspects of the app. The admin can view, add, delete, and manage users, vendors, events, event categories, vendor categories, and subscription plans. Also, admin has access to essential data like names, contact details, number of users, category details, and activity status.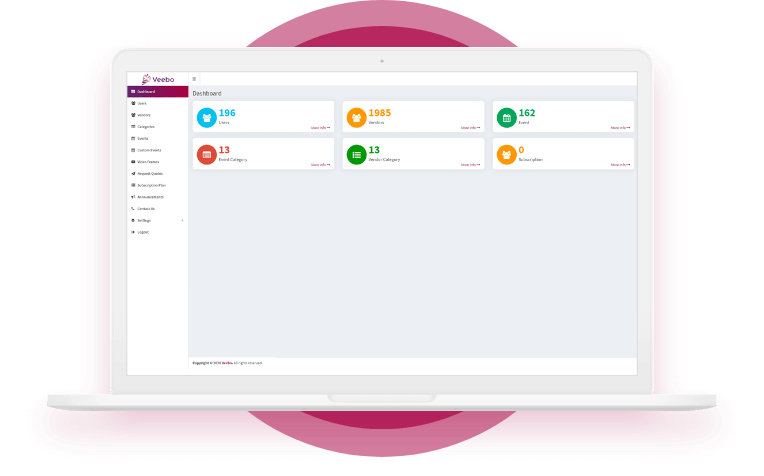 02
Video Frames
The users can avail of over 8 video frames while hosting a virtual party. These frames include circus, jungle, mermaid, twinkle twinkle little star, unicorn, ladybugs, and pirates. The admin can edit, delete, inactivate, activate any of these frames. The admin can also add new video frames for the users if needed.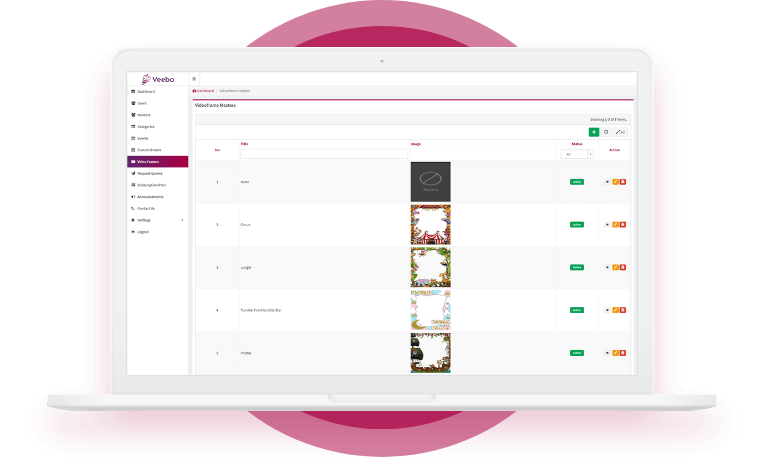 03
Announcements
The admin can make announcements to send to the vendors or the app users or all of them. He can create an announcement by writing a message and selecting the notification receiver as well as the notification type. There can be two types of notifications- push notifications and email announcements.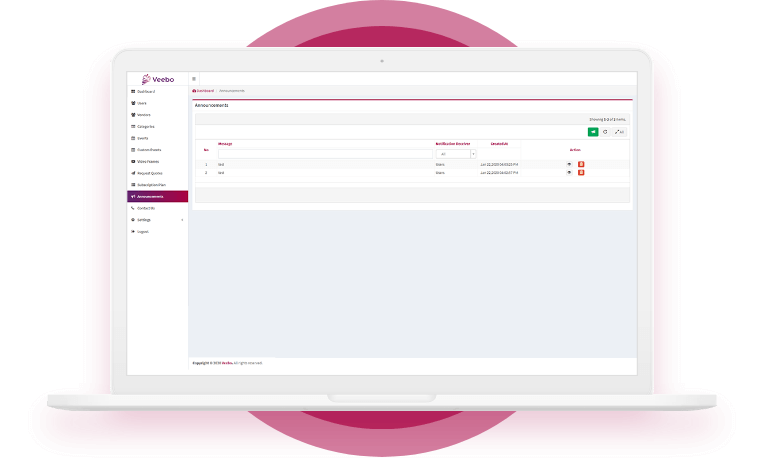 Future Updates
We are currently working on integrating Augmented Reality face filters like the Snapchat app. We are using Banuba face-tracking software to add interesting animations and face filters to make the app even more fun to use.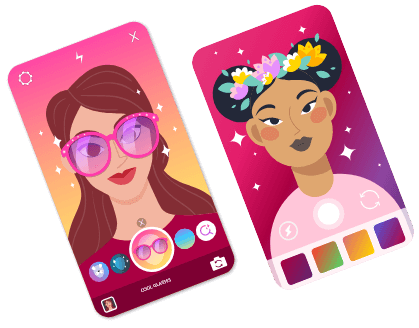 Do you want to create a video chatting or event management app with advanced features like ticketing and payment gateway integration? Tell us a bit about your idea and get a free quote for its development.
Other Related Apps Developed by Us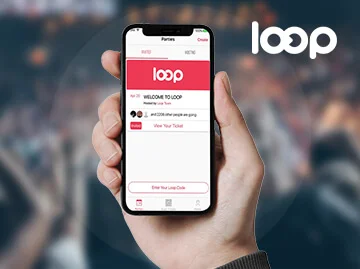 This event planning app, Loop: Party with friends, is all-in-one party-hosting platform, allowing users to create and discover nearby events…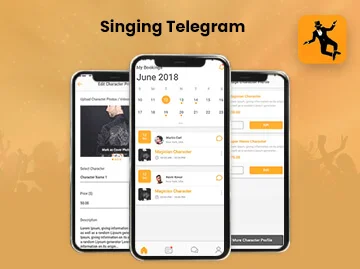 Singing Telegrams is an app specifically designed for party telegram performers, who are situated in Los Angeles, the U.S…