Fashion and shopping apps are loved by every individual. This blog is for brick-and-mortar store startups, fashion designers, and retail fashion shops. A shopping app like Shopee can help your startup reach a more vivid audience, manage your inventory, and can become a more convenient option than visiting a store, especially on holidays. Here are 3 strategies of Shopee that you can check out before entering the market opting for shopping app development.
A smartphone is the selling channel where an eCommerce store needs to be today.
Having a great-looking e-store is not enough to fetch enough customers; augmenting it with a smart mobile app is what maximizes the reach and revenue. Shopaholics are more than happy when they find more options in buying items, and that is also at their convenience through mobile apps. The changing phase of eCommerce apps and fashion app developments with the shopping goliaths like Amazon, eBay, Wish, Flipkart has been amazing in the past years.
In 2017: Since 2017, online shopping mobile apps are ranked highest when it comes to mobile app usage.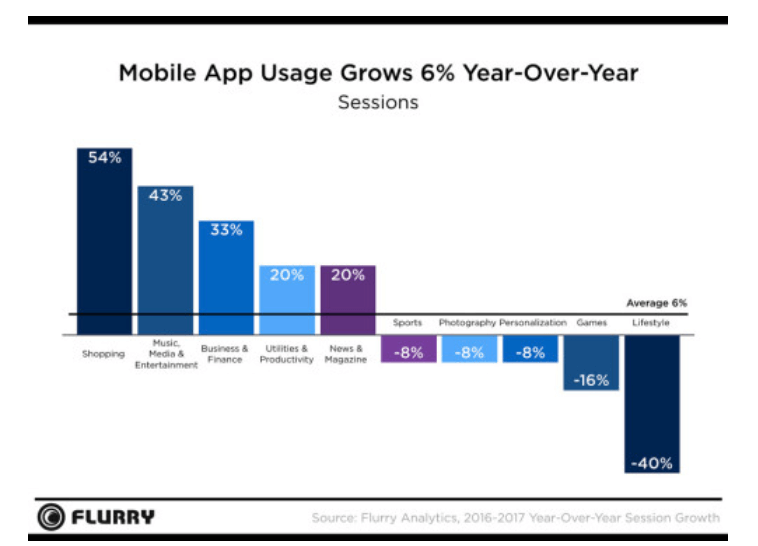 Future forecast up to 2020: Research shows that mobile sector looks more promising as people are more after online shopping apps download then going to brick-mortar stores.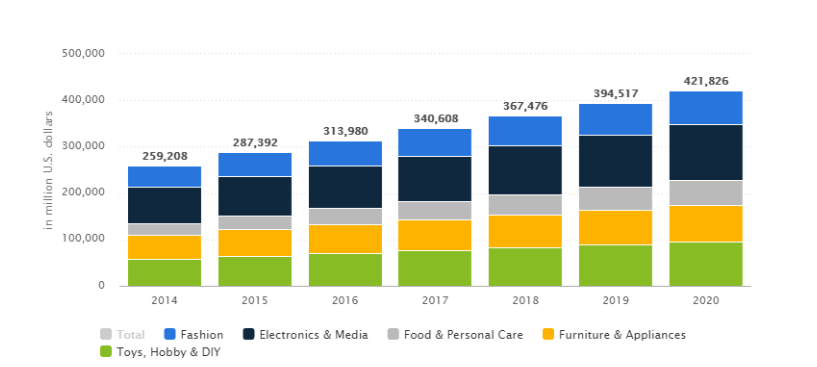 Image Credit: statista
Space-O Technologies is a leading custom ecommerce development company, we have expertise in eCommerce app development that meets the real-time needs of our clients. In fact, we have developed ecommerce apps with CRM and eCommerce app development with SAP integration. We have some amazing fashion app and shopping app development in the form of Peekee, an eBay like app. Another app is Fit Capture, a centralized fashion source, which allows an individual to showcase their style and companies to display their brands.
Recently, a Sensor Tower report stated the worldwide shopping app of 2019, where Amazon stood first with 12million installs and is up by 17.7 percent than May 2018 year-by-year.
The second position was taken by a Philippines shopping app development Shopee. The app has been downloaded worldwide by 10million users, which represented 2x growth from 2018.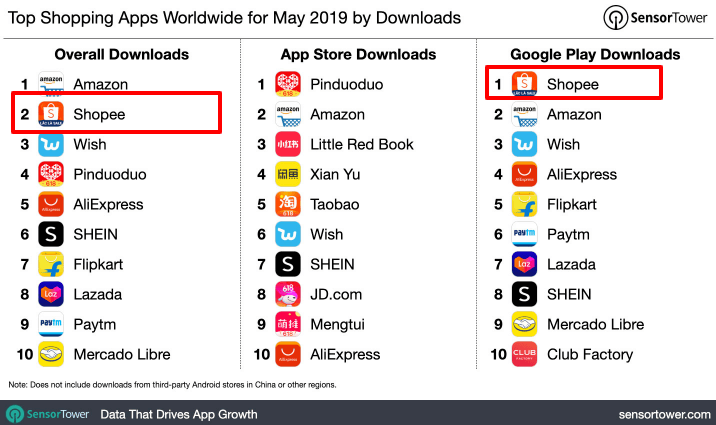 So, now let's talk about Shopee app and the strategies that made it a popular shopping app destination among other key players like Amazon and Wish.
Shopee App – A Shopping App for Southeast Asia
The eCommerce app was founded in 2008 by Forrest Li. It was launched in Singapore in 2015.

The Shopee app expanded its reach to Taiwan, Indonesia, Vietnam, Philippines, Thailand, Malaysia.

Shopee was described as one of the "5 disruptive eCommerce startups" by Tech in Asia in 2015.

Users can browse, share, sell, and buy integrated with logistics and payment supports. The mobile shopping app is an easy platform for both online buyers and sellers.
Long story short, shopping apps are always booming when it comes to fashion genre and eCommerce online selling especially during the vacation period.
3 Strategies of Shopee App to Study for Your Shopping App Development
Great savings on big brands through "Flash Sales"

The USP of this social shopping app is an everyday flash sale on big brands like Huggies, Enfagrow, Nestle, Vivo, Huawei. What more does a shopaholic want? It is like a cherry on the cake. The buyers are only finding for good deals whether it is by visiting a store physically or through online delivery apps.

The advantage kept by this shopping app is "Shopee coins" which are availed by playing shopping quiz and shake. They get amazing gifts, discounts, and deals by winning fun games in the app. The users are pleased by so many offerings that the free online shopping app development has in-store.

Being a tech startup or brick-mortar shop, your app not only should provide good deals online, but it should also be engaging users in some of the other way through in-app purchase benefits, online contests, hourly sale. Mobile shopping apps development has come a long way since its initial days. With the mobility infrastructure becoming cheaper, mobile phones have given the power to customers to shop from anywhere, anytime and all this is thanks to shopping apps.

Strong logistics support

In this world of instant results, there is no space for the slightest delay. Every eCommerce app development ends up with logistics management. The user who is longing to wear the dress ordered from your app will be eagerly waiting for its arrival. In that case, you ought to keep your online delivery tracking and logistics management strong.

The Shopee app has an on the point game when it comes to delivery service. The app is never late in delivering its items to the users. The users can track their orders from payment to delivery via up-to-date shipping information.

Being a renowned web and mobile application development company, we would like to give a suggestion which will enhance your app development idea. Make logistics software and integrate it with your shopping app. This can be possible with only top mobile application development companies. In this way, you as a business can accurately keep an eye on the online delivery process.

Read Here: Top Features of Shopping App Development

Seamless checkout and payment method

The Shopee app has the most seamless navigation and checkout experience. Think like a user and ask yourself a question would you like to stay on an app which takes more time in loading each page and has haphazard saturation of its services? A user has to be treated as a small baby who is finding for food but it has to be served in an intuitive way.

By intuitive we mean, the app design should be very simple and sober with easy to see and function the features. In the case of Shopee app, the intuitive interface is the key-engaging element for users. The payment gateway integration method is flexible, where a user can transact with his preferred credit card or bank transfer.

"Convenience is the key to success." Keep this quote in mind while thinking solutions that your app will provide to the mass. There are thousands of app in the play store, unfortunately, all are not successful. From where we can see app success is majorly dependent on two factors.

The original idea behind developing an app, with apt solutions.

A

full stack developer

team working on your app, who has experience in developing apps.
What to do with your mobile app development idea
Need to validate your app idea or consult with an expert? Get a free consultation now!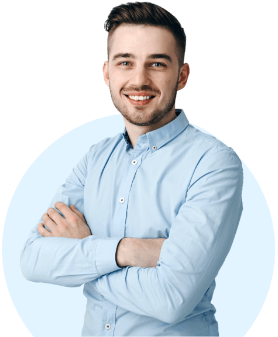 Final Remarks
You have just gone through the growing demand for shopping apps and the strategies applied by shopping app, Shopee. As a startup, if you are planning to dive into the eCommerce shopping genre, and want to create an ecommerce app like Amazon or Shopee then leverage these strategies in order to make most of your online shopping app.
According to our research, we came to the conclusion that NewYork, California, and Washinton are topping the charts by utilizing the top shopping apps. One another interesting fact discovered by us is if there are 48 online shopping developments then 16 of them will be an eCommerce development.

In case of, if you have any query like shopping app development cost or how to make an effective online delivery app, how long does it take to make an app for shopping like Wish and Shopee, how to patent app ideas like wish online shopping app, or Amazon-like app development, then cross-verify your ideas with us.
We have developed over 4400 apps and are heading strong to reach some more fascinating numbers of mobile app solutions. Along with mobile apps, we strive for eCommerce solution development with ERP integration for your business. Just fill contact us form, and our sales representatives will get back to you shortly. Consultation is free of cost.